In the world of fashion, there are some eternal 'pairs' whom we cannot think of separately. There is saree-blouse. There is salwar-suit too. And then, there is kurti-leggings. You do not need to breathe fashion in order to pair a beautiful kurti with a matched pair of leggings, do you?
But girls, don't you get bored of sporting the same fashion again and again? How about making the kurti ditch her fiancé? Yes, a kurti can literally be worn without a pair of leggings and it'll NOT make you look like a strange creature!
Let us tell you about 9 types of kurtis that can be flaunted perfectly without being too dedicated to a bottom wear:
Dhoti-Style Kurti
When it comes to the most innovative kurti style to experiment with, a dhoti-style kurti easily tops the list. Thanks to our highly talented designers for giving the traditional 'dhoti' a gorgeous 'feminine' makeover and making all women go crazy over it. The trendiest kurti can be worn without leggings as its pleats reach almost the ankles, thereby making it look like a semi-long dress. Quite a nice style statement, isn't it?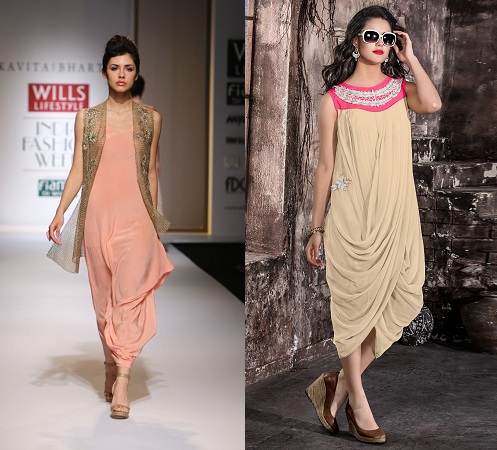 Straight-Cut Kurti
Straight-cut kurtis are high in fashion these days and you might also have one or two in your wardrobe. But did you know that these stunners look really striking even when sported without leggings? All you need to do is pick colorful pieces with intricate embroideries or eye-catching prints. Choosing something with frills along the neckline or a stylish belt around the waist can heighten your appeal to a great extent.
Tulip-Shaped Kurti
A kurti with a flattering tulip-shaped hemline suits women of all ages, but the best part is that it can be donned even without a bottom wear. When paired with a bracelet watch, a pair of stylish pumps or designer heels, and some dazzling jewelry, this kurti itself grabs the eyeballs easily. They are available in a variety of length choices so that you can find your most suitable picks for every occasion.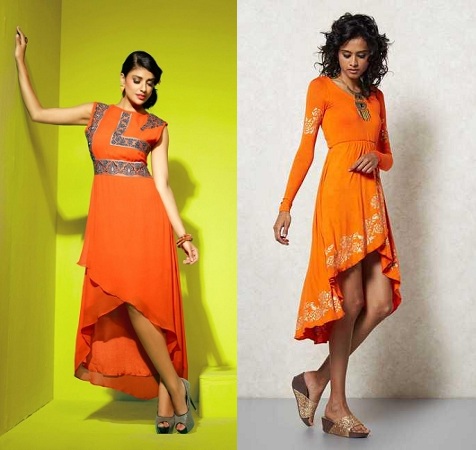 Trail-Cut Kurti
Revamp your look and create your unique statement style effortlessly by wearing a trail-cut kurti without a pair of leggings. This type of kurti comes with an attractive silhouette as well as 'C'- cuts on both of its sides to give you a beautiful bohemian vibe. While skipping the bottom wear, opt for a pair of glamorous stilettos, a classy pendant, and eye-catching jhumkas or danglers to up your glam game.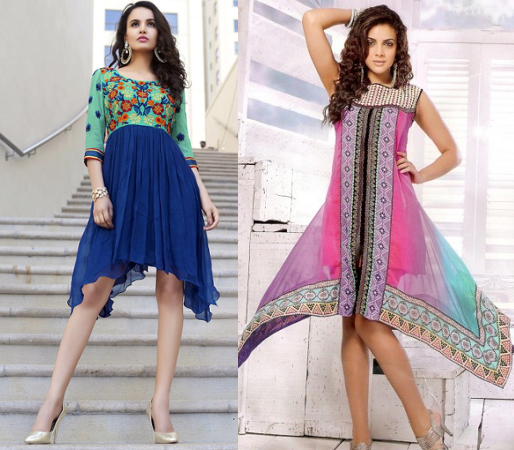 Flared Kurti
A flared kurti is trendy, versatile, highly feminine, and above all, a striking one-piece. The lovely flared hemline of the kurti reaches the ankles, thereby reducing the need of a pair of leggings. You can always choose a rich embroidered or heavily sequined flared kurti to look sophisticated and ooze glamour in an occasion. However, this length of the kurti makes it suitable only for tall leggy lasses.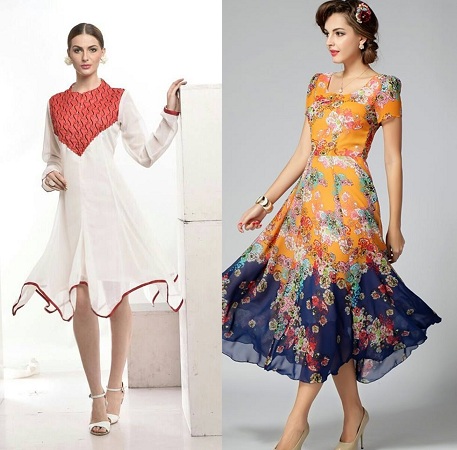 Kaftan-Style Kurti
Do you own a long and airy kaftan-style kurti featuring vibrant colors or prints? You can ditch your leggings while wearing it and look sensational! To put it on as a killer one-piece, pair it with a chunky necklace, a matching bracelet, a gorgeous tiara, a pair of danglers, and sexy high heels. Kaftan-inspired kurtis are not only a great choice for heavier beauties but they also fit slim ladies well. Hence, anyone and everyone can experiment with it.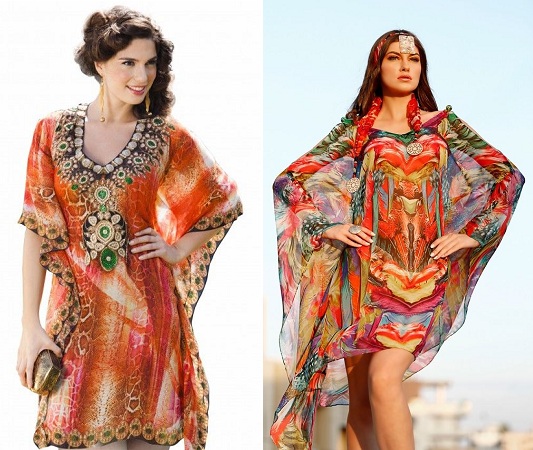 Asymmetrical Kurti
The asymmetric fashion trend is taking over the entire world recently and kurtis are also not out of the loop. The most exciting thing about an asymmetrical kurti is that it does not always need a bottom wear to wear with. As the distinct cut already gives the outfit a charming shape and a captivating design, you can sport it without leggings anytime anywhere.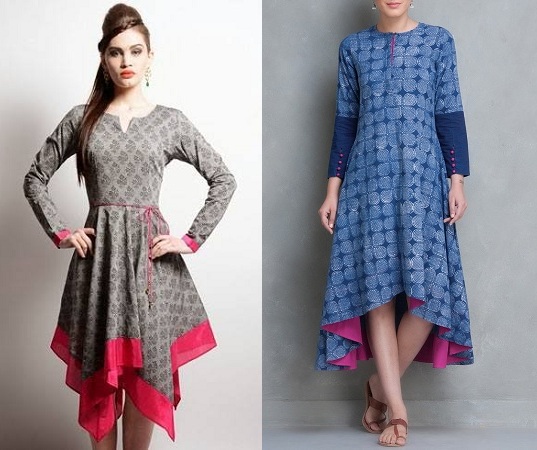 Skater Dress-Inspired Kurti
Forget leggings as these cute little beauties themselves are enough to lend you a showstopper vibe! As the name said, these kurtis are inspired by regular skater dresses, which are either knee-long or even a little shorter. Unleash your bold and sassy side by wearing a skater kurti as a stylish dress and let people fall in love with your phenomenal style statement.
Indo-Western Style Kurti
If you are a true fashionista who doesn't think twice to experiment with her style, the chances are high that you have already fallen head over heels for Indo-Western style kurtis. The fusion wear can make you appear sensational when worn without leggings. The necklines, sleeves, flares, etc. in Indo-Western kurtis are quite different from the regular ones and teaming it with accessories like fashion jewelry, scarves, and hats can take the look to an all new height.
In the market, these 9 types of kurtis are available in a variety of fabrics including georgette, crepe, chiffon, cotton, and so on. You can even find them in beautiful prints as well as vibrant colors.
Simply pick your style, skip the bottom wear, and accessorize the right way…there you go!