Wedding season in any corner of the world is the most enticing one that gives goose bumps. Whether you have dreamt of seeing yourself in bridal lehenga or have been planning for a white glowing dress all this season, it is your big day and for this, you need to be aware of the best bridal collection. These days ladies don't just like to compromise with the color, pattern, and style of outfit they want to wear on their big day. That is why; we bring you some amazing Indian and western 2016 designer bridal collection that you may want to take a look at.
Turn gorgeous with lehenga with trail:
This has been one of the popular and number one ranking styles in India today. It gives a feel of royal tradition which definitely adds the richness and glamour to the lehenga that you wear. You can check out some online sites as well where it is being sold at great value but if you don't want to comprise with quality than purchasing it from a boutique is advised. Go with Long trail this season and be eye-catching in front of all. It gives more feel of couture lehenga and has been seen in some Indian movies where popular Celebs have worn it.
Go floral this wedding:
If you have love towards wedding gown, then you must try out this floral appliqués collection which every bride desires for. This pattern comes with embellishments in three-dimensional which give an aesthetic look. This romantic gown is incredible and looks pretty most modern as well. It comes with shimmering beads and has laser-cut appliqué which gives the texture a rich feel. It is extremely comfortable and also highlights your body shape giving your personality a great push. There are different patterns to it such as off shoulder, v-neck and even in boat neck.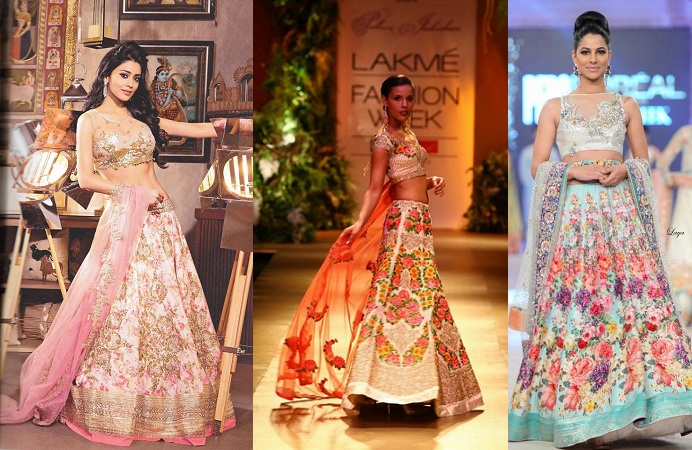 Designer Gown by Rita Vinieris:
This is another extraordinary collection that can keep your mouth a wide open. With incredible design, the great material used and amazing fitting, this gown is a must try. It has been well blended with the lace shorts and embroidered by hands. It has been also embraced with flower pattern which enhances the dress even more. It is a perfect Ball gown which has been Spanish inspired and is designed by a great designer Rita Vinieris. Needless to say that once you wear it people won't resist calling you WOW. Of all the other wedding gowns and bridal collection, this one stands out to be the best.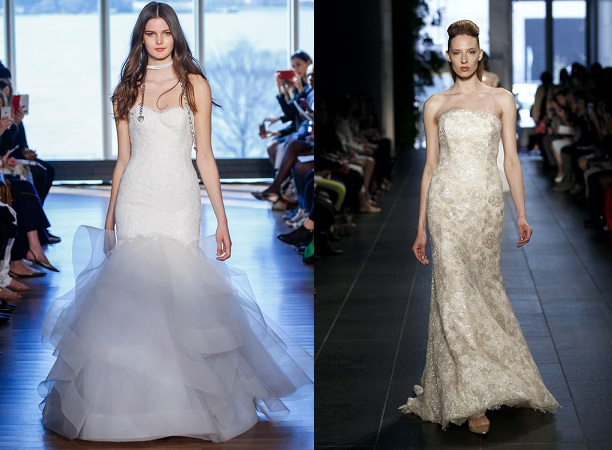 Ombre Lehenga is ruling 2016:
This lehenga has been designed by one of the popular designers of India Satya Paul and so far the designer has always offered amazing designing gowns and bridal collections. Satya Paul, this time, has surprised its viewers with some incredible collection of 2016 bridal wear which is called Ombre. There is no doubt that it has definitely grabbed the attention of many fashion lovers especially the bridals of this season. With pretty nail polish and some great color trends, you can definitely nail the look of 2016 this wedding season.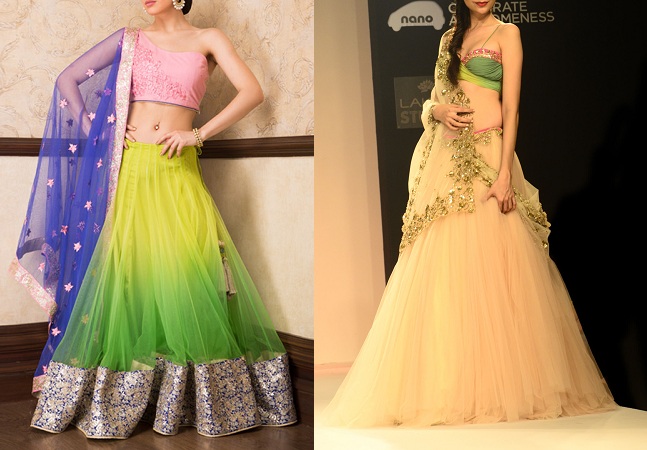 All time favorite Anarkali Lehenga:
Another great artwork represented by Satya Paul is Anarkali Lehenga which although has become a common concept but is still the leading one of the year 2016 among the bridal wears. This pattern with Choli is one of the best things that you can wear this wedding season. You can match it up with some heavy yet big accessories and also try out some down length of the lehenga.  Some people also call it as Anarkali "top" which can easily touch the floor.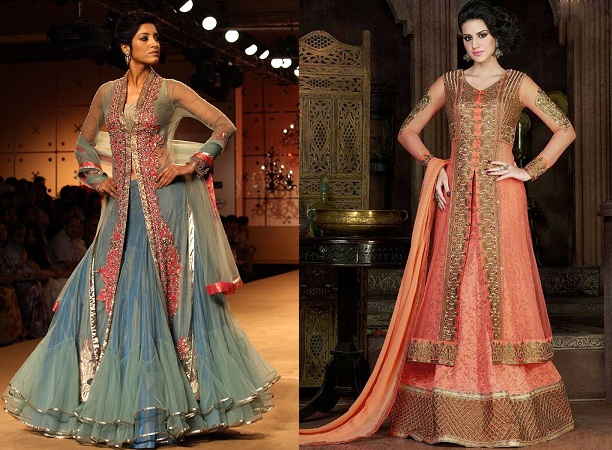 Feathers Gown:
This pattern of the bridal gown is amazing and has been trending among many ladies on their big day. This bridal wear is the most glamorous designs which were also popular in the past but now it has become more trending of the year 2016. Needless to say, its concept and fitting are extraordinary and designer has worked really hard to make it look amazing. The flaunted features gown which gives a great fitting at the waist can definitely make a bridal look a fancy beauty.  The design has been made by Kelly Faetanini which certainly needs a good appreciation.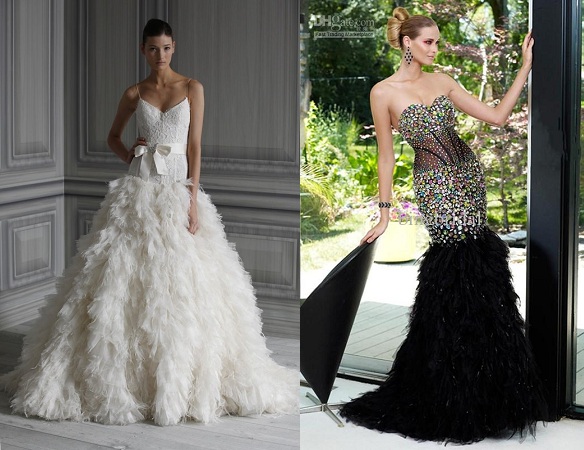 Jacket Lehenga:
This is currently a new yet trending bridal collection wear that you might want to check out. The collection has been designed and introduced by another great artist Manish Malhotra who says that a mix and match combination can also make a bridal look a beauty. The collection includes the jackets till ankle-length which is worn over the lehenga. It can also come in crepe or silk whereas some people prefer it in opaque. Some people use it instead of Choli while some prefer to wear it over a cropped choli.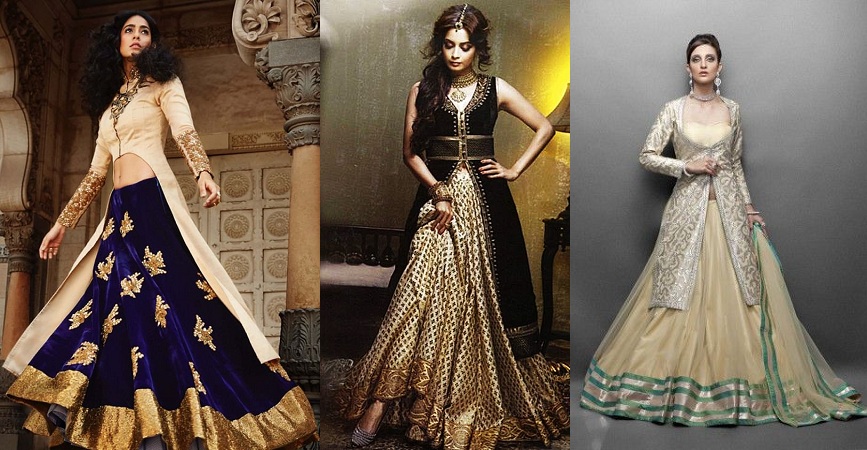 Mirror and Crystal Lehenga Embellishment:
This concept of the bridal collection has been ranked 4th in Indian designer collection of 2016. Introduced by Suneet Varma, the bridal collection is well embellished with Dori and Zari and also has the mirror work which makes it more appealing. With comfort fit and great material, this designer collection definitely adds up the twist to your traditional look. It looks quite amazing in red color and if you accessorize it well then definitely this will the moist alluring look of the year 2016 so far.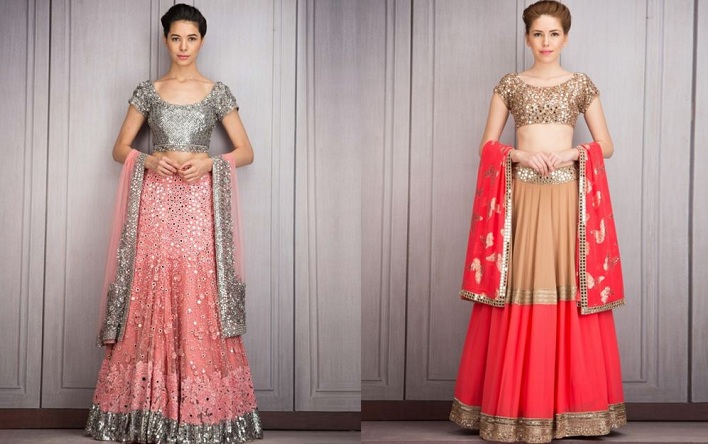 The wedding season is one of the most populated and well spent times when you get the opportunity to show your taste to others. If it is your big day then try out from some 2016 designer bridal collections that have been showcased by popular designers like Manish Malhotra and Rohit Bal. The above-mentioned collection will surely upgrade your personality and help you match with the hottest trend in wedding gowns and bridal lehenga. These are a must try bridal collection which would certainly tempt you to try on yourself. Do not resist yourself and go for these incredible collections that would definitely make your groom surprised.