India is a huge country that has many states with each state having its own culture and traditions that include their food, outfit, language amongst many other things. One thing that is common amongst all the states is an outfit that women drape as an outer wear called saree.
India is a land of sarees where you can find a new variety of saree in each state of the country that can be called as traditional sarees and then there are the modern sarees that have emerged out of innovations or have been developed for customers as per demand of time and fashion.
Traditional sarees are those sarees that are being worn by women in India for a long period of time and are traditional in style and look. These sarees are usually very heavy and adorned by heavy work and are usually worn in festivals and weddings.
Brasso sarees are traditional sarees that have been worn by Indian women for a long period of time. The saree was initially created for the royals but with passage of time the saree has been worn by the elite class and now many women wear this saree for weddings and other formal gatherings.
Making of brasso fabric:
Brasso sarees have been in use for a long time. Initially cotton was used as the base material but now the technique is used in a variety of fabrics to produce brasso fabric. Brasso is the technique used on a soft fabric by which the fabric is burned through an acid itch process to create a textured design.
This technique can be applied to a number of soft fabrics like crepe, tissue, silk, chiffon, georgette etc to bring out the ornate and glamorous look that it boasts.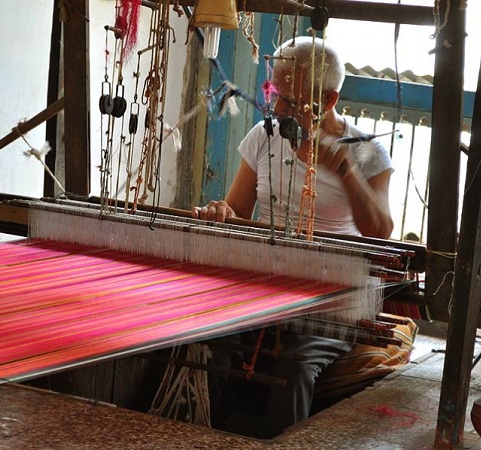 Brasso sarees in modern day:
Brasso saree is one of the first choices for the brides today. The girls today prefer to wear traditional yet light weight saree so that they can enjoy their most important day instead of managing the weight of traditional heavy weight silk saree or Lehenga.
Brasso sarees come in a variety of base fabrics from which you can choose your favorite and get a readymade saree or get a custom designed saree made for you. Since Brasso fabric gives a velvet touch finish and you can get it embroidered or embellished in a variety of designs.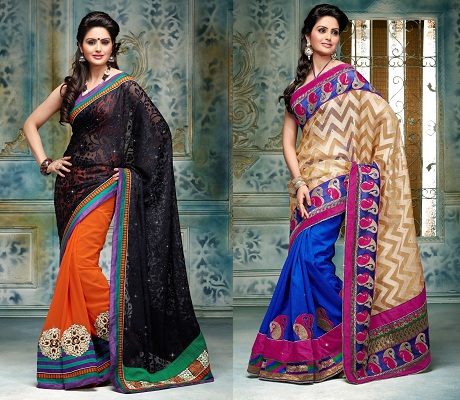 Printed brasso sarees are also very popular as they are multipurpose sarees which can be worn for casual office wear as well as formal gatherings. Brasso draws a lot of attention and popularity amongst the younger generation as these sarees are semi transparent and embrace the body gently, flattering the figure to give a sensuous appeal.
The fabric of brasso saree is very soft and light which offers comfort and enhances the physical features of the woman. A great feature of brasso saree is that they come in colors, prints and patterns not easily available in any other fabric which is why models and actresses just love the sari.
Brasso Sarees- Designers Delight
Designers love to create Brasso sarees because the fabric is so versatile that they can do almost anything with the fabric. Top designers of the country have used brasso fabric to design countless sarees for their fashion shows, for the actresses for their personal use and also for movie purposes.
Brasso sarees offer so much glamour and comfort to the women wearing the saree that you can find women from many top notch business families and corporate world donning the saree at formal and business dinners.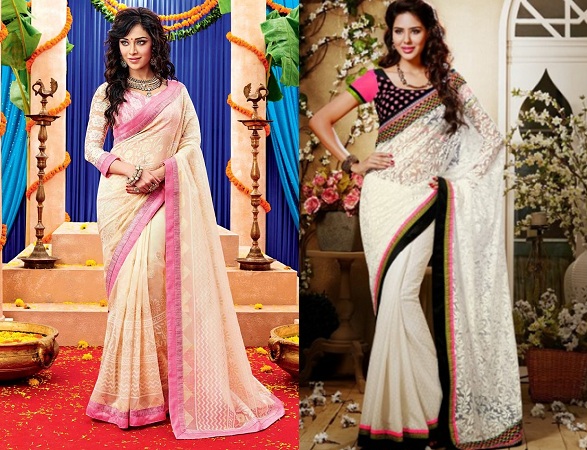 Brasso sarees have caught the fancy of many with bollywood heartthrob Deepika Padukone, Madhuri Dixit Nene, Vidya Balan, Sonakshi Sinha and many others flaunting their style. Apart from sarees, brasso fabric is being extensively used in Anarkali suits with large motifs and embellishments. Many women are trying different styles with brasso sarees. Some are wearing vintage style blouses with brasso sarees while some are wearing quarter sleeves.
Buying Brasso sarees:
Brasso sarees are traditional sarees that have never gone out of fashion. Women love to wear clothes that show something and hide something and brasso sarees are perfect for such. They have been in use for a long time and still the young generation of women is attracted towards the saree. Brasso sarees are very popular and therefore available at all major saree stores. However, if you cannot go to an offline store or the saree is not available in your city, you can buy the saree online.
Buying Brasso sarees online can be a great experience for you as you will come across websites that will show you hundreds of photographs of different types and style of brasso sarees. Here you can also buy designer blouse for your scintillating Brasso saree and get it home delivered at very nominal cost.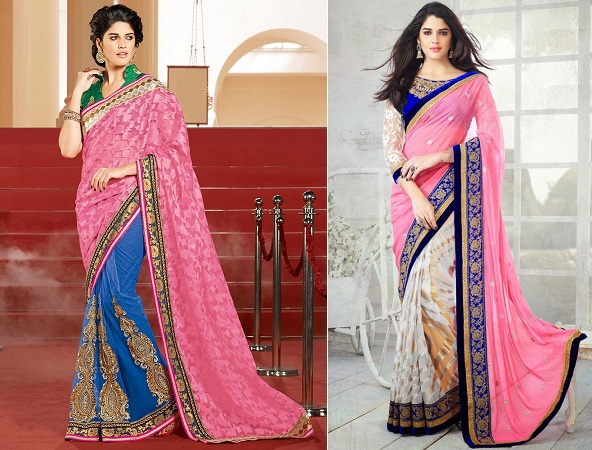 Global Influence on Brasso sarees:
Women all over the globe are getting attracted towards Indian culture and Indian clothing. Brasso sarees are one of the most popular sarees amongst young women and therefore sought after in other parts of the world as well.
Since Brasso sarees does not exhibit any kind of religious influence in their designs and motifs and are more influenced by nature, these sarees are preferred by women of all cultural backgrounds. As a result of the sarees being exported to other countries, new kinds of designs have come up in these sarees.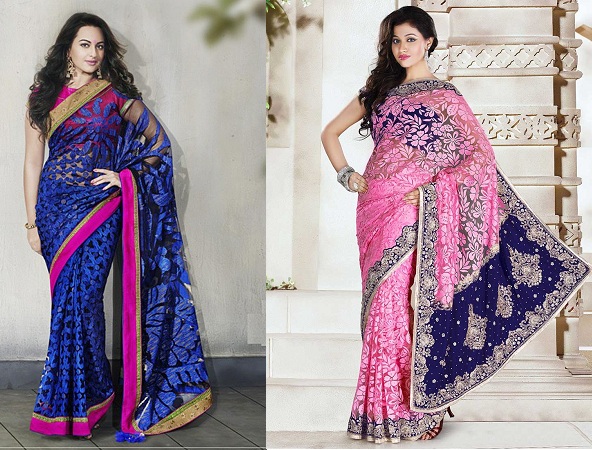 Innovations in Brasso sarees:
With passage of time innovations are bound to happen in everything that we do. Similarly there are many new innovations in Brasso sarees and fabric as well. Till recently Brasso fabric was used only for sarees but today everyday products like cushion covers, table covers, curtains and many other products are also being made.
Maintenance of Brasso sarees:
Brasso fabric is a very delicate fabric and therefore requires utmost care so that it lasts long. A brasso sari should ideally be dry cleaned to achieve best results. These sarees are also advised to be stored in air tight box to protect its color and texture.