[fusion_text]Every woman loves to have in their wardrobe the entire latest outfit. If you are a woman with refined taste and feels comfortable in wearing trousers then you must wear those trousers that are in vogue. So to go with the ongoing trend you must know the trousers available in the present time and must have in your wardrobe. Wide variety trousers right from splatter jeans to high waist pants are available in the market. If you are a trouser lover then you will certainly fall in love with the 9 trousers that are the latest in the fashion. Here goes the list of trousers for you, wear it and stay in fashion.
List of 9 Trending Women Trousers:
High waist pant of 80's;
Bold printed pants;
Feminine pleated pants;
Skinny jeans;
Palazzo pants;
culotte pants;
Stylish patch and embroidered jeans;
splatter jeans;
Casual track pants ;
High Waist Pant Of 80's:
Comfort and glamour are what you will get from wearing high waist pants which were so popular in the past are now in trend. Skin fit trousers are in vogue, so go for skin fit high waist pant and pair it with a crop top, striped t-shirt, bralettes and it can your perfect dress when you go for a date or on a night out with your girl gang. You will look stylish and the high waist pants give a slimmer look and hide the belly fat.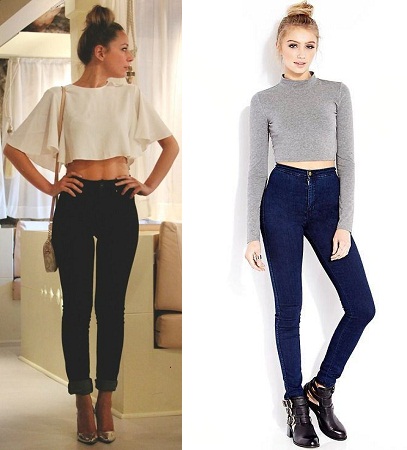 Bold Printed Pants:
A comfortable printed pant is what you need to wear on weekend holidays. Right from cropped pant to wide leg trouser are available in bold prints and you can team it up with a crop top or lace top. For classy look wear strappy heels.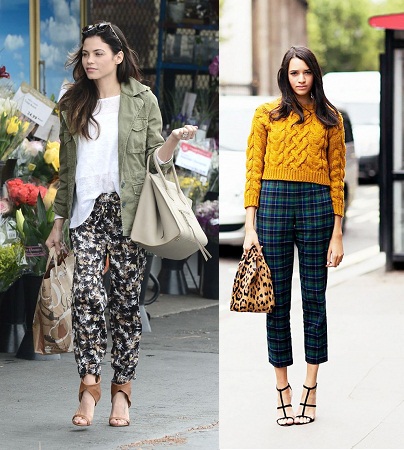 Pleated Pants:
The feminine pleated pants are in demand among the women of recent times as it gives a contemporary look and when you wear it, an illusion of pleated skirt is what you get from it. If you want to make a style statement then wear this pant and pair it with a peplum top, crop top, printed tee and wear peep toe heels with the pant. It is now a must-have in the wardrobe of every woman.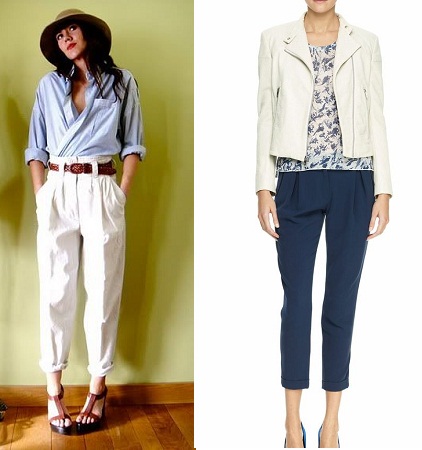 Skinny Jeans:
This particular trouser style suits those women who have got a remarkable figure and must not be worn by the fatty women.  If you have a stunning personality then it is essential that you give an edgy touch to it by wearing attractive skinny jeans. Flaunt your beautiful curves and give a complete look by teaming it with sneaker and off the shoulder top. You will be the center of attraction in any party. If you want to show your favorite stilettos then slim fit cropped jeans are the ultimate option for you.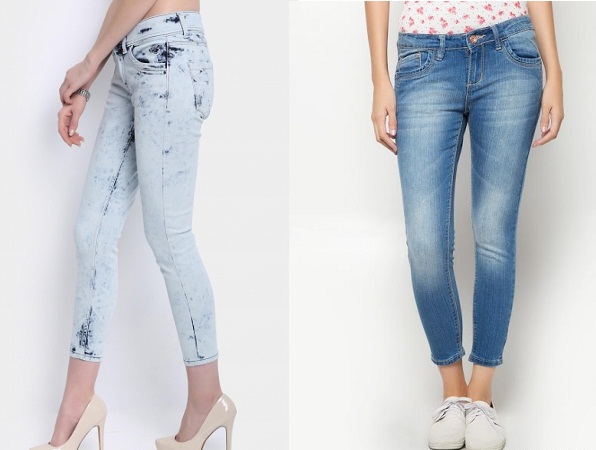 Palazzo Pants:
Palazzo pants are indeed the blast from past and have become every woman's favorite of recent times. It is a must-have trouser in the wardrobe of every woman. You can become a fashion icon by wearing printed palazzo pant pairing it with a strappy top. If your height is short then make sure to wear stilettos to look the best.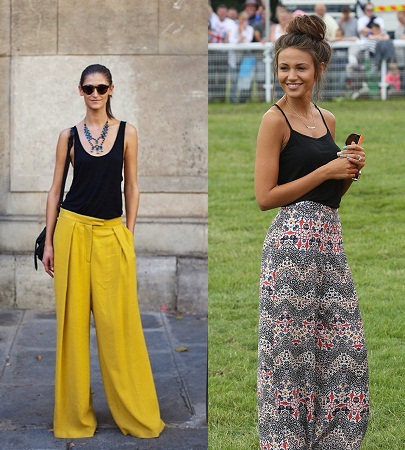 Culotte Pants:
Do you want to bring some excitement and fun in your wardrobe?  Then buy this unique pant and keep it in your wardrobe. Plain as well as floral printed culotte pants are available in the market.  It is best to go for floral printed culotte pants. This pant can indeed brighten up your day. Wear it with long sleeve tops or tank tops. Get a glam look and wear flats and statement jewelry. You will indeed get flooded with compliments.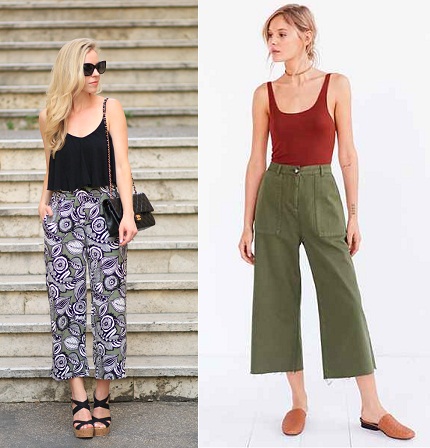 Stylish Patch and Embroidered Jeans:
Do you want to give yourself a different look? Then upgrade your old pair of jeans to embroidered jeans that are widely available in the market. Patchwork on denim is now the latest fashion. If you do not like heavy prints then your pick can be subtle prints that look great on acid washed jeans. When you wear it, you will surely look stunning and will be the perfect attire for a casual dining.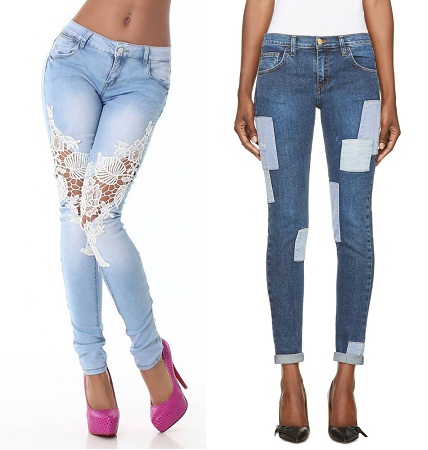 Splatter Jeans:
Splatter jeans have a distressed look but if you wear it with a blouse or swanky tees then it can look great on you. This pant gives a relaxing and nonchalant look. Your mood gets reflected on the kinds of clothes you wear. This particular trouser can be the ultimate choice for dinner dates, traveling and brunch parties. To get a chic look wear a long vest.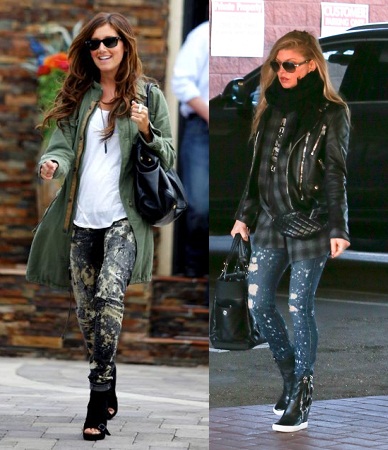 Casual Track Pants:
Not only a fitness freak must have casual track pants in the wardrobe but all women must have it in their wardrobe. It is highly comfortable. So bid adieu to your pajama style pant and wear it to the gym regularly. It makes your workout session much easier and can also be worn as a casual pant. You pair it up with an extra-large tank top.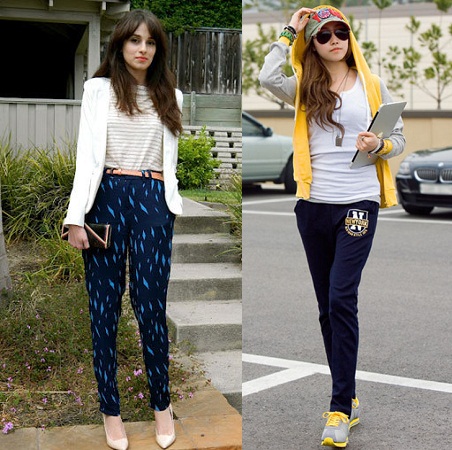 A Great Help:
The above-list of the trendiest trousers will now come to your immense help and now you can start looking for your wardrobe what are the trousers you have and what you need to buy. When it comes to buying the latest pair of trousers then it is advisable that you buy it from a premium online shopping portal. A wide variety of prints are available online and you will be in love with the huge collection of trousers with contemporary design in the online shopping portal.
Available In Wide Range of Sizes:
When it comes to buying the latest trousers for you, as you visit the outlet, you might return home disappointed unable to fetch the size from the outlet. But online shopping portals have a wide variety of sizes available for the customers. So take a look at the trousers and find your size then proceed to buy it. Premium online shopping portals have a product of highest quality, so stay assured to get the best from online. You will find all latest design online.
Must For All Fashionista:
Are you a fashion conscious woman? Do you like to go with the trend? If so then it is essential then you must have all the above mentioned trousers in your wardrobe. Not only the trousers will give you the complete look but the ideal tops, footwear, and accessories rendered complete look to a woman. So purchase the trousers followed by purchasing the statement jewelry and footwear that you need to pair it with the trousers.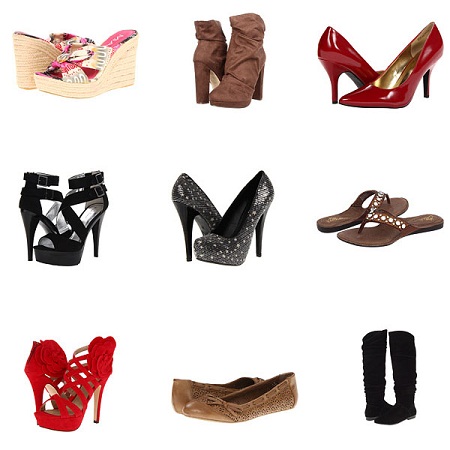 Avail Discounts:
Online shopping portals give discounts on a special occasion to the customers.  If you keep a close at the website on reputed shopping portals then you can avail the discounts and save a considerable amount. Instead of buying two when you get the discount, you can purchase three-to four trousers of various styles. To avail the discount all you need to do is to check the online shopping portals frequent if any discount is going on.
Look like a diva and your peers will envy you when you wear the trousers in vogue by pairing it with the ideal top and footwear. So be a showstopper and let all eyes on you in every place.[/fusion_text]