Sarees have always adorned women through ages. Since the ancient times sarees have been the sign of utmost femininity and sensuality for Indian women. With its far reaching appeal it is now considered as one of the most coveted attires throughout the world. The variations of sarees are almost mesmerizing. With different types of materials used for making of sarees women surely are spoilt for choices when it comes to this ultimate feminine wear. One of the best things about sarees is that it can be worn in almost every occasion. Whether it is a formal meeting or a party, or even a night club, sarees can do wonders to a woman's body and make her look gorgeous and smart at the same time. It only depends on which saree you are choosing for the occasion. Yes, you need to pick the right saree for the right occasion and you are sorted.
More on Shimmer Sarees
So what do you do when you are invited for a party for going out on a date? Well you choose a material that adds sparkle to you. Shimmer sarees are the ones that will help you get the best look for a party or a romantic night out with your beloved. These sarees are generally designer based sarees that are quite different from the traditional silk and cotton sarees. Different types of materials are used for making these  sarees. Designers in India use viscose, satin, crepe and tissue to make shimmer sarees with their own style of embroideries and sequined work. Intricate handworks are also done on their shimmer sarees to make it a perfect party wear. SO if you are planning to have some of the best party wears that can be formal yet casual then you should buy shimmer sarees.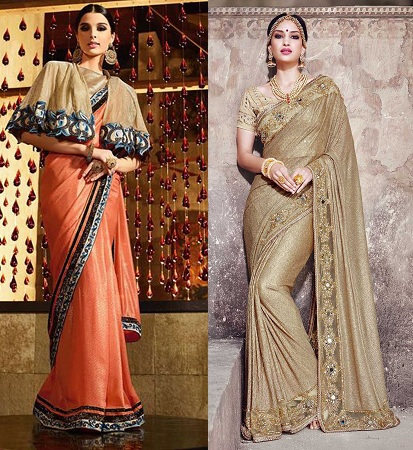 Sparkle with shimmering delights
Generally shimmer sarees are made on georgette fabrics. It is because of the fact that georgette provides the designer with the flexibility to add shimmer in a designer way. Shimmer adds glamour to the somewhat ordinary embroidered georgette sarees and drapes. Shimmer does mean that the saree has been created and designed in a unique way. Glimmers added to these sarees makes then stand out among all. While dark colours are mostly used as the base for these drapes, light colours like baby pink and beige are also in quite demand. Nude shades are used for making shimmer sarees to give a woman's body the perfect shape and sensuality.
A choice does matter
When it is about an Indian celebration like marriage or a religious festival Indian women used to wear heavy silk sarees that are traditional and come with zari work. However with time the styles changed and women nowadays prefer light weight sarees that are very easy to wear, comfortable and easy to carry off in different occasions. Shimmer sarees in georgette and crepe fabric provides immense comfort and style for the women of modern times. Intricate zari work is also used on these sarees to add shimmer. So if you are looking for a trendy with a touch of tradition in a saree then you should choose a shimmer saree with zari border. Interesting patterns are used in the zari work that makes the saree look very sophisticated and stylish.
Shimmer sarees are great for going to a nightclub. It prettily emphasizes your figure and brings out the curves in the most stylish way. The shimmer and the glimmer add to the mood of the nightclub. So, if you are planning to wear a saree in a nightclub then georgette sarees done with shimmer designs and sequins will be the perfect choice. Black or red shimmer sarees would be the ideal choice for the occasion.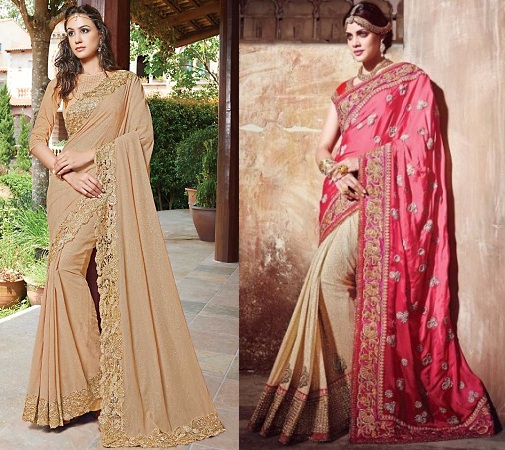 Shimmer sarees for the bride
Every bride wishes to look the best in her very special day. That is why they keep no stones unturned to look fabulous on their marriage day. A lot of Indian brides are switching over to various other sarees than just traditional kanjivaram or Banarasi. They are choosing crepe and georgette to adorn themselves on their big day. Stone work has become quite popular these days and they add great bling to your saree. Stones with sequins and zari can make your saree look gorgeous and absolutely shimmery. They can make a fantastic wedding saree for young brides.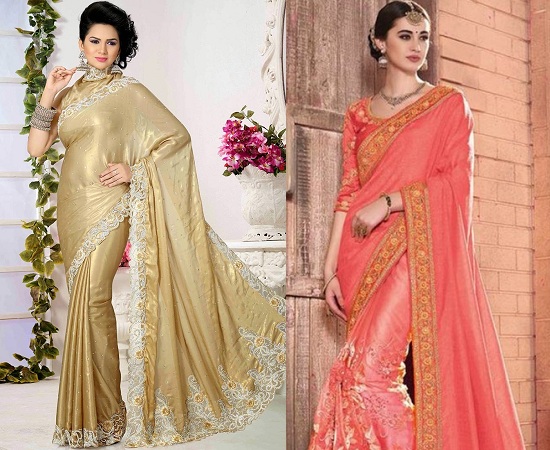 Wearing shimmer sarees
Shimmer sarees are designer wears and thus you can wear them in different styles rather than the conventional saree wearing style. A lot of designers are making shimmer saree in a dhoti style than emphasises the figure well. Jackets can also be used with shimmer sarees to add elegance to it. Designer embroidered belts are used with these sarees to make it look trendy and stylish. Blouses are designed in a cape style to wear with georgette shimmer sarees and it looks stunning on women.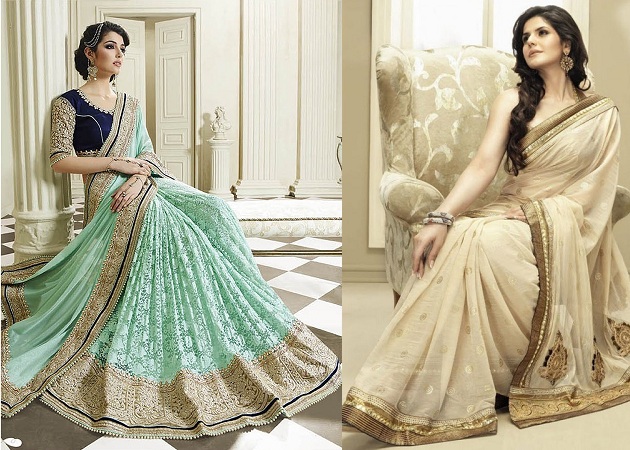 Net sarees
Apart from georgette fabric shimmer can be added to net fabric to make exclusive sarees for party wear. Soft net fabrics are used to make shimmer sarees with sequin and zari works on them.  These sarees adds a special style quotient to your wardrobe. The transparent material along with the glimmer makes it look dreamy and of course sensual in its own right. It is also very comfortable to wear as it is very lightweight and transparent. Make sure to wear a blouse that can carry of the saree well. Nudes, whites, pinks and blues are in fashion these days when it comes to net shimmer sarees.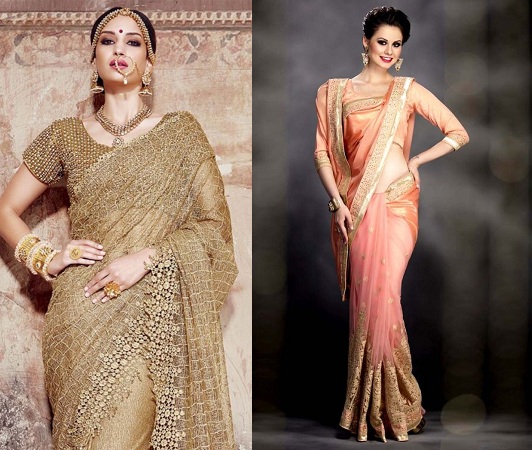 Conclusion
Blouse is an important part of shimmer sarees. When you are wearing a shimmer drape, make sure to wear a blouse that is designed intricately and has the style and elegance to carry off the saree well.  Shimmer sarees will always be in style because of its delicate and sophisticated charm. It is easy to wear and easy to carry off. So if you want to dazzle the show and have a classy feel then you need a shimmer saree. Every woman needs a good collection of shimmer sarees in their wardrobe.