Women in India love to wear sarees. The best time to flaunt their style and money is during the weddings when they can wear their best looking sarees along with their heavy and stylish jewelry. Now that winter wedding season is round the corner, women folks must be getting anxious about their winter sarees and their wedding commitments for the season.
Fashion is fickle as it keeps changing every season. New clothes, accessories and jewelry styles are launched every season to satisfy the needs of the fashion conscious. However, weddings are a different occasion altogether because most women whether of the older generation or the new generation want to wear traditional sarees that are mostly worn during weddings.
These sarees are south Indian wedding sarees that have been passed on from one generation to the other as they are never out of fashion. These south Indian wedding sarees are predominantly silk sarees from various south Indian states. They come in a number of gorgeous colors, different types of embroidery, embellishments or prints and possess a different kind of glitter that makes them look festive and attractive.
There are mainly four types of silks from which these sarees are made namely
Mullburry Silk
Muga Silk
Tussar Silk
Eri Silk
These silk sarees are mostly hand woven and exhibit very high quality of craftsmanship and talent which is hard to find anywhere in the world. Many countries have tried hard to replicate the work through sophisticated machines but have not been able to match the hand woven creations by Indian artisans.
States like Andhra Pradesh, Tamil Nadu, and Karnataka from south India dominate the wedding saree market in India. The most celebrated south Indian wedding sarees that are famous not in India but around the globe are (1) Kanjeevaram sarees (2) Konard sarees (3) Mysore silk sarees (4) Pochampally Ikat sarees (5) Chettinad sarees and (6) Gadwal  sarees.
Kancheepuram or Kanjeevaram Sarees:
Kancheepuram or the famous Kanjeevaram sarees are gorgeous hand woven silk sarees that are known throughout the globe for their intricate and beautiful designs and vibrant colors. They are very expensive and can begin from INR 5000/- a piece and go up to INR 12, 00,000 a piece.
These are traditional wedding sarees that every family in south India wants to have and are usually passed on from one generation to another. They are expensive as it involves a lot of time, labor and imagination to create and interlock three different kinds of woven cloths, that is, the body, the pallu and the border and create one single saree that looks like as if created in one.
Kanjeevaram sarees are special as they are not only traditional but are also timeless classics that remain trendy whatever is the fashion of the time. They are easy to drape and give a slimming effect to the woman's body making her look even more attractive than she actually is.
Kanjeevaram sarees are loved by corporate as well as bollywood celebrities and you can find most of them wearing these timeless pieces in high profile weddings. Bollywood divas like Rekha, Vidya Balan, Deepika Padukone and many more can be often seen wearing the famous saree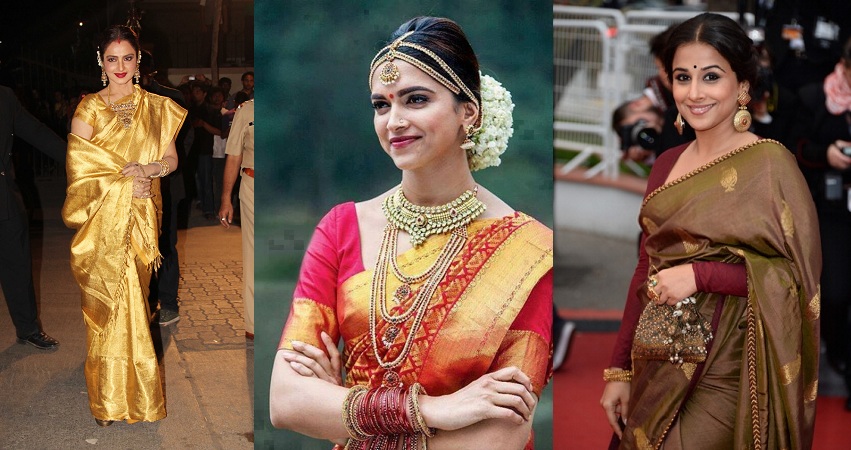 Konard Sarees:
Konard sarees come from Tamil Nadu and are also known as Silk Temple Saree as the designs are predominantly based on Hindu deities. The sarees have a wide border ranging from 10 to 40cm and traditional motifs like parrot, peacock, lotus, elephant and many more. These sarees come in colors like brown, grey, off white etc and have zari stripes.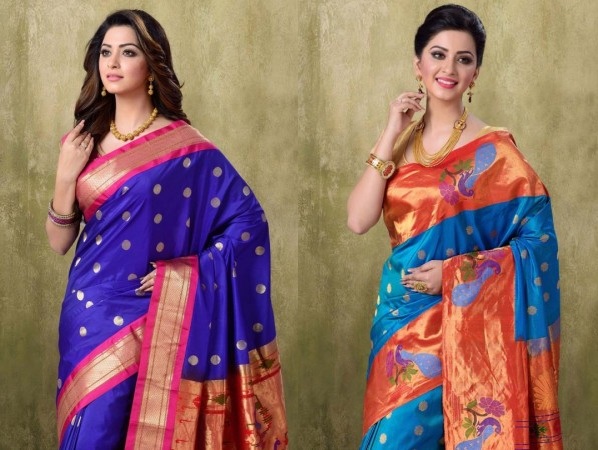 Mysore Silk Sarees:
Mysore silk sarees are one of the most popular wedding sarees from south India. These sarees come in the most vibrant colors that suit all skin tones. These sarees are easy to wear which makes them a popular choice amongst new brides.
Mysore silk sarees have intricate designs like chariot, lamp, and shells. These days' modern designs have also come into the designing of these sarees that are added to the body and pallu with the help of silk screen printing. Most of the designs on these sarees are inspired by Indian architecture and ancient ornaments. These sarees weigh approximately 400- 600 grams for the full length. The price of Mysore silk saree is calculated according to the weight of the saree and the government of India sells these sarees as KSIC sarees with a hologram to exhibit its quality.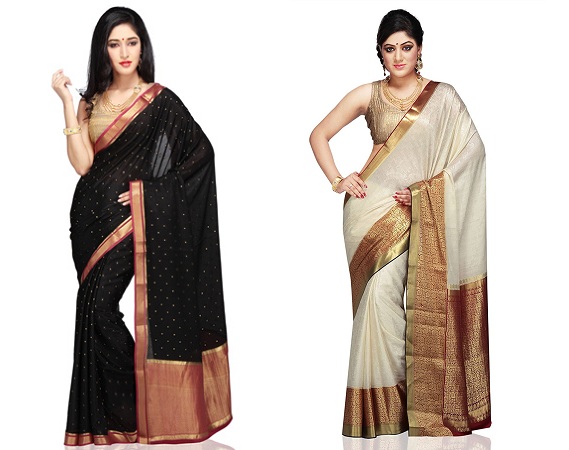 Chettinad Saris:
This saree comes from Chettinad district from Tamil Nadu. The unique thing about this saree is that it has bold stripes, checks and contrasting colors. These sarees come basically in cotton fabric but now silk fabric is also a being used to make saree.
One of the highlights of this saree is the incorporation of checks and stripes in horizontal and vertical lines with contrasting border. These sarees come in an array of vivid hue and you can find this saree being worn in most south Indian weddings.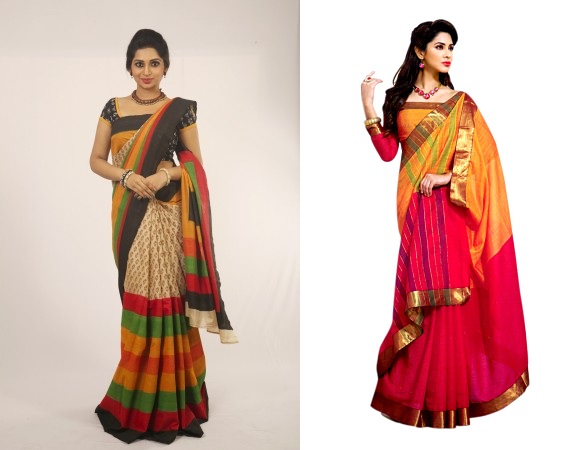 Gadwal Sarees:
Gadwal sarees are very popular in Andhra Pradesh. The saree comes from Telangana and is famous for its unique style of weaving. The body of this saree is made in cotton, the border in zari and its pallu in pure silk. After the three are complete, they are then interwoven in such a manner that they look like one. The average length of this saree is around 5.5 meters and comes in a variety of colors like beige, parrot green, yellow and pink.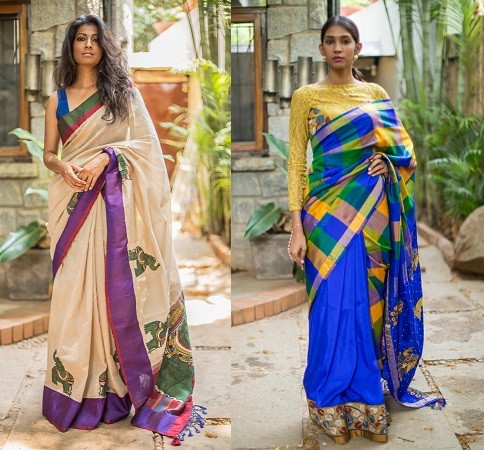 Pochampally Ikat Saree:
The saree comes from Pochampally town near Hyderabad. The saree is unique as it derives its geometric shapes from its Ikat style of dying and has motifs depicting nature like parrot, elephant, flower, diamond etc.  Each saree takes around 4 people a minimum of 4 days and a maximum of ten days to complete a saree.
The saree comes in a number of fabrics like cotton, silk and sico which is a mixture of cotton and silk. These sarees are different Ikat sarees from the ones weaved in Orissa as these are much smoother and these saris are not as heavy as them.
So, now with the collection of south Indian silk sarees before you, choosing the best one for the upcoming wedding season should not be difficult.