As spring and summer season is knocking at a door, it's time to add colours to your wardrobe with new trends.  People are excited about wearing something different after a long winter. Long Sheer blouse is one of the biggest fashions trending this season. It was seen on the streets quite often. So wear this blouse and give a stunning look to your traditional outfit.
History:
From centuries Indian women are wearing a blouse with different designs and patterns. One of the famous patterns that Indian women love to wear is Sheer blouses.  In 1920, this blouse type was in vogue. Sheer blouses lost their favour for few years but once again this design is setting trend.
Sheer a thin fabric:
A sheer fabric is a thin fine and semi-transparent cloth. These semi-transparent clothes add a designer look to the blouse. Wearing a sheer fabric accentuates your look in the most gracious way.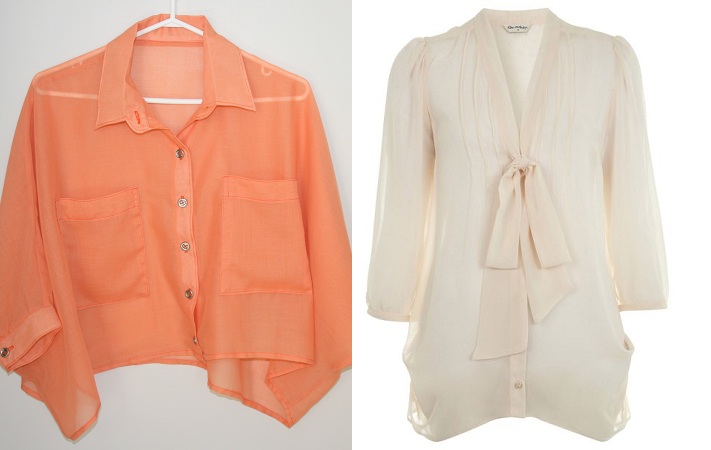 The Fabric used in sheer blouse:
To give shiny look to your designer type blouse, use silk organza that is a very lightweight fabric made of silk yarn. Silk Chiffon is very soft and sheer and very long lasting. It is also lightweight and is a great fabric that a long sheer blouse can easily afford to add up.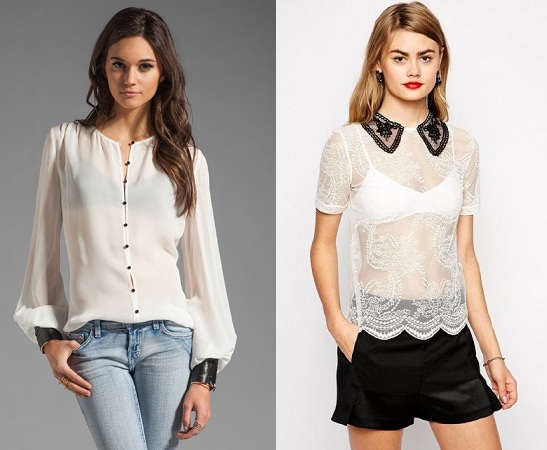 Georgette is a musky material but it is slightly heavier than Chiffon. The fabric is generally used for dressing up some loose fitting blouses and has a sort of dry feel. For transparent look prefer georgette. Long sheer blouse can also be made using polyester as it is very long lasting cloth and also less expensive.
Tulle gives very soft effect to your long sheer blouse.
How to wear long sheer blouse:
Sheer blouses are best worn loose. Long sheer blouse in loose fitting style with designer cotton and silk saree makes an adorable fashion statement. This keeps your looks more relaxed.
Flaunt your ethnic look by dressing up a little lace sheer blouse with single colour silk saree. Keep it simple with pearl jewellery.
Wear long sheer sequinned style blouses with lehenga for wedding ceremonies, social gathering, and other festive functions to get a prime attention. Pair up with high heels, light jewellery and a clutch. Prefer light shade or golden touch makeup for this outfit.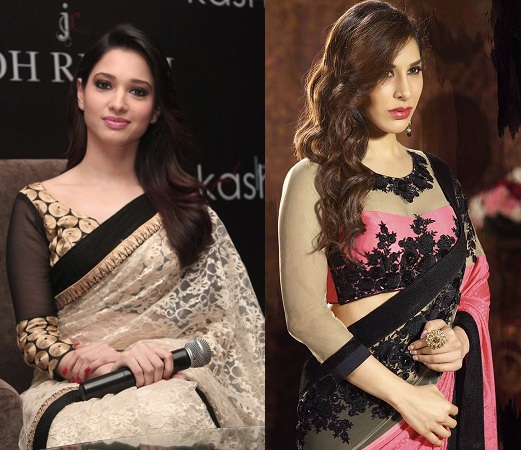 For a sexy look, wear embroidery or Chikkan work long sheer blouse with lehenga. Prefer light shades colour of blouse and lehenga for this style. Long sheer shrug blouse is another designer style that can be dressed up with lehengas.
You can also wear your this blouse for a western look by pairing it up with skinny jeans and mini-skirt. Pair a long sheer blouse over a black bra to look bold. We can also wear long sheer blouses with leather pants, faux fur vests, and pencil skirts.
Be cautious before wearing your sheer blouses:
As sheer blouse give semi-transparent looks that can be visible through some bright light so it's better to pay attention or be more cautious.
Always choose bold pattern sheer blouse as it will add some flexion to your outfit and can also act as a bit of a distraction if you choose to simply wear a bra or crop top under your sheer garment.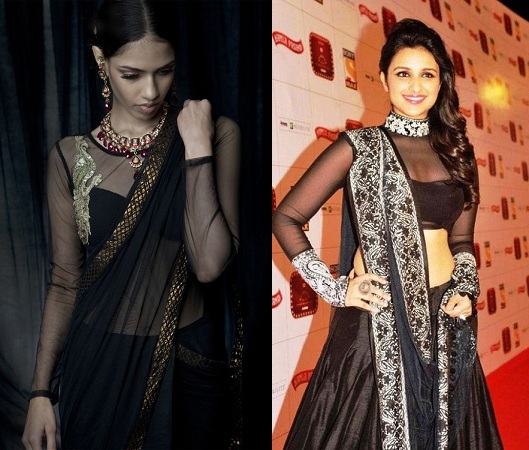 Accessories that match with sheer blouse:
Prefer simple and sophisticated jewellery when you are dressing with a long sheer blouse.  Wear contrast colour bracelet, pearl necklace and small earrings to look stunning. Try cotton necklace to looks soft. Complete your look with a tote bag. This blouse can brighten your look if worn with a nice camisole and a clutch bag.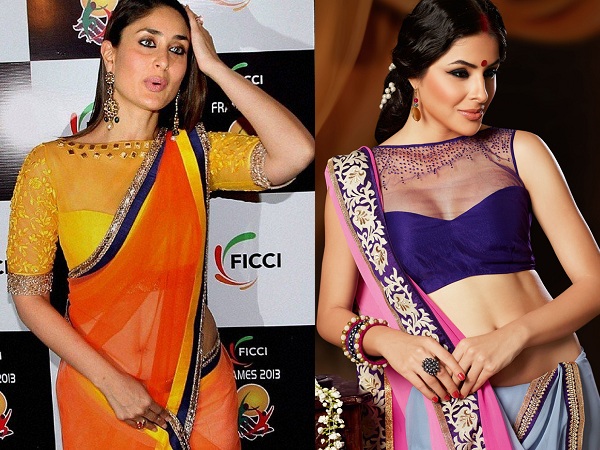 Benefits of wearing Sheer Blouse:
Long sheer blouse is the biggest fashion trending this season. Sheer blouse is made up with a very light-weight fabric that is very long lasting. It can be worn loosely or form-fitting and in all seasons. The Sheer blouse can be used for both tradition and western wears.
A long sheer blouse is a perfect choice to look more elegant and classy this season.  If you are impressed with this designer typestyle then pick the right colour and design and pair with your outfit. You can use embroidery, lace, and beadwork long sheer blouse with saree and lehenga to advance your ethnic glamour and beauty instantly.