Saree and lehenga are the key attire for every Indian beauty. This traditional wear makes every lady look Gorgeous and sexy. Blouse designs play most important role in adding beauty to your ethnic attire. The beauty of your saree pops out only when you wear a perfect dress and designer blouse matching to your saree, as it provides a finishing touch to the saree look. This season, one hand design blouse is setting one of the biggest fashion trends. If you want to look absolutely stunning, one hand blouse design with your traditional outfit can help.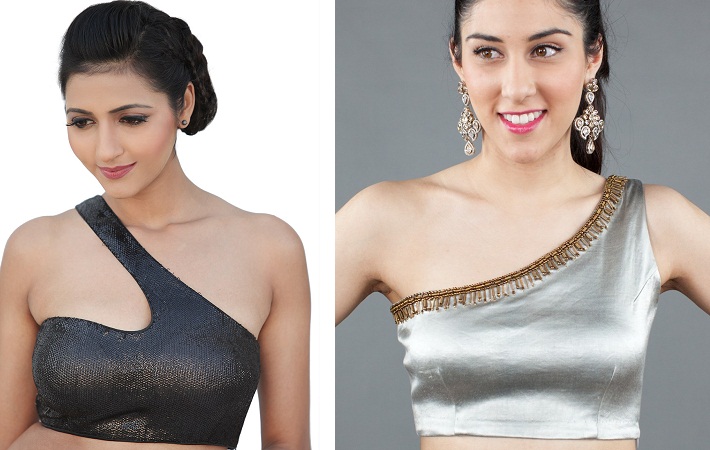 History:
The blouse is a fashionable and comfortable upper garment that is loved by Indian women and worn from centuries. It was introduced in the country at the time of British rule. One hand blouse design is evergreen style, it was worn even then and now also it is in vogue.
Available in various types:
This design creates a unique look for your blouse and it can be designed in a number of ways. One hand design blouse adds a sexy look to your outfit and is available in different types and forms. So you can choose the one that best fits you.
One side three-quarter blouse is for those who want decency and stylishness and cuteness all in one hamper. It gives a perfect designer look when worn with floral printed chiffon sarees and adds glamour to your personality.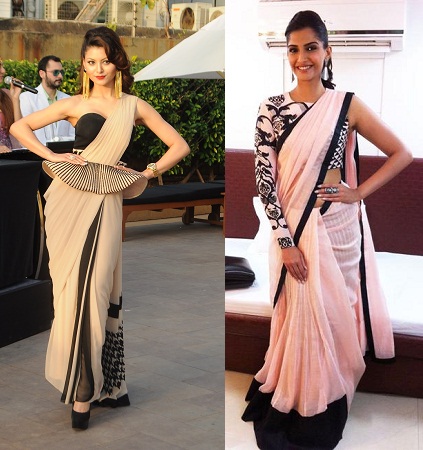 One hand full sleeves blouse is never dying fashion escapade when you wish to flaunt a lot but little showing your skin. This type of blouse design mainly suited for medium height or tall height girls with the toned shoulder. It will look perfect in this style of blouse design. Pair it with embroidered chiffon sarees or velvet sarees can also offer you that stylish look.
Sleeveless one hand blouse looks simple yet hot. These types of blouses are a must try for a woman. This type of blouse is currently trending and thus you just can't miss the opportunity to grab it and wear it with any heavy designer saree which gives you such kind of sheer appeal.
Round neck long one hand blouse is very popular among girls and it gives a casual look to your outfit. It is mostly used with printed or plain sarees.
How to wear:
The One hand blouse is very trendy this season and can be worn with both traditional and western looks. So, style this blouse with your sarees, lehenga and give it a perfect look.
Accessorise yourself with the right selection of jewellery and give your lehenga a unique touch by wearing lopsided single arm blouse. Choose contrast colours for your blouse that go well with the lehenga. Do not add dupatta to your outfit or use light work dupatta to highlight the unique pattern of your blouse. Wear stone studded heavy earring and high heels to give the complete look to your outfit.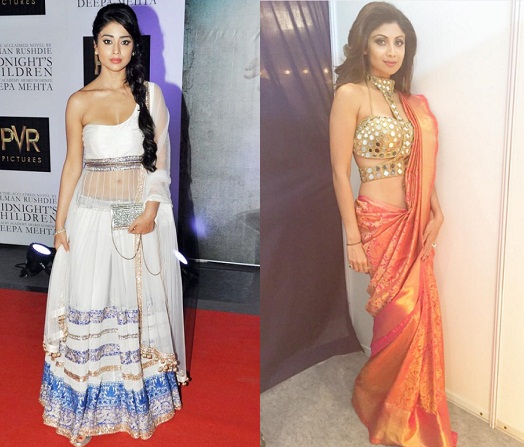 Full sleeves one hand blouse design can also be wear with long plain skirts.
Wear this blouse with any kind of floral print chiffon sarees, embroidered chiffon sarees or simple and plain style sarees and give your outfit a simple yet stylish look. One hand design blouse with cutwork is mostly preferred for parties. Wear heavy embroidery work one hand blouse design with silk or plain sarees of a single colour and rock social gathering like a birthday party. Give a formal touch to your one shoulder blouse with printed sarees and with light makeup. Select the jewellery according to the design of your saree.
Body type:
This pattern suits almost all the body type but it is perfect for a tall or medium height woman with the toned shoulder.
Why wear one hand Blouse:
These blouse designs are one of the more conspicuous trends in this season. It adds a stylish desire to your outfit and gives you an elegant and sophisticated look. It can be used with traditional as well as western attire.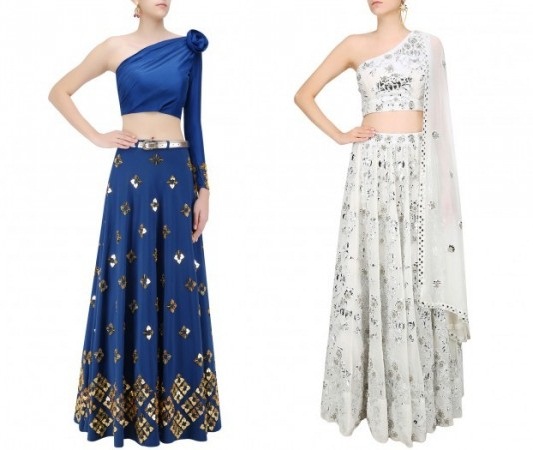 Conclusion:
One hand blouse design is a perfect choice to look more stylish and classy this season. If you are impressed with this designer blouse then adds this to your wardrobe and get a perfect look by pairing with your favourite sarees or lehenga.