Kurtis has become a fashion style of women across all age groups. Wearing kurtis as casual and formal wear has gained immense popularity as women have realized the amount of freedom that the dress offers, the style statement that it promotes and also the level of comfort and confidence that the dress offers to the woman.
Since every woman is different and her requirement is totally different from another woman, her style statement, her sense of dressing and choice of dress material is also different from the other. Now that kurtis have begun to be worn not only as a formal dress, but also as casual clothing, you can style your kurti in so many different ways such that each time you style it, the new style converts the same dress into a totally new outfit.
Hereunder are some of the ways that you can style your kurti to give you a new dress at absolutely free of cost.
Kurtis with Legging
The simplest and the most common way of dressing a kurti is with a legging. This style is used by almost all the women in India. In this method you can give yourself a new look by styling your kurtis of different lengths with leggings such that it gives a new look every time you wear it.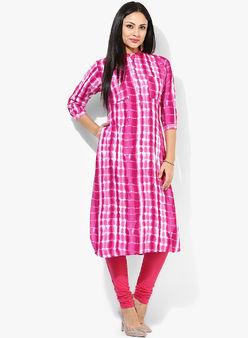 Kurtis with Palazzo Pants
Palazzo pants are in fashion these days and you can team them up with your kurtis to give you an entirely different look that you wear every day.  One of the best things about palazzo pants is that they give you a very urban and chic look and if you can style your kurti along with some accessories, it may offer you the look of a show stopper for any party as well.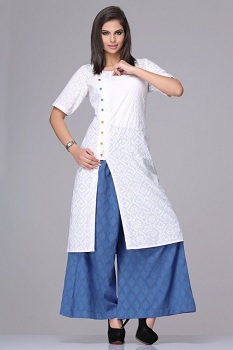 Kurtis with Jeans or Jeggings
Denims and kurtis is the urban look of all college and office going girls in the country. However, this is not the look that you are looking for. Instead your aim is to look different from others so the best way is to change the style of your denim and Kurti pairing from the regular to something different that you have in your wardrobe. Apart from this you can accessorize yourself by trying different set of accessories every time to give a different look.
Kurti with Patiala Salwar
Kurtis are high on fashion and so are the Patiala salwar. If you match the two, it can give you wonderful results in the way you look. You can just bring out a white or black Patiala salwar from your closet and style it with your long or short kurti and watch the mesmerizing look that it gives to your image and dressing.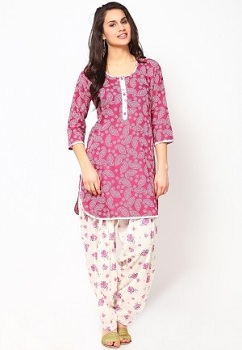 Kurti with Dhoti Pants
Dhoti pants are a new style that designers have come out for women. Although the pants have not yet caught the imagination of the masses, this is the right time to create an impression by combining your kurti with dhoti of a matching colour or the same colour. The style will be an entirely novel and new for you and people.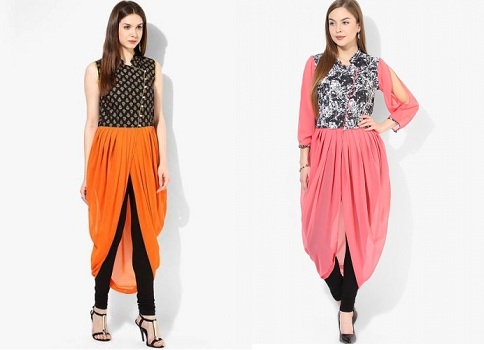 Kurti with Skirt
Kurti and skirt is the fashion in west but you can surely try it out here as well. Some of our bollywood celebrities have donned the style a few times with elan and so if you try it out, you could become a trendsetter of your place and a fashion icon.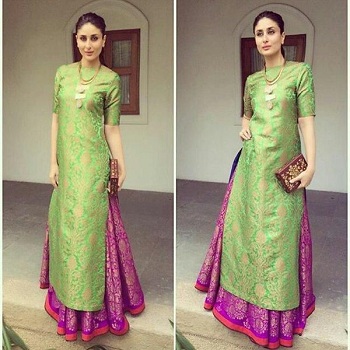 Capri with Kurtis
Capri and kurti go well together but you need to do it smartly because if you become a little casual, the entire style can turn out to be a blunder. All you need to understand is that a capri requires you to wear a small kurti and of the same colour or a colour that is in complete sync with the colour of your capri.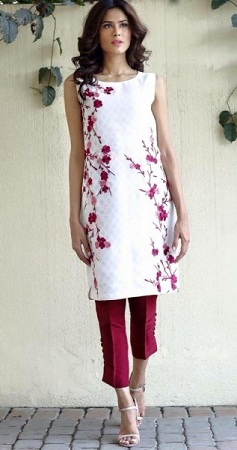 Kurti as a dress
You can use your kurti as a one piece dress as well. The only requirement for the idea is have a long kurti so that it reaches your knees. The other thing that is required is a pair of good footwear because you need to have a really good pair of footwear to carry off a single piece or it can turn out to be a blunder.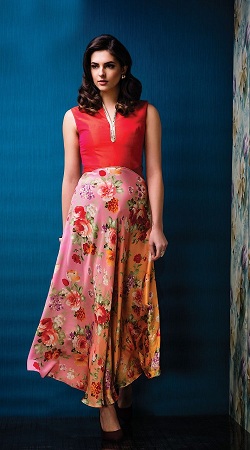 Kurti with Trousers
Kurtis go very well with trousers. It gives you the look of a working lady that is smart and fashion conscious. While teaming a trouser and a kurti you need to take care that the length of the kurti is not too long so that it gives the right effect to the dress.  If you have white, off-white kurtis, shades of brown coloured trousers can look very elegant.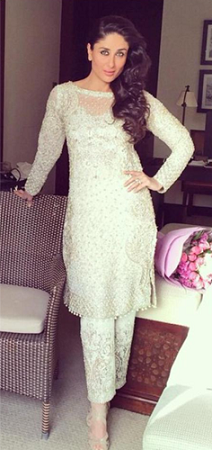 Accessorizing your Kurti
A kurti is one dress that looks good with almost any kind of bottom if styled and worn properly. Apart from using various different bottoms to change the look of your dressing, you must accessorize your kurti with things like a scarf, a Stoll or any other accessory that can add a sing to your dress.
Kurtis with Cigarette Pants
Cigarette pants go really well with all types of kurtis whether it is a trendy tail cut kurti, a flared kurti, loose Kurti, a kaftan or long straight kurti. Cigarette pants are comfortable and give you a professional look when you pair them with a kurti. They offer you the comfort of a churidar without the churi. Kurti and cigarette pants is a combination that allows you the freedom to think of going to a party or an outing without changing clothes as the combination gives you the look of a professional as well as a smart and up to date woman.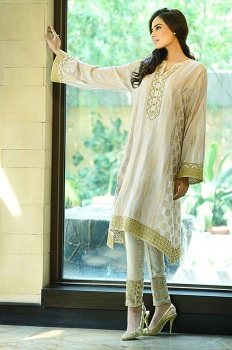 Kurti with Aladdin Salwar
Aladdin Salwar is very much like the trendy Harem pants and has become very popular with young girls wanting to try fusion fashion. Kurti is high and every woman wants an excuse to wear a kurti for its style and comfort. Therefore if you pair the two things together it will give you a new style of dress.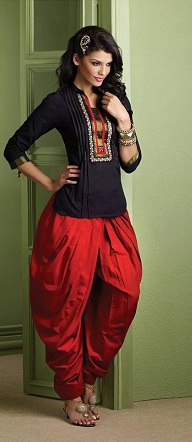 Wide leg pants with Kurti
Wide leg pants with kurti are very popular with girls because wide leg pants offer you the relief from suffocation that you experience in skinny jeans or leggings. This fashion is mainly for tall girls with well toned limbs so that you can wear kitten heels that look best with these pants and long legs.