Fashion Enthusiasts have come up with significant innovations and choice of clothes that makes them look beautiful and handsome! Over the years, the fashion industry has celebrated a lot of changes and also a lot of style choices as well. Fashion has been an important requirement for everyone, and they all are looking for Palazzo Pants. The Palazzo pants have been a hot topic for the fashion enthusiasts as there have been many styles and shaded of them. Well, the as the new style sums up, the Fashion Enthusiasts Go Wild over Polarizing Prints.
How to Wear the Polarizing Prints?
The polarizing prints are usually seen with a light base covering the entire garment. Well, a polarizing print is unique, and it will give you a lot of comforts as well. If the garment is made out of cotton, the print seems to be suiting well and will keep you comfortable to wear all day long. However, if you are willing to try polarizing prints for the first time, then here is a tip to use them!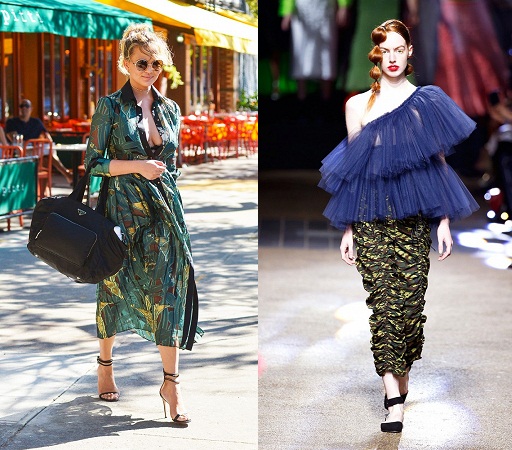 Palazzo with a Slouchy Look- tops and flats
Palazzo pants and slouchy tops and flats are a great combination to wear for any fashion enthusiasts and especially when these palazzo pants are a nice alternative to your boyfriend jeans. The polarizing pattern will add a new glance to your gesture and will look to be the best when you wear something out of the denim world. Try to add a combination of a slouchy top which is based on black to get in the slouchy factor. A pair of flats for your legs would make you look good for the day. This pattern adds more interest to the outfit than actually, the denim would have. So try out the Palazzo pants with a slouchy top and flats now! The best part of this combination is that you can wear it for any particular occasion or even casually according to your needs. You can even try other color combinations keeping the theme same.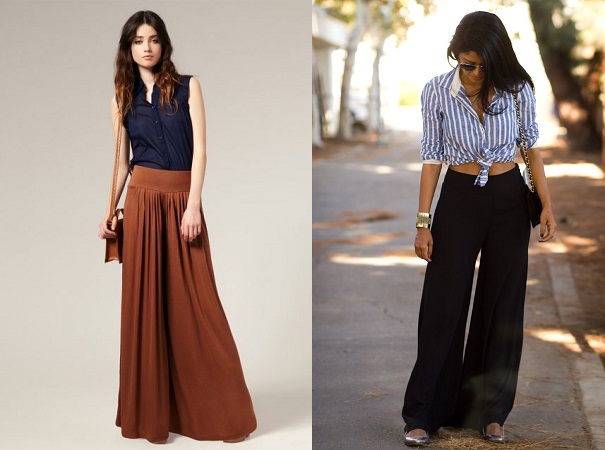 Make your statement with Palazzo T-Shirt and Necklace
If you have a long tiring day and yet need to get out for a date night, the combination of Palazzo pants with a t-shirt as well as the necklace is just perfect for you. Based out of a black and white polarizing print on your palazzos, this combination will indeed give you a beautiful feeling. If you wear a light based Palazzo, try to wear a t-shirt or a top with it based out of a dark color. Black or Blue would probably be the best color options that you can go for. Well, try to use a necklace to add a glory to the beautiful combination of the garments. Try to wear anything on a diamond or if you are wearing costume jewellery, then try to go for anything based on crystals. If you are going for parties or even for late night dates, this pair would give you the simplicity to enjoy more because you would be looking fantastic.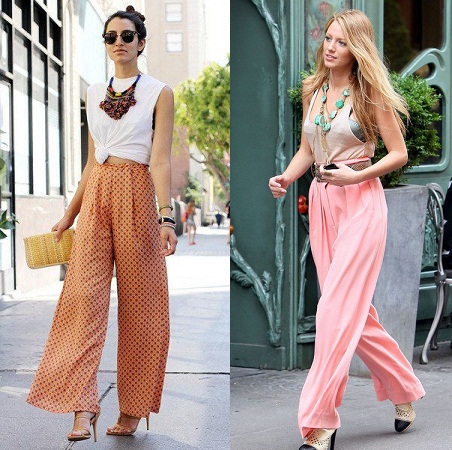 Palazzo pants with a tank, blazer, and heels
Office goers would be keen to try the combination of Palazzo pants with a tank, blazer, and heels because of its fashion and comfort at the same time. Try to start off with a palazzo pant based out of a polarizing print which will give you the best moment of comfortability at any corporate meeting and also at the office. If you are enthusiast about your fashion, the try to wear a bright color based polarizing palazzo. Because of the bright based Palazzo, you need to add a colored based blazer as well. If you have the same combination of Palazzo as well as a blazer, you can also have a dark based tank. Just top it with a blazer, tank, and accessories to make it look better, confident as well as professional for your work. For some more twists, you can go along with a pair of heels to make you look tall and use the style. This is a great combination to wear every day to your office. If you have different color combinations, you can also try them out.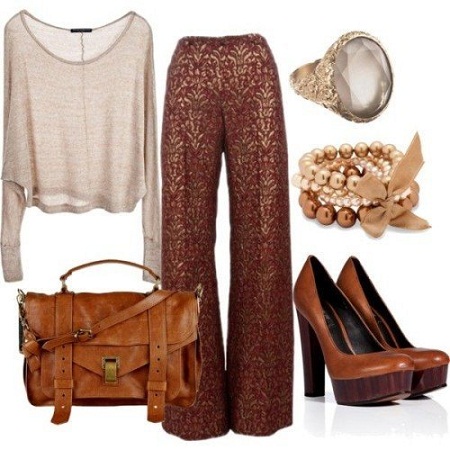 Palazzo Clubbed with Denim
If you have tried out the usual way of wearing a palazzo pant, then try out to go the cultural mix for a new change. Try these polarized print palazzo pants which are a taper in the ankle. So, they are not a true palazzo pant, but if you are wearing some denim regularly, then it is a great alternative to the jeans. It is a better alternative for those who wear the daily denim. The combinations of black and white polarized print Palazzo Clubbed with Denim are perfect for anyone to wear and if you are wearing this, try to add a chambray button down. This will give you confidence for your daily wear or for going to college. Try to bring a wedge along with your combination of Palazzo Clubbed with Denim to gift yourself a perfect gesture. The overall combination will add a bright tote to your looks. Add a pair of glasses also if you are out on a bright sunny day.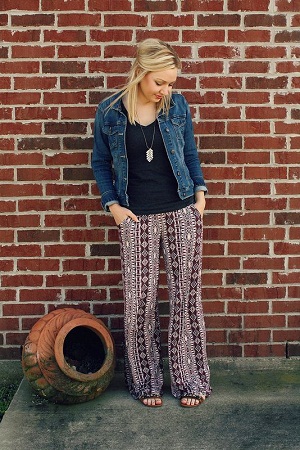 Rustic Sandals with Polarized Palazzo and tank
The combination of multi-color challenged with white will always be great. If you have worn out everything else, the summer style suits to be great with the combination of Rustic Sandals with Polarized Palazzo and tank. If you have a red based polarized print on the pants, then white will be the best combination to challenge it and also make you look beautiful. Try out a tank along with the pants and also a pair of sandals which will give you good comfort as well. Try it out with a pair of brown based sandals with some amount of heels to add a good gesture. Also never forget to wear your dark sunglasses while you are out on a summer afternoon.

So, it can be said that the combination of polarized print palazzo pants will make you look good. Try the above 5 combinations in the different places where you visit, and you can also see the difference by yourself.