Everyone wants to wear their best look every day. Fashion plays a vital role in our daily life. Fashion is everything – what you wear, how you wear, the pair of shoes you select to wear with an outfit and even the way you tie up your hair. Every person has their very own way of dressing up.  Fashion is not about following a trend but obviously about creating trends. Making yourself comfortable the way you are and carrying the trend boldly without any fear.
New Age Traditional Outfits:
Traditional outfits have always been favorite of the Indians on any occasion, be it a wedding ceremony or a party. Traditional outfits never go out of the fashion. These days, traditional outfits are very much interesting. Different cuts, patterns, embroidery have created a fusion of the normal traditional fashion. Women these days want their traditional outfits to look unique and fashionable thus opts for sleeveless traditional outfits, outfits that have exquisite back cuts, asymmetrical kurtis.  They want their clothes to be comfortable and fashionable both at the same time. Women are bold these days when it comes to fashion. They are not at all afraid, socially stigmatized or ashamed of their bodies. They flaunt what the body they proudly.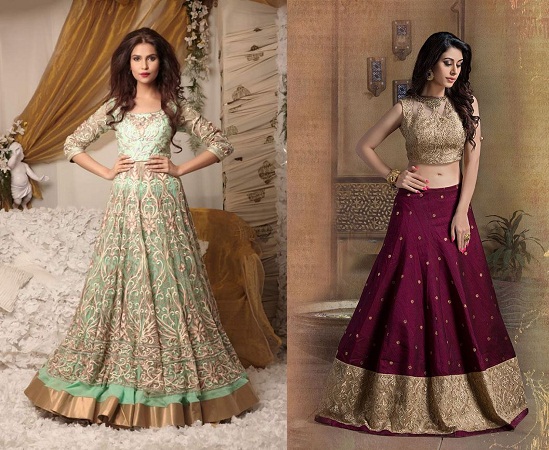 Exquisite Back Designs For Your Traditional Outfits:
Having outfits that have exquisite back cuts are an absolute eye-catcher. It can even turn a simple outfit into a gorgeous one. Indian outfits these days are jazzed up with the new age look. There are many cuts available for the traditional outfits. Women these days look for cuts that expose the back which give them a great physical appearance. The exclusive back design of your traditional wear can add grace to your looks. With gorgeous sarees or lehengas, it looks odd if the blouse you are wearing is not beautiful enough. So a vivid collection of interesting back cuts creates a great look.
A Variety of Back Designs:
Square, round or V cut design – it is designed where the back of the back is cut in a square shape, V shape or round sometimes strings are added or borders are added to different colors. The famous designs of the 60s Bollywood. This cut looks good both on blouses and kurtis.

Off-shoulder or back buster design – if you are a little bold and love to experiment your traditional look then you must try this design where the blouse is without shoulders. You can easily wear this with any sheer saree or chiffon saree.

Asymmetrical design – this is an interesting design that can be worn. Women these days like this trend a lot. Women these days are using this design very much in blouses.

Boat neck or bateau – this is a trendy design of 50s Bollywood, back again. Boat neck cutting looks glamorous with flared high-waist lehengas or sheer sarees. This can be easily worn instead of a bare-dare cut.

Back circle design – this is shaped as a perfect circle with a hook on the top of the outfit.

Sheer back design – this is a very trendy design where the back is not exposed as it looks like. The back cutting is deep and is fully covered with sheer or thin see-through material.

Collar neck design – if you are looking for an unusual design then this is it. Sophisticated and interesting with a deep eye cut slit along with a collar.

Low neck back design – the cutting is very deep. This looks great when strings and beads are added to it. This is gorgeous cut.

Backless design – this is the design that is like by every woman who is a bit bold and loves to flaunt their beautiful back. Backless design cut is deep and joined by strings on top and bottoms just a thin strip of cloth. That goes well with any kind of sarees or lehengas.

Heavy work back design – in this cut the back has heavy works of embroidery or sequins or stone that give it a royal look.

Addition of Strings and Beads To Your Outfit:
Almost all the traditional outfits these days have strings and beads at their back. This looks great and creates a balanced look. Beads add volume to the string and make them look interesting. These strings are also very much helpful. If you are a person who frequently loses or gains weight easily. These strings adjust the low back cuts and help them to be set on your back. The beads are of different kinds. There are different beads for cotton outfits and different for party wear or gorgeous outfits.
The Use of Fabrics and Stitches on Your Outfit:
The fabrics are chosen wisely according to the cuts so that they do tear away. The heavy fabric has different cuts estimated for them whereas chiffon's or cotton have other cuts that suit them. Due to this the durability of the fabric is maintained. The colors remain as it is even after many days. The sheer materials used are of high quality that does not tear off easily. The threads used are of high quality. The stitches are very fine and strong they do not loosen. The stitches stay intact even after several washes. Even the embroidered outfits are great.
The Bottom Line :
All the cuts are unique and look great on traditional outfits as the exclusive back design of your traditional wear can add grace to your looks. The outfits are of fine quality and the fabrics used are great. You can get a variety of size, quantity, and quality. The outfits are trendy and are very affordable. These are available on online apparel stores. The outfit is delivered safely at your place within a few days after you place the order. You can return them if necessary and get another item in exchange within 7 days after the delivery. Thus be it any occasion you can easily get a traditional outfit for yourself or any other person you know.