Sarees are the oldest type of garment draped by Indian women. Reference to a garment resembling a saree can be found in the Hindu texts and manuscripts from the time of Harappa culture. You can also find many statues and sculptures of women wearing a saree like dress in the caves of Ajanta and Ellora near Mumbai.
Word 'Saree' is derived from Sanskrit word 'Sadi' which means a strip of cloth. Sarees come as hand woven and machine woven. Even today sarees that are hand woven and embroidered are considered much more exclusive and pretty as compared to the ones that are machine made. The best and the most expensive sarees in India like the Kanjeevaram silk, Banarasi silk sarees are hand woven sarees.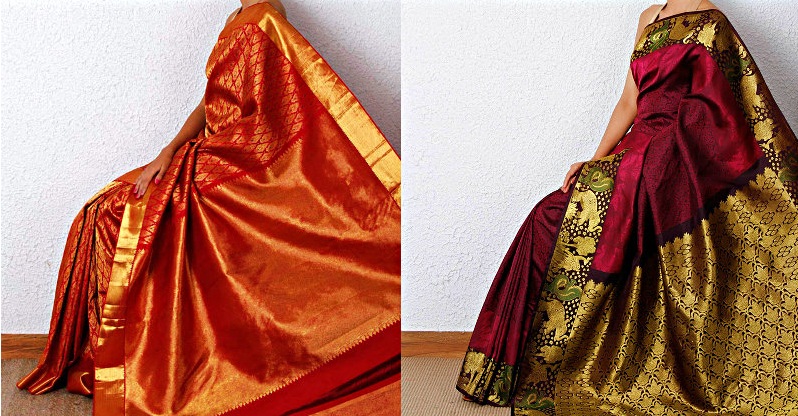 Fabric of Hand woven sarees:
Indian hand woven sarees are famous and popular not only in the country but all over the globe. Indians wear their hand woven sarees with pride and often tell other people about the qualities of their hand woven sarees as well.
In the yester years hand woven sarees came mostly in different varieties and qualities cotton and silk fabrics only. However, today you can find hand woven sarees in a wide variety of pure and mixed fabrics. Today many new varieties of fabrics have been developed and in order to buy cheap sarees people often buy sarees made of cheap or mixed fabrics.
Apart from cheap and mixed fabrics, mostly the fabrics that are used in saree making include cotton, net, silk, cotton silk, crepe, georgette and other varieties of cotton and silk.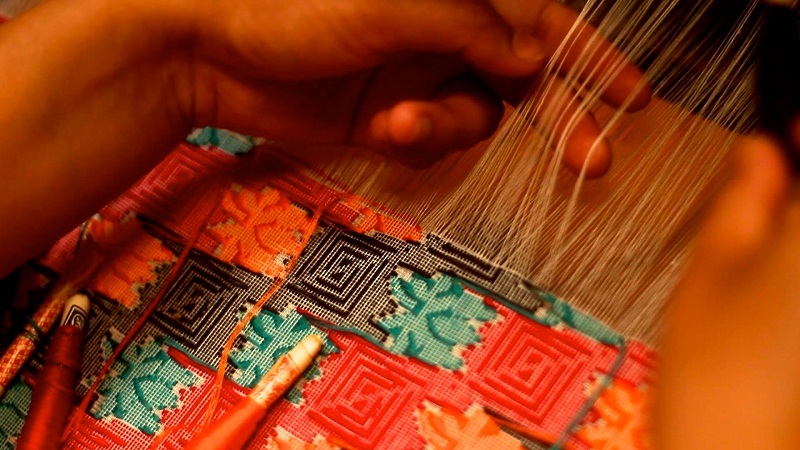 Distinguishing Machine made and Hand woven sarees:
Commercialization of trade and competition is forcing traders to sell machine made sarees as hand woven as hand woven sarees realize much better prices than the machine made counterpart. Here under are some techniques to distinguish between a machine made saree and hand woven saree.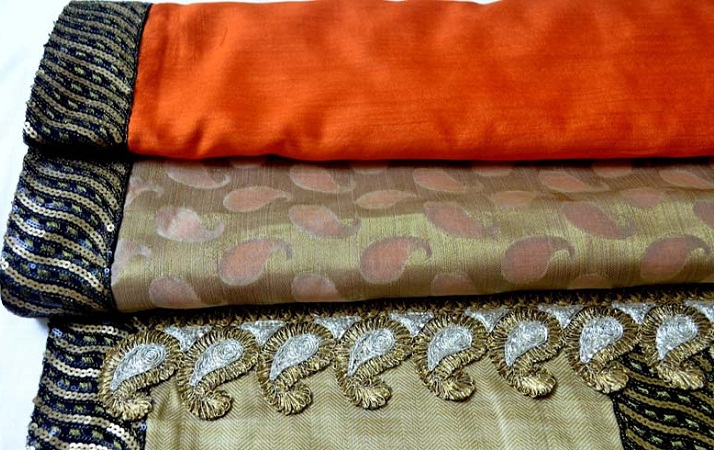 Every saree is woven in a different style and gives out a different texture after it is finished. If you want to find out whether your Chickankari saree is hand woven or machine woven you need to see the embroidery on the cloth. If the saree is hand woven, the cloth will have French knot or shadow stitch, murri stitch or other styles while if it is a machine made saree, you will find none of these.
Similarly in a Patola saree the motifs and color tells you the difference between a machine woven and a hand woven saree. While a hand woven saree is more intricate and has an overdose of color, you will not find the same level of intricacy and colors in a machine woven.
In an Assam silk saree the locking system at the back of the saree reveals the entire story. There is a huge difference in the locking system between the two and is very noticeable. Also the designs and colors in a machine made sarees are not as sharp as you find in a hand woven saree. Another difference in Assam silk sarees is that the border of these sarees are woven and stitched separately while a machine made saree is made in a single piece.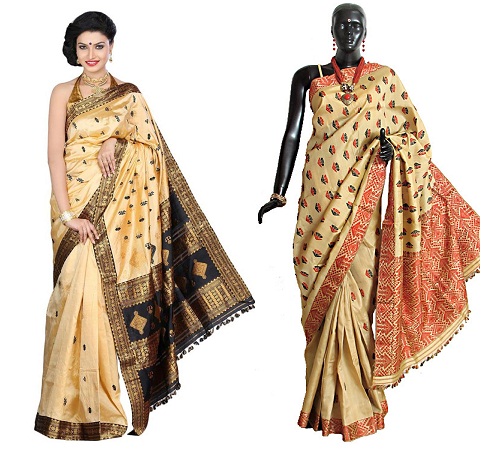 A handmade and machine made saree can also be easily distinguished from its pallu and border. While the respective designs of border and pallu of hand a woven saree is a replica, you can find a number of threads hanging in a machine made saree.
The hand block prints of a handmade saree will have minor flaws and you can find some color spills here and there but the prints in a machine made saree are flawless and colors absolutely consistent.
Difference between hand woven Banarasi saree and a machine woven can be found out by looking at the reverse of the saree. You will find a number of threads on the reverse of a hand woven saree while the machine made saree will have no such threads. A handmade Banarasi saree will have 6-8 inches of plain patch in every saree while a machine made saree does not have any such patch.
The biggest difference between a hand woven and machine woven Banarasi saree is that a hand woven saree will have the Mughal patterns like amru, ambi and domak while a machine woven saree does not have any such designs.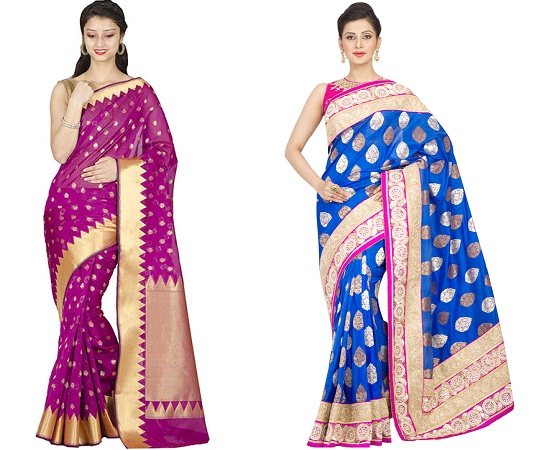 Hand woven sarees from different parts of India
Paithani Sarees:
Paithani sarees from Maharashtra have the completely hand woven border and pallu. The border of a Paithani saree is oblique and square in design and the pallu with a peacock design. The biggest specialty of a Paithani saree is the pallu which has distinctive motifs like bangdimors, asavali, gaswel, akroti and Ajanta lotus on them.
Vegetable colors are used to dye these sarees and distinct shades are created by varying the weaving style.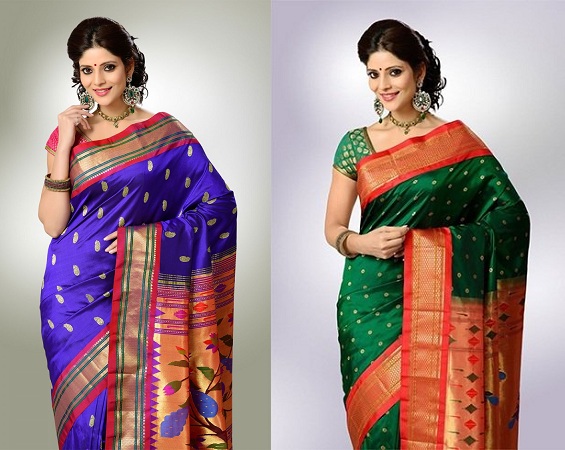 Bandhani Sarees:
Bandhani sarees from Gujarat require great skill and time to create. The specialty of this saree is the style of dying the fabric that involves typing the fabric in such a manner that a variety of patterns are created in a consistent manner and sarees are produced with very little or no flaw in color or design.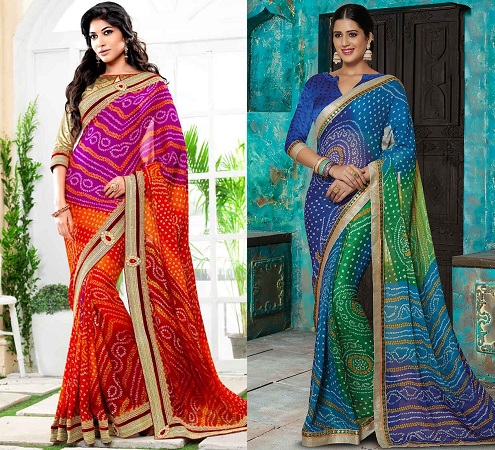 Chanderi sarees:
These sarees come from Guna district of Madhya Pradesh. These sarees are made by mixing very fine threads of silk and cotton. The designs in the saree are inspired by nature and you can find designs of fruits, birds, flowers, peacock, geometric designs and many other modern designs.
These sarees come basically in pastel colors although bold colors are now available as well. A genuine Chanderi saree can be found out from the sheer texture and sheen of the fabric. The sheen in the fabric comes from the gum that is used in making the saree. The threads of the saree whether it is the silk thread or cotton, they remain untreated.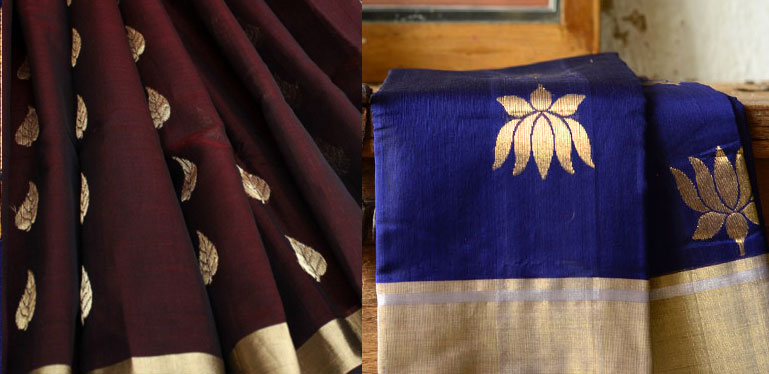 Maheshwari sarees:
Maheshwari sarees come from the town of Maheshwar on the banks of river Narmada. These sarees are very simple yet elegant sarees. The main characteristic of these sarees is the use of silk yarn in the warp and cotton yarn on the weft that makes these sarees light and airy.
Designs on the sarees are inspired by engravings on the temples and forts and has a thin zari border that is reversible. The border has geometric designs and the pallu of these sarees are distinct with five stripes of which 2 are white and 3 are colored.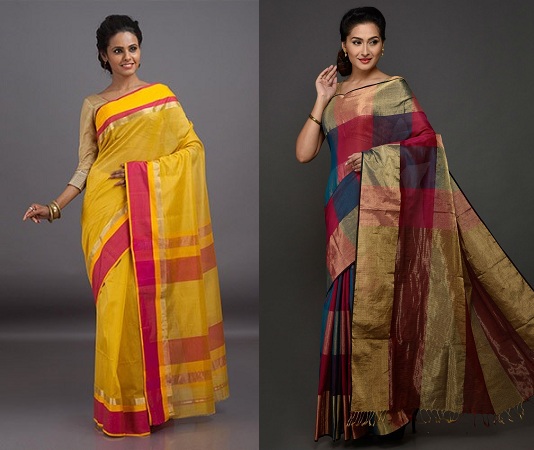 Baluchari sarees:
These hand woven sarees are inspired by nature and has figures of animals and architectural scenes. These sarees have scenes from the epics like Ramayana and Mahabharata with wide borders that repeat motifs on the pallu.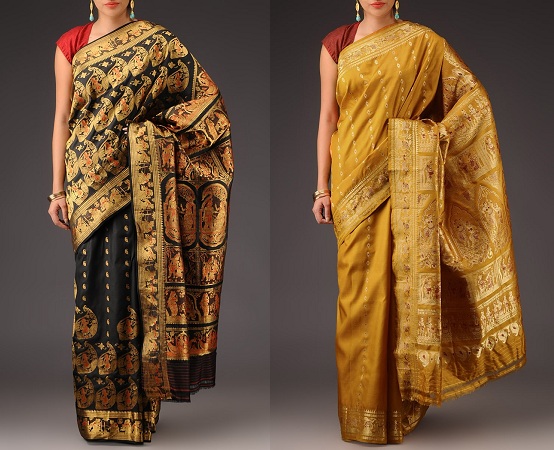 Banarasi silk Sarees:
These sarees come from the holy city of Banaras. Banarasi sarees are considered as one of the richest and finest sarees of India and is high on demand for weddings.  There are many different varieties of Banarasi sarees and each is different from the other depending on the style and type of motif weaved into the fabric.
Some of the most famous varieties are- pure silk, jaamdani, Thanchoi, jangla, brocade, reshum buti, brocade etc.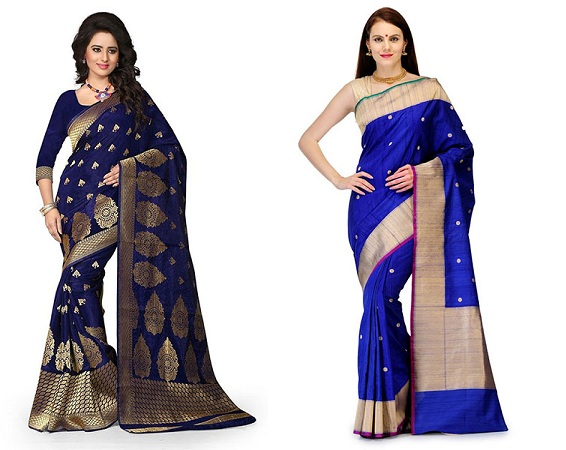 Tussar Silk Sarees:
Tussar silk is also referred as wild silk and is mainly produced in India. Tussar is the Sanskrit name for Kosa silk and is famous for its natural gold color. The sarees are inspired by nature and you can find floral patterns in the shape of trees, buds, leaves, flowers etc. The saree has a combination of threadwork and bagh printing.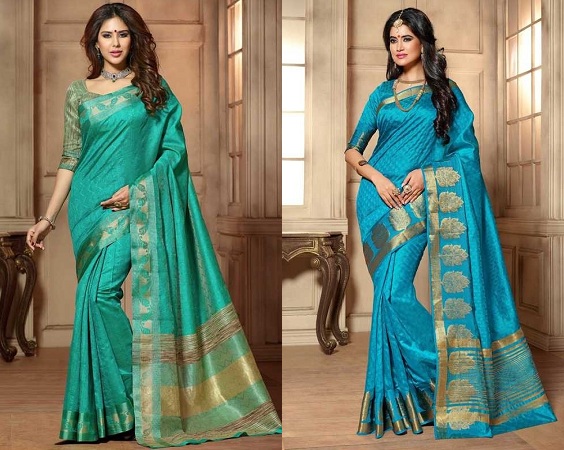 Tant Sarees:
Tant sarees come from Bengal and are very light weight and transparent. The saree is inspired by nature and has motifs depicting flowers, trees, leaves etc. These sarees are most suitable for hot and humid conditions of India.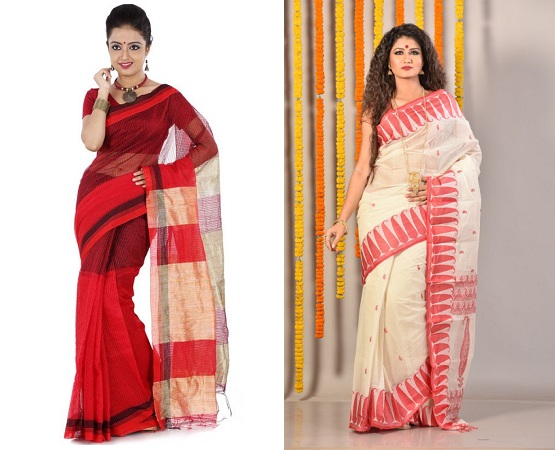 Kancheevaram Sarees:
The saree comes from Kancheepuram in Tamil Nadu. These sarees are considered to the best quality in silk sarees. Heavy gold and silk cloth is used in the making and is worn on special occasions like wedding. Special feature of Kancheevaram saree is that the color of the body and border are different and the pallu is woven in different shade and separately to be attached later on.
Themes on the saree include sun, moon, chariot, peacock, swan and temples like mallinagu and thandavalum.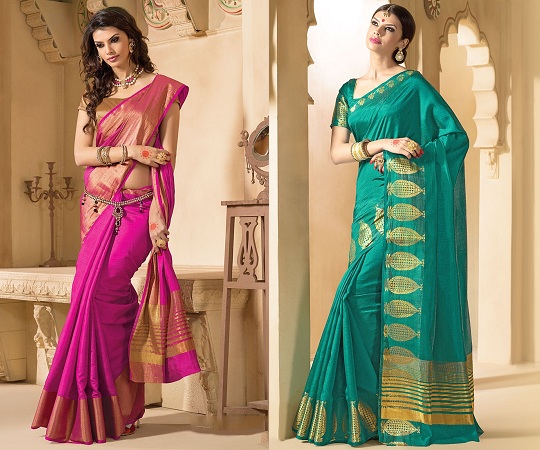 Mysore Silk Sarees:
Mysore silk sarees are on e of the most sought after sarees in south India. These sarees are made from pure silk and the main characteristic of these sarees is their shimmering effect, vibrant colors and soft feeling.