India has always been a country that takes pride in being internationally recognised for its diverse culture, venerable traditions, colourful festivals, and rich heritage. Over the past few years, Indian fashion has also gained much global attention and curiosity for its unique contributions to the fashion industry. Thanks to some Indian designers, India is now one of the most acclaimed countries in the list of top fashion industries in the international market.
The wonderful range of fabrics and textiles manufactured in India has always been a topic of great interest for fashion designers from all over the world. Recently, however, it is the Indian designs that have taken the global fashion industry by storm. What particularly plays to the advantage of Indian designers is the remarkable diversity in cultures and hence, in the dressing styles of different regions of India. Designers in India have a lot to experiment with in terms of adapting and combining various attractive elements of these exclusive dressing styles.
The first grand, international fashion week to be organised in India was in the year 2009. This three-day splendid affair was conducted in Delhi and featured designers and fashionistas from several countries including USA, Denmark, Canada, UK, Sweden, France, Turkey, Pakistan, Italy, China, and of course, India. The event was a golden opportunity for Indian designers to showcase their talent as well as for the world to compare the magnificence of these designs with those of other countries. Events like these and the response generated by them have further encouraged Indian designers to raise the level of competition in the international market as also the level of expectation other participants have from them.
Ever since, India is only continuing to gather many more feathers in its cap with respect to international fashion. The Indian 'saree', especially, is considered the most graceful attire and an aesthetic style of fashion by other countries. For example, Tarun Tahiliani's stunning Kanjeevaram saree which he designed for the very popular Oprah Winfrey has been lauded by many Hollywood divas and style icons. The design was an exquisite combination of fashion, elegance, and confidence. It pushed India higher up in the hierarchy of countries known for their dynamic approach to fashion.
Popular Indian Names in the International Fashion World
An excellent example of an Indian fashion designer who has made a mark on the global podium is Manish Arora, also called the 'John Galliano' of India. He was nominated as the best Indian designer by Outlook magazine. He has designed several creative outfits for many international celebrities, one being the popular model Heidi Klum. Other well-known Indian faces in the international fashion industry include Rina Dhaka, Manish Malhotra, Wendell Rodricks, Sandeep Khosla, Sabyasachi Mukherjee, Abu Jani, Ritu Beri, and J.J. Valaya. These designers have represented India on various international platforms.
Other Indian names doing the rounds in the global world of fashion are Rohit Bal, Ritu Kumar, and Shane and Falguni. Rohit Bal is known for his premium work with several international celebrities including Elizabet Hurley, Naomi Campbell, Cindy Crawford, Anna Kournikova, Pamela Anderson, and Uma Thurman. Ritu Kumar is definitely a popular name in the fashion industry and has designers all over the globe look up to her for her unique styling techniques such as designing traditional Indian attires with a contemporary touch. She has worked extensively with participants of international beauty pageants and also doled up celebrities like Melanie Brown, Jemima Khan, Mischa Barton, and late Princess Diana. Ritu Kumar currently runs a store in the USA and is venerated by teams of experts in both the industry itself and international fashion universities. Shane and Falguni is another name that has recently gained much attention for having designed outfits for divas like Britney Spears, Madonna, Katy Perry, Jennifer Lopez, Ozzy Osbourne, Fergie, Kim Kardashian, Cheryl Cole, and Rocker.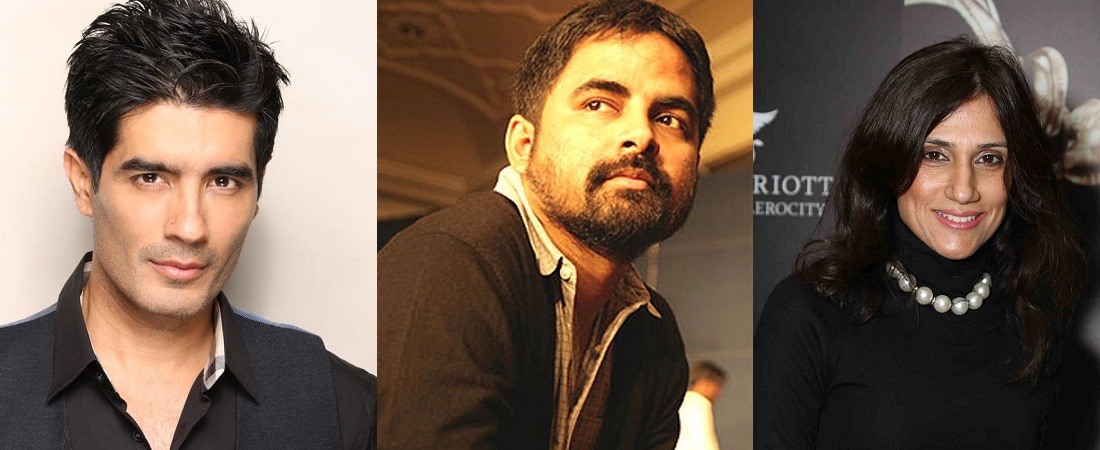 India's Influence on the International Fashion World
India is not only making a mark on the international fashion front, but also inspiring designers to imbibe its unique sense of fashion into their styling techniques. For example, Karl Lagerfeld, an international icon, transformed the universal understanding of an Indian saree into something very unusual and inimitable by designing gowns with sarees. He used the Maharaja Coats and Anarkali kurtas to design the dresses and churidars to make churidar pants. Furthermore, he accessorised his garments with traditional Indian hand bands, maangtikas, waist belts, queen's necklace, and nose rings. In order to make these designs appear more royal and elegant, he embellished them with gold and silver embroidery and pearls. Another example of the growing fascination in the western world for Indian fashion was Chanel's display of Indian fabrics, ornaments, and designs in a Paris-Bombay event organised in Paris.
What specially attracts fashionistas world-wide towards Indian designs is their freshness, uniqueness, and variety. Every piece of clothing is an exclusive piece different from those designed by others. This attraction has resulted in a tremendous rise in the export of Indian fabrics to other countries. The growing fondness for Bollywood films has, furthermore, played to the advantage of Indian designers. As per the latest report by the Fashion Design Council of India, the current worth of Indian fashion industry is $50 – $60 million and it is expected to reach $225 million within the next decade.
The rich cultural heritage of India has enticed the fashion world by its vibrant colours, intricate embroidery panache, and enigmatic hand weaving skills. Well-known faces of the fashion industry such as Jean Paul Gaultier, Marc Jacobs, Gianne Versace, John Galliano, and Alexander Mc Queen are now acknowledging India's pronounced influence on the global world of fashion. Fashion experts seem eager to be blown away with ground-breaking Indian designs in every international event. This is, undoubtedly, an exciting time for Indian designers to make the most of their talent and showcase it in the global market. Just like so many other spheres, the international fashion industry is waiting to be conquered by the excellent knowledge and inherent craftsmanship skills that Indians possess.