Starting from vibrant, bold ensembles to elegant and tasteful outfits, the Indian bridal wear outfits are as diverse as the people of India. So, whether you want to keep the bridal attire low key or want to make a total splash in style, you must choose the wedding lehenga carefully, which can cater to your style and taste.
As wedding attire is the reflection of one's personal style, therefore it is necessary to stay true to things. Besides, there is no requirement of compromising on the personal style to follow the latest trend.
But while it comes to choosing the right wedding attire, it is important to look out for the latest trends of Indian wedding lehenga. To help you out in the process, this article offers a guide on the latest wedding lehenga styles and patterns, which can be really handy for you.
Trail bridal lehenga:
This is one of the newest trends in the Indian bridal lehenga. By bringing up the royal Western culture, this type of trail adds richness and glamour to the designer lehengas while making these look like couture lehengas.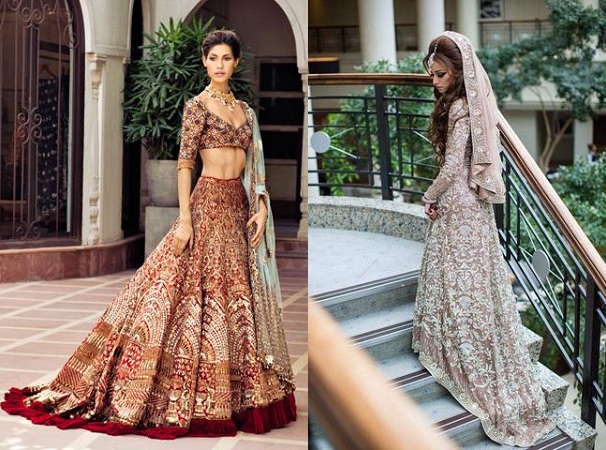 Anarkali lehenga:
In this lehenga style, the choli is sewn with long anarkalis, which can go down to the lehenga's length. In some cases, this type of lehenga also comes with sheer Anarkali top over the choli, which ends several inches above the floor.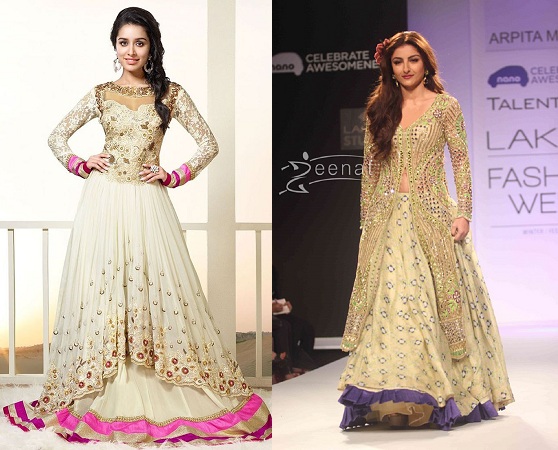 Ombre lehenga:
This is another popular choice of Indian wedding lehenga of the present time. This style of lehenga has taken over the latest trends of nail polish, lipsticks and hair colors. So, these lehengas can be your hot pick if you are a fashionista.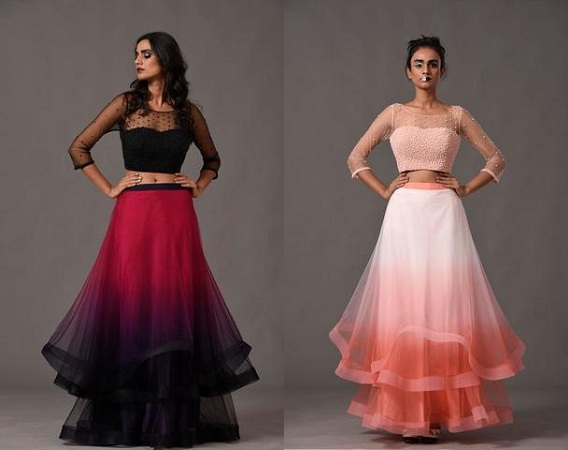 Floral lehenga:
From the last year, floral designs have become a big trend in the bridal attire and according to the report; this design will also hog the limelight even in this year. These lehengas are highly preferred among those women, who look for outfits with feminine charms. Though the floral design is mainly meant for summer and spring weddings, but the designers also decorate these lehengas with more extravagant and richer embellishments for cold season.
Jacket lehenga:
These days, almost all the leading designers like Manish Malhotra, Satya Paul have ankle-length, long jackets lehenga in their collections. The jackets of these lehengas are made with the materials like silk, opaque or crepe and these jackets also take the place of cholis. In some cases, these jackets are also made with sheer materials and these are worn over cropped cholis.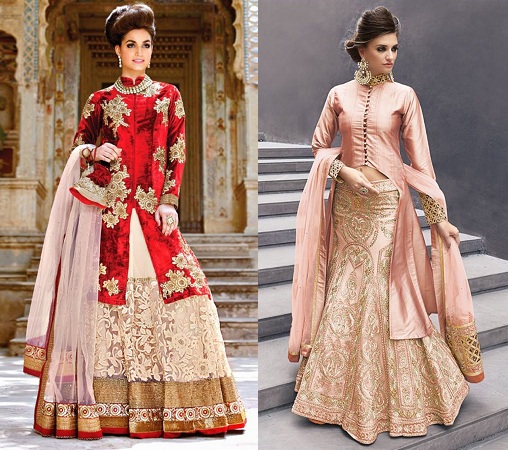 Gota patti border lehenga:
Since a long period, this type of lehenga has been in trend and the latest trend of gota patti border lehenga is the inclusion of embroidered gold border. Both narrow and wide borders are in trend now. Apart from that, designers are now also adding heavy tassels at the dupatta corners.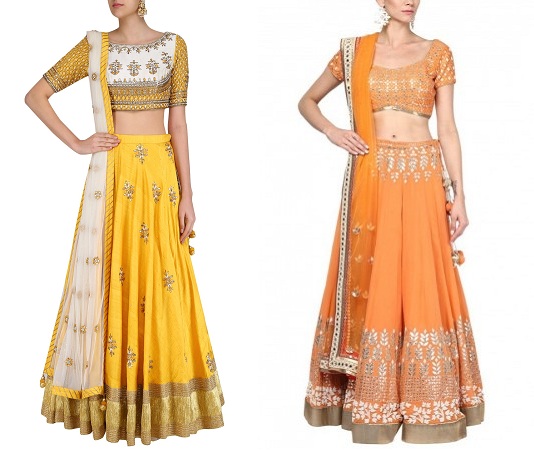 Crystal and mirror embellished lehenga:
If you don't prefer dori or zari work in the wedding lehengas, then opt for embellished lehenga designs with mirror and crystal work.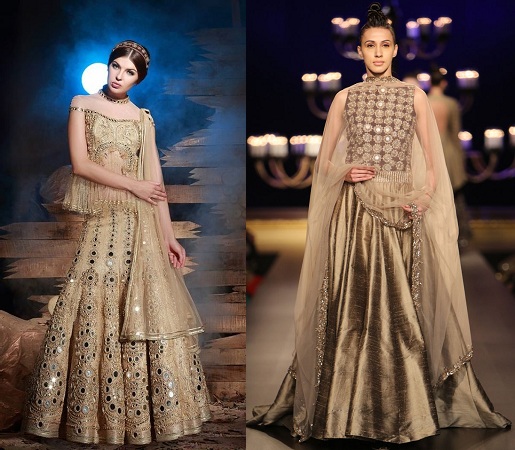 Velvet lehenga:
The trend of velvet lehenga will become more popular this year. But in case you find velvet is too heavy, then you can consider velvet cholis with velvet patch work or silk lehengas.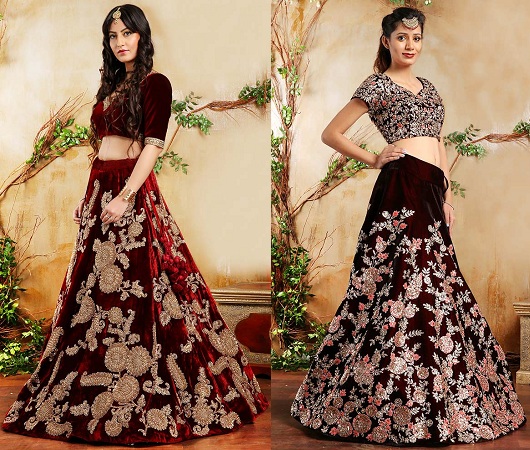 Kurta lehenga and Bundhgala choli:
This is one of the popular trends of lehenga designs for winter brides.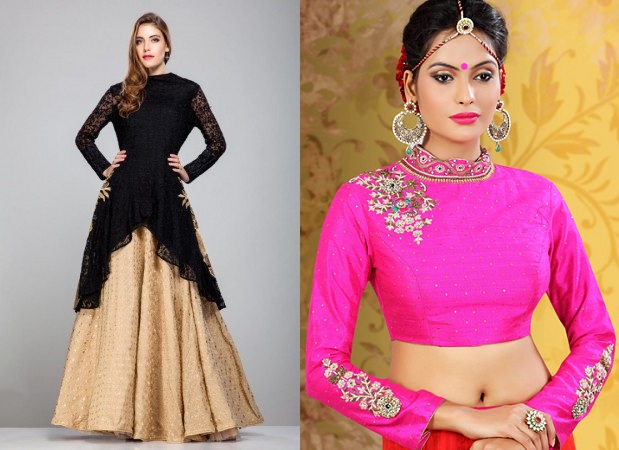 Lehengas with long sleeve cholis:
This type of lehenga is popular for the destination wedding brides or winter brides. These long sleeve cholis also look good with gowns.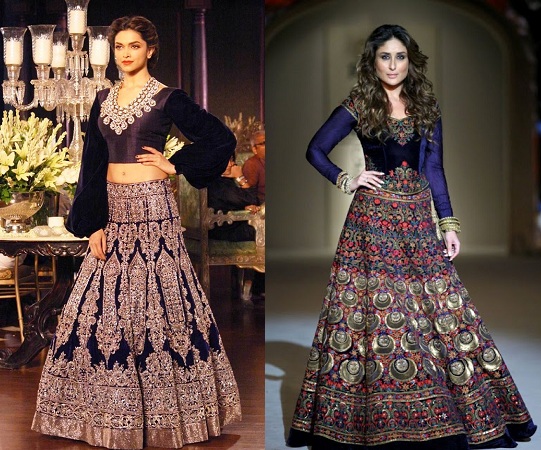 Unconventionally red lehengas:
In case you are unorthodox about selecting the bridal lehenga, then a complete range of wedding lehenga styles are there, which you can consider. These include: sari lehengas or western gowns. Apart from that, layered or print patch work gowns are also in trend.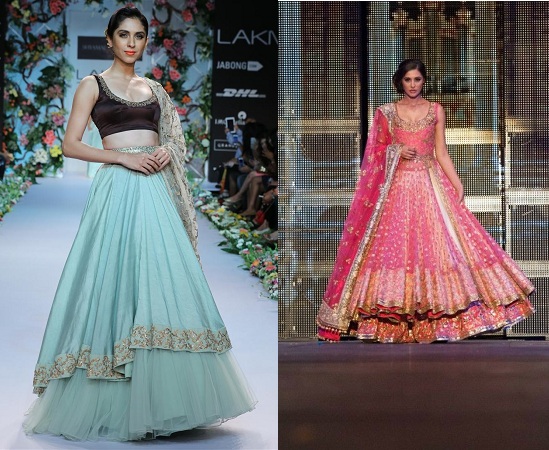 Contrast border lehengas:
Contrast border or double color lehengas is not a new trend. But what is new about this lehenga style is that now the borders are available in unconventional and contrasting colors like olive or mint green and yellow.