We Indians can never get enough of sarees, can we? It is utterly surprising how a six-yard long cloth symbolizes such sheer grace and elegance, but it literally does and we simply cannot deny it.
However, cladding themselves in sarees seems to be the toughest fashion task ever to Gen-Y beauties. The struggle of draping a saree and keeping it tucked in the traditional way is real and that is the reason why 'saree gowns' are here!
Yes, you got it right, girls! Today's post is all about 'saree gowns', one of the hottest ethnic fashion trends of this year. So, if you are one of those pretty lasses who always find it challenging to wear and manage sarees like a pro, we've got you covered. Keep reading.
So, What Is A Saree Gown?
The name says it all! A 'saree gown' or 'gown saree', whatever you call it, is actually an amazing fusion of time-honored Indian saree and sophisticated western gown. It was conceptualized to add a western twist to the Indian wardrobe that otherwise comes with a traditional vibe.
The gorgeous silhouette can be described as a hassle-free gown outfit inspired from a saree. It was introduced by Princess Diana two decades back when she wore a fuchsia colored saree-styled gown designed by London-based Catherine Walker. The trend that faded away gradually saw a revival when Paris Hilton arrived in India in a pink saree gown a few years ago.
A saree gown has a beautiful cut like a long floor-length gown with fluidity like a saree, which make it one of the best fashion innovations brought in till date. It features a drape hanging loosely from the lap on the left shoulder to mimic the 'pallu' of a saree. Being a completely pre-stitched attire, it can be worn in minutes to create a regal aura around you by combining tradition and modernity together. You also do not need to be anxious about getting the pleats right or stepping over the tucks.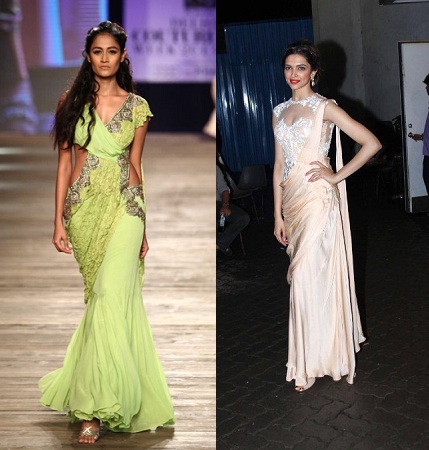 Types And Varieties Of Saree Gowns
There are very few ethnic outfits, which are as versatile as saree gowns are. You can find them in a wide variety of fabrics, cuts, designs, and styles. Here is a sneak peak for you:
Fabric: Saree gowns can be made of satin, net, georgette, chiffon, and a lot of other comfortable yet trendy materials.
Style: There are lehenga, reverse drape, dhoti-style, palazzo-style, and a lot of other designs to flatter your figure. You can also find some stunning pieces with sexy cut-work blouses or structured corsets.
Design: From a simple wrapped dress with basic details to a heavily embroidered or sequined outfit, there is absolutely no dearth of choices for saree gown designs.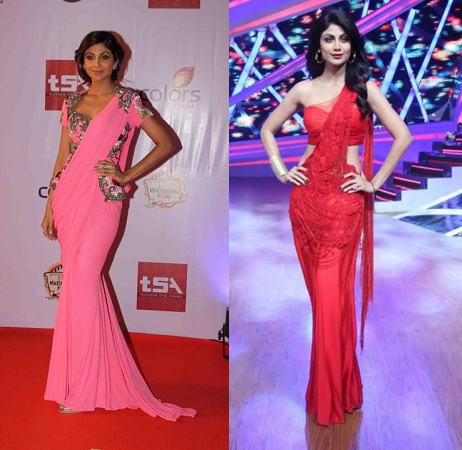 Different Ways To Style Up Saree Gowns
While the fabulous fusion wear itself comes in a ton of varieties, you can even take it to a new height by styling it your way. If you need some inspiration, pick your style from the choice given below:
With Bodice Blouses: A sheer bodice blouse with intricate details complements a saree gown beautifully.
With Regular Blouses: You can don your heavily embroidered saree gown with a simple regular blouse.
With Cape: Team up your saree gown with a cape made of lace, metal chains, or beads, and give yourself an awe-inspiring makeover in minutes!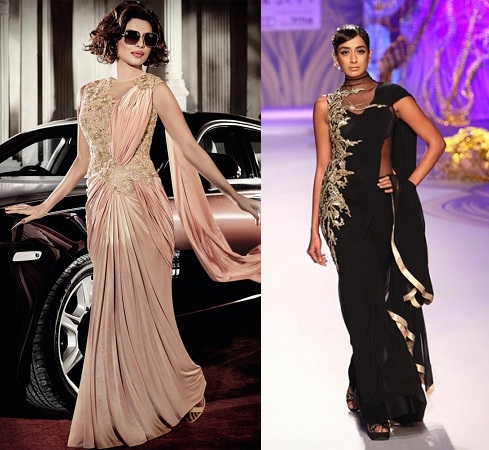 Why Fall In Love With Saree Gowns?
Isn't the above information enough to make you fall in love with saree gown? Do you really want us to give additional reasons? Well, there actually are some more impressive causes to make this outfit a 'must' in your wardrobe. Have a look at them:
Makes Life Totally Hassle-Free
If you are a girl with a 'saree-phobia', this contemporary attire is surely a boon for you. You can wear it without any worries, stay in it for hours without being too conscious, and pull it off with full confidence.
Helps You Get Ready Faster
As dressing up becomes easy with saree gowns, you can get ready in just a few minutes. The outfit can be zipped up in a jiffy, which makes it a 'hot favorite' of many women.
Gives A 'Fab New Look'
If you are among those who don't like to wear sarees in the conservative ways, it is the true solution for you. Being a traditional attire with a modern twist, it allows you to sport a fabulous look that is totally new yet absolutely admirable.
Makes Dancing A Breeze
Wearing saree gowns in Indian festivals, weddings or family functions makes dancing an easy feat. You can simply dance your heart out as there is no need of arranging your pallu or pleats every now and then.
Saree gowns are the super easy yet highly trendy way to look traditional while wearing a global attire. From international runways to Indian red carpets, this new age fashion statement has taken over the entire fashion world.
So, have you picked your favorite saree gown? If not, it is definitely the time to follow the trend.
Till then, look beautiful and stay stylish!