People from all over the world are fashion conscious. They always like to adopt the latest fashion whether it is jewelry, hairstyle, footwear, make up or dresses. Fashion-consciousness has given big rise to fashion industry. Million and millions of rupees are being invested to cater to the ever changing tastes of people. There are big fashion films of designers, artists and artisans ever engaged in creating and molding new fashions and designs. Even the Fashion shows are organized frequently, where models are hired to display latest fashions.  However, the best source of creating fashion standards and influencing the masses are the films, magazines and the television serials. Since the last few years, Bollywood and TV actresses have continued to inspire women largely by their suits, lehengas and designer sarees. In order to have that similar feel or look, they wish to purchase the same products.
TV serials and fashion sarees have close ties. Designer sarees worn by the celebrities in Star Plus serials have a great fan following. These stylish and exclusive sarees worn by the TV actresses not only appeal the masses but becomes an instant fashion in the country. People are always in search of innovative and classy fashions styles. They love to chase the latest fashion trends of their favorite TV heroines. On special occasions like Diwali, Karva Chauth or a lavish celebration, they love to be the replica of their favorite TV character. Among other ethnic outfits, sarees always look traditional and graceful on occasions. If you are compassionate about saris, then Star Plus serial is the best channel to take hold of your latest style statement. To get that diva look, here is a list of some of the Star Plus serials that have successfully and continuously inspired the general women in terms of clothing:
Diya aur Bati Hum
In this TV serial, which is telecasted on one of the leading TV channels, Star Plus, the role of the protagonist 'Sandhya' is played by Deepika Singh. She is seen adorning various Indian sarees that are simple yet elegant. The simplicity and way of draping the saree is something that attracts the eyes of the lovers of this soap. Hence, many women admire her style and wish to imitate her for the same to get that perfect traditional look.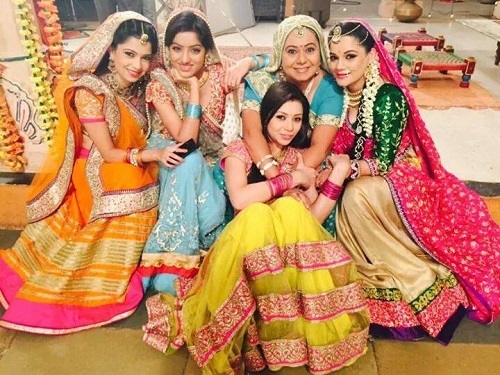 Sath Nibhana Sathiya
The regional and cultural sarees are also in great trend. The main character of this soap is Devoleena Bhattacharjee, who plays the role of Gopi, a perfect Indian daughter-in-law. She is seen wearing Indian sarees mostly in Gujarati style. Since, such types of sarees are mostly heavily embroidered, studded with big stones and usually of loud colors, these add the required grace and exact ethnic gaze to the wearer. The women who prefer bright colors view Gopi as their role model.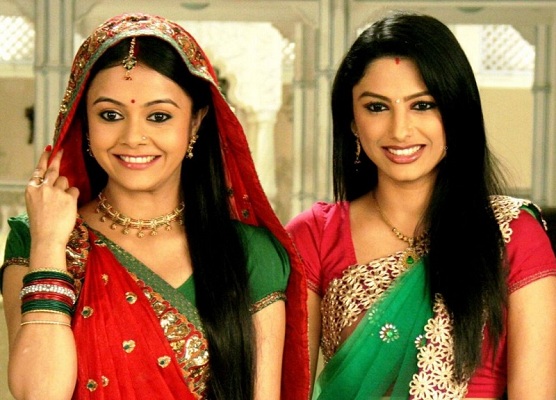 Yeh hai Mohabbatein
The beautiful and stunning Divyanka Tripathi plays the role of Ishita and is seen wearing pretty sarees with gorgeous blouses. Draped in north Indian styles, the bordered sarees appear absolutely glamorous on her. Bright and beautiful colors of the sarees paired with contrast or matching blouses are totally jaw dropping. Be it a sequined, cotton or a kanjivaram saree, the serial beauty carries them off with dignity and elegance. On the other hand, the vamp of this serial, Anita Hassanandani, widely known as Shagun, is absolute stunner when she picks up any saree. She can carry any contemporary style saree, whether it is heavy embroidered, net or lace with oomph and ease. What other women find most alluring about her outfit are the stylish and classy blouses she wears. Topped with curled or straightened hairdo, Shagun rocks the fashion world by her deep cut and off-shoulder blouses.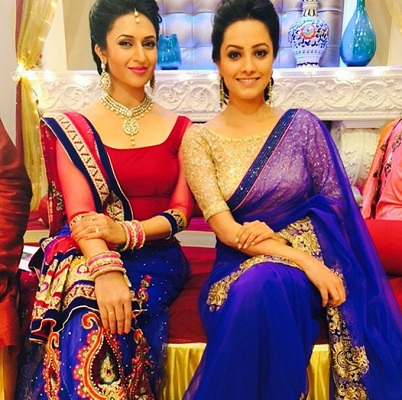 Yeh Rishta Kya Kehlata Hai
Hina Khan is playing the lead role of Akshara in this most popular serial of Star Plus. Since the last few years, Akshara has become one of the most popular TV actresses due to her traditional and stylish collection of outfits in the serial. The beauty is seen wearing a variety of traditional outfits that caters to ladies of all age group. Since the serial revolves around Rajasthani family, the actress is mostly seen dressed in Indian traditional wear like elegant sarees with designer blouses and gorgeous lehengas. The way she carried her traditional sarees in the serial was admired and adored by many people. Captured by her apparels, people love to see her in all kinds of sarees.
One could notice a beautiful blend of pure chiffon or georgette saree with multiple embroidery work, lace, hand and patch work. Cream, pink, blue, orange dominate the color range of these fabulous sarees. These apparels and patterns are so popular these days that they are coveted by the viewers in a great deal. People often imitate or replicate the designs of sarees worn by Akshara when they get their clothes stitched or purchase a new one. Due to its unique style and designing these apparels are available in the market as Akshara dress collection, Akshara designer sarees, Akshara saree styles and so on. The entire range of Indian traditional wear worn by Akshara in the serial is awe inspiring.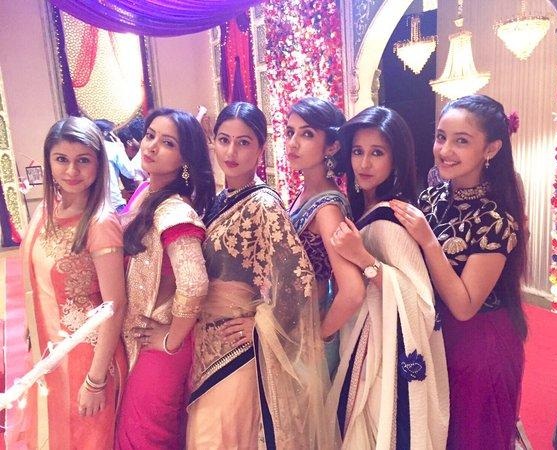 Be it a Diwali Puja, a wedding occasion or a grand party, one would love to dress in their beautiful attires. Currently people keep a close eye on the styles and costumes of TV celebrities and yearn to buy the same products to get that model look. No matter what kind of role the Star Plus actresses play on the television, their costumes and accessories continue to appeal the masses. The traditional Madrasan, Ishita, the stylish vamp, Shagun or the ethnic beauty Mihika have won the hearts of many Indian girls and women. The fashion wardrobe is very comprehensive in the Star Plus serials. Apart from costumes and accessories, it also marks the social and cultural progress. While copying the style statement of these favorite TV heroines, you tend to copy their etiquettes and manners as well. To be fashionable reasonably is always good but aping others without consideration of money is not desirable