White button down shirts are considered as one of the favorite items in almost every closet, irrespective of how the style changes over the years. There are actually numerous ways through which the simple button down shirts can be styled starting from casual to chic. And with the right styling, these shirts can stand out on their own or can offer a complete balance. Besides, these can also work as the ideal backdrop for the more glamorous outfits. Being a basic shade, the white shirts allow other trendy outfits to stand out without being boring. So, by pairing these shirts with trendy items, it is possible to create a balance, which is refreshing enough.
Here are the main ways of styling the simple button down shirts differently:
With flared denims: The retro trend is back and therefore this is the high time when you can style the classic button down shirt with a comfy pair of flared denim. This look is the ideal mix of classic and chic and in case you have a semi formal office dress code, then you can also carry this attire to the workplace. As you have chosen white button down shirts, therefore it is better to opt for darker shades of denim. It is actually possible to wear almost anything and everything with this look, starting from platform sandals and booties to platform pumps and sneakers. Apart from that, you can also carry any type of handbag of your preference.
With trousers: The classic button down shirts are an important part of every working woman's wardrobe. These even look better while worn with trousers both flared and fitted as the entire attire can create a great harmony between fashionable and professional. You can complete the look by styling with comfortable and smart court shoes and minimal bag with top-handle. Besides, you can also add a belt to this outfit, which matches with your bag and shoes. In case of cold days, you can pair this outfit with a trench coat or blazer. But in case you want to flaunt a casual yet work-worthy look, opt for a sweater and comfortable oxfords.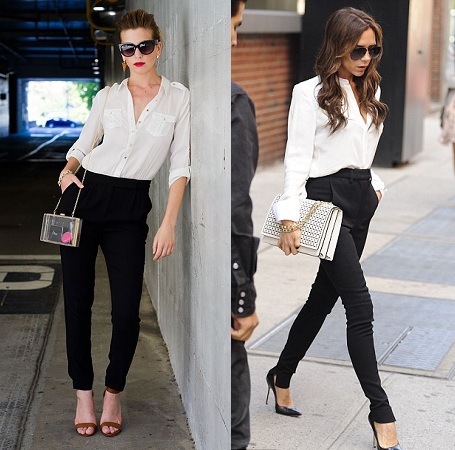 With shorts: Though the classic button down shirts can be formal, but combining these shirts with shorts can be the perfect example of mix and match. In case you want to tone this down, then opting for the denim shorts will be the best option. But in case you want a formal look, then it is better to go for more dressy shorts. Depending on the occasion, you can accessorize your look. You can wear anything from ballerinas, sneakers to sandals and booties. But in case you want to flaunt a formal look, then opt for some statement jewelry pieces and matching stilettos to dress the shorts up.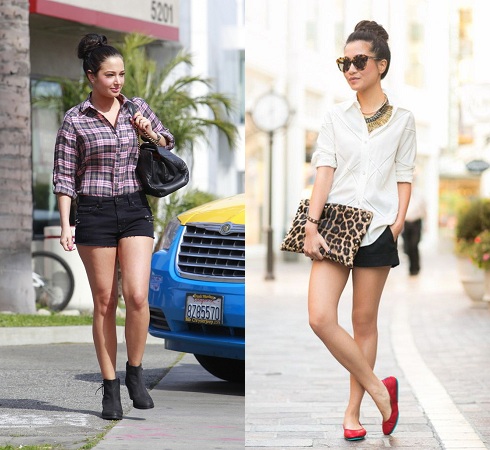 With suede skirts: The suede skirt is another retro trend, which has made a comeback recently. So, if you prefer these skirts, then you can actually create a timeless and classic look by combining the simple button down white shirt with a cute looking suede skirt. This can be a trendy yet comfortable attire without being too over-the-top. This attire is also suitable for women of different age groups; therefore there is no requirement of pulling things off. Just you have to choose a skirt design, which can speak your style without clashing with the everyday look. No matter wherever you are going, this look can be styled. But for a comfy look, it is better to wear this attire with classic oxfords or white sneakers.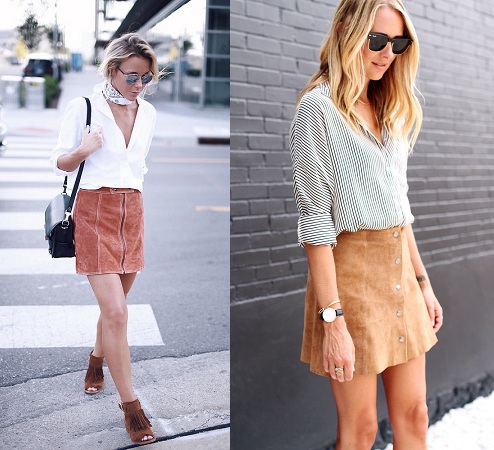 Conclusion
Apart from the above mentioned 4 styles, there are many other ways to style simple button down white shirts differently. One of these is that apart from wearing as daily outfit, these shirts can be used to create wonderful costumes for different costume parties. All you need to do here is to select the design that suits to your personal style.