Every bride dreams of looking perfect and beautiful on her wedding day. And why not! As marriage is a special day for every young girl, who aspire to become the most beautiful bride. A would be bride cultivate so many dreams about her wedding day. A month long preparation, planning and shopping keep the bride and her family busy and occupied. Shopping for clothes and jewellery is the major chunk of preparation and a time taking job.
While you focus on your cloths and jewelleries, you should also stress on makeup as a wrong makeup can spoil your look even if you wear beautiful jewelries or clothes. Makeup provides the final touch up to your look. So, it is very important to know the basic makeup tips for every bride. Therefore to ensure that you look perfect from head to toe, learn the makeup tips beforehand.
Here are some of the best bridal makeup tips that every bride should know.
Cleansing
Cleansing is the first step towards achieving that perfect bride look. Before applying any makeup or even a day cream, you should cleanse your face with a mild face wash. It will remove all dirt and oil from the skin surface and provide an even skin tone. Cleansing is an important skin care ritual not only for a bride but for every woman. Our skin is exposed to various dirt, grim and pollution every day which get deposited on the outer skin layer if not washed off. Eventually, it results in uneven and dull skin. Cleansing your face is also recommended after you remove the makeup.  So, start cleansing your face every day to become a beautiful bride.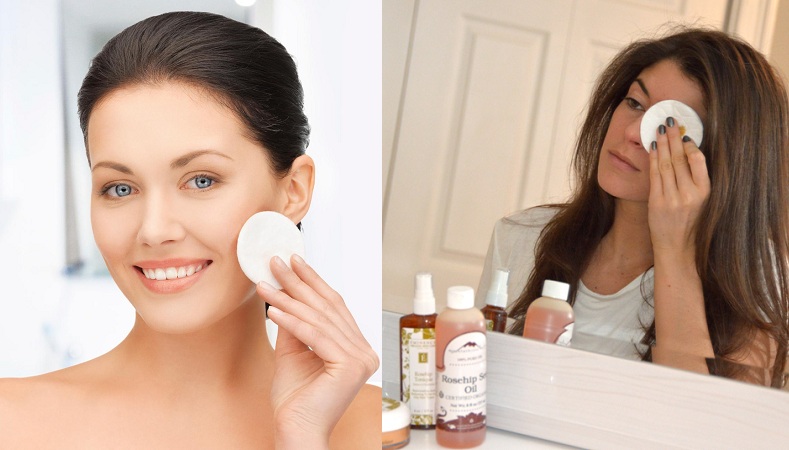 Moisturizer
Moisturizering is as important as cleaning. After cleansing the face is prone to dryness, therefore you should apply a moisturizer soon after cleansing to maintain the ph of the skin. Opt for a mild moisturizer according to your skin tone. It provides your skin a smooth and even tone. Before makeup, you can also use tinted moisturizer which now easily available in different brands in the market.
Use Primer
After you moisturize your face, ensure that you apply primer on the skin. Apply the primer just after two minute of moisturizer application. Primer acts as a base for makeup and ensure that the concealer and foundation are retained providing a long lasting make up. Primers are easily available in the market in several brands. Among all brands, the Sephora and MAC are the best seller primers in the market.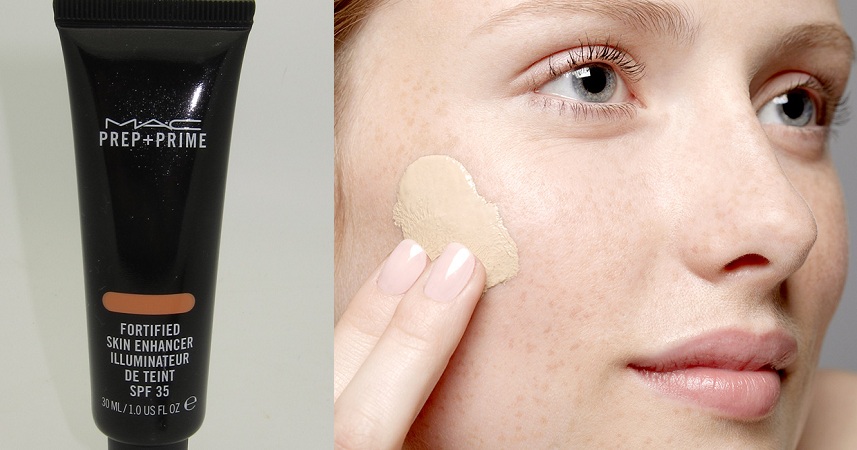 Use Concealer
As the name reveals, concealer helps to cover all marks, blemishes, and uneven tone on the skin. There is hardly any woman who doesn't have a single mark or spot on the skin. If you don't have a spot, you might have uneven tone. So, concealer is your best friend when it comes to hiding marks and blemishes. It not only hides the spots but also enhance your skin appurtenance. Apart from skin color, they are also available in other colors like green and yellow which help to cover uneven blemishes on the skin.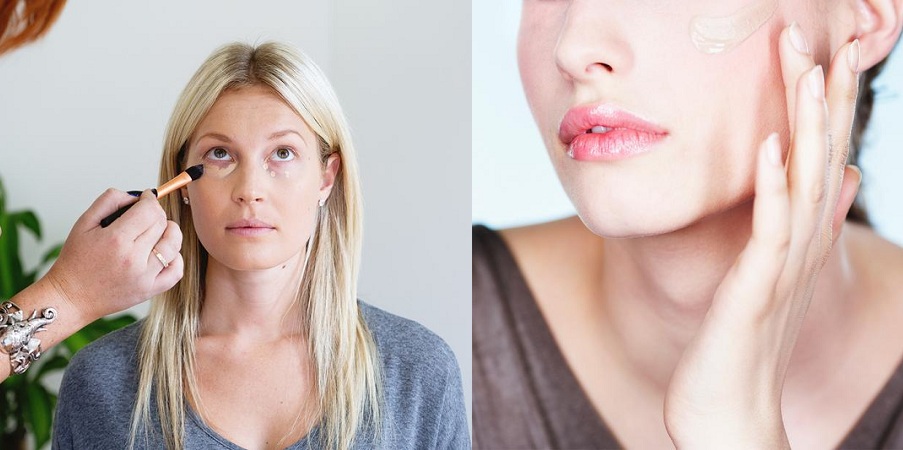 Apply Foundation
Here comes the foundation which is widely used as a makeup base. Most of you might be aware of the foundation. Buy a good quality SPF free foundation for your wedding makeup as you will go out under the sun anyway. SPF foundation gives a shinny effect on the skin which doesn't look good in photographs. This is another reason why should avoid SPF foundation. Also try to choose the right shades as per your skin. Apply a little amount of the tester on your hand to check if the shade suits your skin tone.
Start applying the foundation from the centre of the face and then spread it to the other part of the face while blending it with the skin. While blending, make sure that the direction of the fingers is outwards.
Use Highlighter
Once the application of makeup base is finished, you should focus on highlighting the features of the face. Some features of your face may be attractive while others may have the downside. So it is very important to provide an even and proportion look to your face. Highlighter plays a key role to mask the downside and highlight the best features. It is advisable to apply a highlighter instead of shimmer or glitter.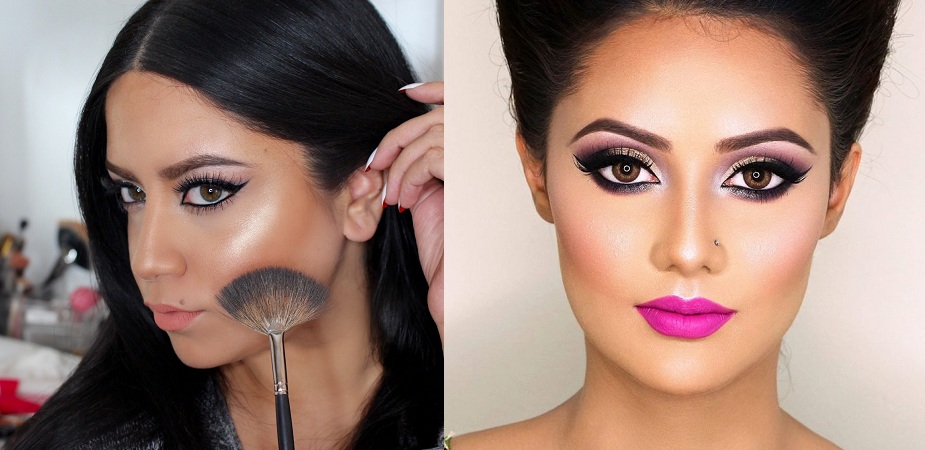 You should use the highlighter on the elevated part of the face like check bones, along the nose, forehead center and Cupid's bow. Colorbar, Sephora and MAC highlighters are the considered the best in market. You can buy any one of them.
Use Bronzer
Bronzer is used for face contouring which is very essential for a perfect bride look. It helps the face to look sharp and chiseled in the wedding pictures. You can do it by using an angular blush brush. With the brush, apply strokes along the sides of the chin. But avoid using the brush on the centre of the face and on the top. Repeat the stroke on the forehead sides, and along the nose bone sides. Use the bronzer on the contours peak while sucking your cheeks inward in side of the ears and in mild strokes. But avoid doing this along contour length.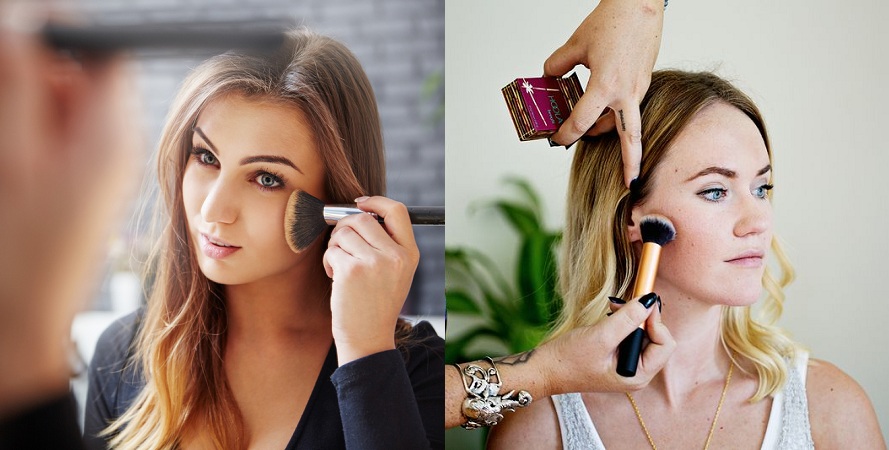 Blush Your Face
The bridal makeup is incomplete without the application of blush. After all, a bride should blush all through the ceremonies. Blush is the final touch up for your cheeks. With the help of a blush brush apply the blush making circular strokes while holding steady smile on your face. Blend the blush approaching around the ears.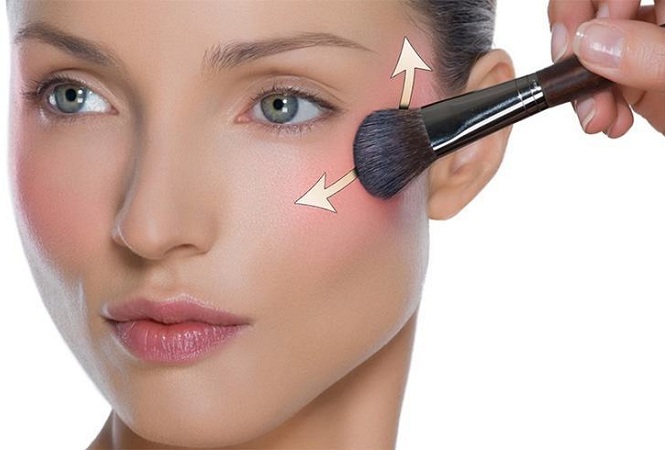 Eye Shadow
Any makeover, whether it simple or bridal is incomplete without the eye makeup. And eye shadow is an important part of an eye makeup. Bridal eye makeup is little different from the regular makeup. Bridal eye shadow color revolves around gold tinge especially in India as it goes very well with red, fuchsia, and green lehengas or sarees and also metallic colors. So, these are the best eye shadow colors for you if you are an Indian bride. Go for gold or pink eye shadow colors for the eyelids and charcoal color on the outer lid to provide soft and smoky touch. Apply a brown eye shadow on the inner crease portion of the eyelid. Your eyebrows should also compliment the eye makeup. So provide a color and shape to your eyebrows with the help of an eyebrow pencil. You can also use an angular brush smeared in brow powder to define your eyebrows.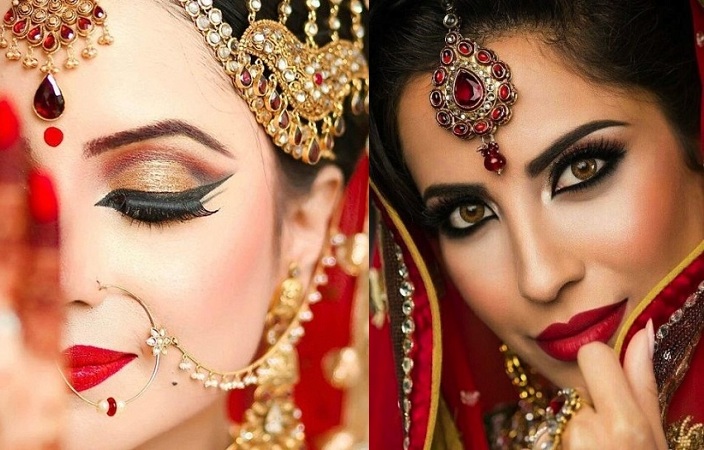 Eyeliner Tips
Black is the best eyeliner color for an Indian bride. It suits all the bridal colors and attire. It would be a bad decision to experiment with other color as no color other than black would be able to highlight your eyes like black. And it goes well with the Indian wheatish skin tone. Apply a thick stroke of a jet-black eye line on the top eyelid and a heavy line on the lower lid using a kajal. Don't forget to extend the kajal to the outer corner for a professional look. Eyelashes should also look attractive and beautiful. Therefore, use a volume enhancing mascara with a curled brush. And if you don't have that thick eyelash then try false lashes to enhance your look. But make sure to make trails before the wedding day so that everything goes perfect.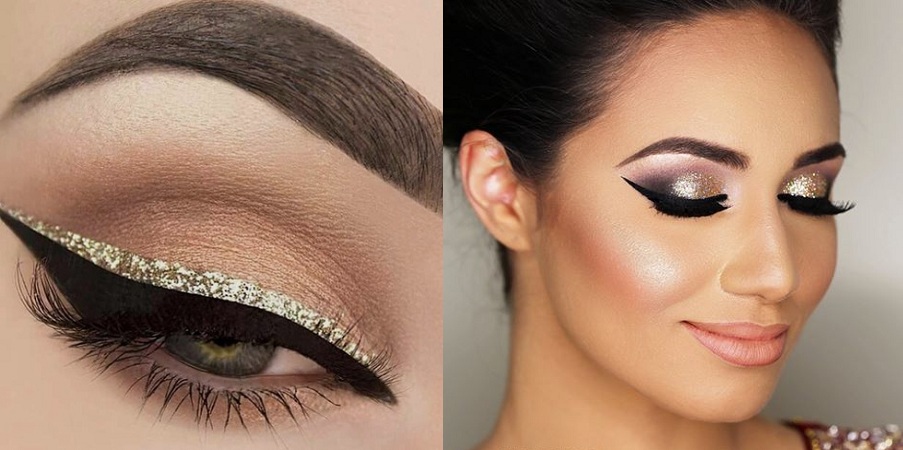 Eyebrows Tips
Eyebrows not only provide a shape to your upper face but to the entire face. Shape your eyebrows according to your face shape. If you have a thin and long face then go for thin eyebrows. And if you have a round and pulpy face then go for thick eyebrows. Make sure your pluck your eyebrows a day in advance. And pat an ice cube after plucking to prevent rashes and red marks.
During makeup, use brown shade or taupe shade instead of black to fill in the brows. Try to use eyeshadows and pencils for a natural look.
Eyelashes
Well and good if you have thick and curly eyelashes. But what to do if you don't have thick eyelashes? No need to worry as you can use fake eyelashes easily available in the market. Make sure you use dark-colored lash glue to match your skin tone.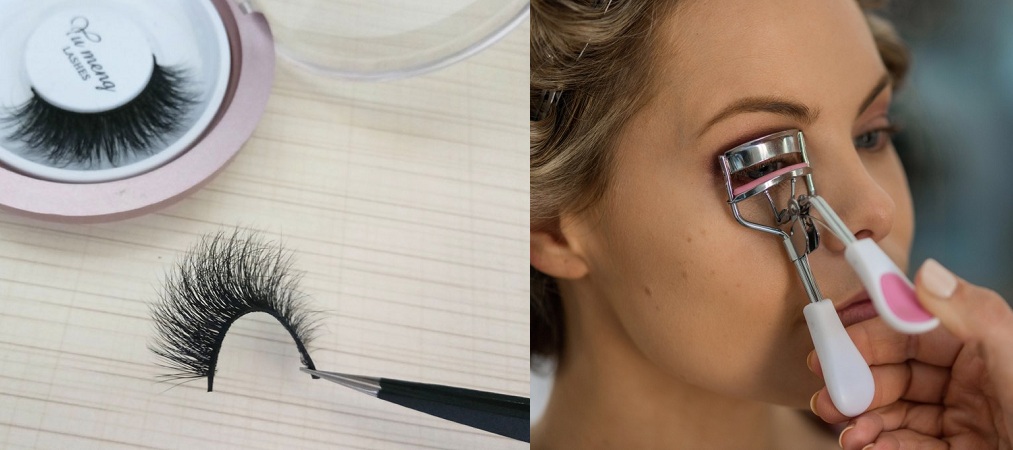 Lipstick   
A right lipstick color along with the face makeup is capable of transforming the overall bridal look. But you need to choose the right lipstick color according to your lip thickness and dress color. It is better to use a lip liner to define the lip shape if you have plump lips. You can also apply dark red and maroon lipstick if you have large and fuller lips. And go lighter shades if you have thin lips. Moreover, apply a lip plumper in place of lipgloss for thin lips and a regular lip-gloss for fuller lips.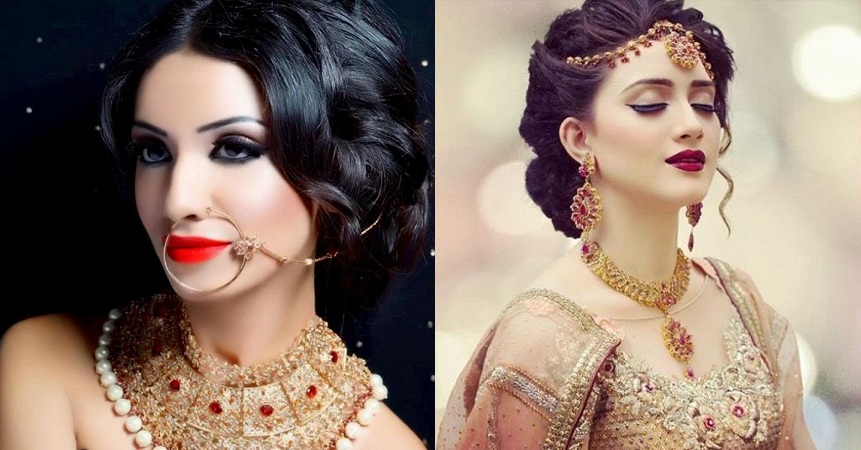 Tips to Apply lipstick:
It is better to define the lips shape with the help of a liner before applying lipstick.
You can use a little amount of foundation mixed with a moisturizer on the lips before applying the lipstick. This step helps to give an even look and also helps the lipstick to stay for longer duration.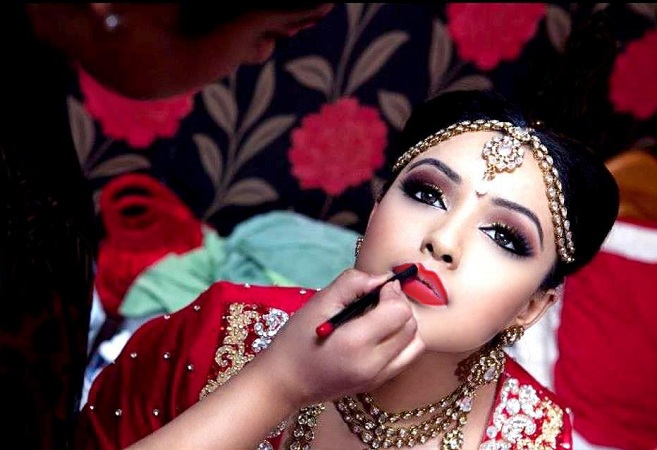 Balance the Look
Never go overboard with your makeup. Try to balance the overall look along with jewelleries and cloths. It is prefer to keep the makeup in balance as over makeup looks artificial. Maintain a natural look as India bridal attire and jewelry are already heavy.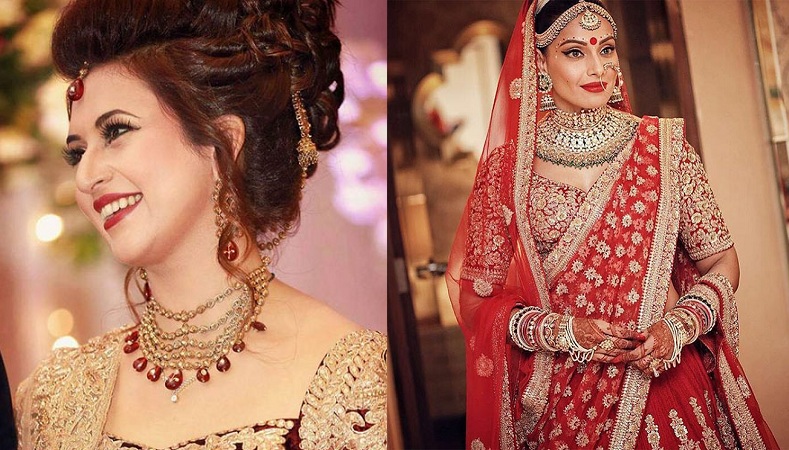 Makeup Artist    
Most Indian bride prefers to hire a makeup artist for her wedding day. Actually that makes sense too as you can stay carefree while your makeup artist apply makeup on you. But make sure you hire an experienced and well-know makeup artist. Even if you are hiring a newbie artist then ask a trail session to ensure he/she is good. Most importantly, don't forget to explain your makeup artist in advance the type of makeup you want.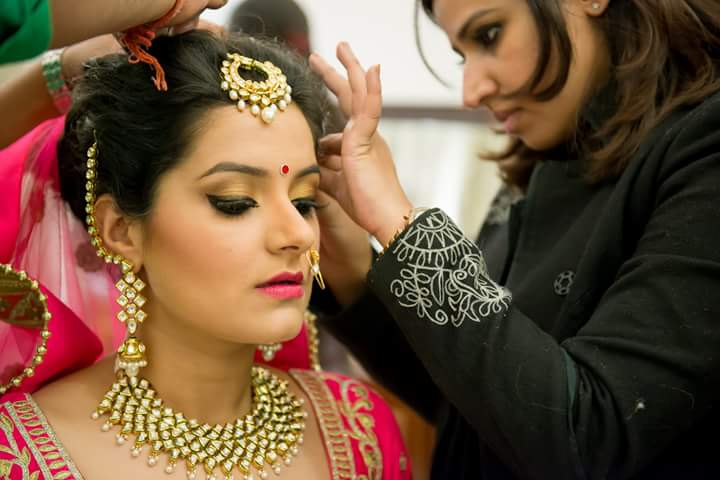 Makeup Tips for Hair
Like face, you also need to take proper care and of your hair to look best on your wedding day. As healthy and shinny hair with a nice hair do make a huge difference in your look. So, follow the tips given below to have lustrous tresses on your special day.
Hair Style: A nice hairdo makes a lot of difference in your look. Indian bridal look is incomplete without a glamours hair style. Fortunately, there are a wide variety of choices for an Indian bride from a modern or traditional bun to curled open hair or a gajra braid.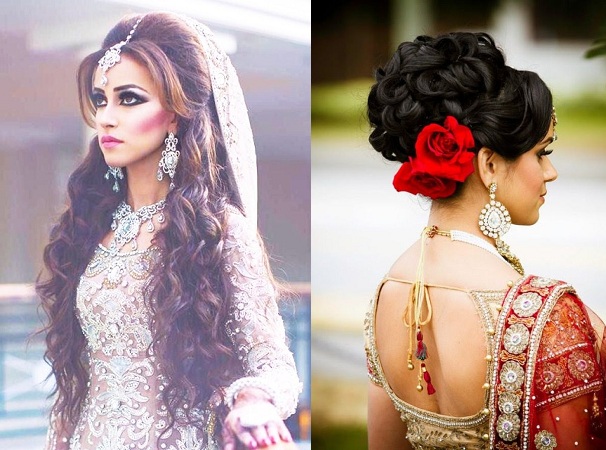 Hair Spray: Using hair spray would be a good idea to style your hair. Hair spray helps to keep your hair style intact whole day. But make sure you use the good quality hair spray on your hair.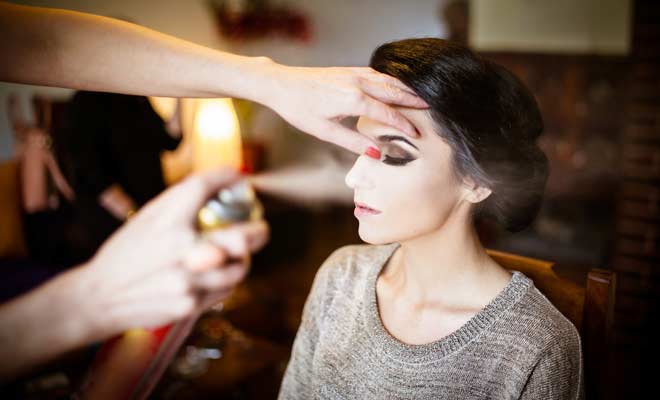 Hair Care Regime
It is important to follow a hair care regime before wedding. Some of the things that every bride should blindly follow are oiling, conditioning and applying hair mask. Oiling is very important for your hair as it strengthened your hair from within and makes it stronger and shinier. Oil your hair nicely from root to tip and leave it at least for one day or overnight. Next morning wash your hair with a mild shampoo followed by conditioner. Also, try to apply a good hair mask every week. Hair mask helps to improve the texture of the hair.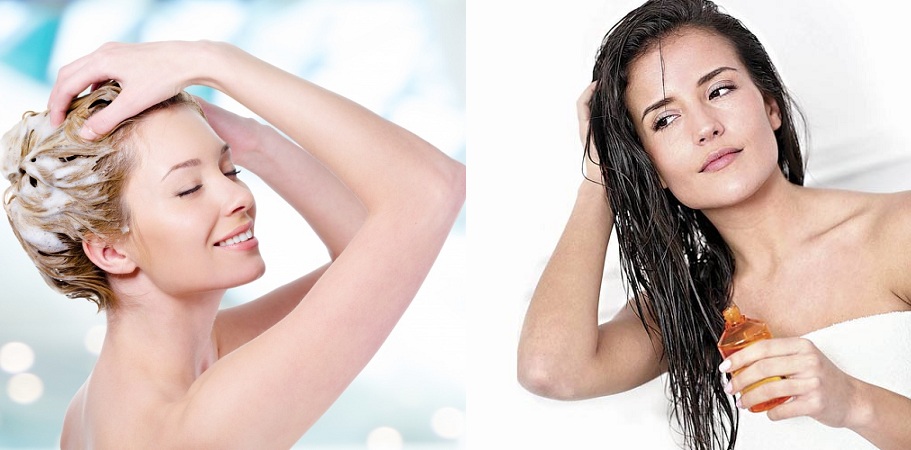 Final Touch up Tips
You will not like if your makeup gets smudged or removed from the place after so much of hard work. So, it is important to keep compact and blotting paper handy. In order to keep your eye makeup in place dab a little quantity of translucent powder. This helps to control the meltdown and make it crease proof.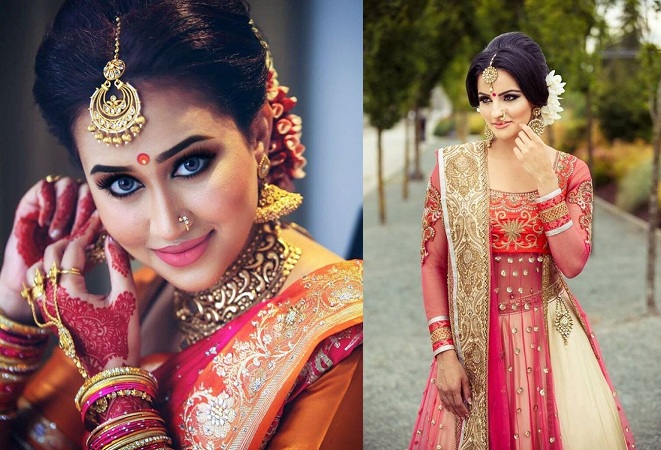 Make your eye lashes appear fuller, dab some powder on the lashes and then apply mascara. You can also use eyelash primer before applying mascara.
Last but not the least, keep your makeup simple as far as possible. And be a gorgeous bride like no other!