Sarees are the preferred attire of traditional women and mostly worn by women in the South Asian countries like Bangladesh, Sri Lanka and India. The sarees are considered as one of the most preferred attires in different occasions because of the numerous options of draping as well as myriad types to select from.
These days, most of the fashionista women consider sarees as the best style statement for getting a diva like look. Although sarees can be worn on a regular basis, but there are some specific types, which are specifically woven or designed for various occasions. In fact, every part of India or to be more specific every state of India has some unique collection of sarees to carry on. The great collection of sarees makes the experience of wearing saree a complete legacy to celebrate different occasions.
So, to make you well informed about different types of traditional sarees of India for various occasions, here comes a complete list.
Banarasi sarees:
The Banarasi silk sarees are all about richness and these sarees are just great in the beautiful mix of feasts. The Banarasi sarees were woven originally for royalty and at that time, this sarees were mostly prepared with real silver and gold threads. Besides, the detailing of these sarees was so intricate at that time that the artisans used to take more than 1 year of time to complete a saree. The textures, sheens and great colors of these sarees are enough to offer everyday work arguments. These features have also made this saree a popular bridal wear in India. Crafted in Varanasi, these silk sarees have heavy embroideries on the body and borders. Ideal for royal feasts or some special events, these sarees can be accessorized with gold or studded jewelries.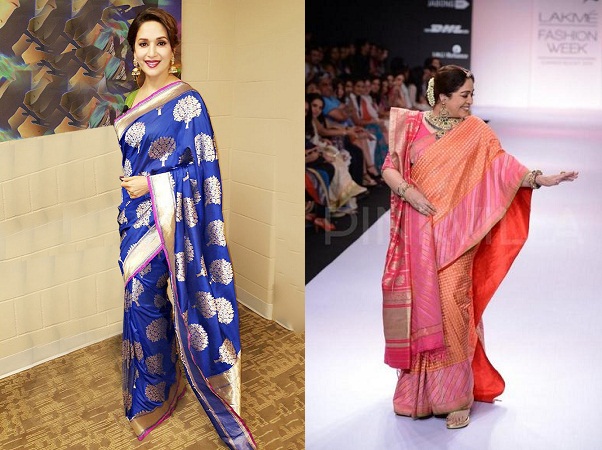 Chikankari sarees:
This saree can be considered as the pride of Lucknow. This is actually an exclusive type of saree, which is mainly done on Muslin clothes. But these days, these sarees are done with almost every fabric. Even though this saree looks simple, but by wearing it, you can actually look really gorgeous and graceful in any event.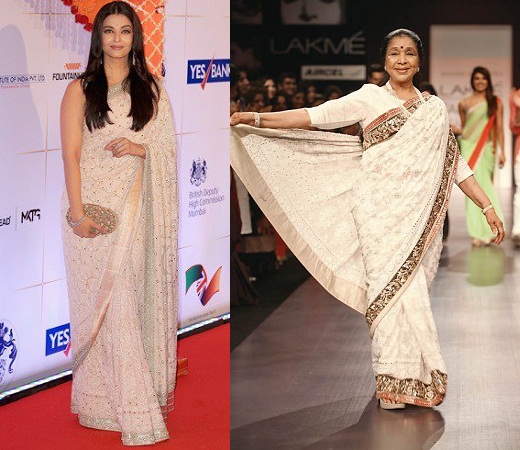 Chanderi sarees:
Traditionally tailored and designed at Madhya Pradesh, the chanderi sarees are known for offering the special occasions a great peek. Made with a type of tissue silk, this saree is known as a luxe sheer saree type. These sarees are known for the availability of different patterns in the designs like peacocks, traditional coin, geometrics or floral arts. This saree type looks really sophisticated and can be accessorized with traditional jewelry to enhance the beauty.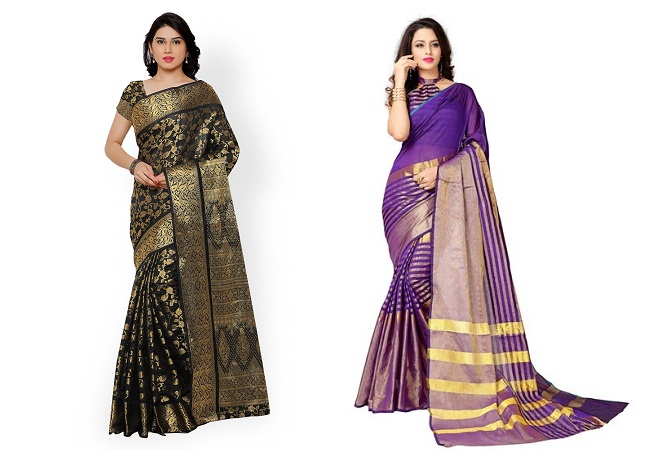 Kanjeevaram sarees:
This saree is another leading choice of Indian bridal attire. Inherited from the southern part of India, this saree type is not only popular among the South Indian brides, but also among the brides of different parts of India. Even though it is basically a traditional drape of Kanchipuram, but this saree has earned huge fame for the features like rich texture, rich and vibrant colors, refined quality, great elegance and graceful look. Another feature that differentiates this saree is the beautiful borders with temple patterns.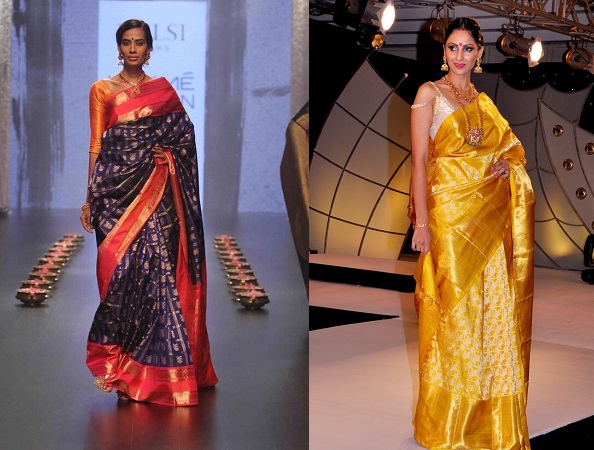 Kasavu sarees:
Also known as the settu saree, the kasavu saree is basically a modernized version of the traditional attire of women in Kerala, which is a dhoti or mundu, a blouse and a stole, which goes across the blouse. The kasavu sarees are well decorated by a thick golden border, mostly woven with artificial golden treads and in some cases with threads made of real gold. Besides, to keep up with the recent trends, this saree is also available in colorful forms.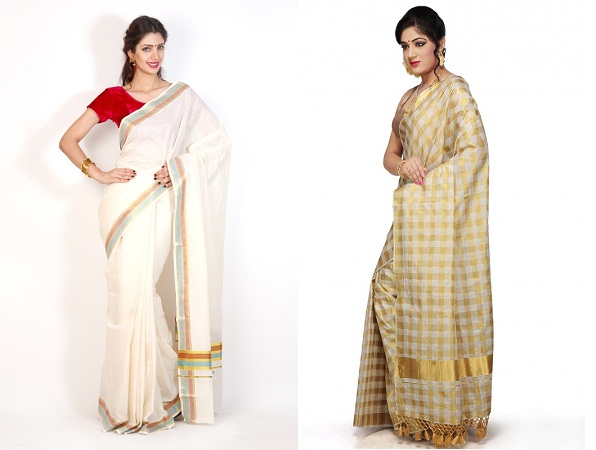 Assam silk sarees:
As the name describes, this saree is mainly created in the beautiful land of Assam. These silk sarees are known for the extreme quality, which is because of the vehement thread works and delicate weaving of golden Muga Silk. The best thing about these sarees is that these are really easy to tackle and therefore can be worn in the special occasions even for a longer period.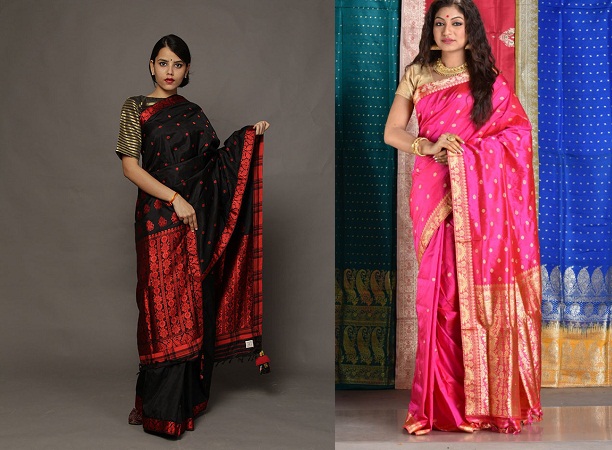 Paithani sarees:
Woven in the beautiful land of Aurangabad, this handwoven silk saree is known for the grandness and elegance offered. These sarees are available with the exquisite designs woven with great intricacy. The best part of this saree is the pallu where different types of natural patterns like birds, trees, plants are woven. Another great thing about this saree is the use of different types of exquisite colors to prepare the designs.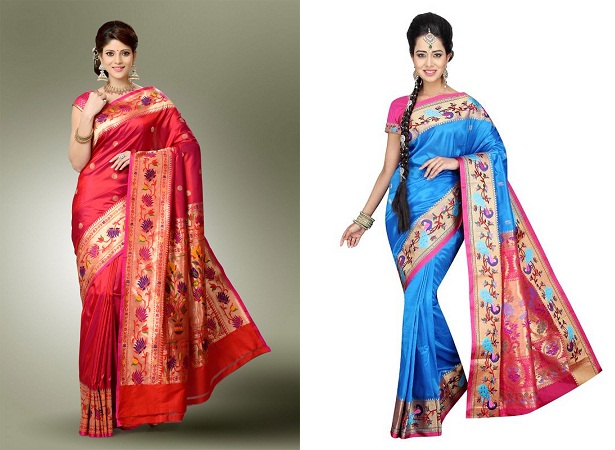 Pochampalli sarees:
Also known as the Pochampalli ikat saree or panchampalli sarees, these are the ethnic pieces crafted in Telengana. The best thing about these sarees is the conventional geometric patterns in the body and pallu available in the Ikat style along with some intricate motifs. Available in both cotton and silk material, this saree type looks completely extravagant.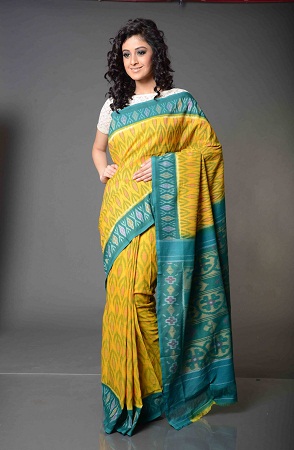 Patola sarees:
This is a rich handloom saree type, which has received its name from "Patan", a small state of Gujarat. These sarees display completely bold, strong patterns, vibrant colors and great designs that are enough for grabbing others attention in any event while making the wearer stand out. The patola sarees are also known for the beautiful combination of intricate detailing and vivid colors. These things make these sarees ideal choice for the traditional occasions and family functions. Besides, the fuller and radiant ethnic style of these sarees can actually do wonders to the personality of any women while bringing accolades that they always yearn for.
Sambalpuri sarees:
This can be described as the signature style of saree crafted in Odisa. Available in both cotton and silk fabrics, this saree style showcases great patterns of embroidery and this thing makes this saree ideal for the festive events. The best thing about these sarees is that these are really comfortable to wear. Here the threads are dried before weaving and therefore the color of this type of saree never fades.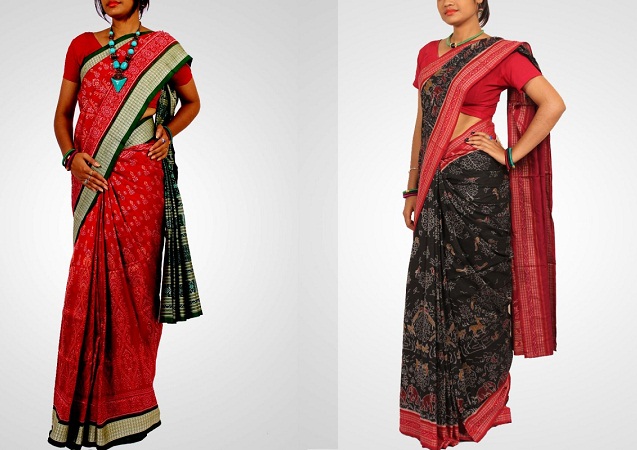 Baluchari silk sarees:
The best thing about the silk sarees is that these can never go out of fashion and these can easily be worn at different occasions. The baluchari silk saree is not an exception. This saree can be considered as a traditional yet designer saree where the borders show up ancients stories from Mahabharata and Ramayana. You can really look elegant by wearing this saree in any event.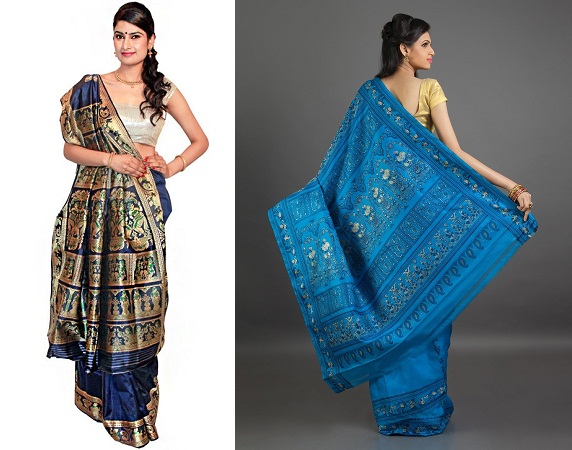 Bhagalpuri silk sarees:
Also known as the tussar silk sarees, these sarees are created in Bhagalpur from the best texture of silk threads. This saree is really popular for the best in class quality as well as for the striking and unique resilience. The intrinsic artwork of these sarees showcases the true essence of Bhagalpur in the most flawless and purest form.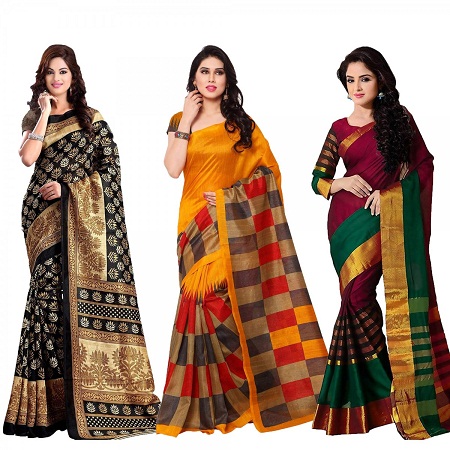 Bomkai sarees:
Also called as the Sonepuri silk, the bomkai sarees are great pieces of art woven in breathtaking weaves with the combination of embroidery, intricate threadwork and ikat. Available in both silk and cotton fabric, these sarees are considered as a great festive wear.