Manish Malhotra is one of the most famous and successful fashion designers in India. He is primarily known for designing beautiful dresses for women whether they are western or Indian. He started off as a model during his college days and today has become synonymous with women fashion and designer dresses.
First Break
Manish achieved his first break working with none other than famous David Dhawan for the movie 'Swarg'. He designed a few dresses for Bollywood heart throb Juhi Chawla in the movie and thereafter got the work to design dresses for Urmila Matondkar in the movie 'Rangeela'.
This was the start and then there was no looking back for this very talented fashion designer who now commands the top rating as a fashion designer in India.
Designer dresses for celebrities:
He is one of the most sought after dress designers not only amongst the high end corporate celebrities but also celebrities from Bollywood and Hollywood that we look up to for their fashion sense and dresses.
He has worked with celebrities like Madhuri Dixit Nene, Kajol, Kareena Kapoor Khan, Karishma Kapoor, Juhi Chawla, Amitabh Bachan, Aishwarya Rai Bachan, Priyanka Chopra, Katrina Kaif, Sonam Kapoor, Jacqueline Fernandez, Sonakshi Sinha, Prity Zinta and many more in Bollywood and Demi Moore, Kylie Minogue, Karolina Kurkova, Kate Moss and Naomi Campbell amongst Hollywood celebrities.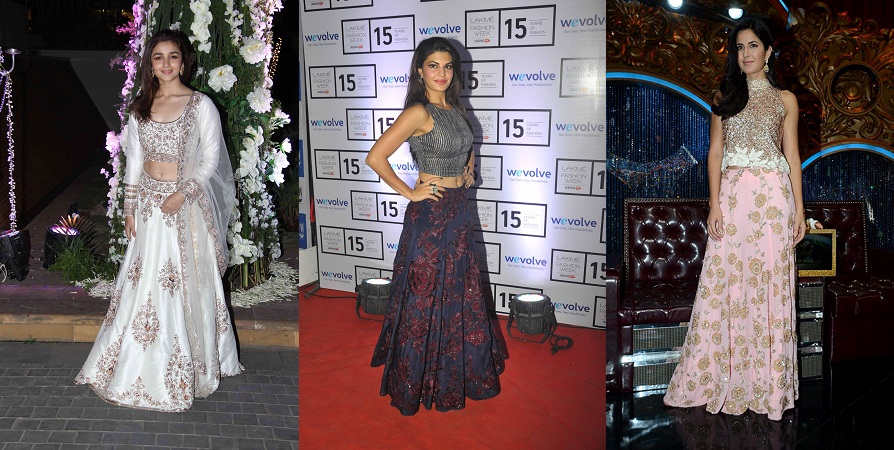 His style is very different from the other designers. While most other designers prefer to present bold and startling designs, he prefers to give a look that is gorgeous, beautiful and regal at the same time. He is considered as the most versatile fashion designer in India and commands the maximum number of celebrity clients that are associated with him.
He is known to design both western and Indian dresses with same aplomb and the main characteristic of his design is that they are very simple yet very elegant. Alia Bhatt, a Bollywood actress who is known for her style and fashion sense says that the "life of an actress is incomplete until she walks down at least once for Manish Malhotra."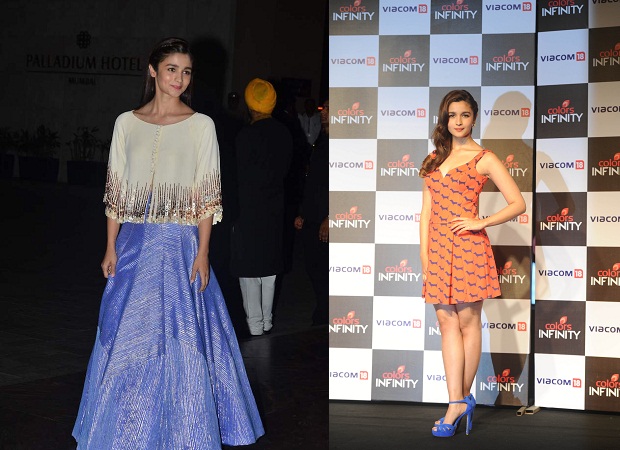 Manish Malhotra Dresses:
Manish primarily designs for women but he is equally popular for designs for males as well. He designs modern and traditional dresses and both are known for their style and simplicity.
His fashion shows and collection launches are most sought after in the fashion world. Models look for a chance to wear his designed dresses and the high profile people from the corporate and fashion world look for a chance to peep into his latest dress collection.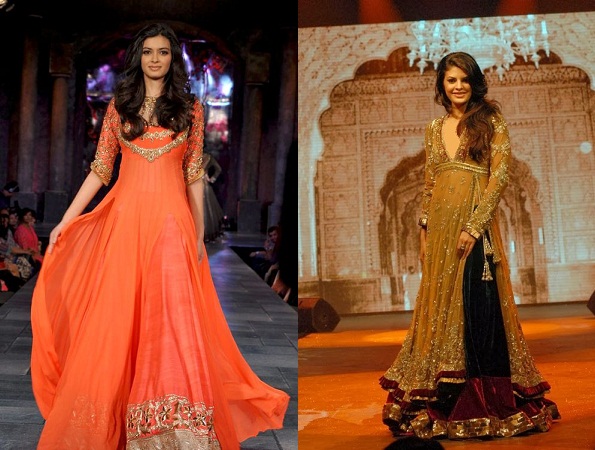 He has been designing and launching his summer, autumn and winter collections for many years and with each passing year he has proved that even simple designs and medium amount of work can also look as pretty and gorgeous as a fully embroidered or embellished dress.
Designer sarees by Manish Malhotra:
We all know that he designs western as well as Indian dresses. Although all his creations are equally loved and adored by women, Manish Malhotra designed sarees are a big rage in the fashion world. Sarees designed and made by him are not only in very high demand amongst the corporate fashion conscious women but also amongst Bollywood and other film and fashion world celebrities.
All Manish Malhotra designed sarees bear his name in style and design. He loves to work with fabrics and enhances them with all his imagination to create a piece that is desired by women. He works mostly on Georgettes and Chiffons with beautiful Kashmiri embroidery and mirror work.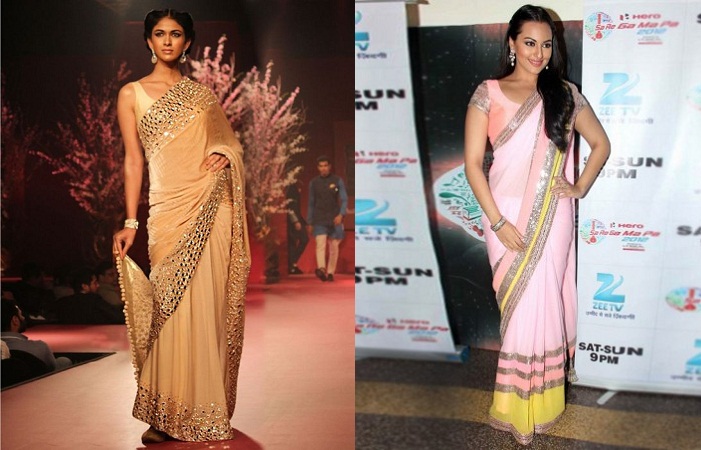 However, 2016 is a very different year as he too has joined the Banarasi bandwagon like many other fashion designers of the country. But again he is very different from others as he has given a complete new meaning and style to the Banarasi designer sarees.
Manish has moulded tradition, glamour and style into one and rolled out sarees that are exotic, beautiful, glamorous and stylish. He has added an oomph factor into the traditional handlooms of Banarasi silk and cottons and created sarees that can be worn by women of old generation as well as new generation.
FDCI India Couture Week 2016:
FDCI India couture week 2016 is the place that Manish Malhotra chose to showcase his exclusive collection for 2016. The collection included saris, Lehengas, Anarkalis, gowns, blouses, western dresses and bridal collection called "The Persian Story".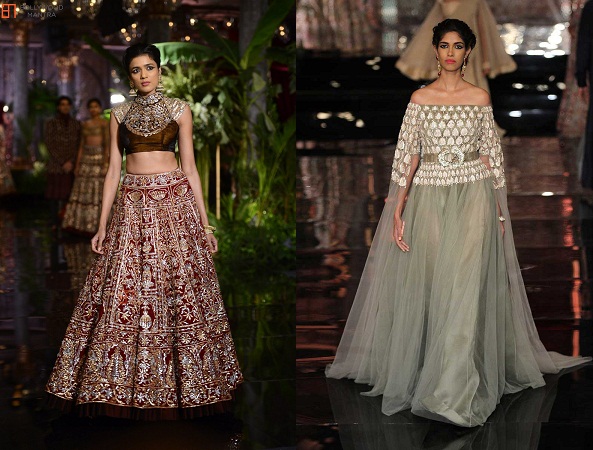 The Manish Malhotra designer saree collection 2016 is also an ode to the "Make in India" concept launched by Prime Minister Narendra Modi. He has used Banarasi heritage weaves to present new and interesting style of sarees in the fashion week. He has rightly named the theme of his creation as "The Persian Story" because Banarasi weaving and styling draws its major inspiration from Persian style of motifs and weaving.
The sari collection presented by Manish Malhotra was exemplary as each and every saree that he has exhibited looks gorgeous. He has played so well with the fabric and traditional designs to include his style and touch without altering much of original Banarasi essence.
He has made simple sarees using embroidery only at the borders. He has used accessories like lace, mirror work, buti work, sequin work etc. to enhance their style. Apart from the sizzling sarees and other dresses he has also showcased thrilling and exciting blouse designs to pair with his designer sarees. The blouse designs are modern and stylish that can be worn for formal and evening parties.
Buying Manish Malhotra Designer Sarees:
Women looking to buy a Manish Malhotra designer saree can find their favorite saree from exclusive boutique that stores Manish Malhotra collection like Azza. There are also multi brand saree stores that store his collection. However, if you want to have a peep to the full and latest collection of designer sarees from the famous designer, you can visit his official website.
There are many other online websites as well selling designer sarees by Manish Malhotra. Most of these websites may be trade partners of the ace designer or re-sellers selling his designer collection. Some websites may also be selling replica designer sarees of the designer at their websites at much lower price than the official website. Therefore, if you are keen to buy a designer saree from Manish Malhotra the best option could either be to buy the saree from the official website or ask for the genuine piece from the website.
Another great thing about Manish Malhotra official website is that it gives the price of the designer saree along with the photograph.
Global appeal of Manish Malhotra designer sarees
Manish Malhotra is a famous fashion designer of India who has exhibited his products in a number of international fashion shows. His designer sarees are sought after not only in India and neighboring countries like Pakistan, Bangladesh and Srilanka where sarees are worn regularly by ladies, but his designer sarees are highly sought after in many western countries as well where women feel proud wearing a Manish Malhotra designer saree.