Saree is not only one of the most fashionable traditional outfits of Indian women but also quite versatile and flexible as far as its renderings are concerned. Since the ancient times, the very many ethnic groups of India have shown an admirable variety of the ways sarees are worn. The styles of draping a saree not only vary from place to place and culture to culture, but also from time to time. Stylish and innovative people have always experimented with this apparently simple piece of cloth meant for draping. And it is quite natural that Sonam Kapoor, the actor who is known for her unconventional yet admirable ways of presenting herself in any outfit, would not leave the saree unexploited.
Stealing the attention at Cannes 2014:
It is not fair to expect that Sonam Kapoor, who is known to be a trendsetter, would wear any outfit without her personal additions of trends in it. She might keep it simple but she would never go the cliched way. There would always be a touch of originality and her style sense in anything she wears. And very naturally, due to her admirably unconventional style sense, she steals away everybody's attention as she at the Cannes Film Festival in 2014. Draping an Anamika Khanna saree in the dhoti style she walked on the red carpet and arrested the attention of everyone present their, especially that of the photographers. But that was not just because of the dhoti-style draping of the saree. She gave it a new and unconventional look by putting on a hot sheer cape crowning which was a choker necklace designed by her mother Sunita Kapoor. The fusion of a saree draped like a dhoti and a sheer cape is almost like a milestone in the history of fashion and of Bollywood.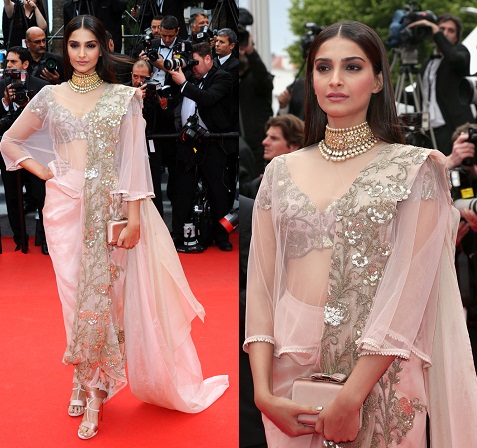 This is not the only instance when she gave a new twist to an Anamika Khanna saree with a cape. She added a touch of elegance in a lace saree with an embellished jacket cape over it. The long embellished jacket which brushed against the red carpet was like an extension of the embellished blouse she was wearing with the gauzy lace saree. And the royal flavor of her attire was enhanced with a single nathnimade of pearl on her left nose.
Angrakha Jacket over a saree:
Sonam Kapoor's obsession with full-length jackets was not over yet. The way she surprised all fashion freaks, by wearing a full-length Angrakha jacket. Plus, the jacket too, fastened around her waist, over a saree – an outfit designed by Rahul Mishra. That she fastened the jacket around her waist, in a non-casual way as opposed to the general tendency of keeping it open to make whatever you are wearing within visible, explains the unpredictable fashion statement of Sonam Kapoor. This is why she seldom misses the attention of the style freaks and the fashion photographers.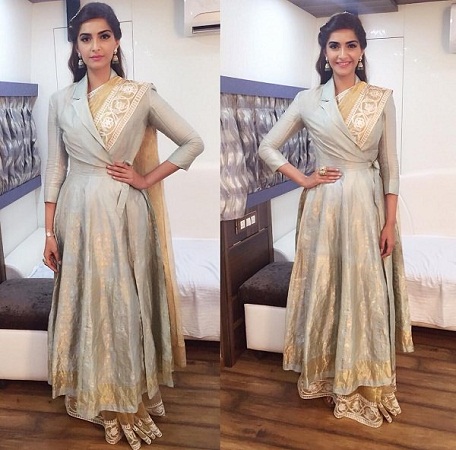 Myriads of innovations:
Sonam Kapoor never bores her style freak fans as whatever she wears is, by default, mouth-gaping. Even when she wears a plain saree designed by Payal Singhal at the LFW Winter Festive Collection, along with a full sleeve printed blouse, the one thing that was surprisingly and appreciably missing was the left sleeve. And in a very intelligent manner, she wore a beautiful ring on the middle finger of her left hand in order to complement for the missing sleeve. This single shoulder blouse with a plain and simple yet elegant saree gave the whole attire a new and attractively unfamiliar look which otherwise could have been clichéd. But this doesn't mean Sonam Kapoor is not at all interested in sleeves. When she wears full sleeves on both arms, she makes sure that those are the shirt sleeves belonging to an almost hippy-design shirt. What's more, Sonam did not wear this shirt with a pant or stylish jeans. Rather, it is again a desi saree with floral designs that goes well with the printed pink shirt over it. The western twists she adds on to the Indian look of the sarees she chooses to wear never fails to arrest the attention of her followers and the lovers of fashion.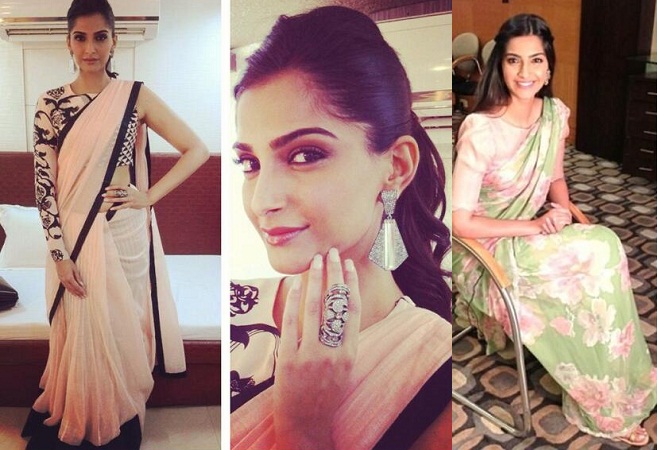 Cannes Again!
As the draping of saree has evolved much with time, so has Sonam Kapoor – an active agent in the evolution. When she had already stolen away everybody's attention with a sheer cape over a saree in the 2014 Cannes Film Festival, she was not ready to copy herself two years later. She came up in a new avatar altogether this year (2016) when she wore the futuristic black and blue saree designed by Rimzim Dadu. The bold color combination of the blouse and the saree – black and blue – won over the heart of her followers and arrested the attention of the media which are the only predictable phenomena associated with Sonam Kapoor wearing a new attire. She, again in an unpredictable manner, kept the whole thing simple with a neatly tied hair bun and the least accessories. What a contrast set between her 2014 and 2016 renderings of the same outfit – the saree!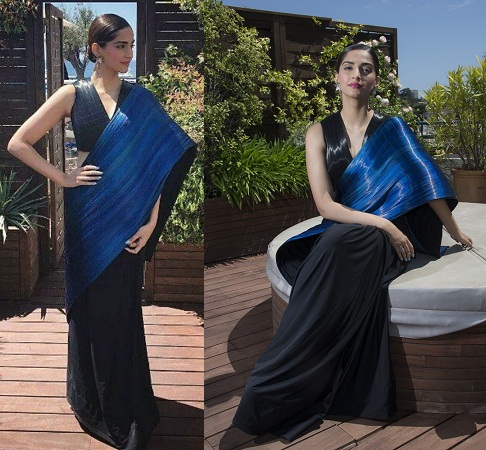 Bold ways with the old dress:
'Old is gold' is a common proverb. But Sonam Kapoor has definitely proven that old is bold. Whenever any youngster thinks of going bold with her outfit, she usually chooses the latest designs or experiments with the outfits associated with her daily life. Sonam Kapoor, on the other hand, proved how saree, which has been tagged traditional and sober for years, can be treated boldly.
Sonam Kapoor never seemed to have cared for the usual ways of draping a saree, rather she has always gone for a cape style saree or a dhoti-draping. Even when she has gone for the usual and popular draping method, she has revolutionized her attire with a sheer cape, a majestic jacket or a wonderful blouse for a sensuous look.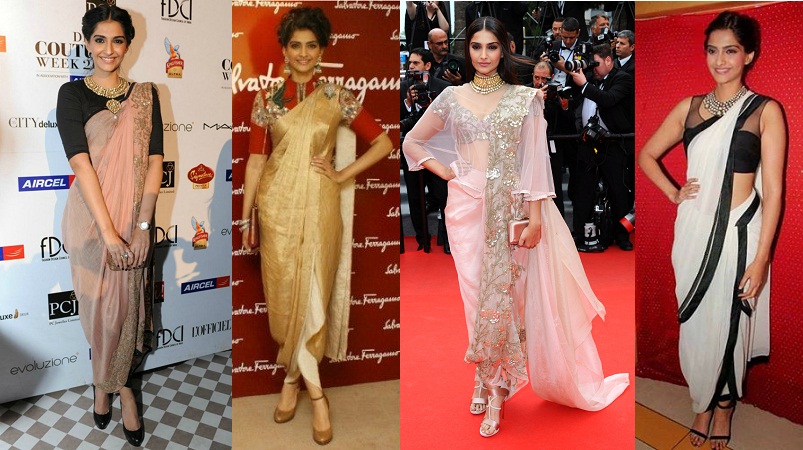 So if you are a saree freak and you are looking for ways to drape it in an unconventional way or giving it an unpredictable twist by fusing it with western outfits, following the footsteps of Sonam Kapoor is the best option feasible. Moreover, you will never be short of ideas as by the time you have earned enough attention and admiration in your peer group, Sonam will come up with a dozen new and unique ways for you to try next.