When it comes to donning a traditional look all women unanimously pick saree as their favorite attire. The unmatched elegance of the saree makes it the most popular Indian attire. Women of all ages irrespective of their complexion, figure, height, and region love to experiment with their traditional looks. A simple saree can be worn in many ways but what makes this ethnic look even more enticing is the blouse. There is a plethora of blouse designs available but first, you have to choose the material. It also depends on your body type to some extent. Let us unfold the varieties of fabrics for the blouse and how you can choose it to look your fashionable best.
Silk material:
There's no second thought that silk is the most soothing fabric that suits everyone. Be it a lean diva or a plump one, silk can give you the most graceful appearance.  This is the ideal look for any party, wedding, or grand event. Silk fabric can be designed in many ways but since it is a traditional style, it always goes well with deep round neck blouse with the three-quartered sleeve. To make it look a slightly more gorgeous, you can add a tussle along with dazzling latkan. It will certainly give you a better fitting.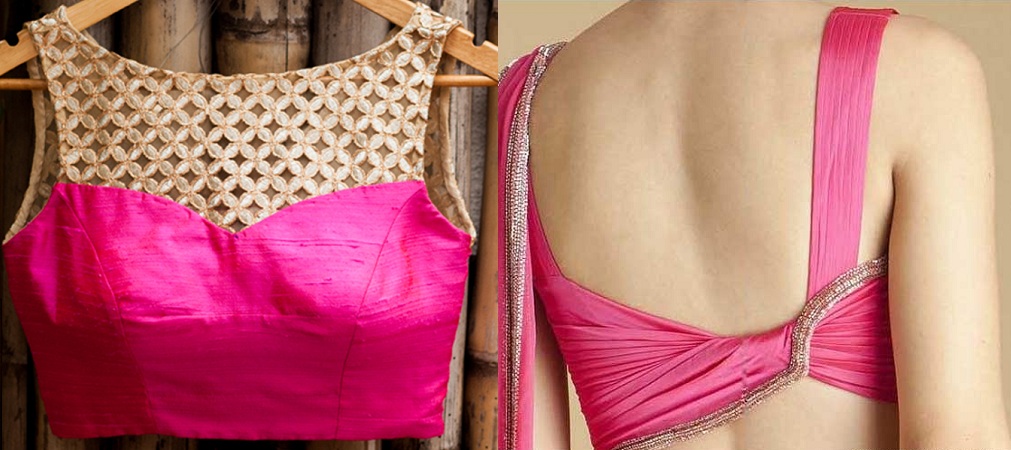 Cotton fabric:
One of the softest and comfortable fabrics is cotton. Cotton saree is the ultimate choice for this sweltering summer but the cotton blouse is not only meant for the cotton saree. You can wear a stylish and designer cotton blouse with chiffon or georgette saree as well. To stand out distinctively, you can choose printed cotton blouse. A simple blouse can also draw the attention if you know how to pair it with the right accessories. To unfold more enticing look, you can follow the internet and style yourself like a diva.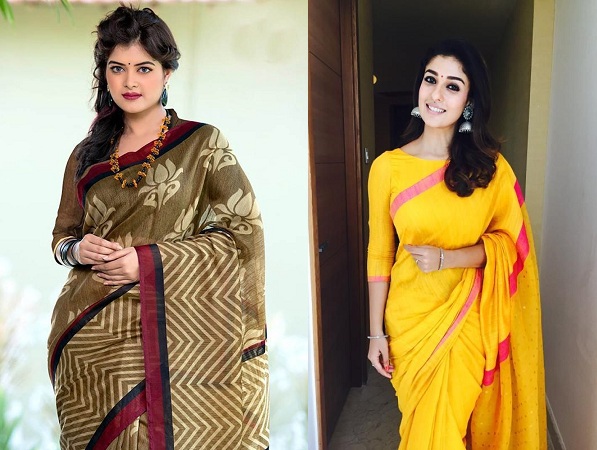 Net blouse:
If someone wants to don a killer look, the net blouse is the perfect match for her. This is the latest trend in the Bollywood and the glam world has always been an inspiration for all fashion flock. The netted blouses are available in different variants starting from design to cut. Some women prefer to make the sleeves with net and others who want to get a bold look go with a transparent netted back.  Whatever style you pick, make sure to carry it gracefully. The netted blouse is in vogue and you will get many like you in the party flaunting their toned back in it. So to steal the limelight, you have to settle for any unique design.
Georgette blouse:
Among the plenty of fabrics, georgette is one of the popular types that can give you a fabulous look. If you are going for a wedding party or a soiree, the georgette fabric can add the essential shine to your appearance. A simple georgette blouse may not help you hog the limelight amidst the grandeur. You can opt for embroidered georgette blouse or go for intricate threadwork. Mirror and stones can also be added to make it a gorgeous option. Such embellished blouses will certainly accentuate your traditional look in any wedding party.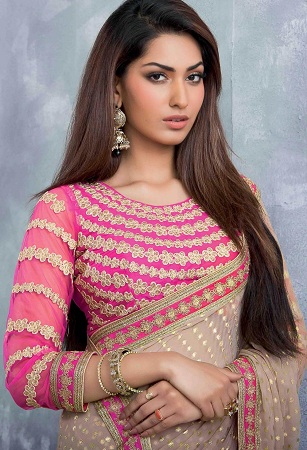 Lace blouse:
When it comes to choosing a designer blouse you will be flattered with options. Lace is another pattern which is not that common in the parties. But, you can always try it and sports an elegant look at any celebrations. You can add lace to a plain georgette or chiffon blouse and can get a total makeover. The lace pattern can also be stitched at the back of your blouse. A monochrome blouse with lace border can give you a resplendent look.  This soothing look can be carried off in the party, wedding, and any corporate functions.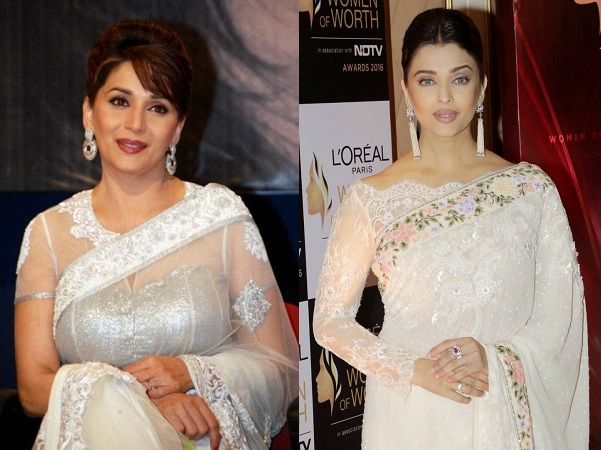 Satin blouse:
The glossy satin is always a hot pick when it comes to flaunting your party look. The smooth finish of the blouse can be best paired with pearl set. There are various styles you can flaunt with a satin blouse. You can make a designer halter neck blouse with this material and win hearts with your stylish look. A grand party or a wedding reception will be perfect to flaunt your ever charming style in a shining satin blouse.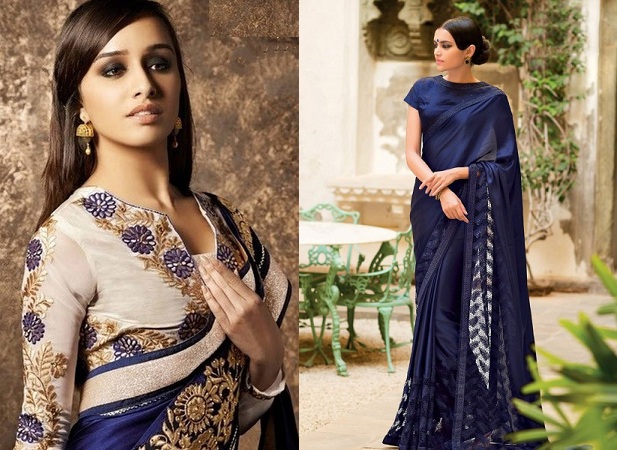 Kantha-stitch:
One of the oldest style or fashion straight from Bengal is Kantha-stitch. This handcrafted pattern leaves a special impact of elegance. This pattern is done on cotton fabric and multiple colors of threads are used to make twisted designs featuring flowers, leaves, and symbols. You can make short sleeve blouse with Kantha-stitched border or make it a long sleeve blouse to don an intellectual look. Silver or metallic accessories go perfectly with this style. You can wear this type of blouse at any formal function or consider it as a daily wear.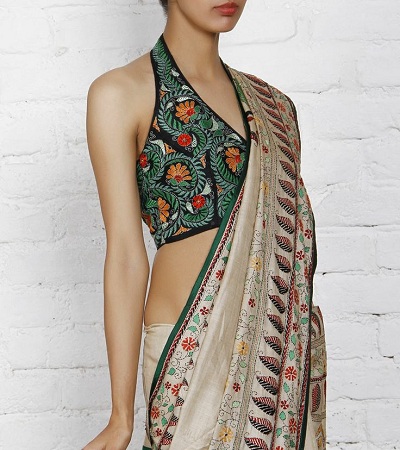 Chikan work:
One of the most loved styles of blouse fabric is Chikan style which has been derived from the city of Nawab- Lucknow. This unique style is extremely soothing, especially for summer. It is also commonly done on cotton fabric and the handcrafted Chikan work adds the royal touch to a plain blouse. The vibrant style is meant for the timeless beauty. It is not necessary to pair your Chikan blouse with the same saree. You can create an impressive look by flaunting a contrasting combination of Chikan blouse with cotton, silk, or georgette saree. It will surely give you a praiseworthy look for a corporate event or any casual party.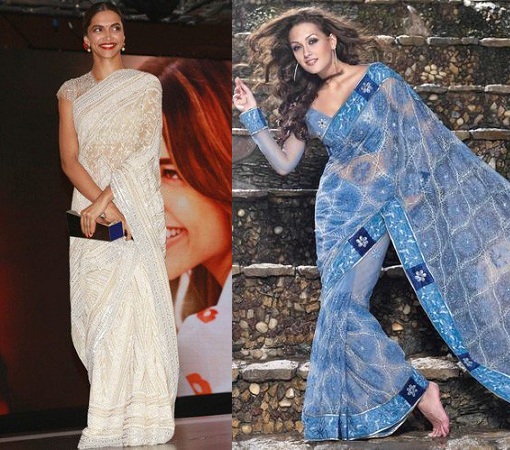 Velvet:
Velvet is typically a gorgeous material that can help you make a stunning appearance at any parties. The comfortable and soft fabric is ideal for the winter as velvet is a slightly heavy material which may not give you comforts like cotton. The glossy and sparkling velvet can easily give you the shine and your radiant look will be the talk of the event. While opting for a velvet blouse, make sure to team it up with georgette or half net saree. It looks amazing while you pair it with a heavily embellished embroidered saree. Needless to say, it can give you an ethereal look.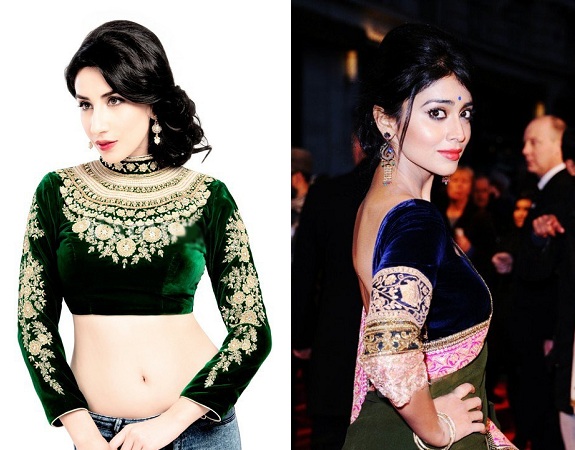 Linen:
For summer special soiree linen blouse can be your best companion. It is more comfortable and cooler than cotton. It is a bit expensive in compare to other fabric. You may have a linen saree with the matching blouse in your wardrobe but remember, it is the time for mix and match fashion. So, take out your linen blouse and pair it with a hand-woven saree or any printed saree. It can also be carried with pure silk saree.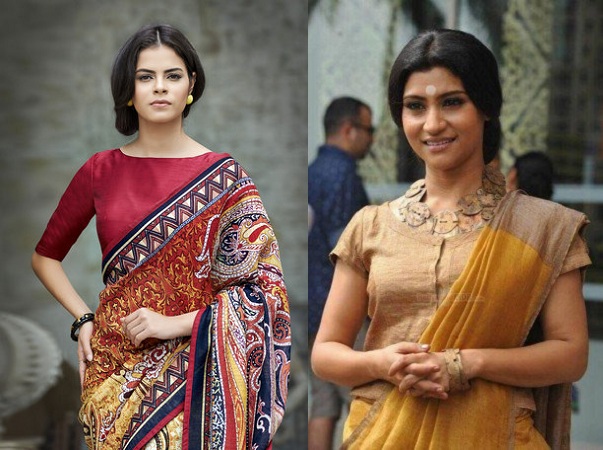 Printed pattern:
The never-ending craze for prints offers a plethora of options in form of pattern and style. Print can be on chiffon, cotton, and silk material and each of them will have a different pattern. The floral prints are pretty common but it never fails to create a charm. Most women show their love for vibrant prints on different fabric. You will be amazed to see the collection of prints. The design of the blouse will depict the occasion. From plain cut to the length of the blouse, all can be designed while selecting the material. Always remember you can ask your tailor to make the blouse considering your occasion.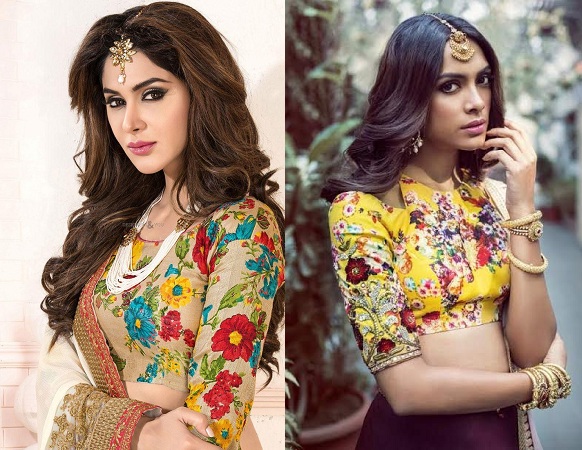 Chiffon:
Very similar to Georgette, chiffon is a light and easy to carry material for you. This fashionable fabric goes mostly with any translucent saree. Printed chiffon blouse is also high in demand. You can opt for any bold or casual style with this fabric. To look different, you can search for more stylish blouse pattern and ask your tailor to create the same look for you. Chiffon material looks amazing on the lean figure with a broad shoulder. If you are blessed with toned back, then go for a deep cut blouse using the chiffon material.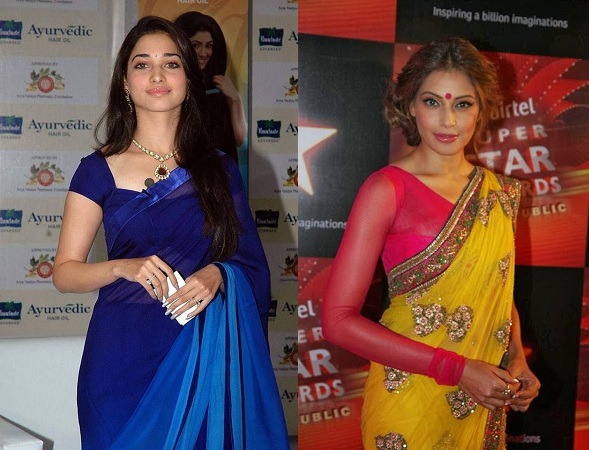 Brocade:
Brocade is one of the oldest forms of fabric commonly used to create a party-ready look. The golden and shiny fabric offers an effervescent gorgeous look that can make you a diva in the party. Brocade blouse can be designed in many ways with a plethora of sleeve patterns. Additionally, you can decorate the blouse with piping border and stones. A black or red saree with a brocade blouse can give you a resplendent look. You can wear cotton, silk, chiffon, or georgette saree with this type of blouse.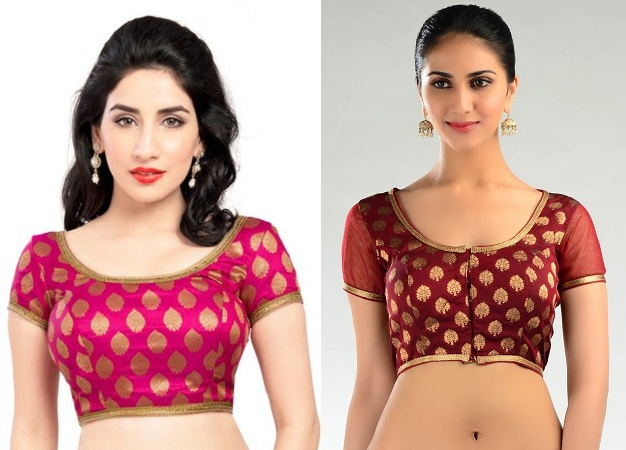 Crepe blouse:
The soft and shiny crepe pattern blouse normally comes with the saree but you can use that blouse piece with other sarees as well. Crepe is a glossy fabric that can be worn at any functions and in any seasons. You can design it according to your choice and thankfully, this fabric suits everyone from lean to plump women.  You can use your creative mind to design the back and cut of the blouse and choose the sleeve accordingly.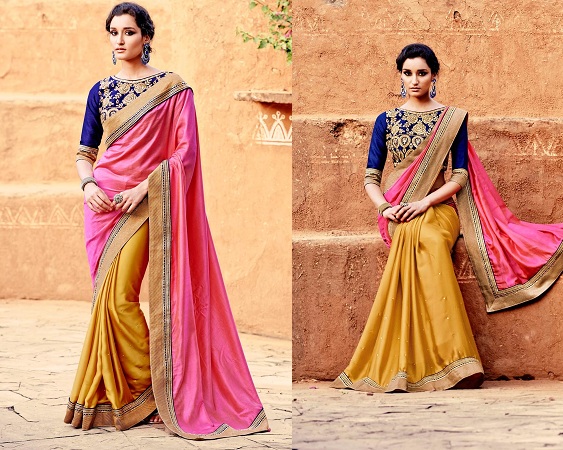 Bandhani Blouse:
This is a colorful choice to make a charming appearance at any parties. Originated in Gujarat and Rajasthan area but the popularity of this fabric is all over the country for its brightness. This is commonly worn in festivals like Diwali and Navratri but you can don a vibrant look at a wedding party with a low neck Bandhani blouse. It will surely add the wow factor to your elegant look.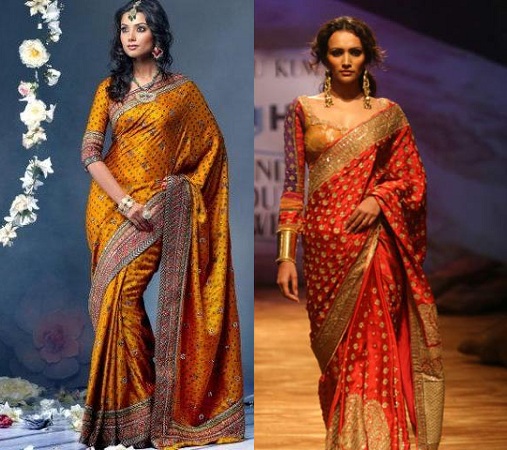 Blouse fabric is not the only thing that can give you an amazing look wherever you go. The style, design, and cut of the blouse are equally important to make you look like a style icon. The design of the blouse mostly depends on the fabric and the saree that you are going to team up with it. Donning a classy ethnic look is certainly very difficult. However, most women give an extra attention to pick the best saree and pair it casually with the matching blouse. This will not help you draw the attention while you are decked up traditionally.
Contrast is the latest trend in the fashion world and traditional appearance is not an exception. You must have seen model donning a western style blouse with designer saree. If you are confident and carefree to take your fashion status to the next level, then don't hesitate to sport unconventional combination. The saree look is always very graceful no matter how fancy piece you pick.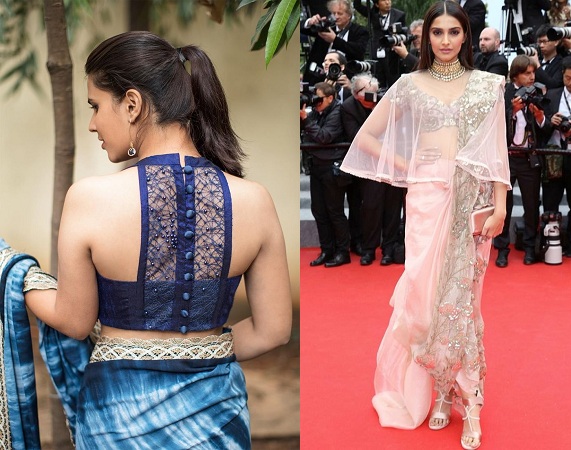 Women's weakness for saree will never fade away as there are so many variants to allure them. So while you are ready to make a drool-worthy appearance in the most loved traditional wear, you must put an extra effort in choosing the unusual yet trendy blouse for the conventional saree.
While saree and blouse have to be in sync to make you a glam queen but accessories is something that you can't ignore. It will add the bling to your presence. To help you try different traditional looks, there are plenty of pictures and styles available on the internet. You can check out the photos of the Bollywood fahionistas and imitate their style blindly. On various online portals, you can also get a replica of Bollywood fashion. But, whatever you pick, you need to slay the saree look with your sass.
Whether you want to don a royal look or a chic look for a party, the saree is the only garment that allows you to change your fashion instantly. Your draping style and the blouse pattern can change your classy look to a casual look. Saree is the only ethnic attire that can give you a sassy look and utmost classy look at the same time. A silk saree is ideal to give you a corporate look and that same saree can make you look like your favorite diva if you modify the style slightly with dazzling accessories and bold blouse. Similarly, a cozy cotton saree can make you look graceful if you go with minimal accessory and neatly designed printed blouse. Whatever style you pick or whoever inspires you to step out in saree, make sure to carry it confidently and comfortably to look your fashionable best.