India, the land of abundance, is known for the gorgeous gemstones and jewellery since time immemorial. The Mughal and Rajput legacy has given India the most prized possessions ever, starting from their art to the jewellery that they wore.  These jewels are priceless and of all the cherished belongings that the royal families of yesteryear have, Kundan, polki and jadau jewellery is beyond doubt splendid, traditional and the best. And also, is the creating method of these pieces that are delicately elaborate, time taking and requires every bit of skillfulness and expertise and hence these forms of jewellery are very popular and hold a favorite place amongst brides who seek to appear traditional and majestic on their wedding ceremonies. The strange fact is that even in the current days these items are in demand and are asked for by younger generations.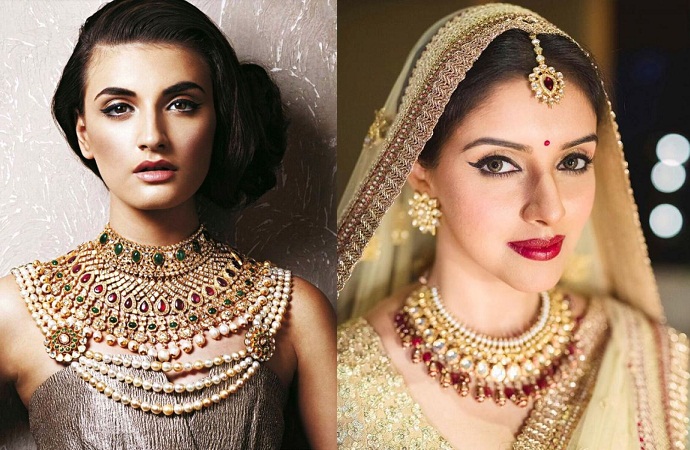 Joining the 1000 year old heritage of the kundan jewellery is Jadau and both these belong from the historic era. In the olden times, the custom of Jadau work was put into practice in the princely Western Indian states of Gujarat and Rajasthan by the Mughal kings. Jadau jewellery, also called carved jewellery is exceptional and matchless. As it is considered to be an ethnic jewellery of India, the use can be seen in many cultural and propitious events, like weddings and festivals.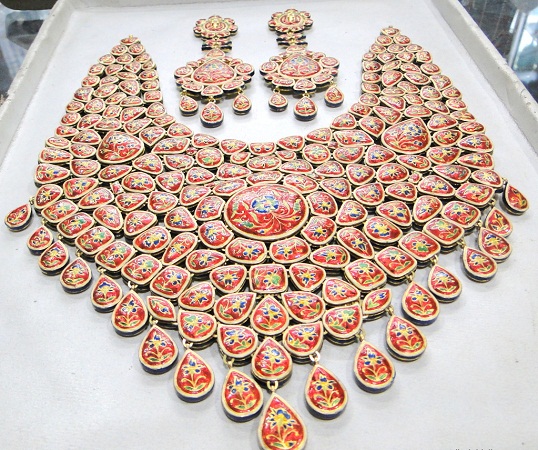 Nowadays, it can be seen that the Jadau jewellery is purchased and used expressively in Southern India. Marriage ceremonies in South Indian cities of Kerala and Tamil Nadu are common for the custom of wearing heavy jewellery which is made with excellent quality diamonds and gold. It can be said that the ethnic jewellery out of Gujarat and Rajasthan have developed into a representation of exquisiteness and splendor in all over India. The Nawabs and royal families of Hyderabad too, used to wear lot of the Jadau jewellery; henceforth a lot of skilled jewelers were found there too. The use of these precious gemstones was such that even their palaces were ornamented using meenakari on the walls.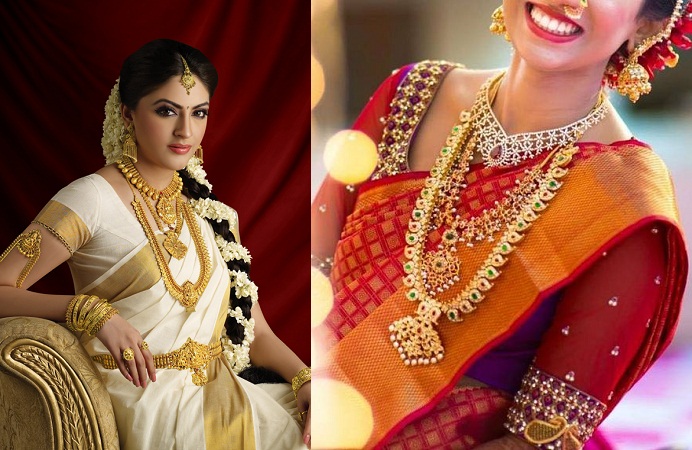 HOW TO FIND THE DIFFERENCE BETWEEN KUNDAN AND POLKI JEWELLERY
The variation concerning gemstones like kundan and polka jewelleryis not very big, and there is no harm in understanding what makes the look distinctive and unique. Both are essentially gemstones; Polki is made of raw, regular and authentic diamonds whereas Kundan is composed of different types of stones inlayed in gold. Polki is quarried from the soil by the help of a natural process that does not include any laboratory test. Hence, polki jewellery is in great request, is exclusive and held in high admiration for the reason of its usual form and luster.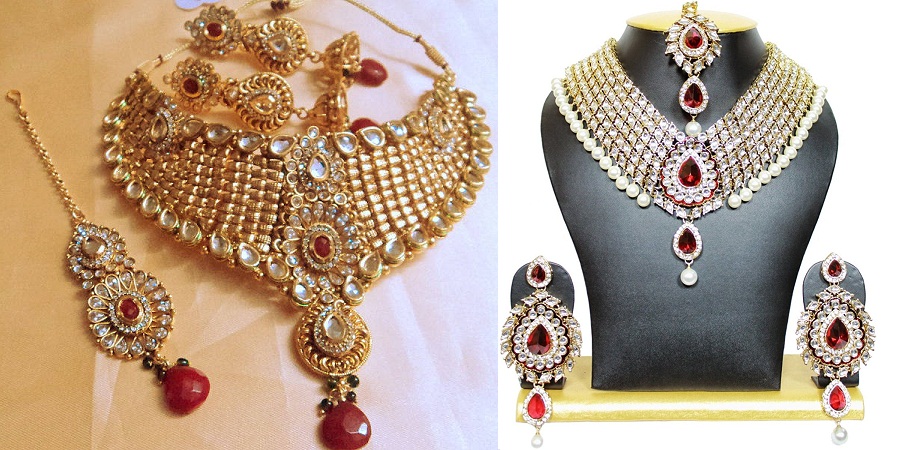 Additionally, to make things easier the recognition procedure can be understood that polki was introduced by the Mughals, whilst kundan was introduced by the Rajputs. The usage of artificial stones makes kundan less expensive. Not always is gold put into kundan jewellery, which increases its affordability factor immensely. Jadau is a very old-style procedure of jewellery making prepared ever since the epoch of the Mughals in Gujarat and Rajasthan. Jadau is jewellery in which semi-precious, and precious gems, stones and crystals are ornamented.
TRADITION MERGES WITH MODERNITY
Jadau ornaments have traversed the boundaries of the princely state of Rajasthan and can be seen with every female who wants to possess something that is extraordinarily stylish, elegant, and traditional and at the same time striking. Today it can be found all over Indian towns and cities. However a greater part of the skilled craftsmen working on these designs are still from Rajasthan. When, in the movie Jodha Akbar, Aishwarya Rai Bachchan portrayed the role of Jodha, a Rajasthani princess who always managed to look stunning in the classic and emblematic jadau jewellery, this form of jewellery made to the top of the popularity chart in the ornaments section and made a huge comeback. While Shilpa Shetty, was the showstopper for designer Tarun Tahiliani and his Jadau bridal collection. All these exposure was followed by innumerable ladies opting to get married in a number of the Jadau jewellery. This spotlight made every up to date woman become aware of this jewellery piece. Being highly priced those were able to afford it would keep at least one such piece in their classic collection.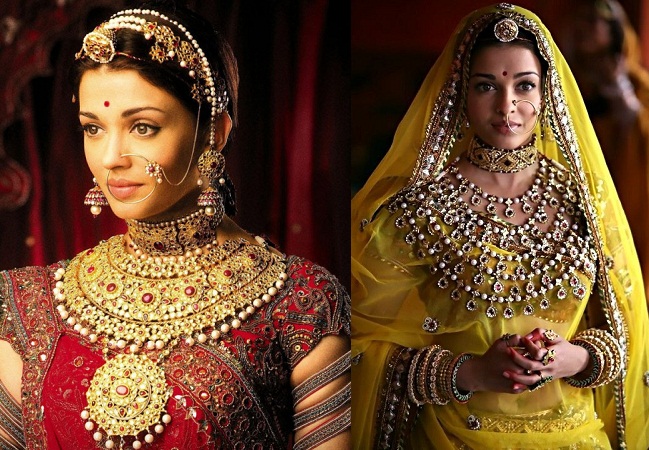 Previously a jadau set would only mean a white polki stone with colorful Minakari work, but as style and diversity has started to take over the ethnic designs and colors the assortment became wide. In conjunction with polki, other precious stone like emerald, sapphires, rubies, are used. Many ladies may not be able to afford the jadau since the use of precious stones and gems make the price a little inflated. In the modern scenario, to recompense for this designers have come up with jadau that is made using partially precious gems which is known as Kundan jewellery and it is as beautiful as the jadau. The contemporary designers cannot design Jadau as it entails a diverse way of thinking, labor as well as patrons. Earlier it was essentially part of the wedding jewelries, which would be worn once and then kept safely in bank lockers. This somehow added to the fact that the makers and designers of jadau almost becoming vanished. In the present day, with a renewal in its affluence even the conventional designers are producing such pieces which can be appreciated and adorned by the coming generations. Not only an entire set but today earrings, pendants and kadas and even finger rings are available as separate items and the best part is that due to the modern touch involved, these pieces can be matched with both Indian and Western wears.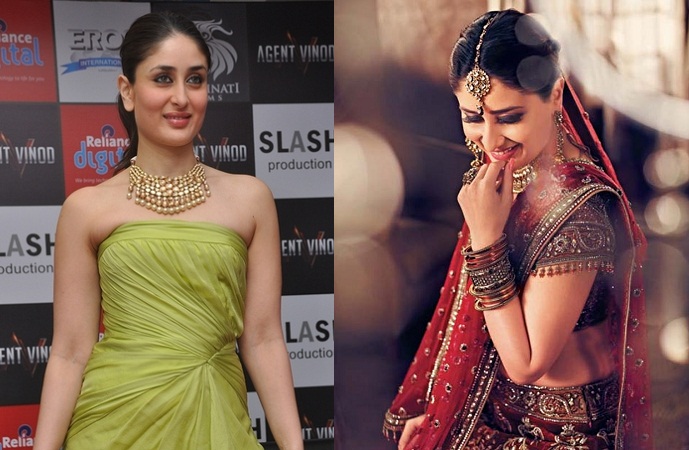 Jadau ornaments are actually made by gold which is made malleable by heating and then melting it. Once the gold is in a semi solid state, the stones are fixed on it accurately and with utmost care. Once the temperature of the gold comes down, the stones and other gems are also fixed on it without the use of any bonding agent. Making jadau jewellery involves a group of skilled artisans who make the simple design, the next level of craftsmen are those who make the designs and then the enamellers who do the intricate minakari work and the gold workers who look after the kundan work. All these procedures are completed with great carefulness and attention by fixing the gemstones on a silvery foil and then finishing it off with a coat of pure gold. In this day and age, jadau work is not only done on ornaments, but also on the jewellery boxes as well. The main fascinations of jadau jewellery are that a vital uncut diamond called polki is placed and minakari or other kinds of intricate art work is done to embellish it.
BEST PLACES TO LOOK FOR THESE JEWELLERY PIECES
For Kundan jewellery , the state in which it originated, Jaipur is the best, and as far as Jadau jewellery is concerned, then Hyderabad, the city of pearls and biryanis, is the best spot. But that is not all. Big cities and metros are the second options, where there is no insufficiency of superior class jewelers who store these unique designs.
In case it is a substantial choker or an elaborate and sophisticated necklace, both sets look great for a wedding occasion when set in either Kundan or Polki. Ladies who are the fashion divas and not so enthusiastic to go for dense and fuller stuff, then Kundan earrings that are chandelier shaped or maangtikkas or even a beautiful wristlet can set one apart.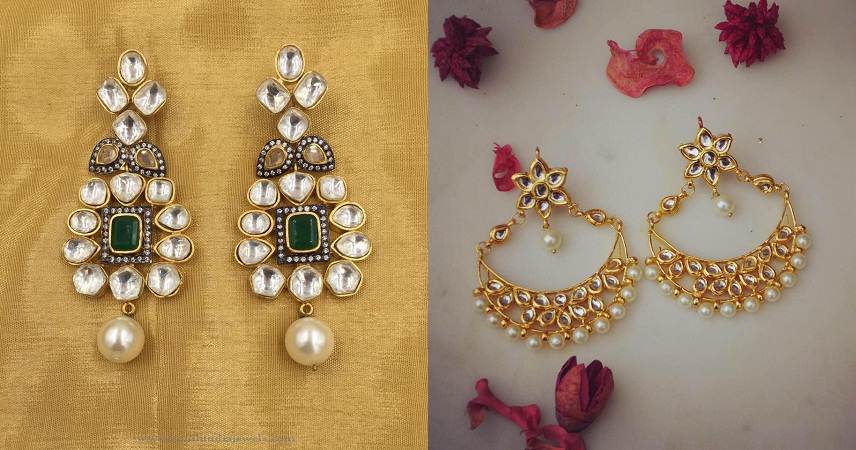 The trend last year was the beautiful chandbalis in Polki or Kundan and they were the earrings in vogue and also the most cherished possessions. Their acceptance of these was such that they replaced the famous jhumkis when it came to marriage occasions. Given that marriages come only once in lifetime, it does not need to be mentioned that brides are the focus of fascination and hence they have to make utmost utilization of this occasion and look attractive, elusive and graceful at the same time. A bride who is ready for her big day needs to be decked in these traditional jewellery items. Being specialty jewellery, these ornaments necessitate great maintenance. And the most important point that should be remembered is that the jewellery must be adorned only after having put on the cosmetics and cologne. These traditional jewelries need dirt free area and suitable storage facility, and must be retained in an air tight container. Also, covering the jewellery with a soft muslin cloth or butter paper will safeguard it from becoming black by oxidization.
THE MAKING PROCESS AND HOW TO TAKE CARE OF THEM
The artistry and expertise in the style of making is relatively similar between both. In Polki usually uncut precious stones and gemstones are set on 24 carat gold by means of pure gold foils an so that it is able to assimilate the diamonds while reflecting light. Kundan jewellery is intricate and decorative by all means, as it has coatings of gemstones and precious metals. The base of this kind of jewellery is enameled. Jadau jewellery is actually an amalgamation of a variety of jewellery styles. It uses a base of gold similar to the kundan jewellery for its stone settings and also the elaborate and sophisticate varnish work of meenakari jewellery on the rear of the ornament. It is different from these ethnic jewellery styles though as it casts the malleable gold around the precious stones instead of pasting them on top of a gold base, as in kundan.  While jadau uses only uncut polki diamonds, precious stones, or semi-precious stones.
To maintain the shine of the pieces, Polki and Kundan should not be kept in velvet jewellery cases. Polka should be stored in between thin sheets of butter paper and then stored in an air tight box.  This will keep the Polki sparkling as ever but if the ornaments looks tarnished they can be send for polishing. As for kundan jewellery cotton wool should be used to wrap as they may have reactions to the metals that have been used in the jewellery box.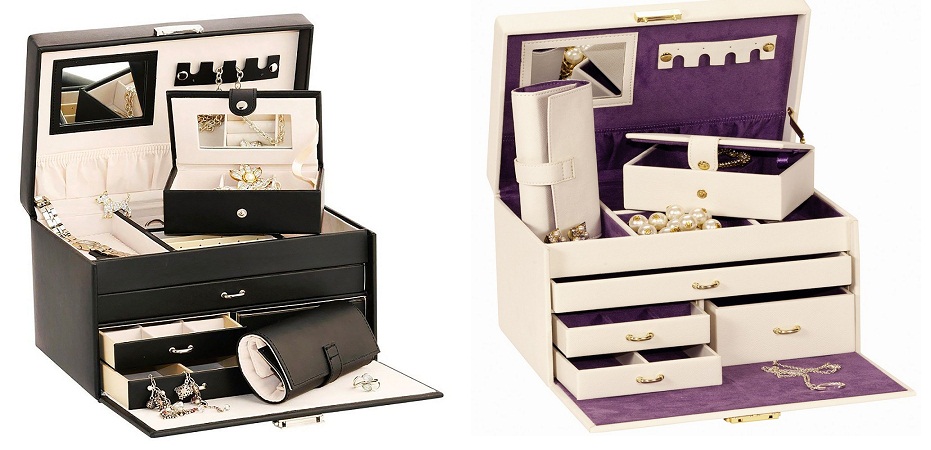 These jewellery pieces should never be cleaned with water, as it is likely to blacken the gems used and thus have an effect on its shine. These jewellery pieces should also never be kept in a damp and humid area or get exposure to direct sunlight as the gold may fad or the stones may become unfastened. They should be stored in separate cases, in a dry place, and covered in a soft cotton cloth for protection and to keep it from coming in contact with the other jewellery pieces.