Net blouses are preferred for a really long time and the sheer sleeves blouses are the latest addition to the list. The sheer style is very popular these days, starting from the high street fashion to runaway. The sheer style is subtly sensuous and while paired with plain contrast sarees, these blouses with sequined borders look just perfect for the occasions like wedding parties, candle-lit dinners, social events, cocktail parties etc.
If you prefer subtle and delicate style and choose to show off your skin without much unnecessary attention, then the sheer sleeve blouses are the best choice for you. Lace like and floral structure of these net blouse designs offers the wearer a glamorous and sassy look. In some cases, the sheer net is used all over the blouse and here sweetheart neck bustier is worn inside to get the perfect fit. Besides, the embroidered blouses with sheer sleeves are a perfect example of being elegant and classy. These blouses can be the perfect pair of single or pastel colored silk and embroidered sarees or designer sarees. Accessorize your look with light colored pearl jewelry.
Types of sheer sleeve blouses:
Though the sheer sleeves blouses can be designed in different ways, but the most popular styles include:
High neck sheer blouses: This is a trendy high neck blouse design, seen commonly among the Bollywood celebs, who pair these blouses with designer sarees. In this style, the high neck embroidered or sequined back with sheer sleeves look very much classy and therefore this style has become everyone's favorite.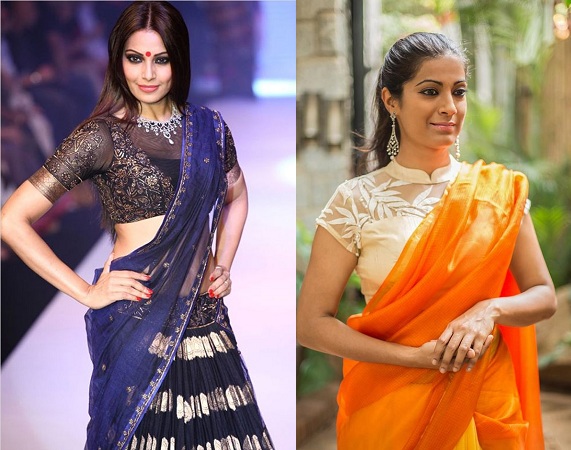 Embroidered sheer blouses with sheer backs: This is another type of sheer sleeve blouse. Here both the sleeves and back of the blouse is made of sheer fabric. By choosing this blouse style, you can look really sexy without revealing much skin. Sometimes back, Kareena Kapoor has seen wearing one such embroidered blouse with sheer sleeves and sheer back in yellow color in some off screen occasion.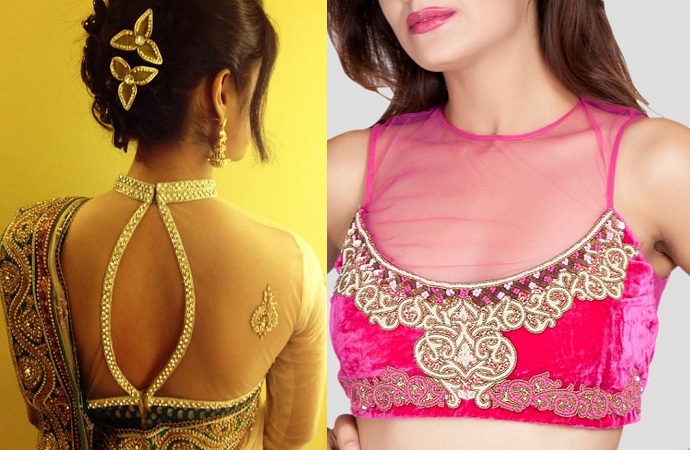 Different styles in sheer sleeve blouses:
This blouse style has gained immense popularity because of the elegant styling. Sheer sleeves look really sassy and therefore this style adds a modern touch even to the most ethnic look like high neck blouse designs. Even a simple sheer sleeves blouse can add a bit of chicness to almost every type of saree. The best thing about this style is that you can play with it and can add any neck design; almost any style to the neck and the final result will be beautiful. It means, this blouse style looks just great while it is used right.
This style even looks great with gold blouses. For instance: in case you want to style a traditional gold blouse with sheer sleeves, then you have to choose the sheer sleeves with loads of work. As the golden blouse itself is the perfect blend of elegance and elaboration, therefore this style of this blouse will merge seamlessly to the delicate embroideries. And this will make the overall look stunning.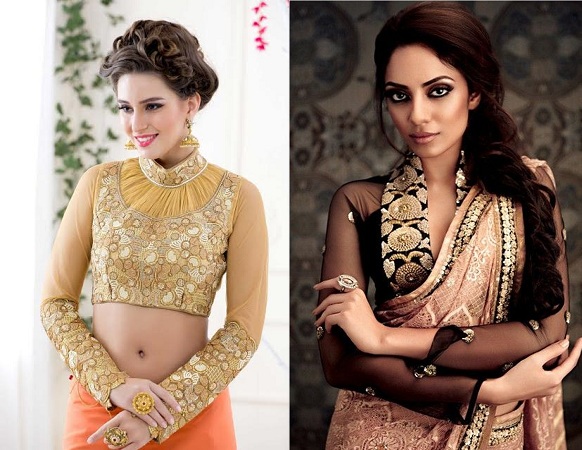 Celebrities flaunting sheer sleeve blouses:
As sheer is the latest term for the fashion divas, therefore almost every Bollywood actress is trying out this style. Some of the popular names include: Deepika Padukone, Sonam Kapoor, Tamanna Bhatia, Priyanka Chopra, Genelia Dsouza, Shilpa Shetty, Madhuri Dixit etc. All of them have paired this beautiful blouse style with matching designer sarees and they look very much graceful sporting this style at different events like movie promotions, red carpet events, premiere shows, movie launches and so on.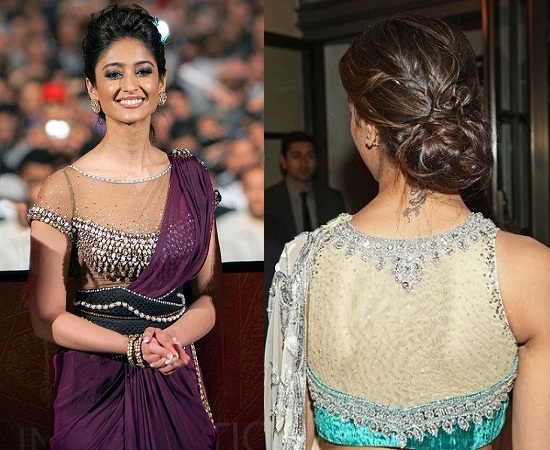 Conclusion:
The sheer style of blouse can actually put up a great charm to the appeal of every woman. So-so net, a little lace and vehement embroidery of these blouses can actually rev up the ethnic charm of any attire instantly without even pulling up anything extra. Being hot yet really sober, this blouse style is a must try for every fashionista woman. So, by choosing to opt for this style, you will get the scope to grasp the gazes of people around you.
Apart from being a really versatile and exclusive style, this blouse style is also ideal for the summer season as the sheer style helps to control the body temperature during the hot and humid days.