A gorgeous saree looks pale if you do not pair it with a stylish blouse. Finding the best saree according to the occasion is a difficult task but how to design your blouse is no less than a challenge. In fact, the blouse design can change your overall appearance by accentuating your desi look. So, to give you a distinctive look with the most comfortable ethnic attire here's an array of sophisticated and stylish blouse back designs to choose from.
Round neck blouse:
This is probably the most conventional blouse design of all time. From your grandmother to your sister, all must have one round neck blouse in their closet. You can bring a twist in your round neck blouse by adding a tussle with a latkan. A deep neck blouse will definitely help you hog the limelight. You can wear any types of sleeves with a round neck blouse.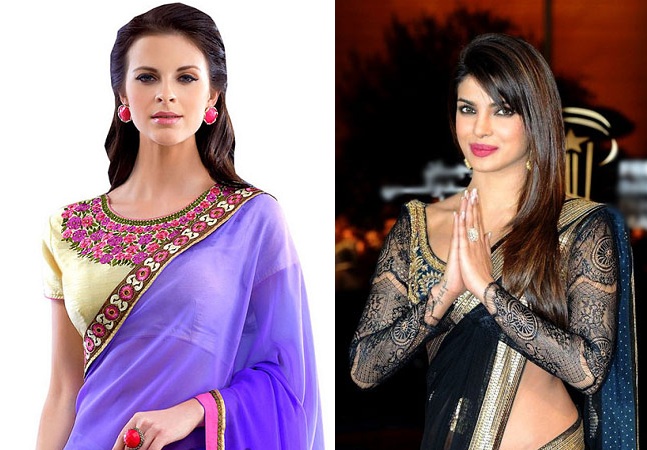 Square neck blouse:
This blouse pattern is mostly popular among the middle-aged women. Be it plain, printed or check blouse; the square pattern is a hit for any types. Three-quartered sleeves look perfect with this neck pattern. The square pattern will look amazing on you if you have a narrow or lean shoulder. Make sure to add a piping in the border of the neck to look distinctive.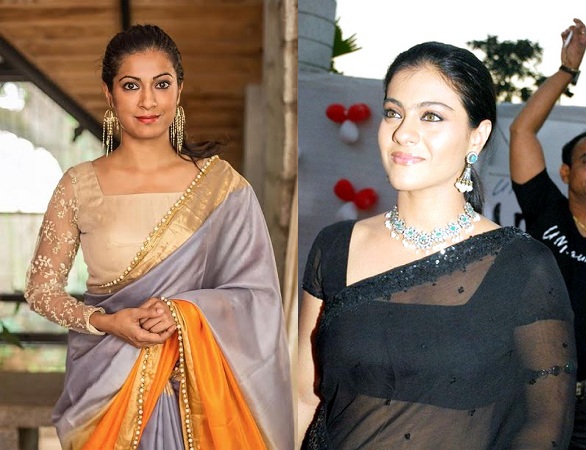 High back neck blouse:
This blouse design defines elegance. The traditional high neck blouse commonly known as air hostess blouse has evolved over the years. By adding a zipper you can totally change the look of your back. This is something that you must try with designer chiffon or georgette saree. It will surely give you a fusion look.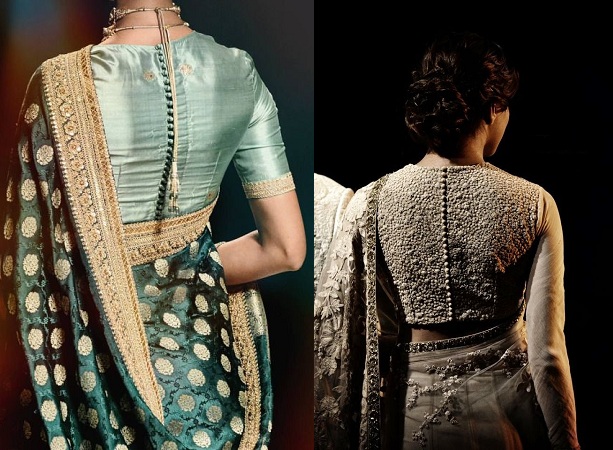 Netted back blouse:
Net is the latest style game of the fashion world. If you want to don a sizzling appearance, try a full-back netted blouse with intricate embroidery or sequin work. This will give you a gorgeous party look. Make sure to team it up with translucent chiffon saree and grab eyeballs with your sassy style.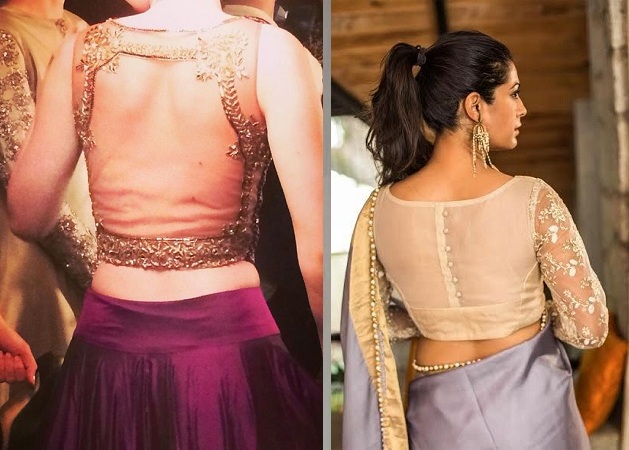 Deep V back:
One of the classiest styles of all time is a V-shaped blouse. The very simple style yet chic can be carried easily with plain cotton saree. The deep V cut adds a sensuous touch to your look. You can make it distinctive by adding buttons at the bottom of the blouse.
Deep rectangular cut:
Deep cut blouse is now trending and followed by many fashionistas. To adjust the fit of any deep cut blouse, it is essential to add a tussle and tie it tightly to get the best fit. While using a tusslestrap, you can think of a gorgeous latkan. Additionally, you can put vertical lines of button which will add to the oomph factor of the stylish blouse.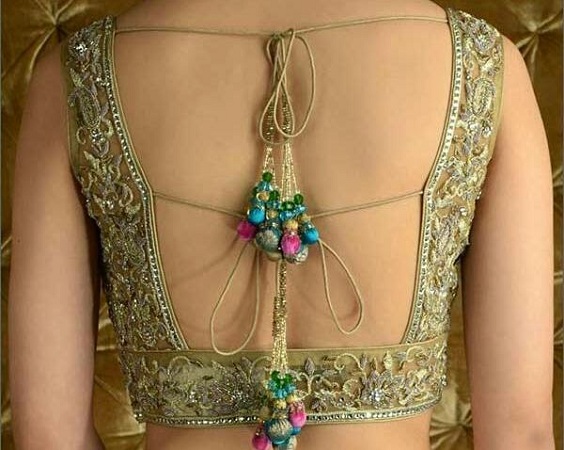 Halter neck blouse:
When talking about the fashionable blouse design, it will be a sin if you miss out halter neck style. It is the favorite of many Bollywood stars who often catch attention donning this pattern. The half opened back gives an appealing touch and you will certainly look drop dead gorgeous wearing it.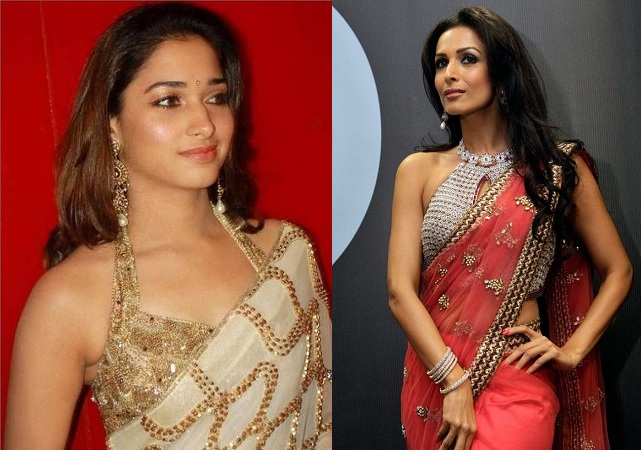 Two strings attached:
If you want to set the temperature soaring, then you must opt for this superhot style. This is such a daring style with two strings and knots. One will be fixed at the neck and the other one will be tied at the end of your back. You can also add latkan in the tussle to look more gorgeous.  The backless design is meant for those who have a toned back and can pull off such a bold style with great panache.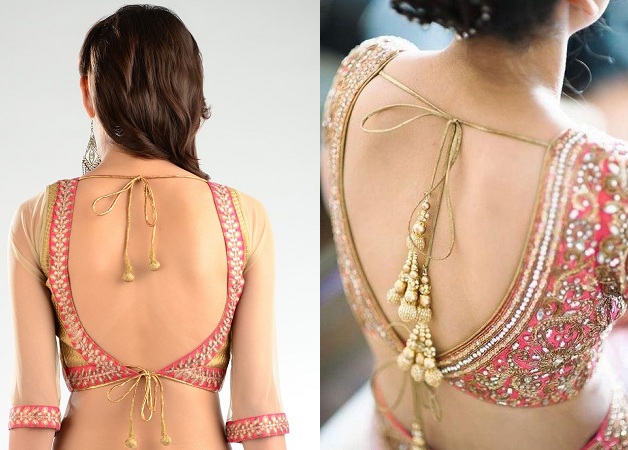 Spaghetti strap blouse:
If you are blessed with a perfect figure, nothing can stop you from styling yourself just like a diva. Yes, toned back and not so heavy bust allow you to flaunt your bold avatar in spaghetti strap blouse. Well, this western style is now hugely followed in traditional wear and people call it a fusion. You must try out this thin strappy style to make your followers speechless. But, to portray this fashion, you need a party.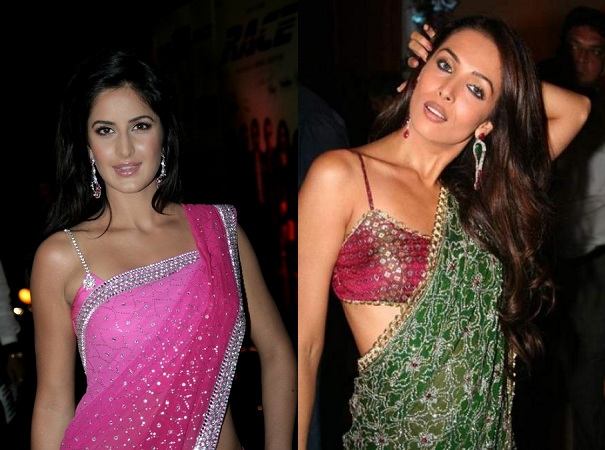 Tube style:
Tube top has been dominating the fashion world for quite a long time. Hugely inspired by this style, fashion designers launched tube blouse for the modern divas. The strapless appeal will surely give you a stunning look just like a Bollywood star. Make sure to paint your lips and darken your eyes to slay the sizzling look in vogue.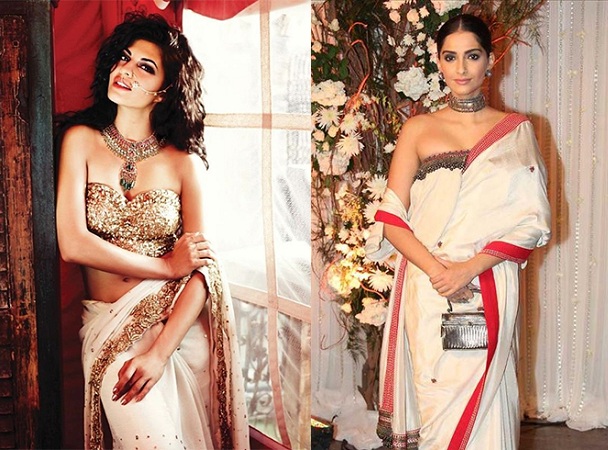 Shirt style blouse:
This is the most adorable trend in the latest fashion world carried by most sophisticated women. The comfortable short style can be your perfect match in any outings or soiree. Available in various styles, the shirt like blouses can be paired with lehenga choli as well.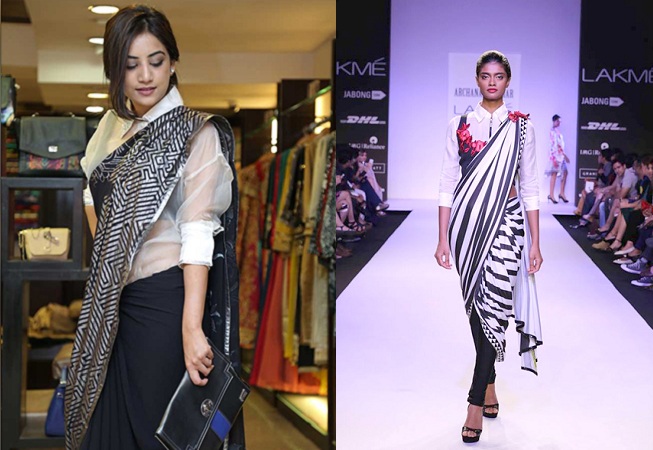 The cut out pattern:
This blouse style is meant for the quirky fashionistas who love to experiment with their looks. The back of the blouse is cut out in any shape from rectangular to triangle and tied at the top either by a button or string to give you a sublime look. Try this popular style for any occasion and be the talk of the event for your uniqueness.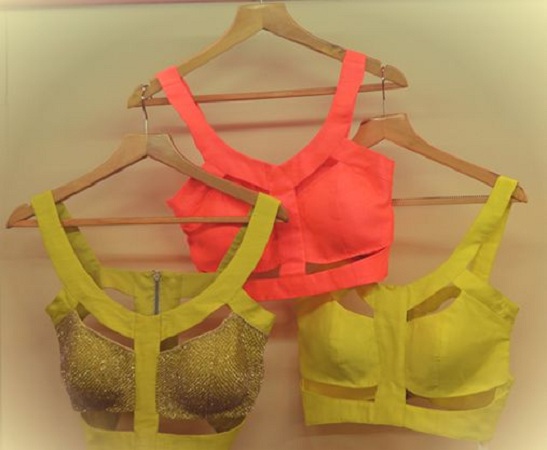 Asymmetrical blouse pattern:
Asymmetrical fashion can be paired with a net, chiffon, or georgette saree. There's no rule to follow when it comes to designing such patterns. You can cut the blouse according to your comfort level. Available in various styles and patterns, this particular back blouse fashion can be your ideal match for an evening party.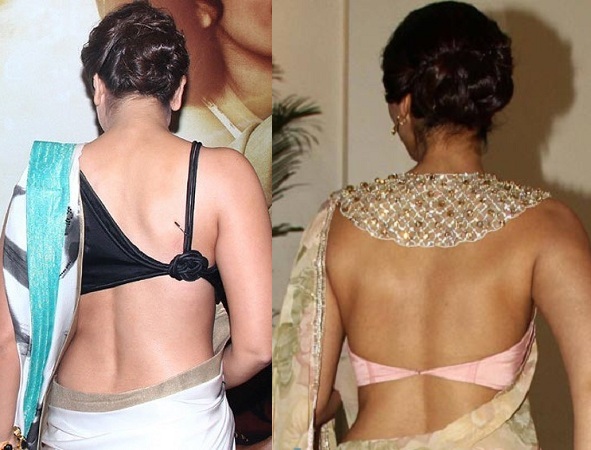 Off-shoulder blouse:
If you are a hardcore follower of the Bollywood glam world, then you must have an off-shoulder blouse in your wardrobe. This gorgeous style can be strapless or with broad strap place in the arms. Both the styles are equally followed but the straps can give you even more graceful look. Again, this is exclusively for a party look and you need to carry it with utmost elegance and high confidence.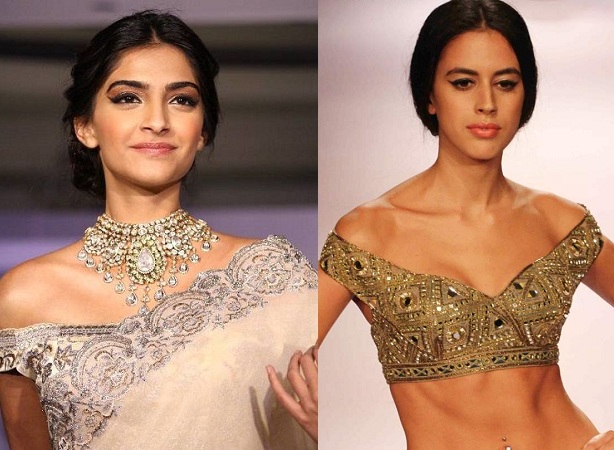 Pointed back:
This is another playful style that can be designed in various ways. You can adjust the cut and the shape of the back according to your choice. To get the best fit, try to attach strings to tie at the top. You will look different for sure and more importantly, you can carry this style anywhere with any types of saree. This is not bold but definitely chic to add charm to your presence.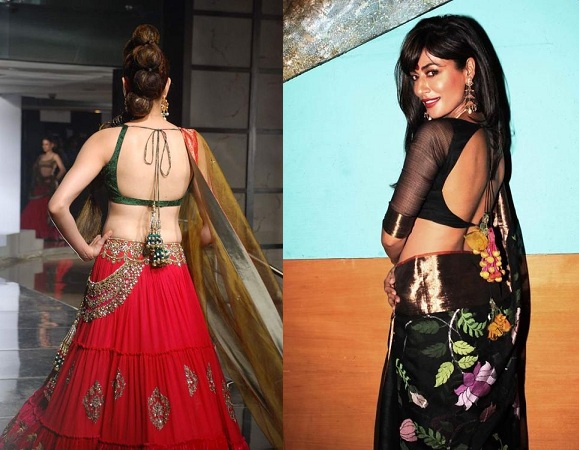 U-shaped back:
There are many ways you can draw the attention of the fashion flock with your unique style. Although U-shaped back is not so rare to find but, by adding some alteration you can totally change the conventional look in this blouse. Wondering how? Add some hook at the end for fittings and also use a dazzling latkan attached in the strings to look stylish. Make it sleeveless and use thick borderline in the blouse showcasing the U-shape perfectly.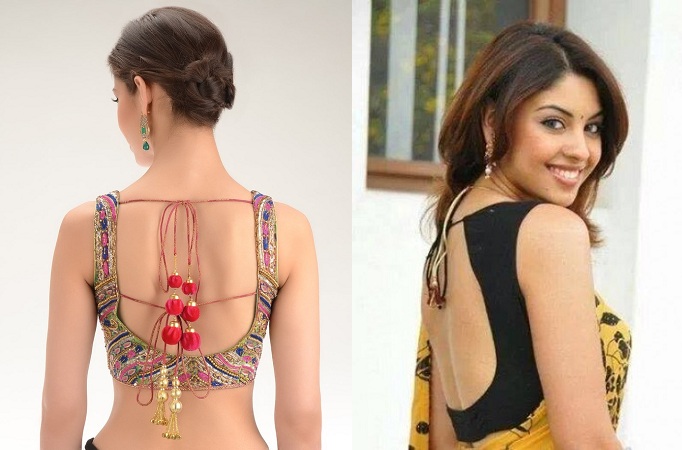 High collared blouse with a cut:
high collared blouse offers a formal look which you may not like. But, this style is popular in the corporate world. Thankfully with modifications, you have the liberty to play with it. Make a cut in both sides-front and back to look different and chic. It will totally change your casual look to appealing appearance. This pattern can be carried with lehenga as well.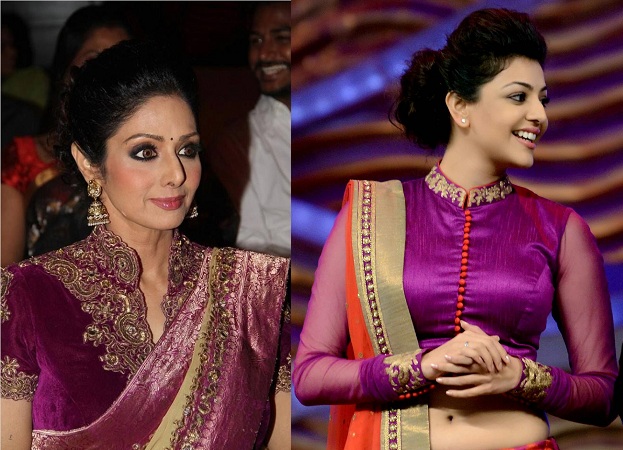 Criss-cross fashion:
This is something which was immensely popular in choli designs in the 90s. It has made a comeback in form of blouse design and fashionistas love this cool and casual style for any party wear saree. The criss-cross string pattern in the back ends at the bottom where you have to tie the knot. When sporting this style, make sure to go for three-quartered or full-sleeve blouse. Short sleeve or sleeveless doesn't look good with it.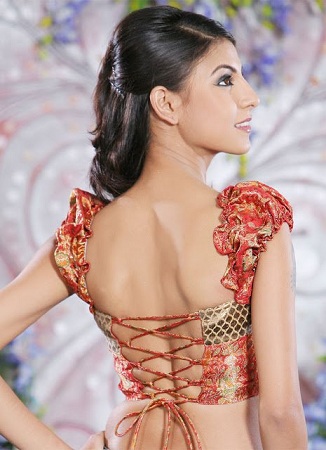 Belt design:
It is really unbelievable to see the verities in form of blouse back design. The latest addition is the belt design which goes with round neck blouse. The belt-like strap is attached at the bottom to give you a gorgeous look. You can also play with the cut and make it more charming. This type of style goes perfectly with the sleeveless blouse. So try this 'not so conventional' style and let people talk about your toned back.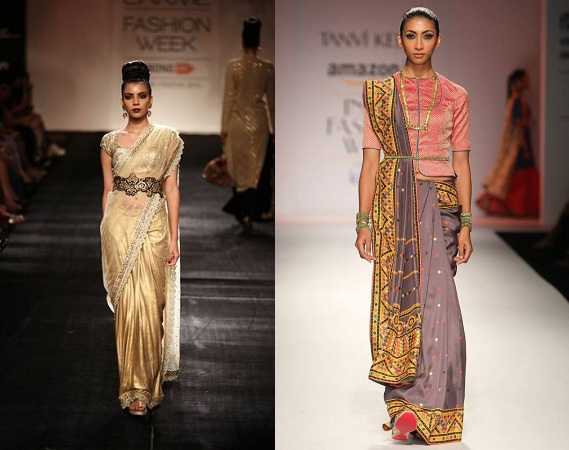 Corset style blouse:
You will be amazed to see the western influence in the Indian fashion wear but thankfully, it is giving us more options to look different and stylish at each occasion. Corset blouse is one of the classiest patterns to give you a mesmerizing look at any gala event. This vintage style blouse best goes with designer saree. When wearing an embellished corset blouse make sure to add minimal accessories to highlight your ear, hands, and forehead. No neckpiece look will drag attention to your blouse design a and there will be hardly anyone who will not praise you for this style.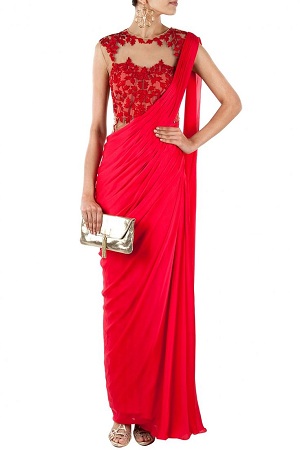 Back button blouse:
Designers know very well how to play with new things in the old pattern. Back button blouse is nothing but just an addition of the button in the back which can be for the show also. You can design a fully-covered blouse and put the buttons in order at the back. This style can be opted for a netted blouse as well.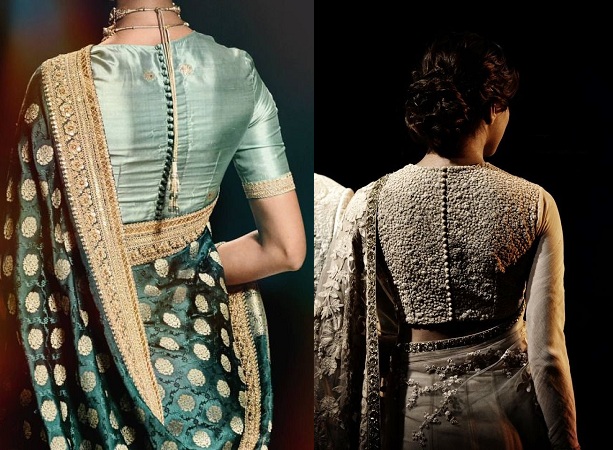 Tier blouse design:
If you don't have any inhibition to show your toned back, then go for this ever-stylish tier blouse design. This is something that will surely give you a sparkling presence for your stylish avatar. The bold pattern is fixed with strings in 3-4 tiers. You can use latkan at each tier and let it fall casually in your back.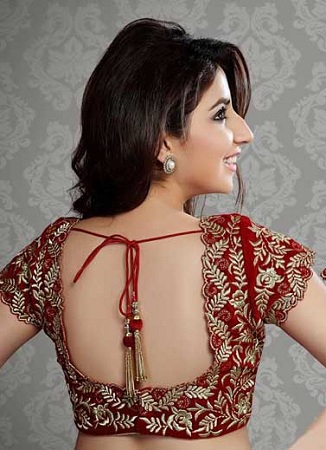 Mirror embellished oval back:
Oval back design is commonly found everywhere but to add some twist in this conventional style you can add mirror covering the oval portion. Intricate mirror work will certainly give you a gorgeous look for any festival or parties. You can make full-sleeve blouse or sleeveless with mirror embellishments. Both can help you raise the temperature with your style quotient.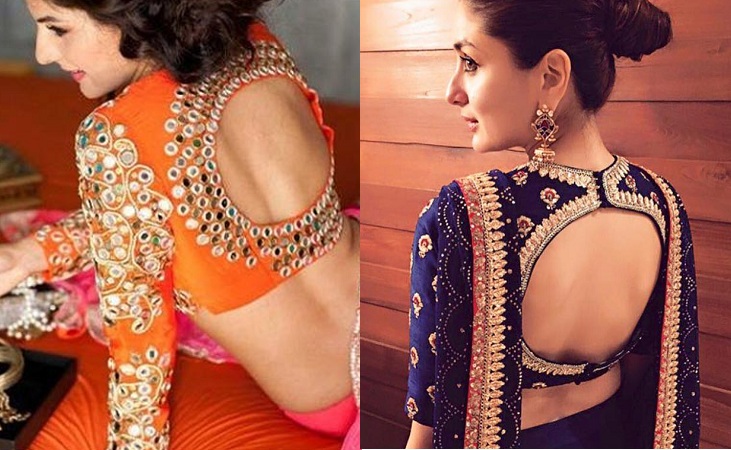 V-cut mirror blouse:
Mirror is an additional element that can help you look chic in a conventional blouse. Deep V-cut blouse is common but to make it dazzling, you can opt for a mirror work. Needless to say, it will give you a party look and you will be the talk of the event for your fascinating style.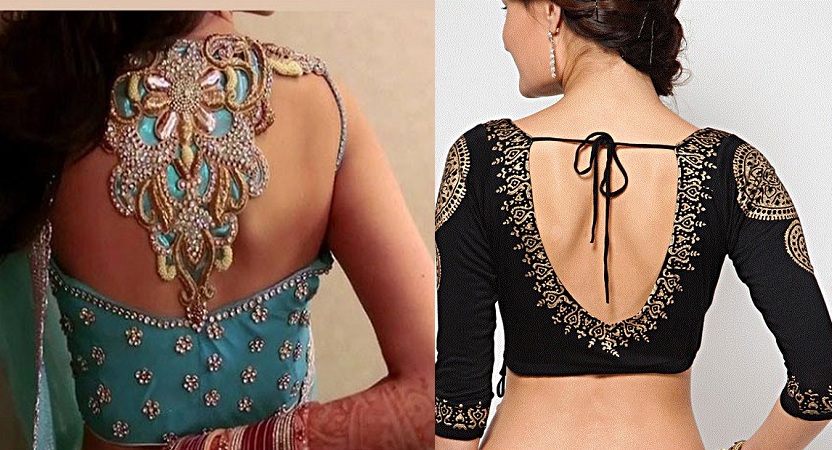 Bejeweled back neck:
A beautifully crafted blouse with studded crystal is all that you need to look ravishing in a wedding party. You don't need any additional accessories when you style your blouse this way. But, this type of heavily embellished blouse needs the best accompaniment. So, you have to choose a designer saree to team up with it. This will be enough to make a stunning appearance anywhere you go.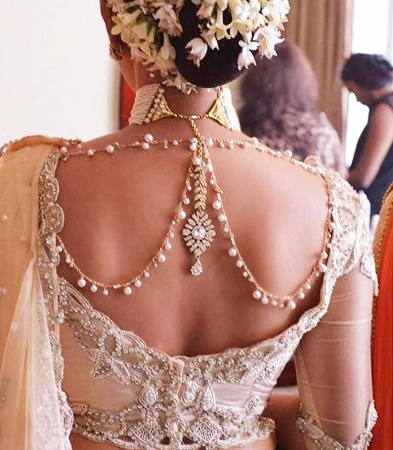 Cape style blouse:
You must have seen the top models walking for the ace designers in traditional saree and an amazing blouse with flowy sleeve. Have you ever thought of trying it? You must ask your tailor to make an attractive cape style blouse which can give you a diva look. You can pair it with silk, chiffon, netted saree and get a supercool look instantly.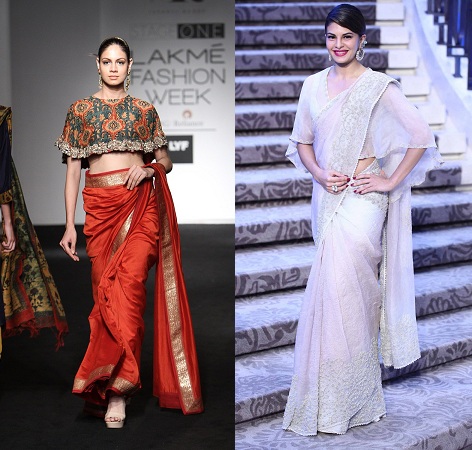 Repeating the same style is definitely not the fashion. You have to play with your traditional attires to give a remarkable style statement. But, it is not always possible to change your wardrobe as per the occasion. Every designer saree or suit costs a bomb. But changing your accessories and blouse designs can give you a significant makeover. These amazing blouse designs will certainly give you a resplendent look to steal the limelight wherever you go. The only thing that you need to pay attention too is the blouse fitting. A well-tailored blouse will give you that stylish look. So, when looking for any of the ravishing designs to make a drool-worthy appearance, contact an experienced tailor who can give you the best stitching along with fittings. So, this summer, look different flaunting your back in style and rule many hearts with your fashionable blouse designs.