Women love to change the style, design, fabric and weave of sarees every season to give them a fresh and completely different look from the previous season. There is also a clamor to show that they are ahead of the other in fashion, therefore require new trends and styles every season. As festive time is around the corner, market is abuzz with the latest fashion for the season and women of all age groups have started to take rounds in the market to find out the latest.
The latest fashion in sarees is the super net sarees. These sarees are making waves in the Indian fashion circle as they offer not only the comfort of pure cotton on one hand it also offers the style, the class and beauty of silk fabric on the other.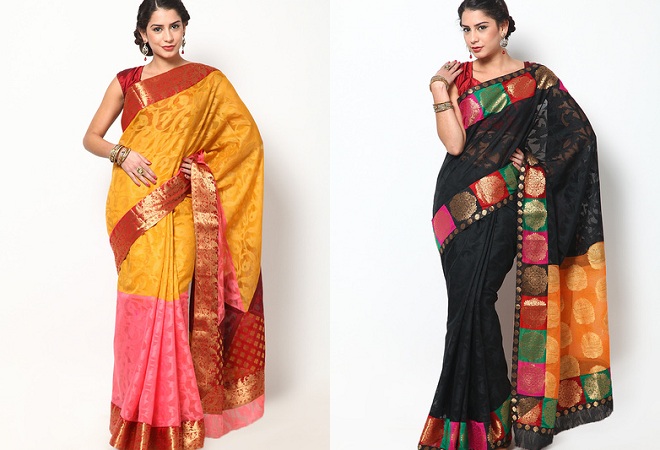 Super net fabric is a blend of different shades cotton and silk yarn to give the advantage of affordability and softness of cotton and the durability and richness of silk. These sarees have recently become a rage in the fashion circles owing to their use by the most fashionable and top leading ladies from bollywood in their recent movies and red carpet events.
These affordable sarees are getting more and more popular as people are getting attracted towards transparent fabrics as they see top actresses and celebrities from all over the globe donning similar fabrics.
Kinds of Super net sarees:
Super net sarees come in a wide variety of blended materials with cotton such as the Kota super net, Banarasi super net, Gicha super net, cotton super net, Chanderi super net, Patola super net and many more.
These super net sarees are transparent and very soft that makes the women look gorgeous and stylish. Most of these super net sarees are handloom sarees and are popular because of their transparent weave and hand crafted designs. Most of these super net sarees come either as purely printed or have thin borders to give them a stylish and modern look.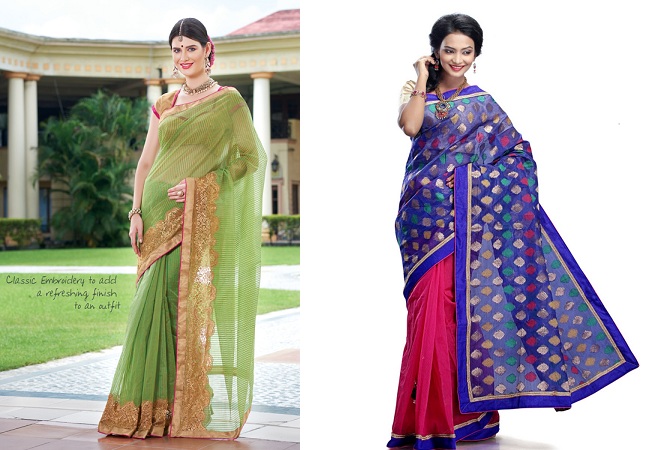 Some other variants like Chanderi super net , patola super net, Banarasi super net that are mostly formal and party wear sarees come with crotchet work, zari brocades, different types of embellishments like kundan work, sequin work also. These sarees look very gorgeous at formal functions and get together
Why super net sarees:
Super net sarees are a rage in the Indian fashion scene and most of top bollywood actresses are wearing different variants of this saree in their upcoming movies and also on various red carpet functions. These sarees make a woman look elegant, stylish and modern as these are basically fashion sarees that have style and modern looks.
Apart from being stylish and modern in designing, these sarees are multipurpose outfit that you can wear as a casual or as a formal outfit. Super net sarees command high following because they not only offer the durability and sheen of a formal saree but also the comfort of a pure cotton saree without the hassles of high cost of maintenance of cotton saree.
Super net sarees are also very affordable option for women that are looking for designer sarees for their formal functions but do not want to spend big money on sarees like pure silk and other varieties. Furthermore, super net sarees are also a great option for women to stay in touch with the latest fashion and boost their confidence to be at par with their counterparts.
Super net sarees come not only in the medium range for middle class women, but these sarees also come for the higher end of the society. There are many different types of fabric variations in super net sarees that play an important role in determining the cost of a saree. Further, the type of work also decides the cost like if the saree has machine work, the cost of saree will be less while if the same work is done by hand, the cost will be much more and then comes the designers.
Therefore for women that are looking for high end fashion super net sarees can choose their favorite designer saree from offline stores or designer boutiques.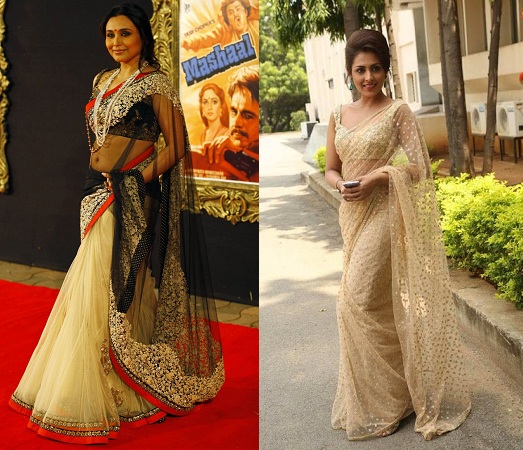 Super net sarees online:
The range and variety of super net sarees is so huge that it is virtually impossible for any store owner to keep each and every variety of these sarees. If you are one of those that are looking for more variety to choose their style of saree, online saree stores are the best option.
These stores have hundreds of photographs of different variety of super net sarees. You can select your choice of saree from the photographs and place the order. Some online saree stores also offer cash on delivery facility to their customers.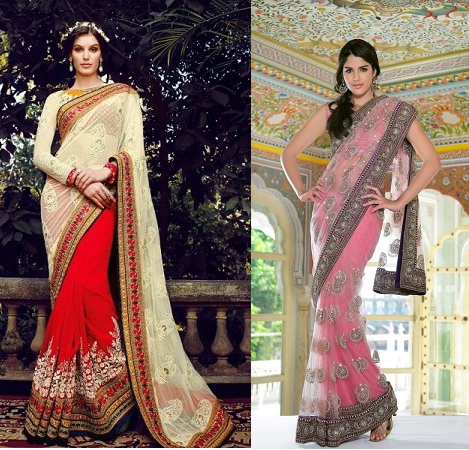 Super net sarees for Wedding:
These days' super net saris are the hottest fashion for wedding functions. Many women believe in wearing very heavy saree for wedding functions, but end up being tired and fed up of the weight. The best alternative to the heavy weight silk sarees that have the sheen and gloss of silk with the comfort of cotton are the super net sarees.
Today you can find designer wedding super net sarees in online as well as offline stores. Here you can find huge variety of sarees with different types of designing and embellishments. Either you can pick up a readymade saree from here or you can get a custom made saree according to your style.
Super net sarees also have the advantage of being light weight compared to traditional silk sarees that make them even more attractive for women as they can enjoy the wedding rituals and party in a better manner.
Wedding super net sarees come in different forms of designs with some having beautiful crochet embroidery, some with designer pallu and border, some decorated with sequins or kundan work and some with zari work to make them beautiful and give them a wedding saree look.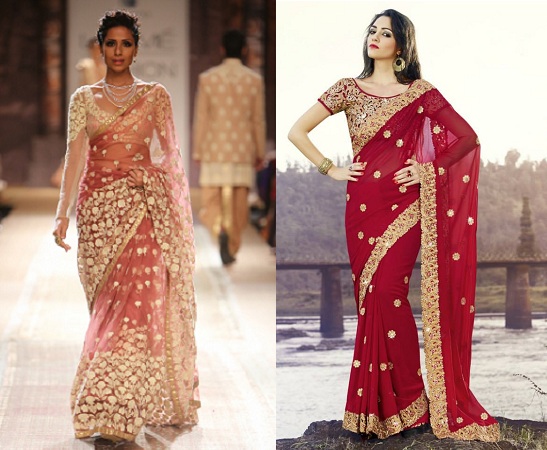 Conclusion:
Super net sarees are fashion sarees that have become popular owing to the comfort and style that they offer against all other types of sarees. As these sarees have cotton as well and suitable for both party wear as casual wear, you can safely buy these sarees.