Every girl wishes to look her best on her big day and the preparations need to start much before your wedding day. The integral part of your preparations includes the selection of your wedding dress or gown. With the changing trends in the fashion industry, lot more has come to your reach. The fashion designers have tried their hands on almost everything to bring out the best according to the taste and preference of the customers. Decide on to the colour of your wedding dress and fix your budget and you are flooded with a great variety to choose from.
Since you will have all the eyes struck on you, you wouldn't want to take the chance of getting an ordinary dress. You can customise your own wedding gown or leave it to your favourite designer. Designers get a good platform in the form of exhibitions to showcase their new designs and get a good client base.
Bridal Gowns for Christian Wedding
A fairy flowing on her special day in a white gown with her veil on, holding a bouquet of flowers is an amazingly pleasant sight. Every girl dreams of her big day and longs to appear gorgeous and elegant. There are plenty options for wedding gowns as follows:
Lace floor length ball gown: Lace looks super chic and elegant. A floor length ball gown gives the gaze of a doll. Round neck or V-neck may be preferred with a caned bottom to let your gown flow in all the ends. Pair it with designer diamond or stoned jewellery and high heels. Everyone will fall in love with your appearance head over heels.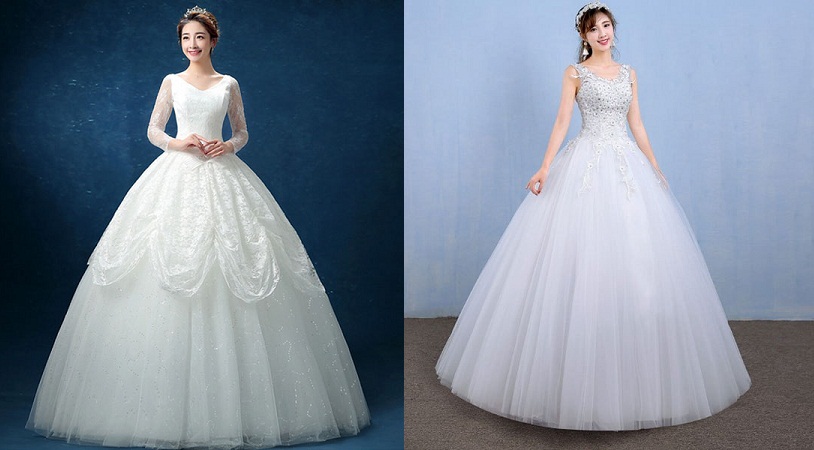 Turtle neck net gown: Sheer net gowns shower all the beauty and these can be embellished using stones, studs, beads, etc. Turtle neck gives you the look of a young lady. Princess cut can be chosen at the bosom with slight work. Add a stoned or shining belt to complete your look.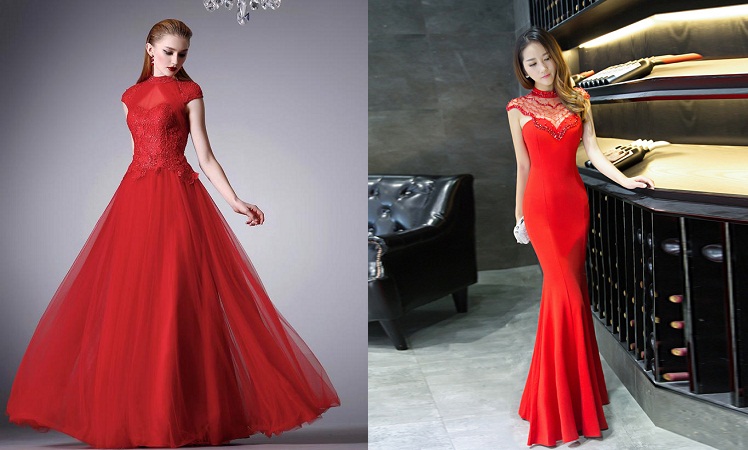 Fishtail gown: For all those ladies possessing slender bodies and curves at the right places, fishtail gown is ideal for you. This is your chance to flaunt your toned body and appear glamorous and stunning. Get the work done on your gown as per your choice for your wedding ceremony.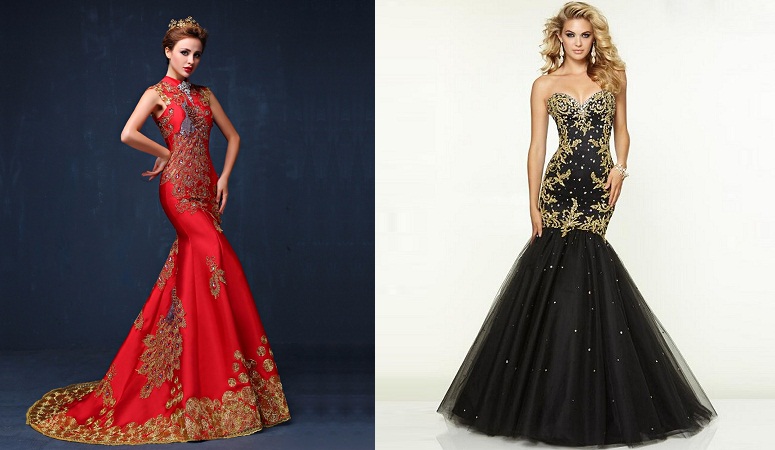 Off-shoulder gown: Off shoulder has been much in vogue recently. This adds the touch of sensuality and style to a bland outfit. You can always ask for thread work or embellishments. A-line or Barbie style gown can be worn for the most memorable day of your life.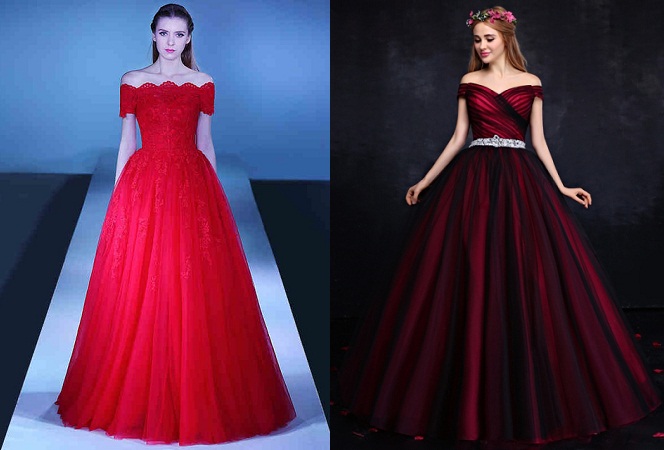 Tube top gown: A sweet heart or tube shaped top gown works very well for your big day. You can also flaunt your statement jewellery such as a real big neck piece with danglers. Add a messy bun or smooth curls to your hair with a long flowing bottom.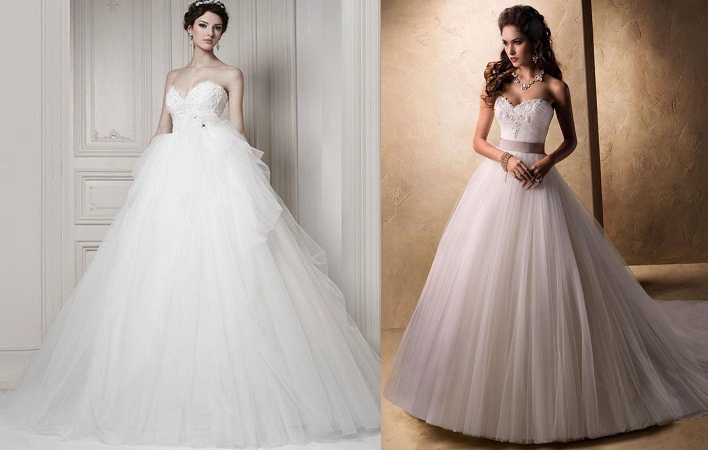 One shouldered gown: You can always play with neck styles and back neck when it comes to any gown or dress. This looks super gorgeous when you have that shimmer on your dress and flawless charm on your face. Sweep your hair to one side and bang! You have all the eyes glued to you.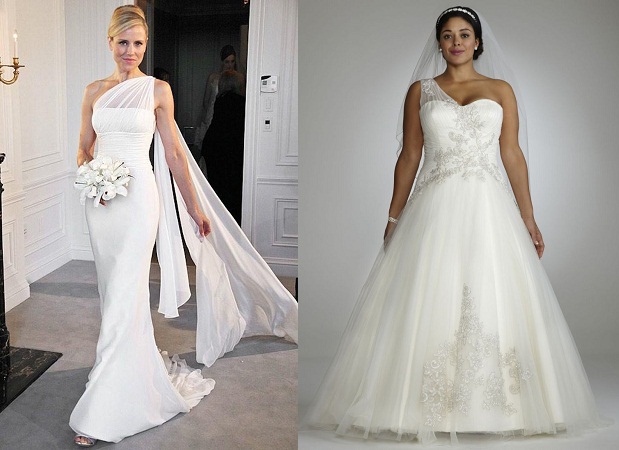 Traditional Bridal Gowns
When it calls for an occasion such as wedding, traditional and ethnic wear is the best way to get dressed up and be noticed. The ethnicity of the outfit adds charm to the beauty of the bride. Gowns not only appear pretty and beautiful but are comfortable as well. Designers have offered their clients much more than just an A-line or fit and flare gowns. Innumerable options are made available to choose from and have personalized and customized designer gown.
Following are some of the traditional bridal gowns that are in much vogue and are sure to leave the onlookers' jaw dropped:
Blouse and flare separated by net: A gown running from your bosom till your toes might appear a little boring. Add a sheer net of the same colour as that of the gown at or above your belly button. Now, you can get the traditional handcrafted embroidery done at the yolk and leave the flare plain or ruffled.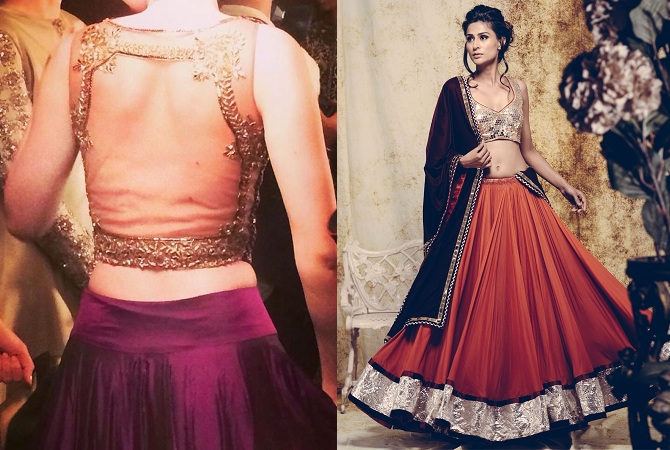 Get your skirt ruffles and layered: No one would want to miss the chance to appear like a fairy down from the fairy tale. Ruffling and layering your outfit adds volume to your ensemble and makes you appear unique. After all, the memories of your wedding are meant for a lifetime.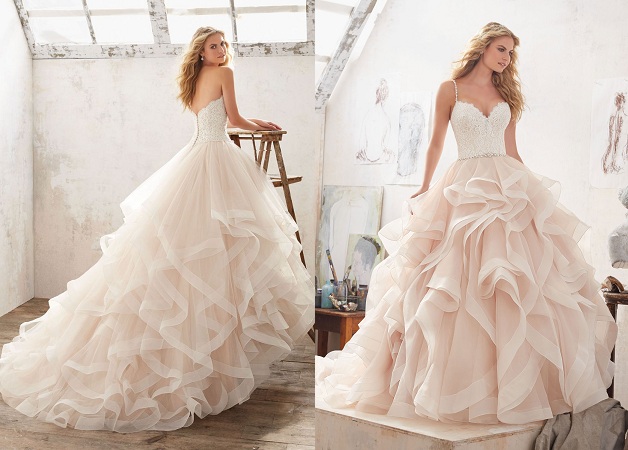 Backless thread work gown: What appears more sensual than possessing a backless gown. Backless gown might have become a common trend but adding a transparent net with thread work is something unique and different. Thread work adds grace to the outfit and embellishes it with some sheen by getting some sequin work done.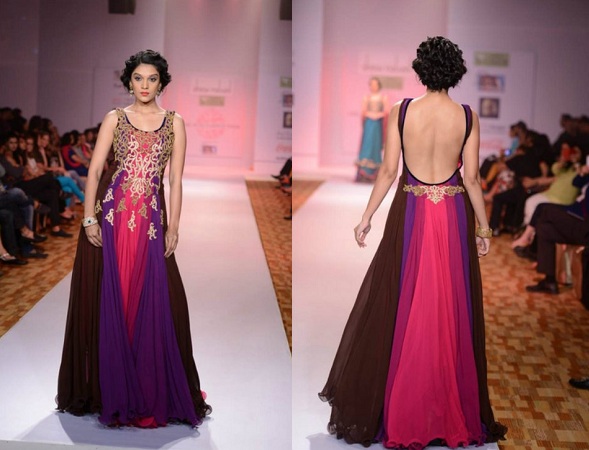 Romantic lace: Illusion lace bodies, intricate ace backs and all over lace gowns are just for those that don't wish to miss out on the romantic element. Not only romance, lace justifies the beauty of the outfit and the wearer as well. You just need to pick the right amount of lace that will multiply your beauty and royalty.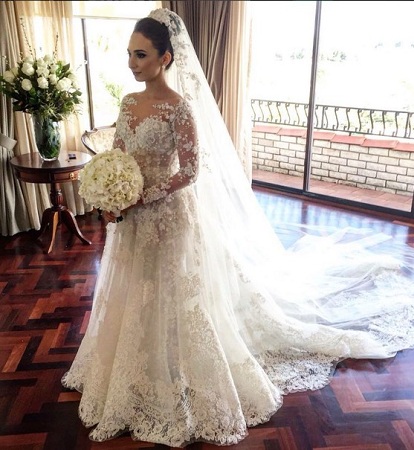 Asymmetrical wedding gown: If you are amongst those that don't like common stuff, an asymmetrical gown is just for you. The length of such gown is not same from all sides. It may be short from the front and long at the back or short from one leg and full length from the other leg. This adds an interesting element to a boring outfit.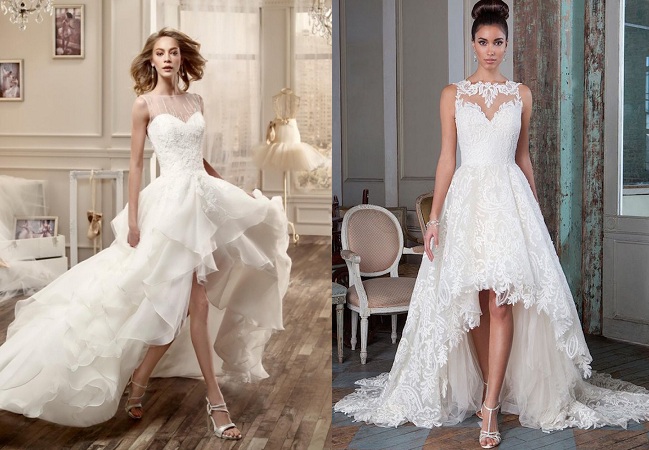 Sexy Wedding Dresses
When you wish to exhibit some sensuous and scintillating trait of yours, why not get it done right in your wedding attire. Gone are the days of shyness and wrapping yourself from head to toe. Today calls for boldness and appealing attitude that catches the eye of everyone. Following are some of the sexy wedding dresses that are sure to skip the heartbeat of your fiancé and increase the pace of heartbeats of others:
Mermaid style strapless gown with deep sweet heart: Intricately designed mermaid style strapless gown with deep sweet heart is the smokiest and can be pulled off confidently for you if you possess great figure to flaunt. This style highlights your curves and makes you look flawless.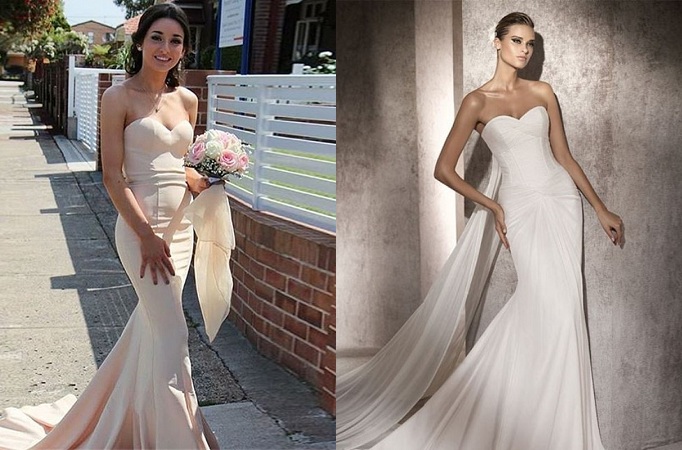 High thigh slit and backless gown: This type of gown involves more show of skin and if you have clear skin with toned legs and back, this gown is ideal for you. The back may possess deep V-shape, ending just above your hip line. This style works wonders on both slender and broader body types.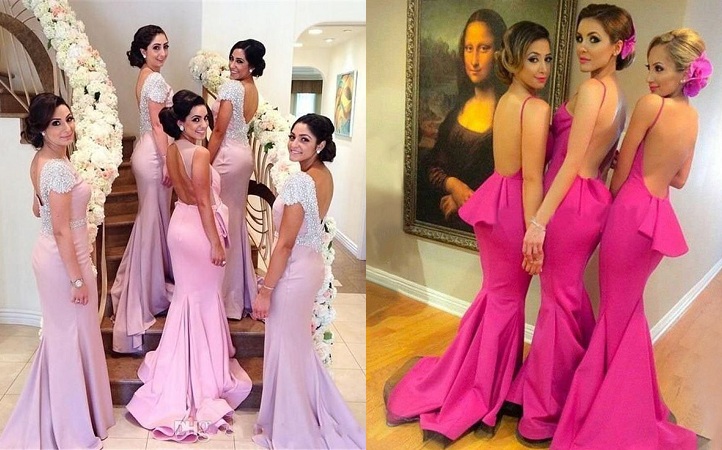 Deep front V-neck A-line ball gown: Front V-neck that extends just above your belly button is the most sensuous and stimulating part of your outfit. Make the neck or the entire yolk lacy or get it done in crochet. Lace in itself is very sexy and royal to add to the glory of your looks.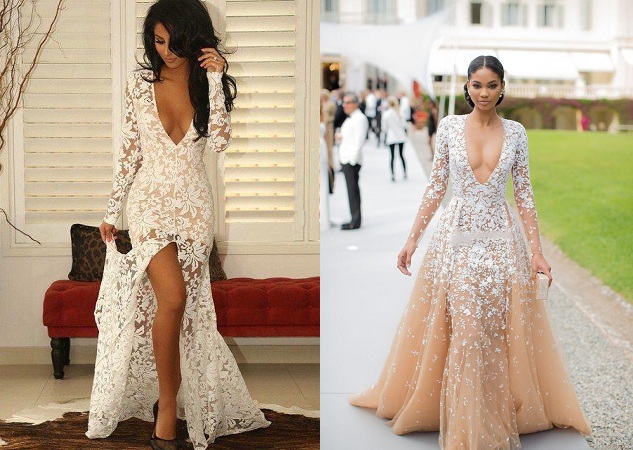 Asymmetrical ruffles: Be it a fishtail dress or normal A-line dress, ruffles add beauty to a gown. Strapless gown with asymmetrical ruffles shows peeping legs that would make the onlooker want more of it. Bare shoulders with smooth curls falling over them lay a wonderful sight for anyone to go awestruck.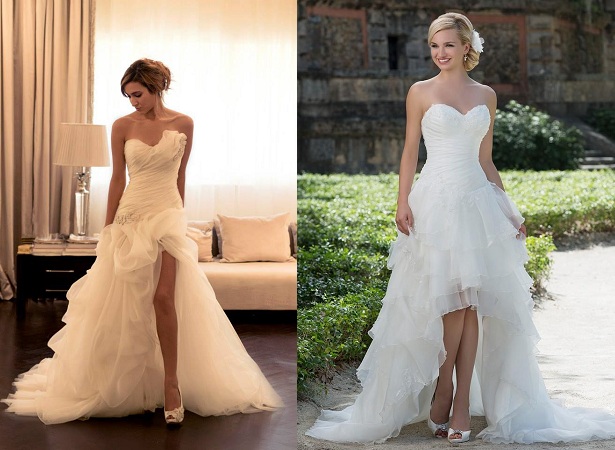 Indian Bridal Lehenga Gowns
Indian brides appear all the more gorgeous and stunning when they dress up for their wedding day. The charm and splendid beauty comes from within and doubles the beauty of their outfit. Indian brides prefer to wear bright colours such as red, pink, peach, yellow, green, etc. for their wedding ceremony with the handcrafted machine or sequin work or both.
Following are some of the designer lehenga gowns that Indian brides would love to flaunt on their big day:
Lehenga gown with temple embroidery: Temple embroidery is loved by most of the ladies and designers of India. The lehenga supports the thread work which may be sewn with golden thread and shimmered with sequin and beads. The flowy lehenga gown makes the bride appear beautiful and allows perfect twirl, good enough for photo shoot.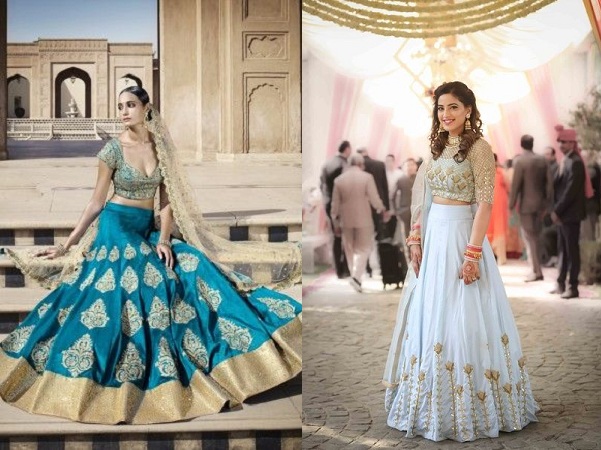 Layered lehenga gown: This type of lehenga gown involves layers to the outfit. Layering can be done only on the skirt or a net or silk jacket can be added on the top of the blouse. This type of lehenga gown is ideal for bulky women or those who have more than the required curves.
Golden shimmer all over: If you want to look like a bride who stands out of all in a dressed up gathering, you will shine from far off in this shimmery lehenga. Pair up your heavy jewellery and carry a net dupatta for your veil.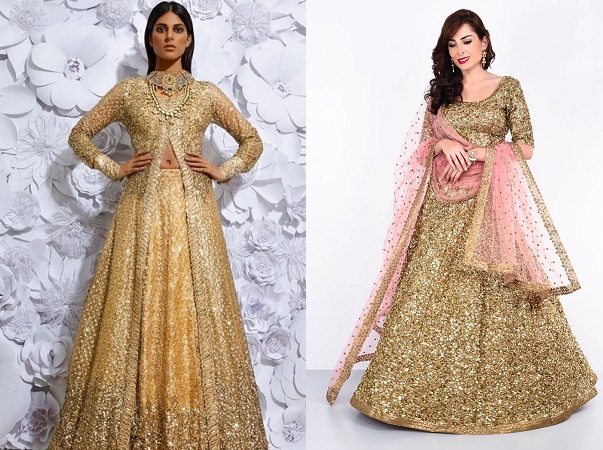 Stoned bordered lehenga: Though stone work makes your lehenga heavy but it is worth it. If you have a light coloured lehenga, embellish it with bright stones such as red and green. If you are pulling off a dark coloured lehenga, silver and golden stones work well. If you are not much fond of stones, mirror work is a great alternative.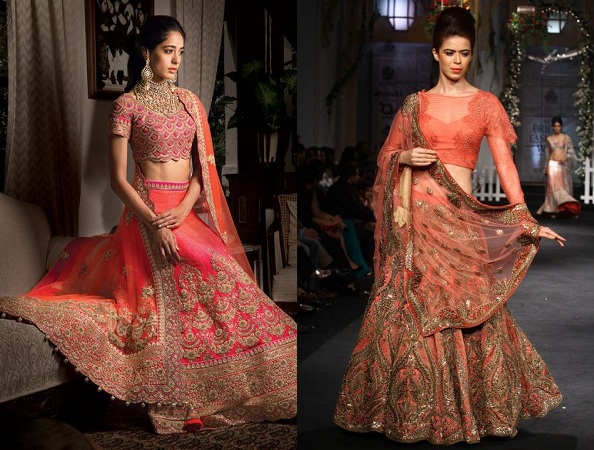 Brocade lehenga gown: Brocade has all in itself and does not require many embellishments. Pull off a bright coloured brocade either on the blouse or entire length of the gown or just a small jacket. It is available in bright colours such as red, pink, green, blue, etc. and offers a great variety.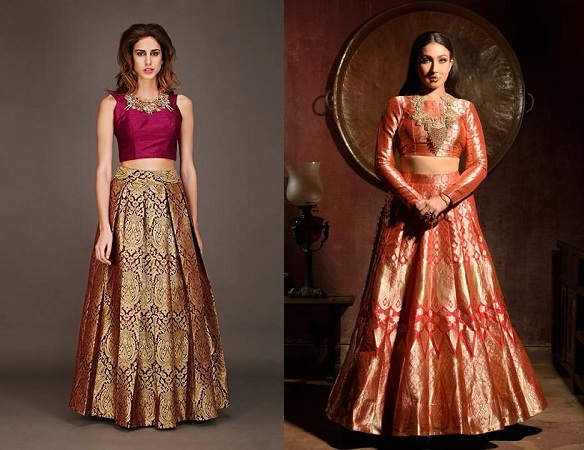 Evening Gowns for Bridesmaids
Be it the wedding of your friend or your sister, you should also be on your toes for getting your evening dress ready. Not only the bride has to lure the gathering, the bridesmaids too can look super gorgeous and pretty. You just need to pick the right evening gown for yourself that is not overdone to make you look like a bride. Also, it shouldn't be too insipid to cause boredom in the event.
Following are some of the evening gown ideas that can be worn gracefully and confidently by the bridesmaids:
Classic A-line prom gown: A plain burgundy coloured A-line prom gown can be the best suited for the occasion. Add a belt or a string to have the curves highlighted at the right places. A pair of danglers and a bracelet would work ideally to steal the glimpse of the gathering.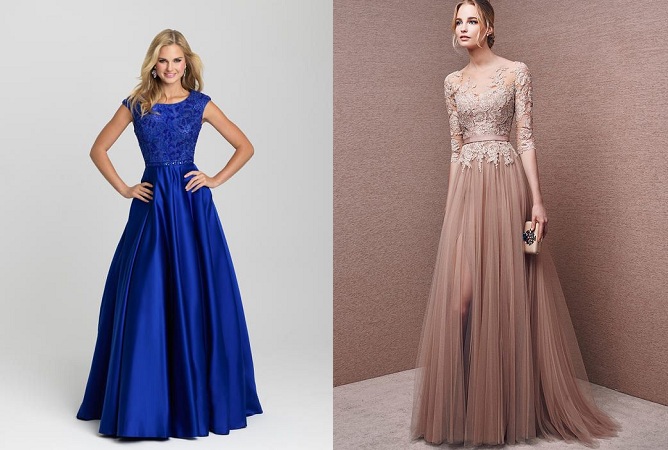 Mermaid prom dress with V-neck: If the bride is wearing a fishtail gown, mermaid prom dress is sure to add wonders to the theme. You would truly appear to be the best bridesmaids.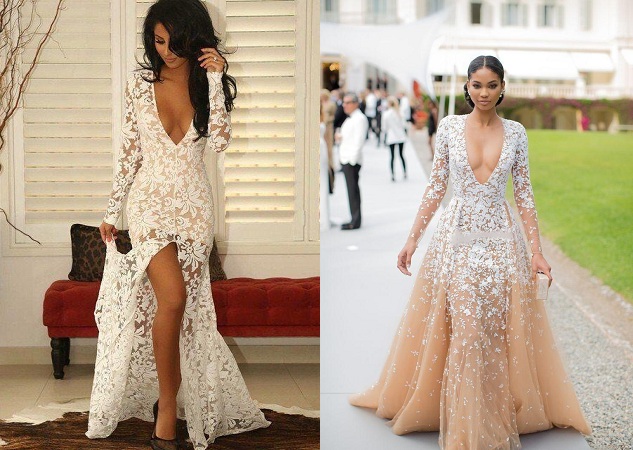 Sweet heart with high thigh cut: In order to add sensuality and glamour to your look, this is the ideal bridesmaid dress. A deep sweet heart neck will justify the bold piece of jewellery and slim long legs peep through thigh high cut. Combined together, it will come out to be an amazing outfit.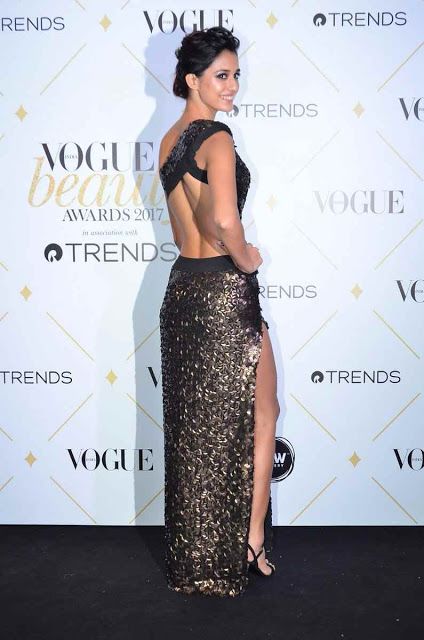 Go backless: Backless gowns are sure to take the breath away of the onlookers. Before hooking on to a backless gown, make sure that you have a clean and toned back to flaunt your outfit. Tie your hair in a neat or messy bun and be ready to get those eyes on you.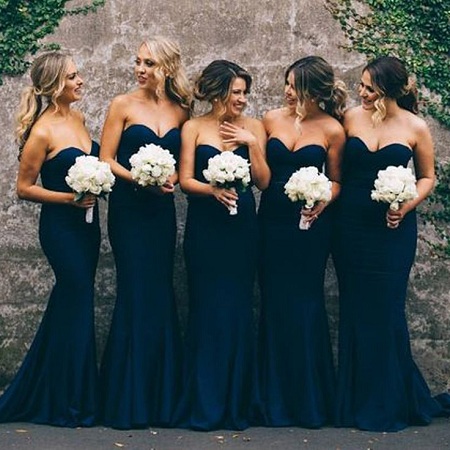 Long strapless layered prom dress: Layered gown appears super chic and when worn strapless is sure to take away the breath of the gazers and leave them gaping at your appearance. Choose the colour of your choice and add little sequin work or embellishments to have a great finish.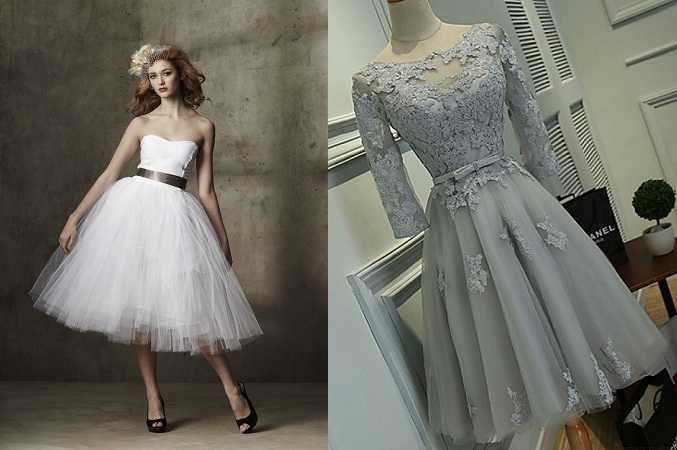 Short Bridal Gowns
Bridal gowns need not be of full length. Some like to keep it short. Short and sexy dresses for the wedding can be pulled off easily without much hassle but you need to get it done right. Following are some of the short bridal gowns that will look super chic, sexy and beautiful:
Lacy bosom with A-line frock: An off-shoulder lacy frock is much amazing that adds grace to the outfit. The length of the frock can vary from mid length of the thigh till knees.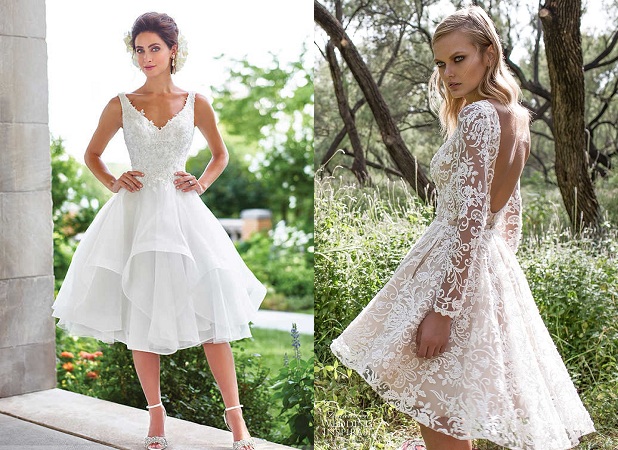 Strapless and ribbon belt flare skirt gown: The strapless short length gown with flare skirt gives the absolute look of the doll to your wedding look. The ribbon belt makes you look stunner and adds sheen to the outfit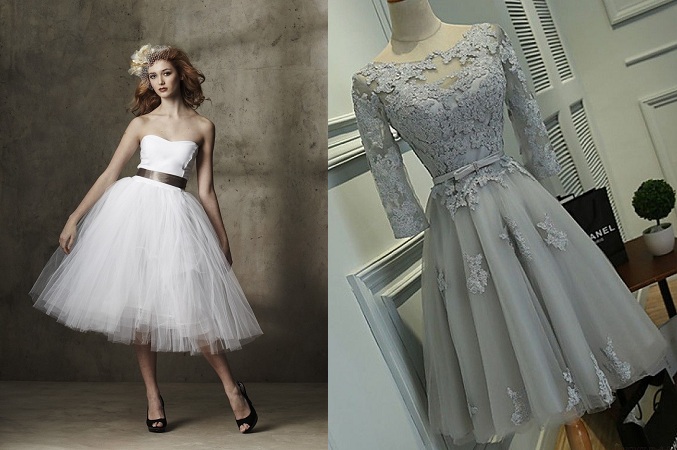 All the bridal gowns and dresses are much in vogue and surely you would want to pick one for your big grand day and leave everyone gazing and enthralling.