Don't you ever feel bored up with your daily western attire? So why not trying something experimental with a whole new bunch of kurtis? Many will stare at you and ask, "Kurti without leggings? How is it possible?" Just as salwar and suit or sari and blouse can never be thought of separately, they can't imagine of making a style statement only with kurtis. But what we feel is, in order to breathe fashion, you don't need to pair kurti and leggings necessarily. Note our words, you won't end up looking like an Alien – that's for sure.
Doll up that traditional look and let's make every head turn around when you step in the frame donning your favorite kurti without showing devotion to your bottom wear.
Make it comfortable with Cotton Kurtis
Though summer is quite tough to tolerate in our country, fashion should never take the backseat. And when being a fashion enthusiast is your genre, wearing cotton kurtis without leggings can be an intelligent step. Thanks to the skater dresses which have inspired the knee-length cotton kurtis to create a sassy appeal. Stand on a pair of high heels to flaunt your bare legs and match the glare.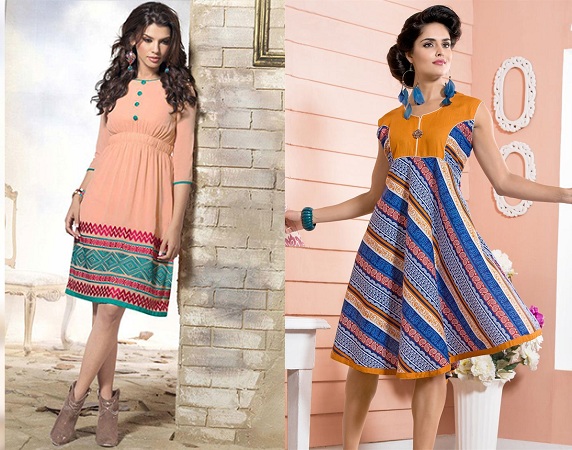 Keep it simple but elegant with Straight Cut Short Kurtis
Mostly these are known as designer kurtis, which have been there in the trend for long for its all purpose usage and assured comfort. No extra embellishment you need on these kurtis to create any special effect. Choose the eye-catching embroideries with modern prints that can help you switch your whole look to an Indo-western in a few minutes by leaving your bottom wear behind. Irrespective of the shape of your body, straight cut short kurtis are good for everyone who is willing to get rid of wearing kurtis with leggings in any casual or formal gathering. To add a little bit of flare, you can try it out with a sleek belt around your waist.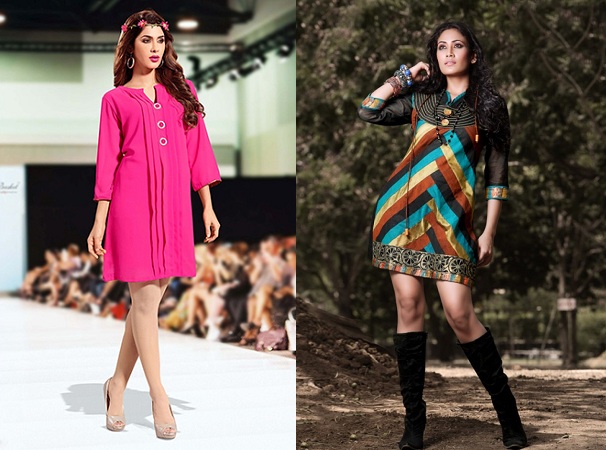 Revive your wardrobe with Dhoti-Style Kurti
Dhotis are meant to revive every time and bring along an innovative style you can experiment with. Though these dhotis have mostly been a masculine thing from the very beginning, this credit goes to the talented designers who gave it a suitable feminine makeover. Not only that, this style is going gaga among ladies since you can wear it without leggings. The pleats of this kurtis can reach your knees almost leaving an outlook of semi-long dress. Women with small to average bust can wear this kurtis easily only if a proportionate figure is maintained. Pick a pair of pumps to match up with the style of this ethnic kurtis. Don't you think it is a terrific style statement to flaunt? So keep the sensation up with your bold appeal in any occasion.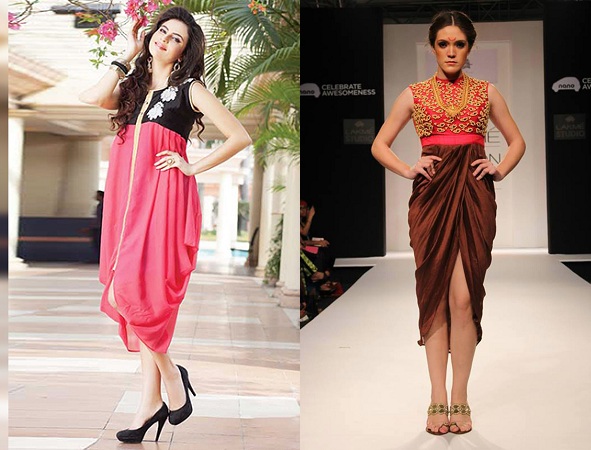 Match the Occasional Vibe with Tulip-Shaped Kurti
These kurtis are ideal for women of all age groups and the thin hemline all around can make this kurti your favorite at once. Wearing these kurtis without leggings can help you grab the attention of the mass. Make sure that you are choosing some classy jewelries like bracelets, earrings, anklets and so on to brighten up your look. Especially, when you have a curvaceous body, tulip hemline kurtis can match all the enchanting occasional vibes. Some befitting accessories all you need to fulfill your look along with stilettos. As per your choice of length and design, a wide range of tulip hemline kurtis is available in the market.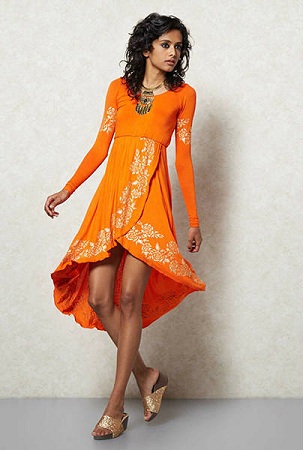 Look Sophisticated with Trail-Cut Kurtis
Nothing is wrong in saying these trail cut kurtis have become one of the best choices ever among all the Indian ethnic styles. Make an effortless styling with trail cut kurtis leaving your leggings for any occasion. The attractive silhouette effect of the C-cut on both sides of these trail kurtis gives it a boho vibe. Pair your trail cut with sophisticated stilettos, danglers and a glam pendant for a diva look. Look revamped and steal the 'talk of the town'!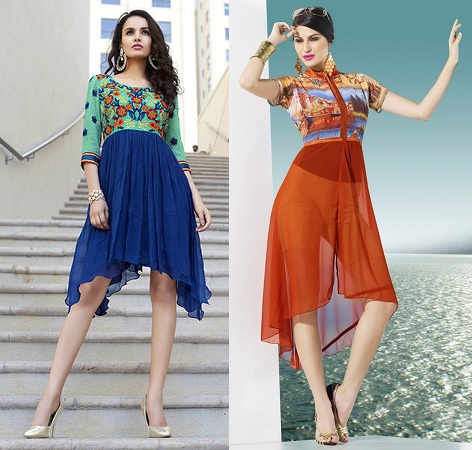 Get Traditional with Embroidered Flared Kurtis
Flared kurtis are always in trend. Style, versatility, sophistication and glamour – you can get all you need in one. These kurtis can reach your ankles easily and with its beautiful hemline all around, you can ooze glamour any time. Be it an office party, family gathering or casual meeting with your buddies, you can steal the spotlight with a heavily embroidered flared kurti. The lovely flair of these kurtis will be suitable for your tall legs. Open the buds of your style and pick what suits you the best for any occasion. Wearing them without leggings can attract every eye as soon as you step out.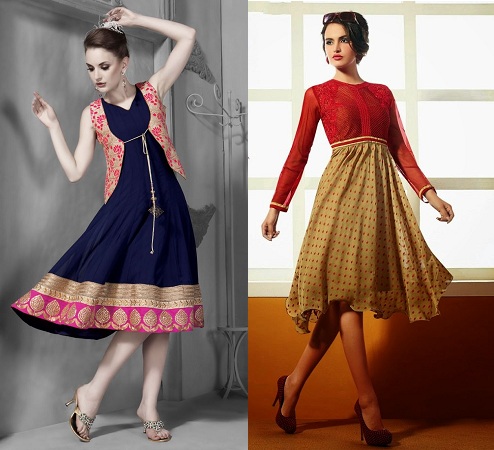 Let's make it airy Kaftan-Style Kurti
A colorful kaftan style kurti can convince you to leave its jilted lover for any occasion and this can be a great alternative for a knee-length western wear. Choosing these airy kurtis to wear without leggings will not only make you look seductive but also smart, especially when chosen for evening parties. Vibrant colored kaftan kurtis can help you look young and ravishing with a gorgeous neckpiece, tiara, a pair of high heels and danglers. And the best part of wearing a kaftan style airy kurti is that it fits every body type, be it a curvaceous or narrow figure.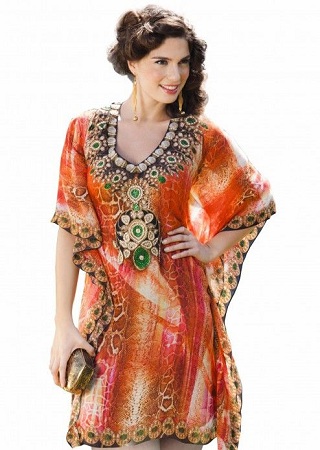 Blow the flame with Asymmetrical Kurtis
There's a common phrase saying, "Sassy since birth!" If you feel the same for yourself, forget the symmetric things and let the Asymmetric style let in. These kurtis are taking the fashion trend out of the conventional loop while giving it a fabulous shape and suddenly it has become a favorite among the fashion enthusiasts. Moreover, these kurtis can be put on without a bottom wear. Making it a style statement can be easier with a pair of heels, a sling bag, studded earring and a chic neckpiece. From your bust size, flat to heavy – with asymmetric kurtis you are ready for anytime anywhere!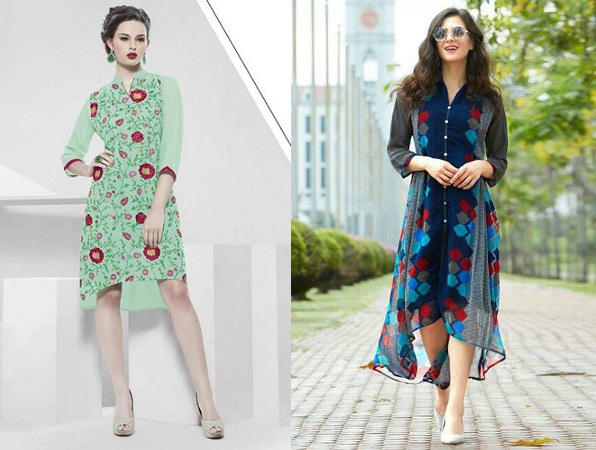 Walk in your style with Skater Kurtis
Being a showstopper was never so easy! Now you can get the appearance with these mid-length kurtis in no time. They have the potential to unleash the sassy avatar present in you. Just like the skater dresses, these kurtis are also up to your knees. In fact, at times they are shorter. So let the girls go green in envy with your magnificent style statement. These kurtis are good to go with Patiala bottoms as well. However, flaunting your sexy legs with a pair of pumps donning a skater kurti can be more appealing. For any type of body shape, skater kurtis are big hit anytime. Play with colors to keep yourself cheerful and your surroundings too!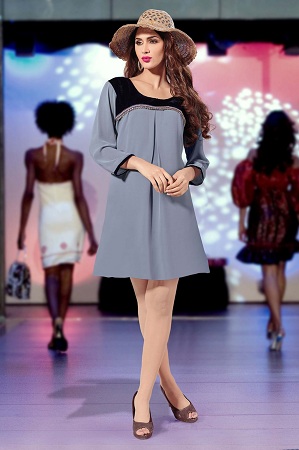 Breathe Fusion with Indo-Western Style Kurtis
For those who are never afraid of picking up a new style, indo-western kurtis are always the best choice. Choosing a sensational look will not only make you stunning amidst the crowd but also speak of your fashion sense. That is why we suggest this fusion wear to be put on without leggings and obviously with pair of pumps. Black pumps can be safe but some peppy colors can also jazz up the entire look. These kurtis are quite different from the rest for its exceptional neckline, flare as well as elegance. And wearing them becomes easy since you can pick any kind of accessories you like – traditional jewelry for an Indian look and funky accessories for western appearance. Fashion jewelry of contemporary style can rock with these dresses while taking it to the next level of styling. A scarf or a stole can bring along the elegant vibes if matched properly with the pattern of the kurti. Let's be a topic of fashion gossip in the town with this fusion wear. Chiffon, viscose blend, cotton, or crepe – lots of materials and fabrics are available in the market to choose from.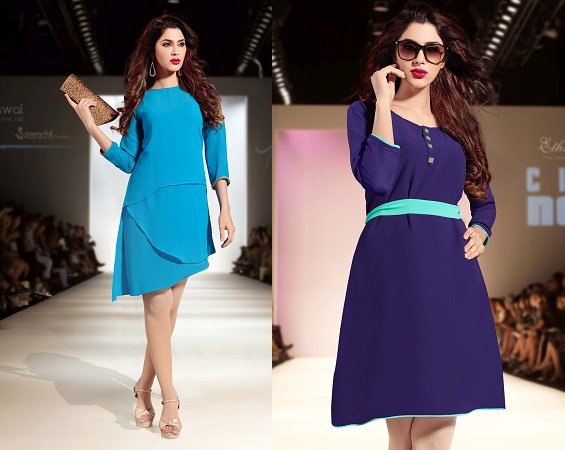 Daze your styling with the Designer Kurtis
Another perfect fusion combo is on the list. Let the world judge your ability to rock when you step in the party with a designer kurti and leather boots. Let the people around you hold a gaze and start imitating it from the very next day. Choosing a pair of black boots with little black dress has been so long in fashion whereas donning a one-piece kurti with black boots can take you to the top list of stunners who discover the fashion to help their followers. So try something none has tried before and skip the thought of continuing with the collection of western dresses only. Finish it off with stylish danglers or drop earrings, light makeup, create a little curl on your hair and you are ready to set the stage on fire!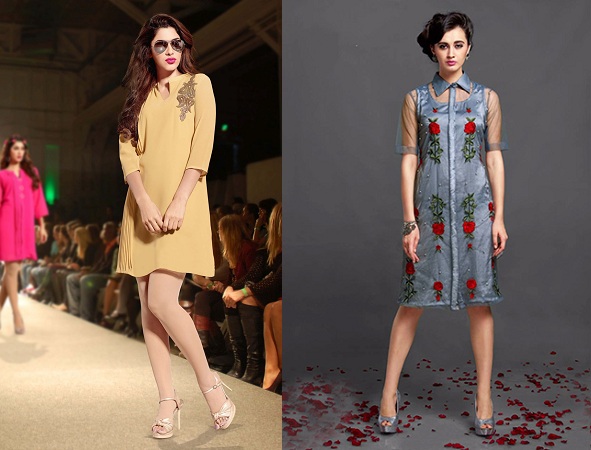 It's time to forget the obligation of wearing leggings and steal the spotlight with your phenomenal style statement. So get ready to enlist yourself in the Fashionista list and be responsible for setting the fashion trend.