Saris are always elegant and so are the boat necks. In today's fashion world, blouse has become a very important style quotient that can add a spark to your look at once. They are classy, folksy, and effortless to make you grab the limelight of a party. The best part of styling with boat neck blouses is that you get chance to experiment with your look irrespective of the shape of your body. Whether you are happy with the traditional fashion or a contemporary style, boat neck blouses are always there for you. For the Boat necks, full sleeve, half and three-forth sleeves are available in the market to choose from. You can also play with the patterns and fabric just like our Bollywood divas who have been the constant stunners in every award show. When you are not so sure about which sari to pick, they can help you guide whether to go with a plain sari or the patterned ones.
Boat necks with tricky net from Aishwarya Rai Bachhhan:
The former Miss Universe has always been surprising us with her glam look in every occasion. Her sense of color combination is so royal that it will make you fall in love with her style each time you see her in some award shows. Break the regular style of wearing boat neck and add some net on the upper portion of your back to look graceful. This look is good to carry for any occasion, be it a wedding or corporate party!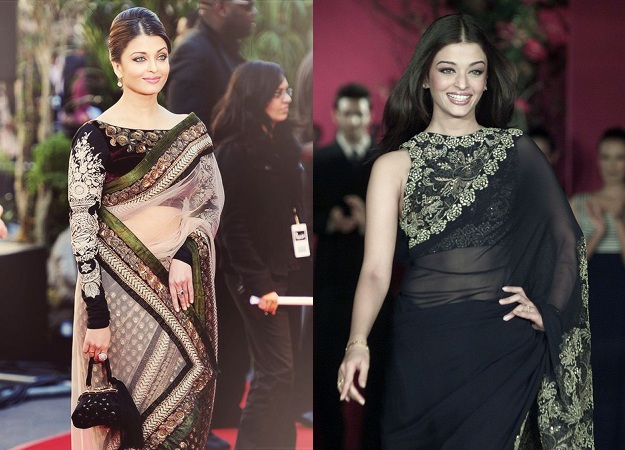 Boat Neck style from Kareena Kapoor Khan
Kareena Kapoor Khan has always been a glam girl in Bollywood industry and thanks to style sense that never disappoints us when she takes up a new trend.  Be it a designer sari, lehenga or western wear, Bebo simply knows how to nail it. With her boat neck style on the go, you can also win over million hearts. Bright colored boat necks are never faded out of the trend to make you look young and dashing.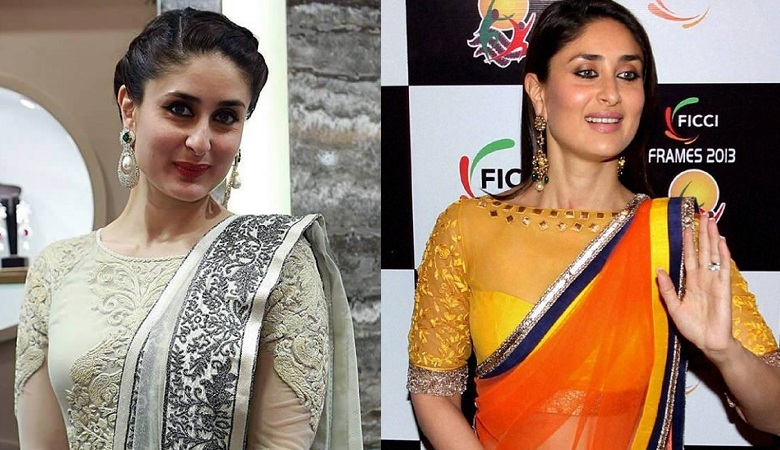 Boat Neck Blouse with Halter Neck Style from Jacqueline
With the trending boat necks in trend, choosing these halter necks will be a daring decision indeed. A luxuriously printed sari or a crepe sari will be good to go with these halter necks. Keep the back transparent with stitched beaded designs for an extraordinary look. If you are willing to show off your arms or back, your body should be toned enough. A flabby arm or fleshy back won't be too good to look at. Be bold, be sassy! Team it up with accessories of your choice. But don't go for a necklace, it will make you over-dressed and the main attraction of the boat neck will be lost.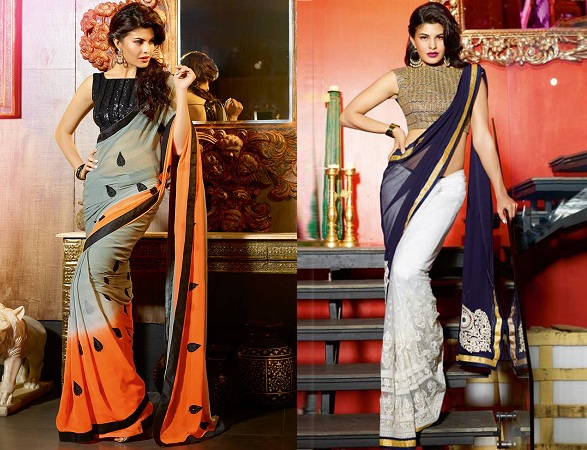 Boat Neck Blouse with Embroidered Collars from Sonam Kapoor
Be maintained and toned when you are choosing the boat neck blouses with embroidered collars. Pick any bright color of your choice with shimmering gold tone and a rich patchwork to create an unconventional phenomenon. Want a living instance? Take a look at our Bollywood Diva Sonam Kapoor and her amazing style with boat necks.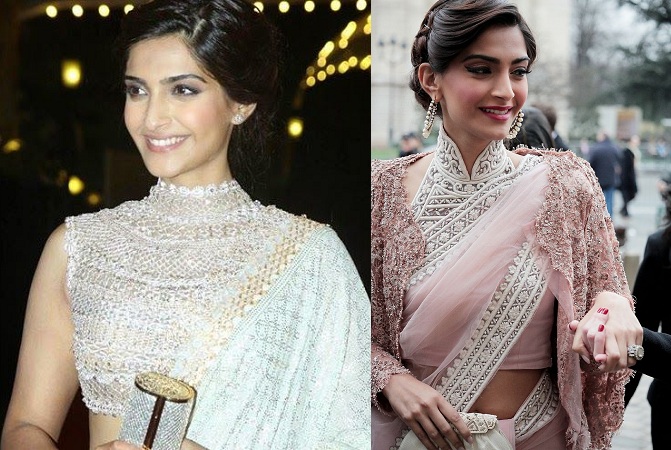 Boat neck blouse with sheer design from the Bong Beauty Bipasha Basu
Simplicity is the best option ever when you believe in elegance. A net fabric on your boat neck blouse can work like a magic to steal the show at once. Our Bollywood Bong beauty Bipasha Basu has given it a new definition to the sheer design of boat neck. No need to put on a lot of jewelry or too bright makeup, a simple bun can make it your 'day'. It will be an easy and oomph factor for you to get a matchless party look with this sheer design.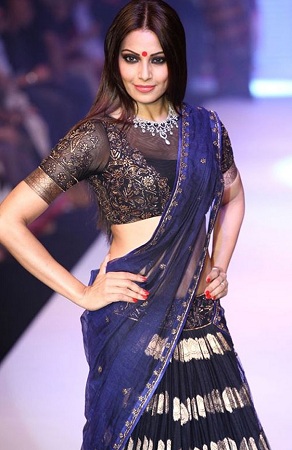 Boat necks with shimmer fabric from Bubbly Kajol
Ever noticed Kajol in her gorgeous boat necks? We took this from her as an inspiration. A perfect boat neck blouse can make your style quotient a bit higher. Picking up a shimmering fabric to wear with a patterned sari will be the main attraction. With net design on the upper neck, this 'Kuch Kuch Hota Hain' girl nailed it! Traditional jhumka, waistband and few bangles with kajal (or eyeliner may be) on your eyes can bring out a perfect look. Stilettos are there for you if you can manage whereas mojri can also suit your purpose for any occasion.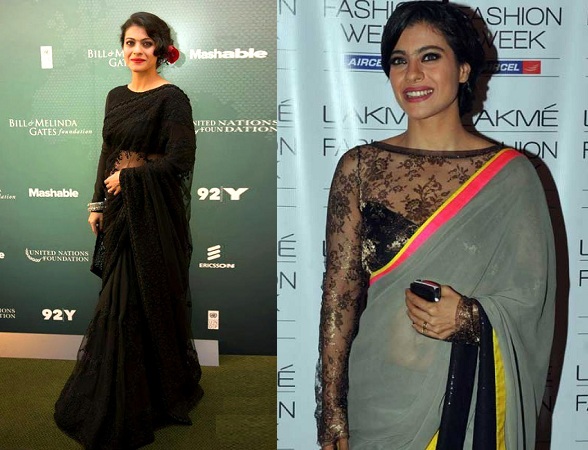 Embroidered boat neck blouse from the 'Dhak Dhak' Girl of Bollywood
Make it in Madhuri's way to go simple yet bold! Embroidered boat neck blouses can make your existence a bit special in a party. A simple georgette or crepe sari with wide borders can rock your outfit for any occasion. A heavy pair of traditional earrings, neckpiece, bangles and a small bindi will make you look ready to add a little heat in the party.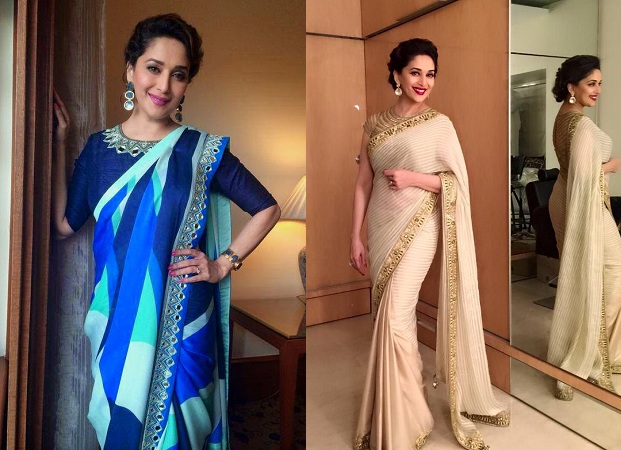 Embellished Contemporary Blouses
Watching Bollywood divas in embellished blouses and wishing if you had one is over now! Embellished contemporary blouse style is in. Boat neck blouses come with embellishments also. You can put on a sari in your favorite draping style and enhance the gaudiness. Make sure that the embellishments of glass and mirrors are scattered proportionately all over the body, especially, in its front and back portion. Semi-precious stones can also replace these mirrors or glasses as a contemporary touch to your look. Saris with less patchwork and thin border will do well to highlight the rest. It will work as a centerpiece of your entire appearance.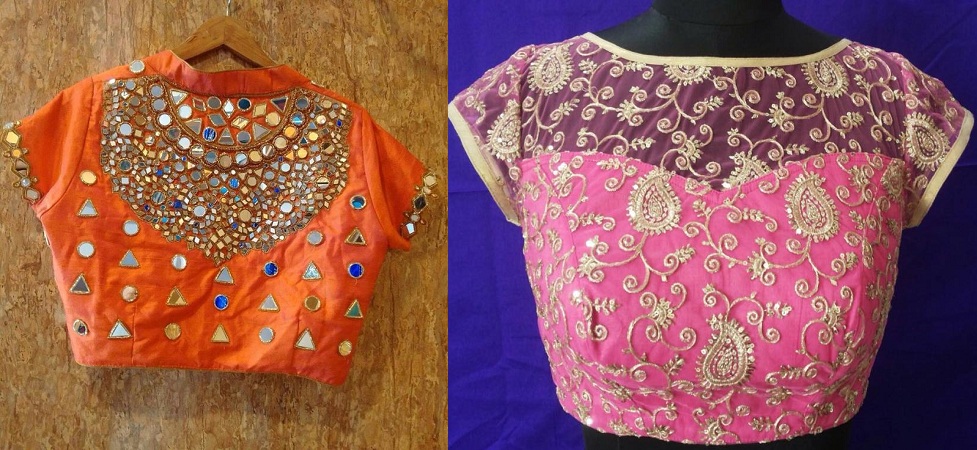 Fusion between Boat neck and western wear from Sweet Ileana
Take a fashionable dig into the styling of Ileana D'Cruz and try the boat neck blouses on western wears for a different statement. Choosing a fashionable neck design for your boat neck blouse to put it on lehnga and western wear will help you look like a 'fashionista'. These embellished blouses can make you look too gorgeous, even better than the bride or the showstopper as well. With their elaborated design and a cutwork on the back, you can make this contemporary style a hit.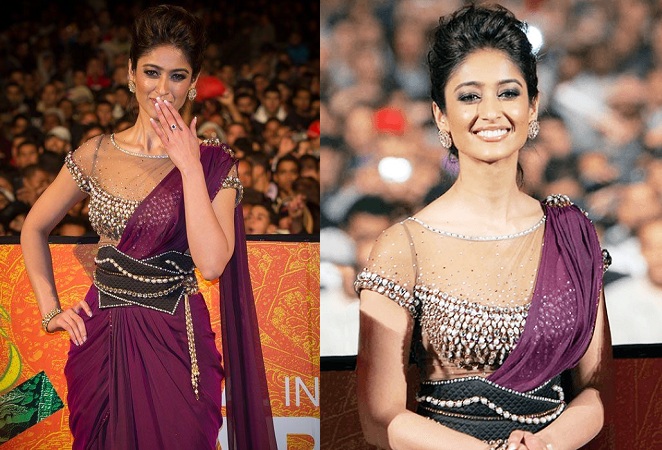 Boat Neck Blouses for Formal Fuse
When you are planning to don a formal look in the social gatherings, boat neck blouses are all set to go. A heavy boat neck blouse with an embroidered front and full sleeves, will serve you the purpose if you are slim and possess a long neck. Pick the raw silk saris or simple khadi saris to grab the attention.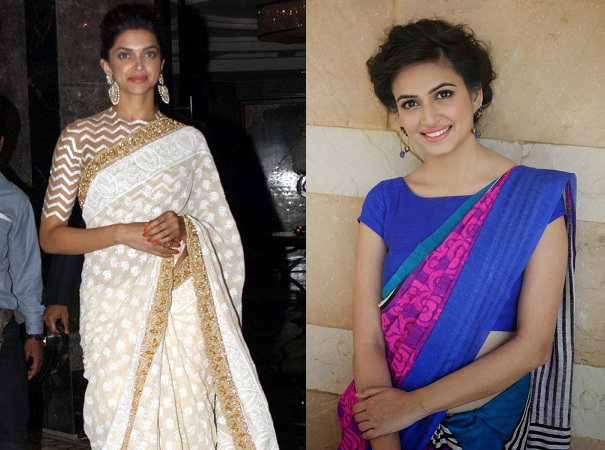 Boat Neck Blouses with Cut works
Boat neck blouses can also be experimented with cut works, our very own Bollywood Diva Deepika Padukone helped us understand the same. It is because of their elaborated designs that made the boat neck blouses with cut works famous among the fashion lovers. In fact, you can wear it as a top on lehenga as well while maintaining a proper contrast. Choosing a perfect hue can make you ready for any kind of formal, semi-formal, pre-wedding or post-wedding ceremonies. But make sure that you are putting on a heavily ornamented sari or lehenga with it if your boat neck blouse is all over embellished. Chunky pieces of accessories can complete the look with a no makeup appearance.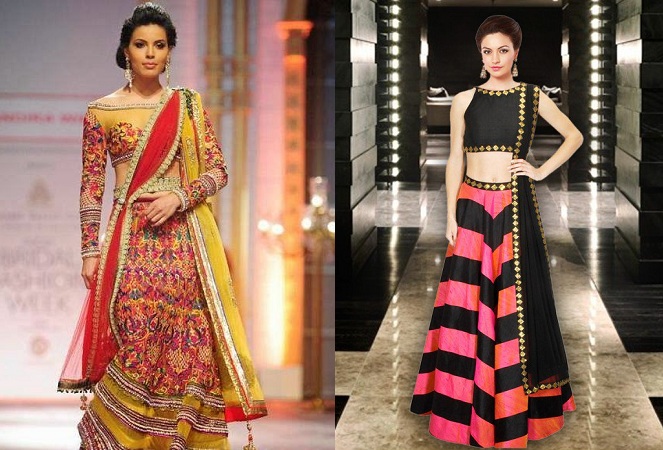 This particular list of boat neck styles ends here with the topmost designs available in the market. Stay tuned to us for latest updates on fashion trends, fusion ideas, styling tips, choice of accessories and so on. We are happy to serve you what you need!