This world is a tough place and looking gorgeous is the best ever competition visible among every single person. It is not the story of today's world but from the primitive ages. Girls with defining figures are easily accepted in the society but those who are not that blessed with the flattering physique have constant worries. Since tiny bosoms do not look great in various outfits, this creates an inferior feeling among them. So, if you are a petite lady, despite feeling bad, it's time to love your body and embrace the beauty you have in yourself. You just need to learn how to enhance your appearance and rule like a goddess over millions of hearts. What you require is to be a little tricky for gaining a fuller look through our style tips. You don't exactly need to be curvaceous in order to look good in the sari. Get rid of all confusions regarding the choice of your blouses for any occasion on your list. You can look extremely stunning and flaunt your style in the sari. Size is not a big deal. Just follow us!
Seven secrets are revealed here from our style guide to make you feel good about yourself.
Pick the collared blouses with high neckline
Ah! How amazing those high neck collars on slim frames! It is important to be sensible when you are choosing blouses for a small bust. Chinese collars, Peter pan collars, halter neck collars, designer embroidered collars or simply the regular ones – be clever while selecting your best pick. Especially the Chinese collared ones. These deep and sleeveless Chinese collared blouses come with wider collars that end up making your upper body look curvy to forget your worries about the bust size. If Chinese collar is not for you, peek-a-boo blouses will be among the ideal ones. These blouses are considered as the bold ones for their shoulder extensions and body-defining pattern. However, they are actually too idiosyncratic to give you a ravishing look. With its flattering front section and metal accent around the neck, you can put it on like an armor! Plunging necklines help you show off strong shoulders without making it too clingy and define your bust line better.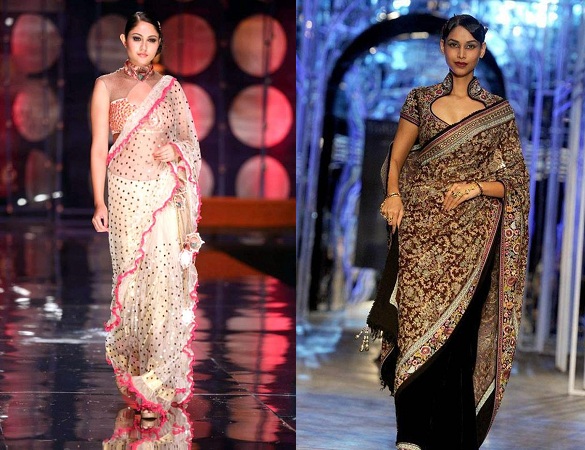 Draw the Attention to your Arms
If you want to divert the concentration of the viewers from the chest, all you need to work on your sleeves. Make the sleeves quite interesting with embroideries on its forearm. The more long sleeves you choose the more detailing work you can expect to be crafted on them. And for the collared blouses, make sure that the embroideries are done both on the arms as well as around the neck. It will not only highlight the designs more than the sizes of your breast but add some detailing to your outlook also.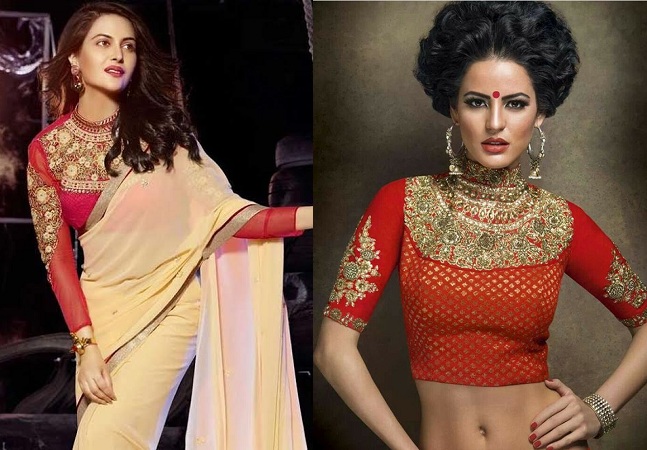 Try your hands on halter necks and thin straps
Don't forget that you have a slim and attractive figure to look at. So, never back off from showing your shoulders and wide back through the halter necks, plunging necklines, or simple thin straps. You will finally get rid of the monotonous style formats for petite figure and feel freshen up for innovating a new style. Just choose a bright hue to adorn a classy look.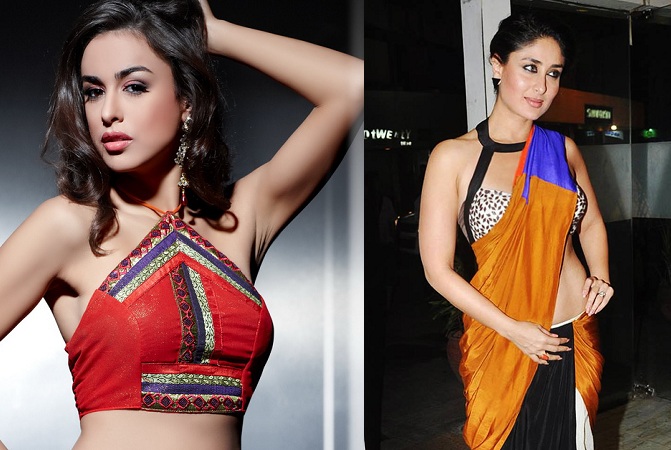 Crop tops can be a great choice for you
Yes, it's damn true! Making a crop top your blouse for any silk or crepe sari can actually cover up your small bust. Choosing crop tops can give you such fame that you would have hardly imagined. So, no need to shy away. Flaunt your style by wearing a cropped blouse that holds a bright border just under your bust line and widens your waistline apparently. Trust on the online stores as well as designer crop tops, to keep up the appeal of your waistline and compliment your toned back. Get ready to enjoy the eyes rolling on you!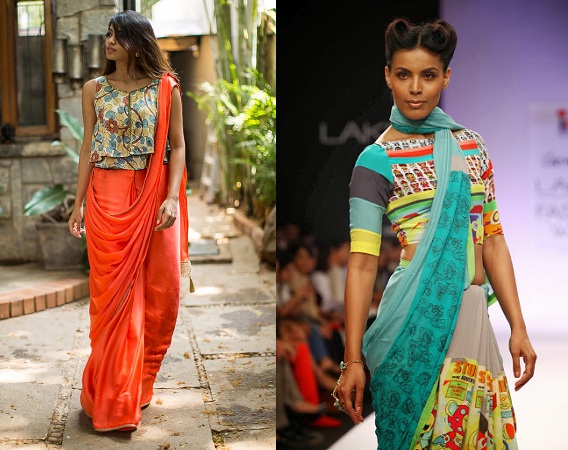 Yes, embroidered patterns Work well
Right from the embroidery pattern to mirror works on the neckline, blouses are getting more elaborate these days. They are mostly padded, especially, if you are looking for the sheer or semi sheer ones. Your small busts get an immediate fuller look with the lightly padded blouses and the net fabric of the blouse defines the bust line easily especially when your wear the sari in a semi-draped style. Blouses with sheer fabrics will help you in an illusory enhancement of the shape of your breasts. If you want to know why we are highlighting the net fabrics from the very beginning, it is only because these sheer fabrics are meant for petite figures. So, with embroideries on the sleeves, the sheer blouses can make your draping experience far better for the small busted girls.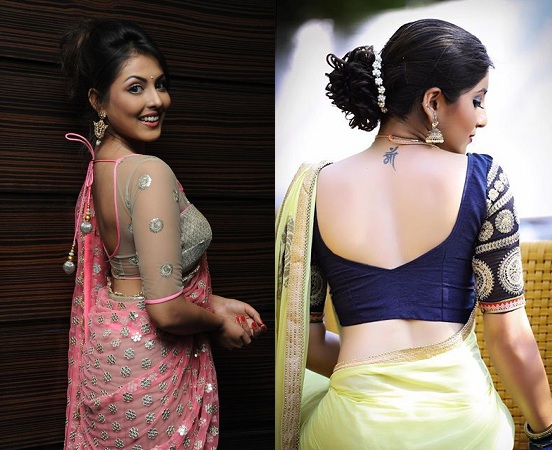 Backs look more interesting
Blouses with only the conventionally patterned are truly monotonous. If you are among those are always up for trying the exquisite back designs, you are most welcome. To keep the eyes away from your breasts, blouses with deep back can help you show off your back. When the front section does not have much scope for detailing, the back portion comes with a whole lot of opportunities to work on it.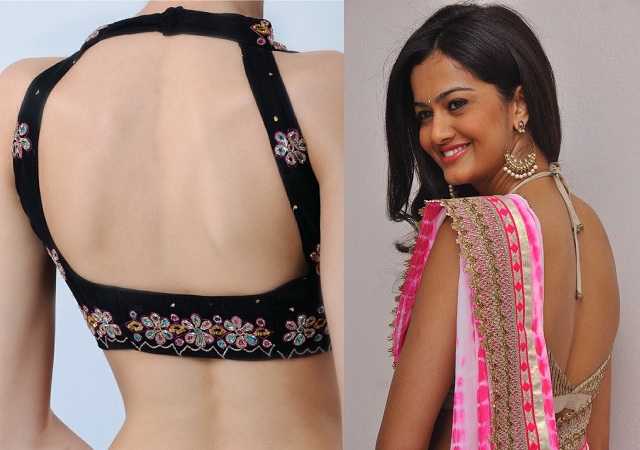 Enjoy the silhouette effects
As the trendsetters say, blouses should be kept as the focus of your traditional draping style. No matter what kind of blouses you are going to pick for the sari you are going to wear, we would suggest giving it a silhouette effect. For the heavy draped saris or the thin ones, silhouette effects can ensemble the whole look while making you look outstanding. The jacket blouses are also in the queue to give an unparallel twist to your draping style.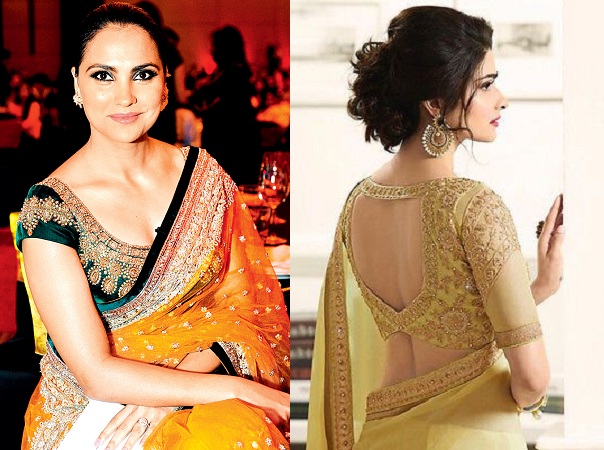 Hope our suggestions were helpful enough to make you feel good. It is time to flaunt your six-yard wonder with a perfect designer blouse of your choice. Show off your feminine side and be proud of who you are. And next time whenever you head to your favorite boutique, get your blouse stitched while concentrating on our style tips.