A woman looks just perfect while she wears something that compliments her body type, height, attitude and color. The Indian wear is one such attire. The majority of the Indian attires need women to wear blouses. The stylish, contrasting or matching blouses look beautiful with the Indian outfits like anarkali, lahenga or Ghagra Choli. So, the blouses need to be selected as per the body shape of the woman so that she can look beautiful. As every woman has different style and body shape, therefore the stitching and design of the blouse should be done in a manner that will look good on her. The perfect shape of a blouse will include the areas like shoulders, neck, busts and the arms.
Here comes a guide on different types of blouse styles for women that can be worn on various occasions:
Square and round neck blouse designs:
These are the most contemporary or commonest designs of blouses and these designs are there for immortal times. The best thing about these designs is that these look great on both short and tall women.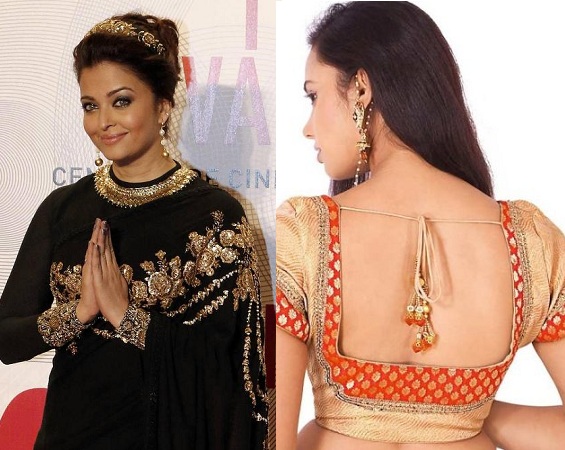 Chinese collar blouse:
This design of blouse is perfect for women with long necks. In the previous years, Bollywood actresses used to wear this type of blouses.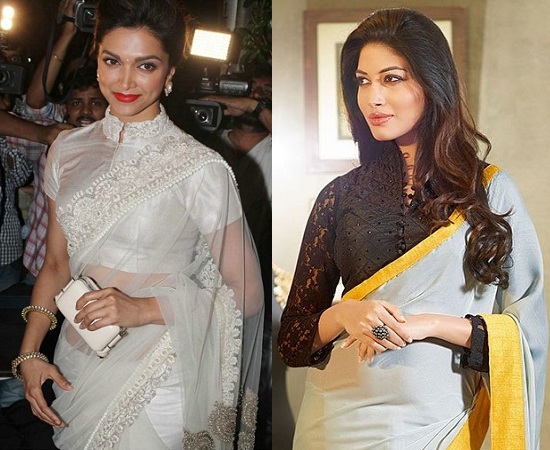 Oval and rectangular neck blouse design:
Both of these designs are perfect for petite women as these come with short necks. Besides, both of these designs also increase the beauty of necks. Besides, by opting for backless design on these blouses, you can also add glamour to your personality.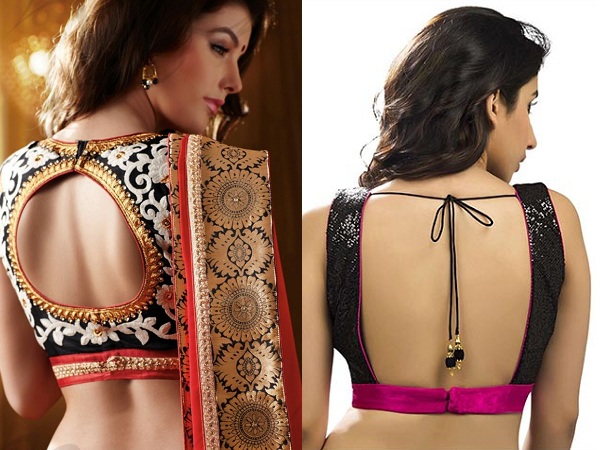 Halter neck blouse:
This is one of the latest blouse designs and this has become highly popular among the high profile and fashion conscious women, who prefer to show off their skin. This style of blouse is perfect for those with pear shaped figure or for those women, who have heavy bottoms. The best thing about this type of blouse style is that it helps to shift focus to the asset areas of the user from the flaw areas.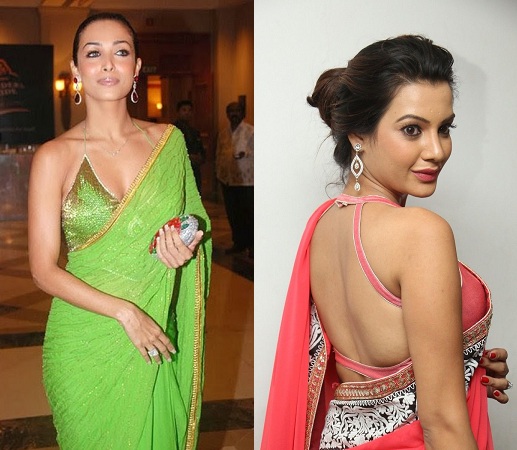 High neck blouse:
These days, this type of blouse style has almost become a rage and women with long necks are wearing this type of blouse a lot. Sabyasachi Mukherjee, a noted saree designer of India has made this design of blouse popular by launching an exclusive range of designer sarees. The best thing about this blouse style is that with it, the user can flaunt her collar bone and beautiful neckpiece.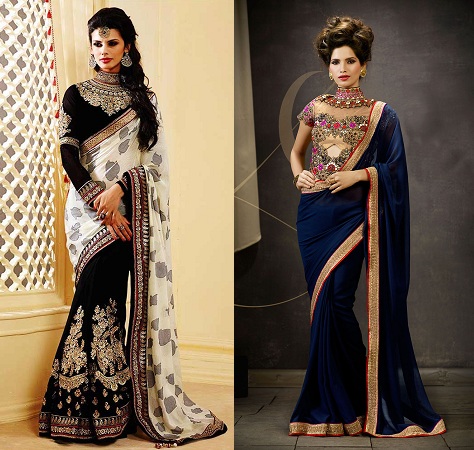 Transparent or sheer sleeve blouse:
This type of blouse design is meant for women irrespective of the body type and this design very often goes in and out of fashion. But at the present time, sheer sleeve is very much in fashion. The name of this style comes from the sheer fabric, which is used in this blouse and this material enhances the feminine beauty of women. Besides, the sleeves of this type of blouses are made of net. The transparent or sheer sleeve blouses can actually be designed differently and they also perfectly gel with all saree types.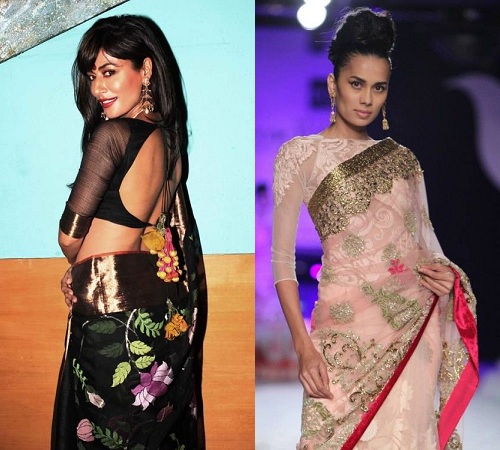 Spaghetti strap blouse:
This is a complete new design blouse and goes perfectly with women, who have great collar bones and thin top to flaunt. Besides, this type of blouse is a hot pick of those women, who are high on fashion as well as in search of excuses to wear fashionable blouses even while they have to wear some contemporary sarees.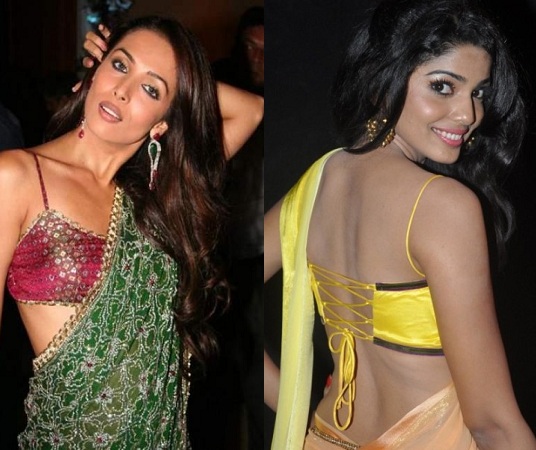 3/4th sleeves backless blouse:
These days, the backless blouses are in rage and most of the fashionista women like to wear these for different functions and parties. In fact, this is a versatile blouse type, which shows the beauty of the hands of the wearer while the bare back is the proof of the mischievous side of the wearer. In a number of cases, this blouse style is worn by celebrities as this allows them to expose a part of their upper bodies.