Diwali is that particular time of the year when people rejoice and celebrate new beginnings. It is celebrated through the length and breadth of the country with great pomp and show by the Hindus, Sikhs, Jains and various other communities of India as well as in other countries. The festivities start almost a month before with Navratris, Dussehra, followed by Dhanteras and then Diwali, which is the most awaited festival of lights. On Diwali night, people like to dress up in their best outfits and new clothes, light up candles, divas and lamps at their work places and homes and offer prayers to Goddess Lakshmi, who is considered as the goddess of prosperity and fertility. Diwali Puja and firecrackers are followed by a social gathering or a family feast including sweets and greetings to close friends and family members with gifts. In fact Diwali is considered to be an auspicious time for shopping designer traditional wear and jewelry. The festival sees all sorts of people whether rich or poor going on a shopping spree. Accessories, jewelry, clothing and housing are particularly the main sectors that witness the spike during Diwali season.
Diwali – The Season of Innovation
Like every year, this season also jewelry sector will be boosted further by the launch of new products and designs. Inspired by the ancient temples of India, the designers have launched a new collection of heritage jewelry designs. This new range of Indian traditional jewelry depicting the idols of Indian deities is known as Temple Jewelry. Traditionally worn on festivals and auspicious occasions, temple jewelry brings good luck. This is another reason for its popularity apart from its traditional values. As the name suggests, Temple jewelry was earlier used to embellish the idols of Indian gods and goddesses. However, later on, it was worn by classical dancers, temple dancers as well as royal class families. Recently, this traditional jewelry is progressively coming into the trend with its rich aesthetics.
Temple Jewelry
Crafted in gold, Temple jewelry is however, capturing the Indian jewelry market this festive season. Ornaments such as bangles, necklaces, nose rings, pendants, waist belts, earrings and anklets are intricately crafted with the figures of Goddess Lakshmi, Lord Ganesha and other Indian deities. The exclusive design and pattern of Temple jewelry has made it popular amongst not only Indians but foreigners as well.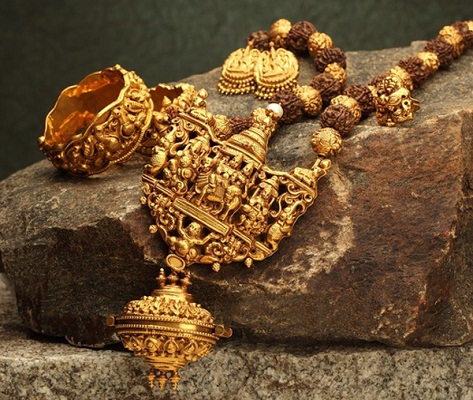 Originated in South India, Temple Jewelry has now been able to sway people in other parts of India as well. The intricate designing and carving of this traditional jewelry comprises of various patterns such as that of lotus flower, crane, crocodile, etc. It is only this type of jewelry that has not lost its originality till date and is the most expensive one due to the creative and artistic work of honorable goldsmiths and artisans.
Temple Jewelry is Trending this Festive Season
Nowadays, temple jewelry has gained so much momentum that even the fashion world has appraised it a lot. During Diwali season, people purchase temple jewelry both for themselves as well as for their idols of Gods and Goddesses. Since, pure temple jewelry is made out of gold; everyone may not be able to afford it. So, jewelers have come up with temple jewelry made out of silver and other metals, which is cheaper as compared to golden temple jewelry. To pair this traditional temple jewelry with your contemporary Indian attires, you can add gems, pearls, polki and kundan which will make your jewelry appear traditionally modern and you are all ready to rock the ramp of your Diwali party.
Since women are crazy for diamonds and jadaos, you can make your unique style statement by adorning your favorite embellished temple jewelry and attract the gaze of the masses. The connoisseur's thirst can be quenched by adorning the intricate patterned and beautifully crafted temple jewelry. You can go for temple jewelry for both formal as well as informal occasions. For those of you that like gold jewelry, temple jewelry is the best option for you this Diwali season, reflecting the rich heritage and culture of India. Available in delicate as well as bold designs, temple jewelry appears classy when worn in chunkier pieces.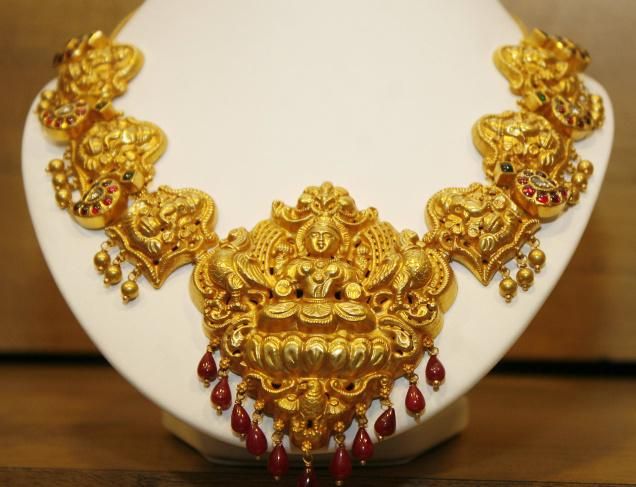 New Designs and Patterns
With the evolution of time and increasing demand for temple jewelry, jewelers have decided to introduce new patterns and designs for the aspiring customers and clients. The old motifs and symbols have been redefined using rubies, emeralds, Golconda diamonds to beautify, chains, pendants, lockets, bangles, etc. There are so many beautiful and highly appreciable designs available that leaves the buyers agape. This is the basic feature of temple jewelry; attracting the masses.
With the value addition in temple jewelry, many eyes have been allured and to continue to attract the clients and lovers of traditional temple jewelry, jewelers need to come with more unique and elaborate designs embellished with stupendous stones and gems.
The experienced artisans and craftsmen of South India have made efforts to beautifully present the temple jewelry and thus, the niche customers pay accordingly as they value the art and hard work of the experts. For this purpose, the making charges are twenty percent more than the regular jewelry. But the art and work is surely worth adorning and appreciating.
So, this Diwali season is ideal for buying this antique temple jewelry and appear absolutely stunning and different from the crowd. Try the bold necklaces, kamarbandhs, jhumkas, anklets and bracelets with detailing and carvings like the ones of temple jewelry. You can wear your kurta suit, Patialas, lehenga cholis, sarees, traditional gowns, overflowing jackets and what not; pairing them correctly with beautiful, ornamental, intricate and stylish temple jewelry. This Diwali season, be a head turner and make your new style statement by adorning this temple jewelry in various metals with adequate amount of make up and right dressing style.
Be confident in what you carry and adorn. So, make sure that you buy temple jewelry this Dhanteras, the day that befalls just prior to Diwali. Gorgeous patterns and absolute look is all you need to possess by wearing the beautiful and elegant temple jewelry this Diwali season.