Sarees have been the traditional dress of Indian women for centuries. They have changed and evolved with the society. The type of sarees that were worn in 1800's or early 1900's is no longer worn today. The styles have changed and the way they are worn and presented.
Women with Changed Preferences
Blouses are an eternal part of a saree. No saree can be complete without a blouse, therefore with the change in styles and fashions, the blouses have also gone under a sea change in the way they are designed, made and finally worn today. Women no longer want to wear the boring style of blouse that was worn decades ago. Today women want to wear the style, design and the fabric that is in fashion. This is not merely to show herself off in the society but it has become the need of the day. She is no longer just a house wife that stays in the house and leaves the house only with her husband, she is an independent person that has her own identity from the work that she does. Therefore, she needs to meet and interact with people in the outside world for which she needs to present herself in the best possible manner and up to date.
As the women have begun to work outside their preferences and requirements for the type of sarees and blouses for every day and even for festivities and functions have changed to the extent that they are ready to try new ideas and styles without much resistance or hitch as it was a few years ago. Today, instead of the old street tailor at the corner of the road, women want to try out sarees and blouses designed and made by fashion designers so that they are fully abreast with the latest trends and styles trending in the market.
India is a vast country that is divided by regions that have their own customs, cultures and dressing. Owing to the climatic conditions and cultural diversity, each region has some distinct fabrics that are most popular over there but are also available and worn in the entire country. Some of these fabrics are worn only in those particular region and are mainly those that are cheap and used as daily wear while some are rich fabrics like silk that are distinct for each region but are available and popular countrywide.
Different Varieties of Silk
Silk is one of those fabrics, that is cultured throughout the country in every region and silk from each region has its own distinct touch and style. There are many popular silks like the Chanderi silk, Banarasi silk, Tussar Silk, Kanjeevaram silk, Kanchipuram silk, Mysore silk and many more. Silk sarees are popular as party and wedding wear throughout the country and in south India there are places where silk sarees are treasured and passed on from generation to generations.
However, each and every woman is different and so are her body structure, style and preferences. It is not necessary that what one woman likes, the other should also like or what looks good on one should also look good on another. Fashion brings out the best in a woman's body through her clothes to make her confident, good looking and desirable. It is the medium through which she expresses her style statement. Therefore, there are options in fashion that can make each and every woman look beautiful and desirable irrespective of her body structure.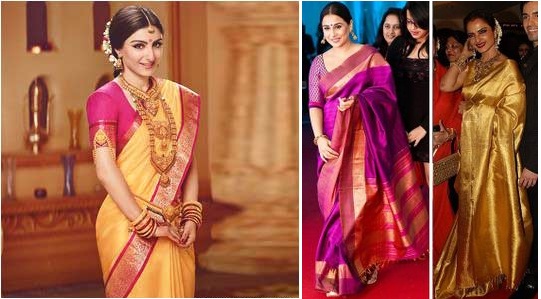 Every woman wants to look the best in a party or wedding, she wants to make an impression with all the people present that she is the most beautiful and abreast with the latest trends in the market. However, with a rich saree like silk you just cannot wear a regular cotton blouse that you wear at home or at the office, you need a blouse that can match the richness and beauty of the silk saree to enhance your overall look in the public. For this you need to look for a blouse that is high on the quality of fabric, best in design and making, has intricate work and is bright enough to take your personality leaps and bounds to the peak of sensuality and desirability.
You don't get all these things from a street tailor, these are the forte of a designer that has been trained to design and make sarees and blouses that are different in class and quality. Hereunder are a few designer saree blouse design for wedding silk saree that are sure to help you choose a design that meets your style and expectations.
Embellished Elbow Length Sleeve Blouse
This is a very popular designer blouse design for wedding sarees. All saree designers whether small or big have embellished sleeve blouse design in his collection. Embellished sleeves add a lot of beauty to the blouse and especially if the sleeve is made from sheer or net. Wedding saree blouses can be made from different kinds of materials like crepe, georgette, net, sheer, velvet and silk. You can add embellished sleeves with any of these materials and embellishment can be done on the same material as well as sleeve of different fabric.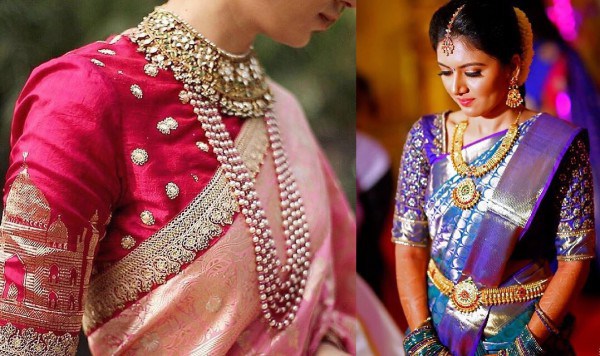 Designer blouses for silk sarees are beautifully embellished by different kinds of items like stone, beads, and pearls etc. Stone embellishment is on the peak these days and you can see many celebrities donning stone embellishment at red carpet functions, award functions and other Bollywood parties. Red stone and green stone are the favorite stones used by blouse and saree designers to embellish wedding dress while stones of white and other colors are used to embellish party dresses.
These days, designers are using stones of different shapes and designs to embellish blouses. You can choose a stone of your choice to custom embellish your designer blouse. Next in the list for embellishment of wedding blouses is 'meena'. These are also stones and come in a number of designs and colors. These are very popular in dress as well as jewelry designing. These shining stones add a lot of glamour to the blouse.
High Neck Collar Blouse Design
This is one of the favorite designs of all saree and blouse designers. The design is in fashion these days and very popular amongst the Bollywood beauties and the upper class fashion conscious women. The high neck collar gives the royal look to you and if you choose to wear a blouse made from rich fabric like silk, brocade or velvet, the effect is magical. The design is both conventional and modern. Conventional in the sense that it covers the entire body and does not expose while modern in the sense that the cut and style is modern.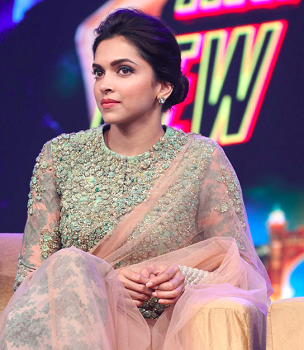 The design of the high neck depends on the structure of your body because if you have a long neck like Rekha and Deepika Padukone, high neck with collar is the best choice; while if you have a short neck then you can have the choice of just having a high neck blouse design.  The high neck with collar design gives a royal look if you get it embroidered on the collar and on the sleeves.
Jacket Style Blouse Design
Jacket style blouse are hot these days. They are trendy and worn by women that are high on fashion and want to change the way you look even while wearing a saree. These types of blouses are perfect for silk sarees as they give the look of something new and something old. You can get these made from fabrics like velvet, brocade, silk and get it embroidered in gold or silver.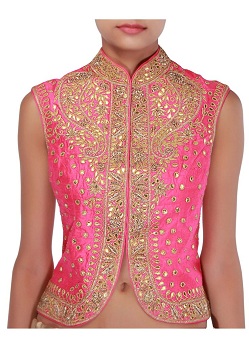 Puff Sleeve Blouse Design
Puff sleeve blouse design is back in fashion and high on the list of designers as well as the celebrities. These days, you can find many celebrities like Vidya Balan often wearing a designer puff sleeve blouse design with her silk sarees at formal function and parties. The fashion for puff sleeves started with the women of royal families donning this style in the erstwhile era and kept up pace even up to the year 2000 after which the craze for it dipped a little.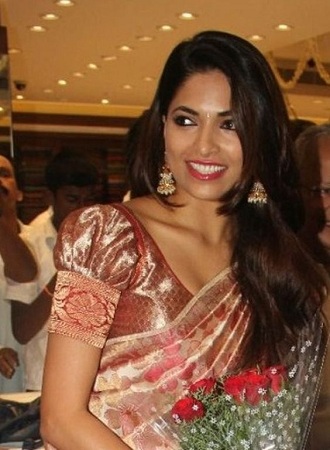 The puff sleeves are gorgeous and give you a royal look. There are many variations of puffs that you can try with your wedding blouse depending on your body structure and personal preference. There are also a variety of fabrics on which puffs can be designed and you can also get a variety of embroidery or embellishments done on these sleeves.
Net Blouse Designs for Wedding Silk Saris
Net blouses are also a favorite of designers for wedding sarees. These net blouses add a lot of glamour to the overall look of the ensemble. The net fabric has the characteristic of allowing some hint of skin while offering the confidence of covering the body at the same time.  Net comes in a variety of colors and styles, you can design a net blouse according to the color and work in the saree.
With these blouse designs, you can surely add a sparkle to your silk sari and look gorgeous.