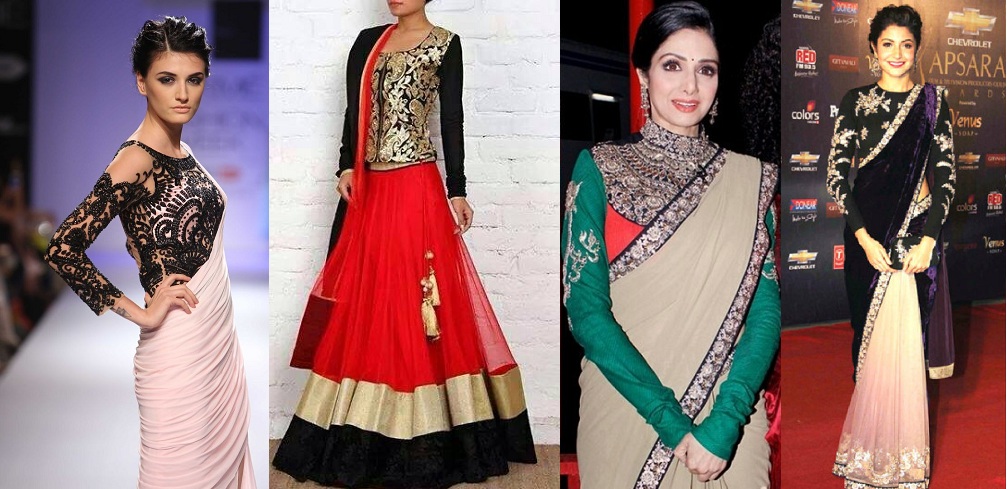 Unlike the western culture where dresses are preferred that show a lot of skin, Indian culture is all about keeping the body covered and exposing just that is necessary. India is a hot country and therefore like most other hot countries, women wear clothes that keep them fully covered to protect them from the heat of the sun.
Traditionally, the Indian dress has mainly been the sari and blouse, lehnga choli, salwar suit etc and women have worn blouses that have kept their body largely covered only to expose that is necessary. Blouse is an important component of most Indian dresses, although with a little difference according to the dress. People often think that a saree is most important or a lehnga is more important but if you look at the Bollywood actresses that are considered as the ambassadors of fashion in India, give more importance to their blouses than the sarees or dresses. This is not because the dress or saree is not beautiful but because they know that true beauty of the dress and themselves is more expressed by the blouse rather than by the dress.
Full Length Dresses Back in Trend
Fashions come and go; sometimes the fashion is for half sleeve blouses, sometimes for cut sleeves, sometimes for short length and sometimes for full length blouses. However, in all these trends one trend that does not fade away is the full length blouse design for it gives a royal look to almost any Indian wear you can think of. Full length blouse has been a part of Indian dresses from the time of kings and queens who always used to wear full length dresses.
Today full length blouses are back in fashion and with a very loud bang. Dress and sari designers have realized the exquisiteness of a full length blouse from the response that they have received from people in fashion runways and public shows. You can see Bollywood actresses donning full length blouse designs in almost each and every red carpet function, award functions, inaugural functions and Bollywood parties as well.
These full length blouses are very comfortable because on one hand you can flaunt your skin or assets with net or sheer fabric and yet stay covered while if you want to give it a royal look you can choose a fabric like velvet or silk. The best part of full length blouses is that they can be made in so many styles and designs that every person can virtually have his own personal design and can stay exclusive.
Since blouses today are given more importance than the dresses itself, most women get designer and heavy blouses made for their saree or other dresses. Another great aspect of full length blouses is that they can be teamed up with other Indian dresses like a Lehnga, Ghaghra, sharara and others to give a completely new look with the same upper garment. Although blouses for all these dresses are little different from each other in design and style, still dresses always have room for modifications that you can try.
Here are some of the most trending designs being followed in Bollywood. You can get your blouse made from any of them and set the party on fire.
Princess Cut Blouse Design
This is one of the most versatile blouse designs as it fulfills the requisites of both contemporary and modern fashion. It is also the leading blouse design in fashion shows in the country and Bollywood actresses like Vidya Balan and Genelia D' Souza can often be seen sporting this design with their saree in award functions and fashion shows. Very recently Sonakshi Sinha was also seen wearing a Red lace lehnga with a princess cut blouse at a bridal fashion show in Ambey Valley.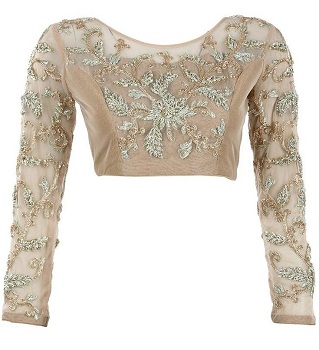 Chinese Collar Blouse Design
This design is mostly worn by professionals as they have to look modest and elegant at all times. This style of blouse was made famous by the evergreen Rekha during the 80's. This style of blouse shows very little of skin and looks very smart and impressive with a formal and heavy dress or sari.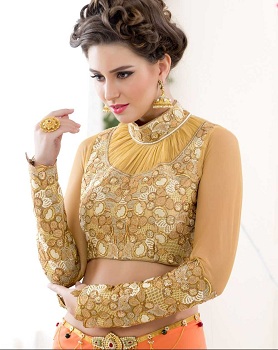 Transparent sleeves Blouse Design
This blouse pattern is very stylish, elegant and sophisticated. The sheer fabric on the sleeves hides the skin and exposes it simultaneously while the full length covers up the flaw of heavy hands if you have any. The sheer fabric offers a seductive look to the woman and comes in a number of variations. In one of the variations you can use flowery design transparent net with a dark colored sari or lehnga. In another you can try rich detailing on the sleeves.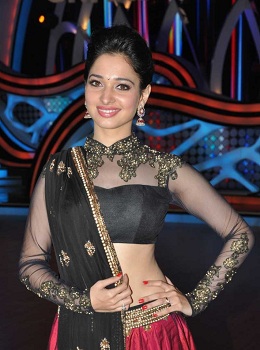 Backless Blouse with Transparent Sleeves
Full length backless blouses are timeless. They were once popular in the 1970's and have now come back again to rock the fashion world. The full sleeves give you the elegant look while the backless part gives the touch of modernity to the blouse. This blouse is surely going to bring some laurels for your sense of dressing.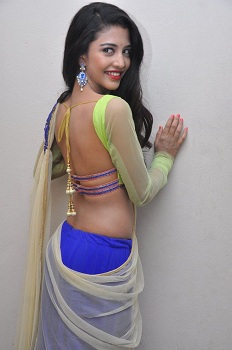 Heavy Work Full Sleeve Blouse Design:
This is a gorgeous full sleeve blouse design with heavy work on the chest and the neck with some flowery work on the hands as well. This is a perfect blouse for parties and functions and can be worn both with a sari and a lehnga as well. You can get the heavy work done in the form of embellishment or embroidery. These day's stone work and meena work are very popular and in very much in demand. Stone work is available in a number of colors and shapes like square, round, oval, hexagonal, rectangle and the most favorable colors for marriage blouses are red and green while blouses for other parties are made in bright colors like sea green, torques blue etc.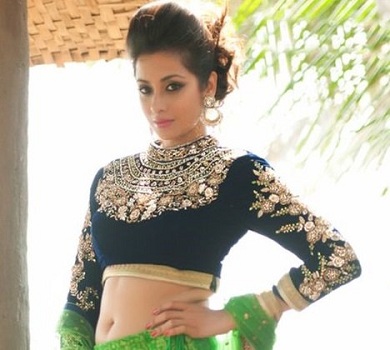 Closed Neck Full Sleeve Blouse Design
This is a type of high neck blouse without a collar. The high neck gives you the look of royalty and the work on the chest and the sleeves provides the oomph that you are looking for from the blouse.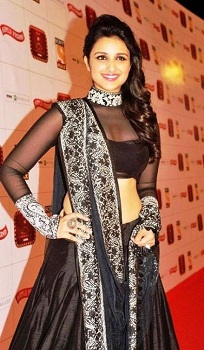 Puff Long Sleeve Blouse Pattern
Puffed long sleeve blouses are back in fashion. You can choose from a variety of designs available with the designers and online to choose the most appealing. Puffed long sleeves are a contemporary fashion that was in prevalence during the times of kings and queens. The puff on the sleeve adds to the grace of the blouse and makes them beautiful.
You can opt for different varieties of puff from the catalogue and may also get a backless full sleeve puff blouse to draw all the attention from the crowd.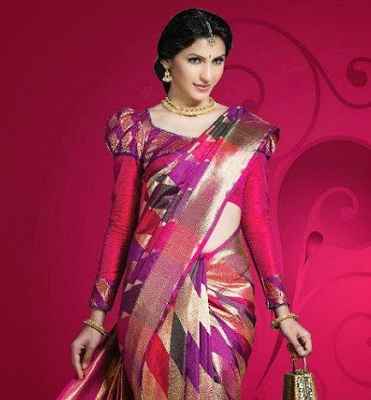 Mirror Work Full Sleeve Blouse Design
This is a very trendy as well as contemporary full sleeve blouse design that has come full circle to attract girls and women of all ages. Mirror work enhances the look of the blouse manifolds and with the work on chest and sleeves the blouse becomes a very heavy bridal purpose blouse and can be used both with a heavy sari as well as a lehnga.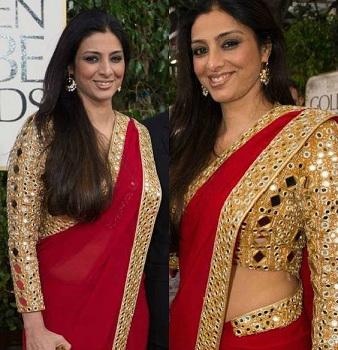 Full Sleeve Brocade Blouse
Brocade is a rich fabric that is mostly used for marriage or party blouses. You can get some heavy work like embroidery or embellishment done and combine it with plain net or sheer sleeves to give a miraculous piece that is sure to win accolades from many in the party.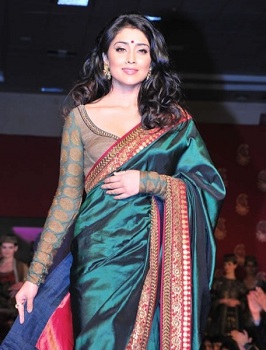 High Collar Neck Full Sleeves Blouse
High collar with a full sleeve blouse gives you the royal look and with some good quality embroidery on the collar, you are surely going to look like a maharani. Few actresses like Deepika Padukone and Sridevi often sport this style and you can see the amount of wow that they collect at functions that they attend.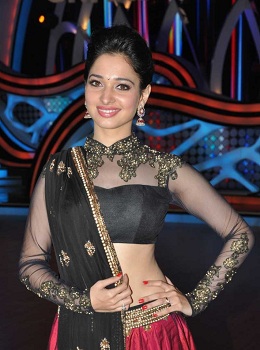 Transparent Collar and Sleeve Blouse
This is again a very gorgeous blouse to choose for a party wear. It is not a contemporary concept but a rather new style. Transparent collar and sleeves add glamour to the blouse. Since both the collar and sleeves are transparent you should use silk or other rich material to balance it. A little embroidery on the chest will add to the party quotient of the blouse.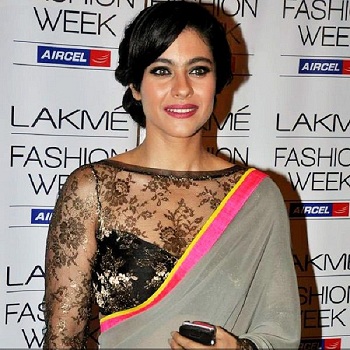 Boat Neck Full Sleeve Blouse
Kajol has never looked as beautiful as she looked while sporting a boat neck transparent neckline blouse with transparent full sleeve at a function. The blouse is a stunner and if you can pair it with a good sari or dress, you are going in for a full day. The blouse transforms your looks completely from a sober and ordinary looking to a gorgeous and fashionable woman.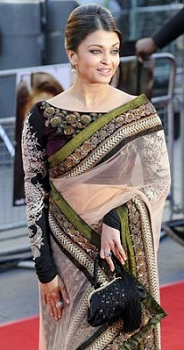 Same Fabric Blouse Pattern
This is a very trendy style of blouse where the same fabric is used both for the blouse as well as the dress lower. The style is unique but you can use this style by wearing a blouse with a sari or a half sari.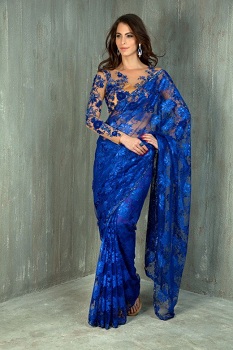 So, with all the blouse designs and patterns, you are sure to find the one that suits your body type.