Indian wedding ceremonies are one of the brightest as well as the richest affairs one could ever experience. With elaborate rituals, awesome attires, and never-ending jamborees, a marriage in India become the true epitome of grandeur. Hindu marriages are even larger than life arrangements where the most sanctimonious union of two souls is celebrated with ancient religious practices that are metamorphosed over time.
However, being a land full of varied castes, communities, and beliefs, India adores its cultural diversity with unity and Indian marriages also reflect the same essence. Every state or region in the country has its distinct culture, traditions, and faith, which contribute to its own wedding style and adds an exclusive flavour to it. This uniqueness is very prominent in the realm of wedding fashion. Visit any Indian state and you will find that regional weddings are being celebrated with the same gusto and fervor everywhere, but it is the vivid and splendid wardrobes that differentiate them from each other.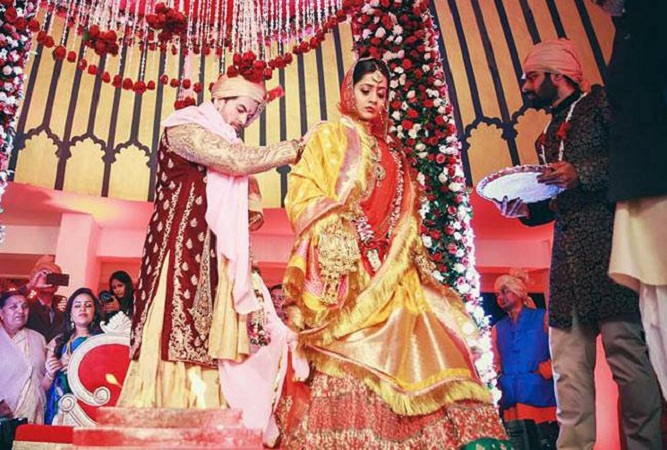 From pre-wedding rituals to post-wedding events, a Hindu wedding in India revolves around numerous functions and each of them is defined by a specific outfit. Traditional wedding dresses are one of the most important parts of regional marriage ceremonies across the nation as both bride and groom need to flaunt their best looks on that very special day of their life.
So in this post, let's delve deep into the pomp and galore of Hindu wedding fashion and styles followed by people from Kashmir to Kanyakumari:
Wedding Fashion In Kashmir
Being a hilly region with several ethnicities, the valley of Kashmir prefers the outfit that is practical, comfortable and unifies the diversity among the inhabitants. Traditional Kashmiri bridal outfit is called 'pheran', which is a long graceful gown made of luxury fabric (red, pink, yellow, blue, green, maroon, etc. are the most popular colors) and featuring heavy aari or hook embroideries at the collar/neckline, cuffs, pockets, and hemline.
It is accompanied by an elaborate headgear called 'Tarang' including 'Kalpush' (an extensive cotton/silk cap) and 'Zoojh' (a layered white cloth along with golden glace paper), exotic shawls exquisitely adorned with intricate hand-woven embroidery patterns, and traditional jewellery called 'Dejhroos' (a gold chain or silk thread having two gold pendants and is tied to the hair) along with other ornaments, such as bangles, anklets, detailed nose rings, earrings, etc.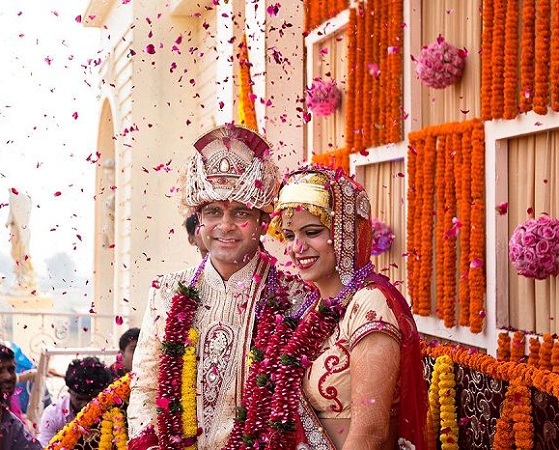 Wedding Fashion In Punjab
Punjabi marriages are all about lavish and pompous activities, which echo the spirit of the vibrant place along with its traditional essence. The exotic and enthralling wedding fashion also mirror the opulent culture of the state and can leave one in complete awe. A typical Punjabi bride dons a royal pair of traditionally woven lehenga-choli or salwar suit in bright and dramatic shades of red, pink, maroon, green, etc., which are again embroidered elaborately with zari work and brocaded ethnically with satin threads (golden- and silver-colored), sequins, and stones.
On the day of the wedding, Punjabi brides wear beautiful 'Chooda' on each hand. It is a set of 21 red and ivory bangles, which is considered as a symbol of marriage. A large nose ring is also quite loved by Punjabi women as bridal jewellery. The entire outfit is accessorized with a gorgeous contrasting dupatta. While Punjabi wedding fashion has got a number of contemporary touches with lehenga saree, half-n-half saree, and many other designer innovations, the breathtaking beauty of Punjabi brides makes them look flawless anyways.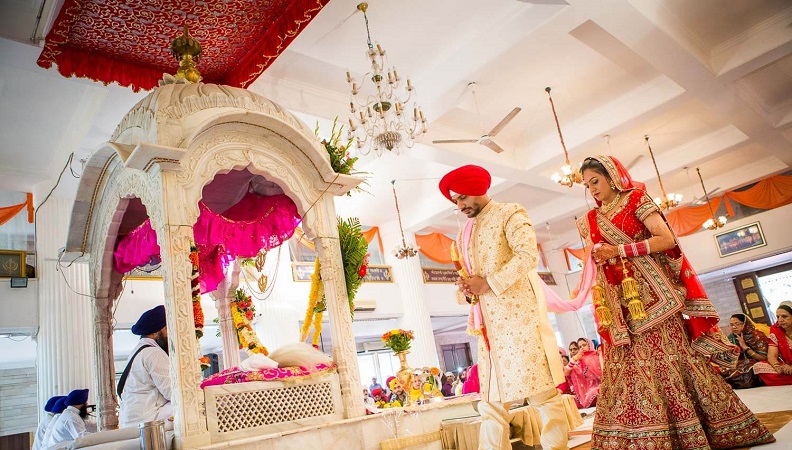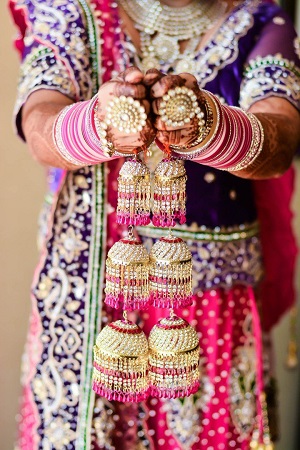 Wedding Fashion in Uttarakhand
A wedding in Uttarakhand, also called a 'pahari wedding', basically exhibits the cultural richness of the Garhwali and the Kumaoni ethnic communities. In the apparently simple wedding fashion of this region, the bride wears ghagra-choli along with a traditional handmade odhni named as 'Pichora' or 'Rangwali'. The humble piece of saffron-coloured garment flaunts an artistic 'swastika' (made by motifs like sun, moon, bells, conch shells, etc.) with red polka dots all over it and has borders decorated with paisley or floral patterns made of silver and gold tatting.
Being a rich legacy passed down from generation to generation, pichora is considered as auspicious for brides in Uttarakhand. However, these days, they are getting contemporary makeovers with a lot of additional embellishments, such as zari, beads, sequins, trimmings, and so on. Among pahari bridal jewellery, a huge gold nose ring or 'Nath' is quintessential while some women adorn their neck with a solid, single-piece gold or silver necklace named as 'Hansuli'. Another holy jewellery that pahari brides need to wear is 'Chareu' or a black beaded mangalsutra.

Wedding Fashion In Haryana
A Haryanvi wedding is an exciting amalgamation of traditions and culture as the state is home to a large number of communities. The differences across these communities are also reflected by their wedding fashion and styles. The bridal attire of a Jat woman refers to a bright, colorful, and intricately designed 'Thel', which comprises a long shirt, an ankle-long ghaggri or skirt, and a heavily printed odhni covering the entire head. For Ahir women, the wedding outfit includes a specially styled lehenga, a well-fitted blouse named as 'Angia', and a red-yellow odhni having a fall inside and fringes along the border. The wedding dress of a Rajput bride differs from that of an Ahir bride in terms of the odhni as a white one with silver fringes and no fall is preferred by her.
Brahmin and Bania women in Haryana dress up in a completely different way on their marriage days. They wear dazzling sarees accompanied by odhnis, which feature colorful fabrics with rich and detailed 'Phulkari' (or 'flower work') embroideries known as 'Bagh' (designer garden motifs made of silk floss thread or 'pat').
Heavy gold and silver jewellery is a must for Haryanvi brides, which mostly includes 'Kathla' or 'Mala' (a neckpiece), gold chain with multiple strings, 'Borla' (a forehead ornament), 'Hansil' (heavy-weight bangles), small earring, large nose ring or 'Nath', 'Kari' (anklet), 'Pati', 'Chhailkara neori', and many more. But heavy designs of gold and silver fineries have witnessed contemporary changes over time.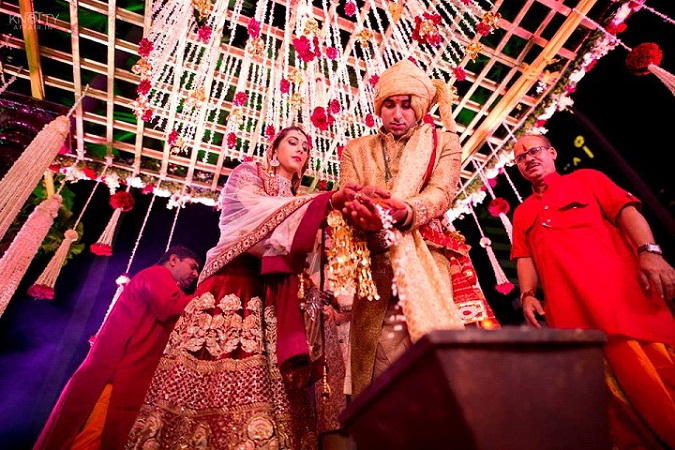 Wedding Fashion in Uttar Pradesh
When it comes to a wedding, U.P. people leave no stone unturned to make it an affair of splendour and magnificence. Lehenga-choli is the exemplary dress for a bride here and it is usually an exquisite attire with sheer regal appeal. Made from beautiful fabrics (chiffon, crepe, silk, velvet, etc.) and heavily embellished with embroidery, these lehengas classically come in stunning red colour which has been the favorite choice of brides for its beauty and auspiciousness. The whole outfit is made to look brilliant with a graceful dupatta that is placed on the head for covering it.
Starting from her head to her toe, a U.P. bride is decked in bright and weighty gold jewellery. These are generally nose ring or nath, earrings, necklaces, bangles, anklets, and many more. Nonetheless, a number of new colors, designs, and styles have been introduced in U.P. wedding fashion over time and women are investing in designer bridal attires too.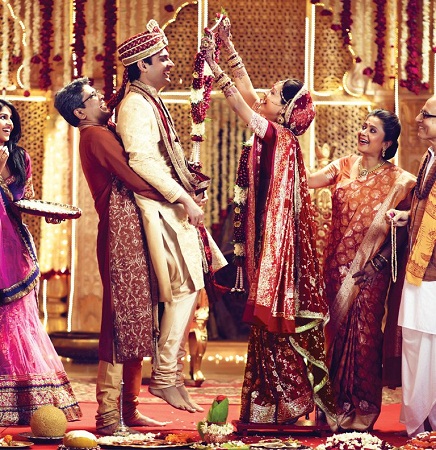 Wedding Fashion In Bihar
Traditionally inspired and intricately crafted bridal ensembles are the specialty of Bihar. Being a state with diversity in population, the wedding fashion here includes lots of hand-woven designs, bright hues, wonderful textures, ornate borders, explicit embroideries, and attractive prints. Saree is the typical outfit for brides, which is worn in a unique rustic style called 'Seedha-Aanchal' (the border pleated and tucked in the front). Cotton or silk sarees (georgette and chiffon are two other less popular choices) in colors like maroon, red, yellow, etc. with classy zari embroidery (colorful floral patterns having solid side borders) or golden patchwork are widely used for wedding days.
Bihari brides accessorize their sarees with yellow odhnis and tons of gold or silver ornaments. 'Bala' or 'Bali' (multicolored bangles), 'Tikli' (forehead jewellery), 'Chandrahar', 'Panchlari', 'Satlari', 'Sikri', etc. are some popular bridal jewellery. Nowadays, women in the state are also experimenting with lehenga-choli, lighter shades, and richer embroideries for their wedding ceremonies.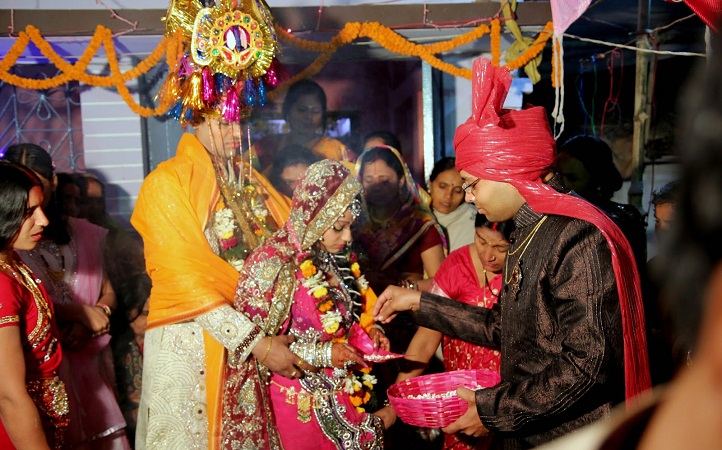 Wedding Fashion In West Bengal
Both Bengali weddings and Bengali brides are known for their unique and mystical charm. A bright red Banarasi silk saree bedecked with delicate embroidery and hefty gold or silver zari work is an evergreen attire for any Bong bride. Although the colour of the saree can be pink, maroon, magenta, and anything similar, the draping style is always purely traditional.
On the day of her wedding, a Bengali woman wears heavy gold jewellery to complement the luster of her silk Banarasi saree perfectly. The most auspicious among those is 'Shankha-Pala' (a white-red set of bangles decorated with gold) while 'Taira-tikli' (maang tikka with a layer of matha patti), nath, 'Kaan' (huge earrings), 'Chik' (a large necklace), hathphool, etc. are also essential. A flower- or thermocol-made 'Mukut' (typical bridal headgear), an awe-inspiring forehead makeup of sandalwood paste around a big red bindi, and 'Alta' on palms and feet also add to the beauty of a Bong bride.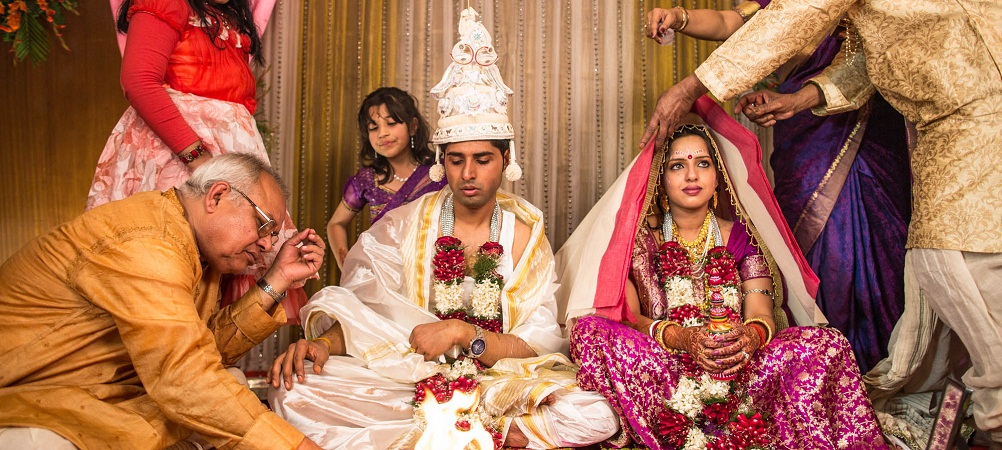 Wedding Fashion In Assam
A marriage ceremony or 'biya' in Assam is a subtle and sober occasion rather than a loud celebration. Assamese bridal ensemble is a cream or off-white 'Mekhla Chadar' adorned with wonderful gold and silver thread work as well as plain tints of red. It is basically a ravishing two-piece outfit made of Muga silk in which the first half (heavy fabric with embroidery and a wide border) is worn as a skirt and the second half (thin and flowing fabric) as an anchal, thereby creating an appearance pretty much like a saree. Nowadays, some Assamese brides are also replacing the traditional Mekhla with rich silk sarees.
Gold jewellery is highly common in Assamese wedding and Shankha-Pala is also an integral part of it just like the Bengali ones. Other common ornaments are bangles, bracelets, nose rings, etc. Maang tikka, which is a symbol of prosperity in the state, is also considered as a key element of wedding fashion. Hand-crafted jewellery called 'Jun Biri' is also quite popular there for marriage purposes.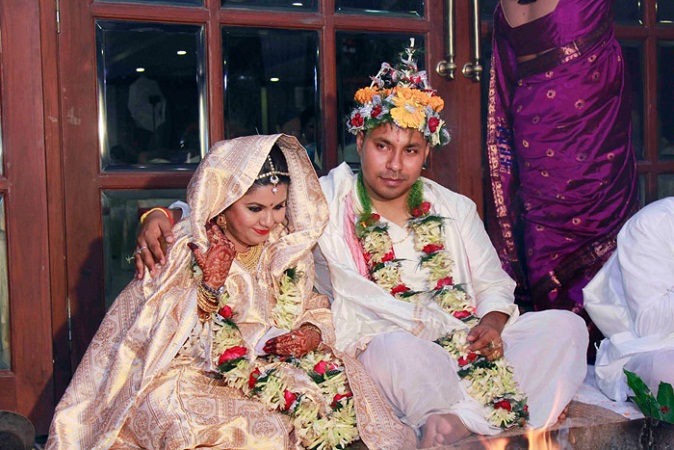 Wedding Fashion In Rajasthan
Magnificent lifestyle and cultural heritage make Rajasthan stand apart in terms of style, rituals, and even costume of a wedding. The splendor and royal elegance of a Rajasthan wedding is reflected perfectly by the lehenga-choli or saree worn by the bride. The hefty outfit is made of rich silk and embossed with traditional gota patti or hand embroidery work featuring stones, gems, silk threads, zari, motifs, and floral patterns. Bright contrasting colors including red, orange, pink, yellow, etc. are mostly used for the bridal ensembles. A long bandhni odhni with brilliant embellishment is also used to cover the head.
A Rajasthani bride wears lots of overweight jewellery. The list usually comprises 'Rakhri' (forehead adornment), 'Timaniyaan' (kundan and/or diamond-encrusted choker), 'Chooda' (a set of gold and ivory bangles), 'Bajuband' (stone-studded gold armlet), 'Borla' (fingerlet), 'Bichhiya' (toe ring), 'Nath' (gold or stone-made nose ring), and a circular maang tikka.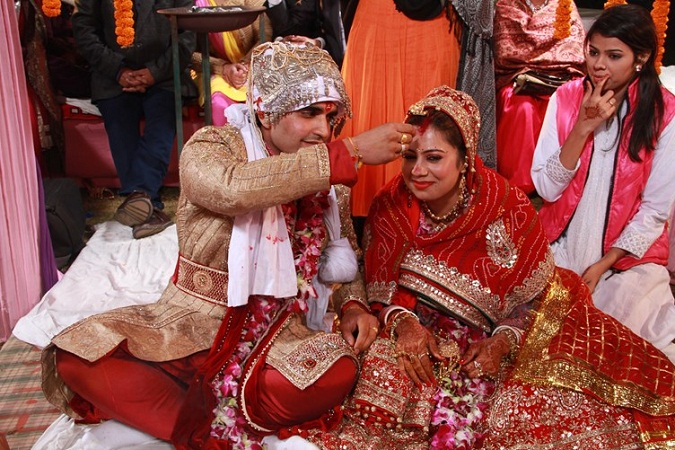 Wedding Fashion In Gujarat
The outfit of a Gujarati bride fully mirrors the vibrancy of the Gujarati marriage ceremony. According to customs, the bride needs to wear two different sarees namely 'Panetar' and 'Gharchola'. Panetar is a white Gajji silk with red border, gold zari work, and regular tie-dyed motifs. Conversely, gharchola is a bright red woven silk saree having grid patterns made with zari threads and tied dot bandhini designs with unique motifs. Both sarees are draped in the typical Gujarati style. A Gharchola chunni is also draped over the head of the bride.
Gujaratis mainly prefer diamond, gold, and kundan ornaments for marriages. Matha tikka, necklace, earrings, bangles (made of both gold and glass), rings, toe rings, bajuband, nath, etc. are some of the most common bridal jewellery used by them.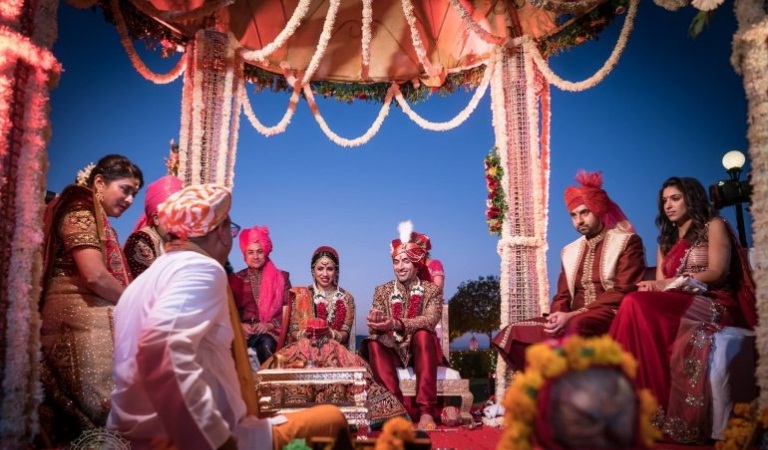 Wedding Fashion In Orissa
An Oriya marriage is non-extravagant yet elegant. Saree is the wedding fashion staple in the state and it is often a beautiful blend of Eastern and Southern styles. Oriya brides wear magnificent silk or cotton sarees (net, georgette, or chiffon are also used) in radiant colours, such as red, orange, maroon, magenta, etc. having lots of intricate golden artwork (zari embroidery, silk thread work, mirror work, brocade, beads, sequins, prints, etc.). The saree is accompanied by a scarf-like piece of clothing called 'Uttariya' and a bright red chunari.
Oriya wedding outfit is complemented with fine gold ornaments, which are unique in design and aesthetically appealing. Earrings, nose rings, necklaces, anklets, etc. are some of the most common choices while a headgear, resembling a feather of a peacock, also rests on the head of the bride.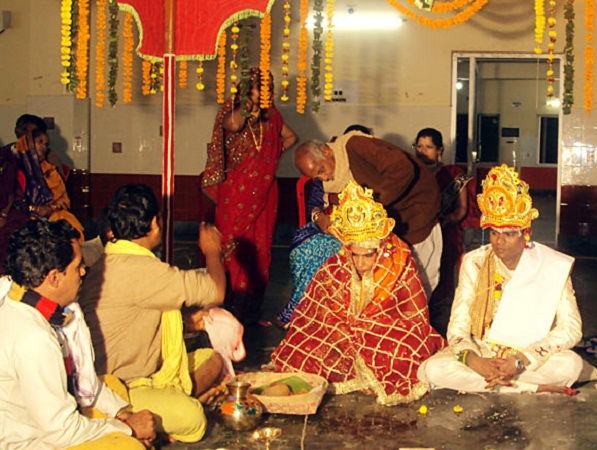 Wedding Fashion In Madhya Pradesh
Madhya Pradesh, also named as the 'heart of India', is known for its vivid wedding ceremonies, which offer spectacular exhibitions of an assorted range of clothing. Ghagra-choli is the most admired bridal wear across the state and the flared, 'A'-shaped ghagra combined with the heavily embroidered choli makes it a pretty unique outfit. Chanderi and Maheshwari sarees are also widely worn by M.P. brides on their D-days as both of these hand-woven sarees showcase exceptionally detailed embroideries.
Bright hues, such as red, orange, yellow, green, blue, etc. are chosen for wedding ensembles and golden zari embroidery or fascinating prints adds to those significantly. The saree is draped in an exclusive way by pleating from the back and showcasing the pallu in the front. A printed or embroidered headgear called 'Odhani' is also used during the wedding. 'Kathir' or silver jewellery (bangles, bracelets, etc.) is also pretty common for this purpose.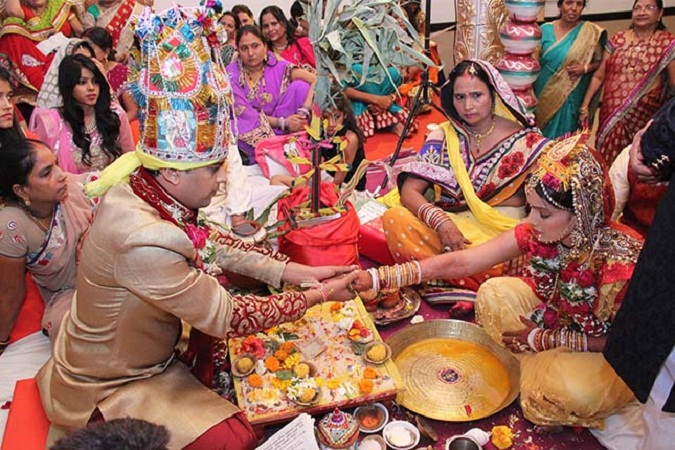 Wedding Fashion In Maharashtra
While most of the states across the country believe in celebrating marriage ceremonies with gusto and fervor, Marathis keep it simple and least opulent. A dual-toned Paithani silk saree with a glitzy golden border is the fashion staple for a Maharashtrian bride and she wears it in the 'dhoti' style. Some of the most common saree colours include maroon, green, red, yellow, orange, purple, sky blue, and so on.
A striking crescent moon-shaped 'nath' or nose ring teamed up with a toe ring is the most distinct thing about a Marathi bride. A head ornament called 'Mundavalya', featuring two strings of pearl and two strings of flower across the forehead as well as the sides, is another main wedding fashion accessory. Gold and pearl earrings, necklace, bangles, etc. are a few other jewels that Maharashtrian brides opt for.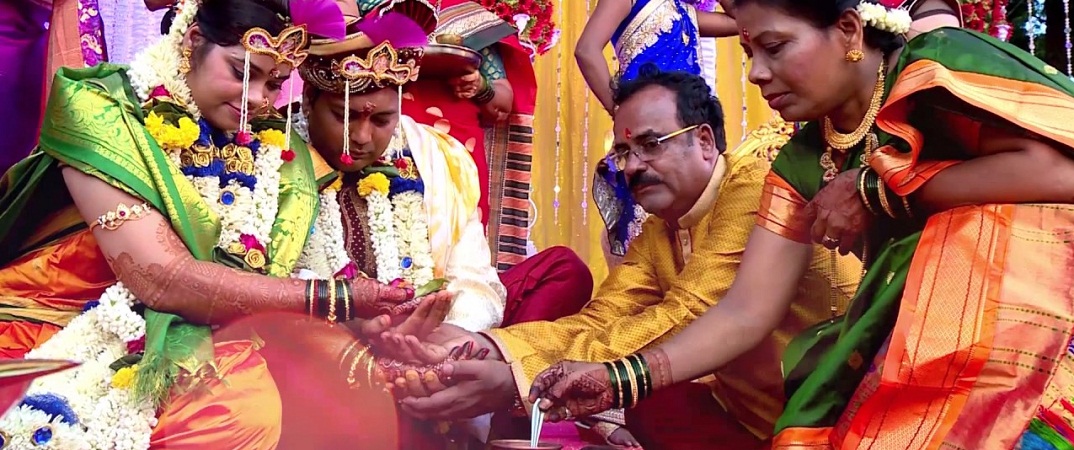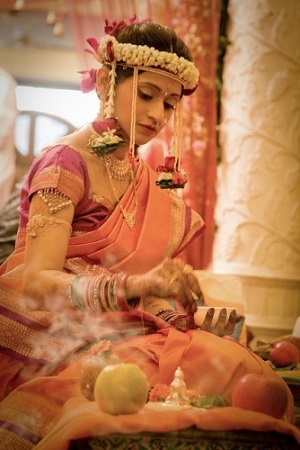 Wedding Fashion In Andhra Pradesh
Andhra or Telugu wedding fashion is all about splendid silk (sometimes cotton) sarees that are famous for their ethnicity and rich textures. Dharmavaram sarees with flamboyant designs, brocade work, and classy gold plating are always the first choice of Telugu brides. Gadwal sarees with an eye-catching cotton bodice, detailed pallu, and strong silk border are the second most popular option. There are also bright-coloured Kalamkari, Managalgiri, and Ikkat sarees, which are loved by brides for the exquisite craftsmanship.
Gold and pearl ornaments are quite popular in Andhra as a part of the wedding ensembles. However, brides like to keep it minimal to a heavy neckpiece, a pair of large earrings, a bajubandh, a kamarbandh, etc.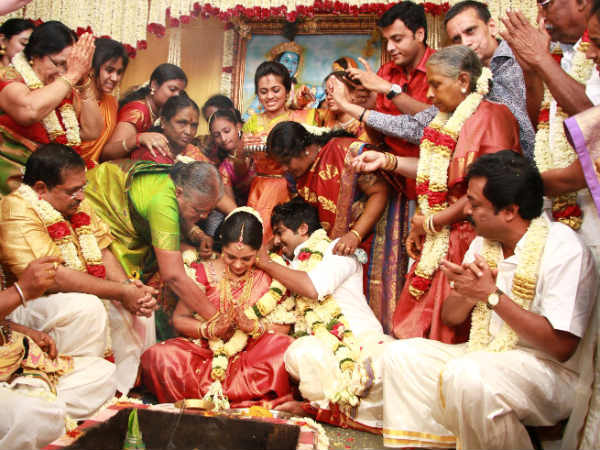 Wedding Fashion In Karnataka
Although a wedding in Karnataka represents its exotic culture, a Kannada woman is known for keeping her bridal trousseau fuss-free and elegant. Traditionally, she wears a white or cream silk saree with bright red border and a hint of dazzling gold on her day of wedding. This is considered as a brilliant and highly auspicious colour combination.
Gold jewellery is a must in every Kannada marriage. Precisely crafted maang tikka, necklace, and baaju bandh are some of the major ornaments that make the bride look extremely glamorous on that special day of her life.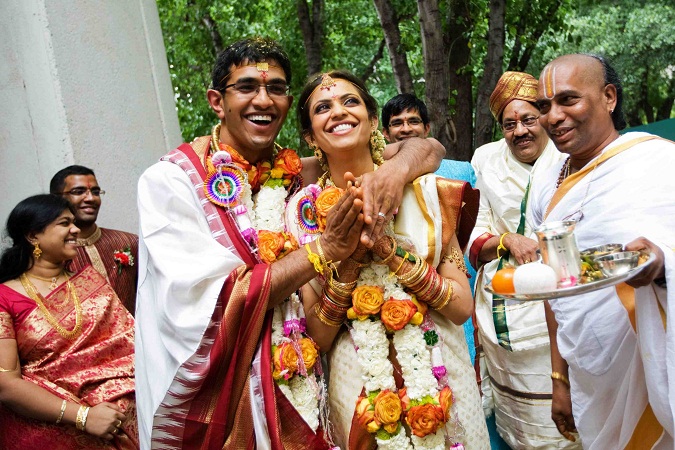 Wedding Fashion in Tamil Nadu
A Tamil marriage is just as simple as the lifestyle of Tamilians. Customarily, the bride wears a beautiful red Koorai saree decorated with golden brocade work and floral motifs, which enhances her ethereal beauty to a great extent. A classic Kanjeevaram silk saree in contrasting colours and zari border is also pretty well-liked as an enchanting bridal wear. However, 9-yard sarees are worn by the Brahmin brides while the Non-Brahmin ones wear 6-yard drapes.
Huge and heavy gold jewellery makes Tamil brides look royal and ravishing. They put on an array of ornaments including 'Nethi chutti' (one-string maang tikka with matha patti), multi-layered neckpiece, long diamond-studded earrings, baaju bandh, 'Odiyannam' (waist band), and many more. Even their neatly made buns or braids also sparkle with traditional gold jewellery and fresh flowers.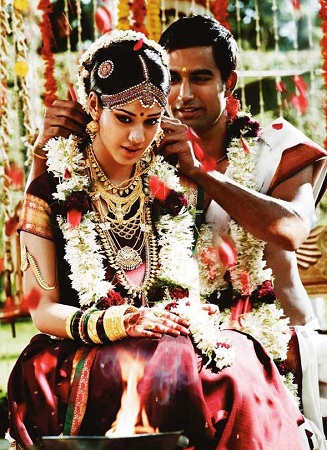 Wedding Fashion In Kerala
Just like other South Indian states, Kerala also celebrates marriages in a simple manner yet with great sophistication. The world-famous Kerala Kasavu saree with a pure white base and classy golden border is what makes a traditional Kerala beauty look unearthly on her wedding day. Bright-hued Kanchipuram and Kanjeevaram silk sarees having embroideries, zari work, mirror work, patchwork, cutwork, kundan work, pearl work, kasab, and sequence are also regarded as the finest bridal attires.
A Kerala woman wears lots of jewellery made of pure gold in order to complement her bridal ensemble rightly. However, the gold jewels, such as maang tikka, earrings, necklace, waist band, bracelet, etc. are also combined with refreshing floral ornaments.
Beholding the stunning Hindu wedding costumes from different states of India is basically a picturesque journey, which makes us familiar with the vibrant nature of our country.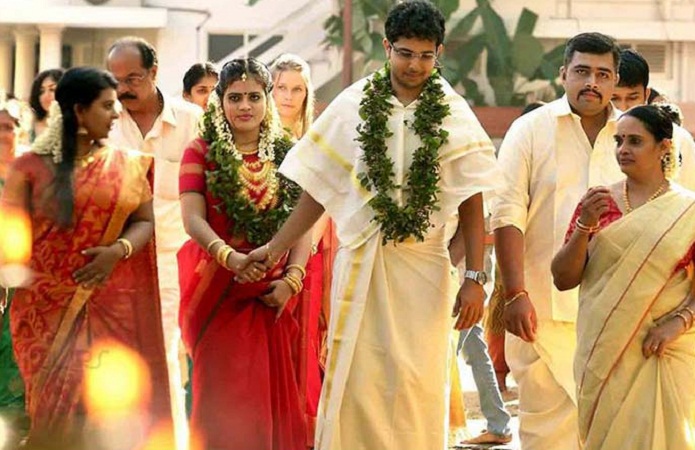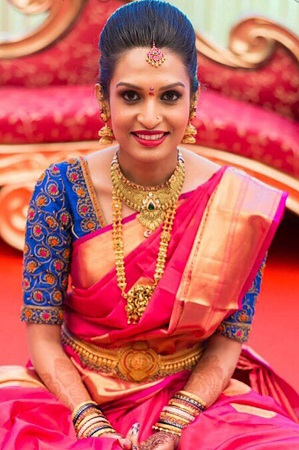 Finally, one thing we must say that getting hitched in an ethnic way is pretty awesome! Isn't it?