We so doubt which dress can make you look more beautiful than a sari! That classic charm of a piece of cloth can make you look wonderful in draped perfectly and you can get inspiration from our very own Bollywood Divas who are often mentioned for their 'sari draping style' in several occasions. But in spite of spending huge bucks on designer saris, your look may not get up to the mark at times and this is solely because of choosing wrong blouses. Such a mistake can completely destroy your look. So, make a choice wisely to own a sassy look every time. No, you don't need to look for the old blouse patterns or turn over the pages of catalogs. Old-fashioned blouses will never work. Take a cue from the day-to-day magazines, daily soaps, award functions in the Tinsel town or simply follow us on regular basis after your day's work is done. We are always up with new ideas to make you look too appealing yet elegant irrespective of your shape, color, height or any other complex you may have to yourself. Just have faith and confidence in yourself, you can do wonders with your look that you hardly have imagined before!
Here comes the list of new blouse patterns that can be highly suitable for both the chiffon and silk saris.
Embroidered Mandarin Collared Blouses
Mandarin collared blouses are designed with exclusive embroidered patterns. These blouses are more in style because of the upturned collars that make you highlight your long neck. A halter neck collared blouse can steal the show with a long jacket of net fabric. Look gorgeous and royal like the popular Bollywood celebrity Kareena Kapoor Khan who has appeared on various occasions carrying this charming style with a silk or any chiffon sari.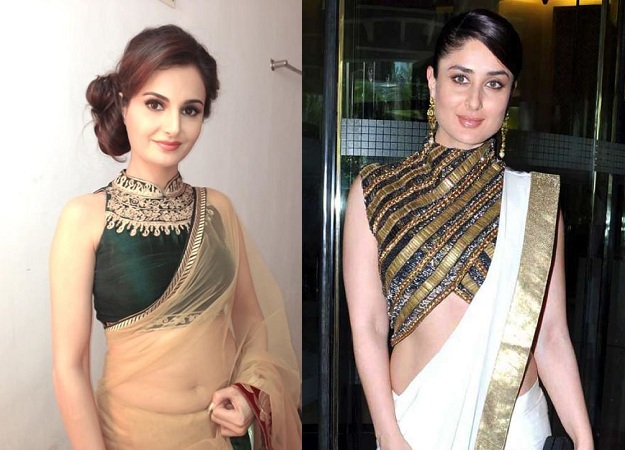 Pleated Blouse with Buttons
Distinct features of this blouse have made it look perfect with any variant of silk or chiffon and it will definitely cause a little hit in the party. These blouses generally come with dropped neckline while using the net and pleats to enhance its charm. If you are among the experiment lovers, this will be snatching the spotlight in the party. White, blue, magenta, pink or green – these pleated blouses are always up for you!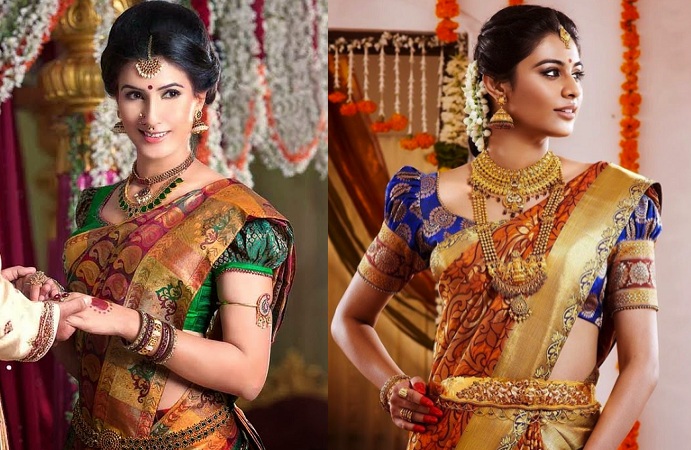 Embellished Jacket Blouses
From Jacqueline to Sonam Kapoor, this jacket blouse is listed on the top depending upon the choice of our Bollywood Divas. None can deny how much conscious they are about creating new fashion statements. Whether she is wearing a gown or a pair of denim, they never run out of experimentation and know how to make it rock. Jacket blouses having a fine border can make you look marvelous with any kind of chiffon saris and silk saris. Draping an all over embroidered sari with jacket blouses can make you look fabulous for any occasion. What's more, you can also try these jacket blouses on skinny fit denim for any casual occasion.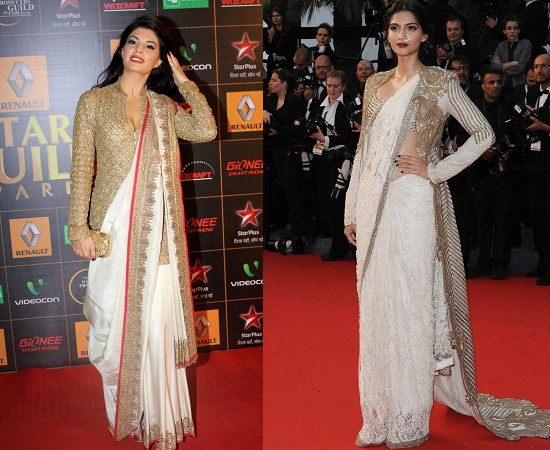 Cape in the Row
Is it possible to complete a list of designer blouses for chiffons without including the glamorous Shanti Priya from 'Om Shanti Om'? This was the first time when Deepika made her first appearance on the big screen opposite to King Khan and with her charming smile she unfailingly started ruling over millions of hearts. Time and again, she proved that her love for traditional attire will never fade with time. Be it in Bajirao Mastani or Yeh Jawani Hain Deewani, we found her rocking the traditional wears and looking absolutely stunning. If take a peep at the promotion of 'Bajirao Mastani', her unconventional choice of ethnic is clearer from the corset blouse with laces on the edge. You also can look sassy in this blouse but make sure that you are not overdoing it. Maintain a good physique before donning it like Her!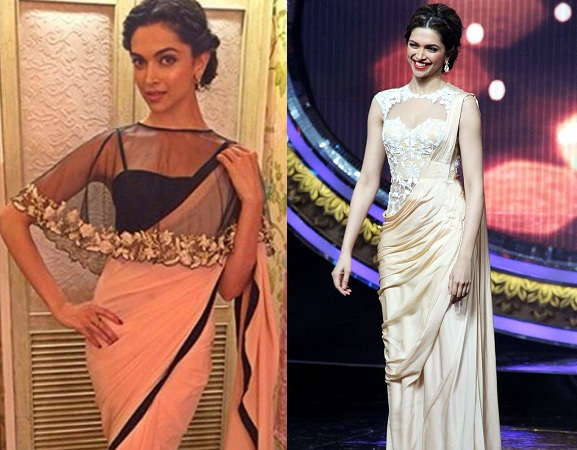 Fringy Party Blouses
Since it's all about looking gorgeous in the parties, the sexy fringes can create a classy impression anywhere you step in. They not only help you look sexy and attractive but also display your fashion sense to the viewers. If you have not yet seen someone flaunting this look, take a cue from one of the most ravishing actors of the B-Town, 'Munni', Malaika Arora. Yeah, anything looks marvelous on her but full-sleeved party blouses with diamond neck and fringes that delicately dangle around the hemline are something more than splendid. With georgette, silk and chiffon saris, these blouses simply can make several heads turn.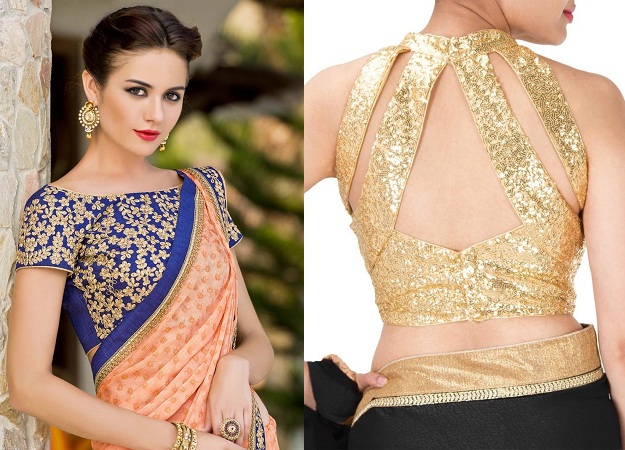 Wedding 'WOW's
The Wow Factors for Wedding are at your hand. Be it a friend's wedding or a family gathering, you can hold a charismatic look easily. But they are hard to choose in such a market that is overrunning with all the done-to-death styles. Instead of looking too copied from any actor, create a style statement on your own. Be your own designer with a plain wide-necked beige or golden colored blouse by matching it up as per your wedding attire. Put it on with a heavily studded or embroidered sari to collect lots of compliments in no time!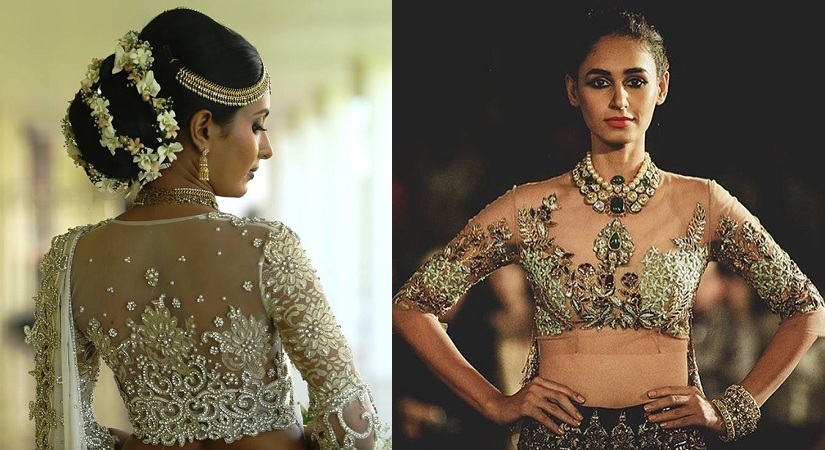 Full-Sleeve lacy wonders
We always say to go simple yet classy. And if you are an ardent follower of elegance these full-sleeve laces have much more to offer you. Date back to Aishwarya Rai Bachchan's dress in the Women of Worth award ceremony, which made the viewers spellbound with her lace blouse and chiffon or silk sari. The boat neck with its sharp edges created a very bold statement indeed. If following the divas is not your thing, team it up with the colorful chiffon saris. Blue, red, maroon or black – pick any of the brighter hues to wear this look perfectly.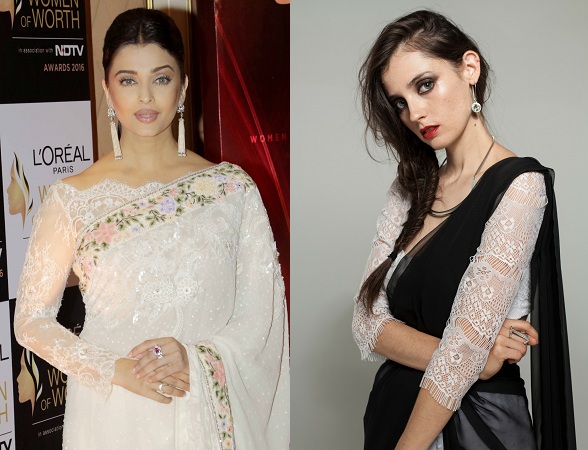 'V' in the front
Choli blouses can actually intensify your love for blouses with their sagging 'V' cut in the front part and a seductive halter neck revealing your back. Since these blouses are already quite designed with a variety of necklines, it's highly recommended to put them on with any type of silk or chiffon saris for different occasions. And the best part about wearing these blouses is that you can try them out several years as they are never out of the trend.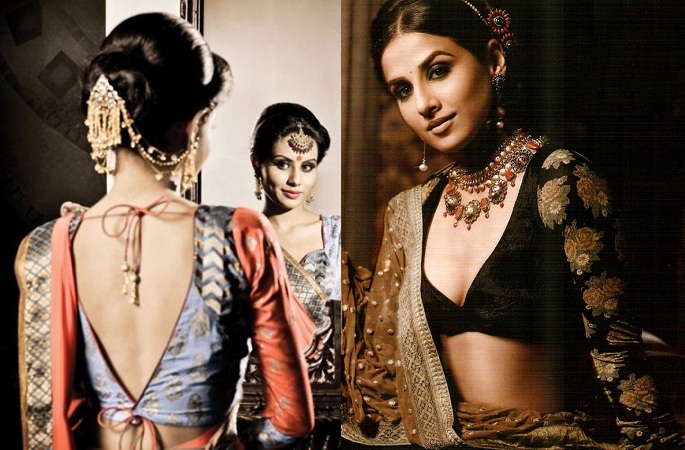 Crochet Blouses
Shilpa Shetty Kundra is undoubtedly one of the fittest women in Bollywood industry. After her alluring 'Shut up and Bounce' avatar, Shilpa Shetty recently appeared in a fusion of sari-blouse in a single attire. Though many criticized her, the nude crochet blouse with a strong neckline took the cake.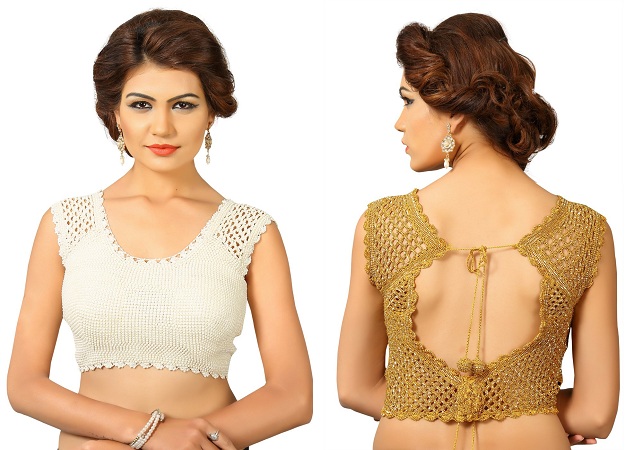 Bold Crossbows on the back
Crossbows have been in fashion for long and generally liked by the fashionistas. We will suggest you this look if you are feeling bold enough to show off your toned back. Only dark-hued or mirror designed chiffon saris will make the eye roll on you. Don a pair of traditional heavy jhumkas, neckpieces, high pumps and a studded clutch, you are ready to Rock On! Parties, weddings or reunions – you are going to be the 'Queen' over there.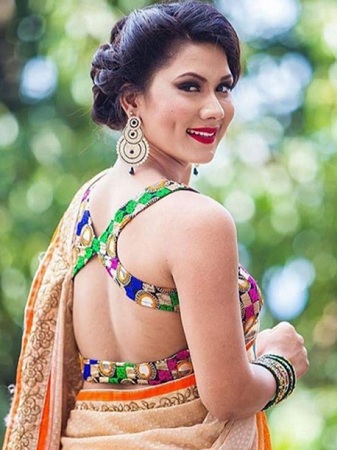 Love for the Regal
Maintaining a royal look matters especially when you are stepping in a corporate party or attending a family wedding ceremony. This is the reason why we brought this uber-chic style for you to be paired with a plain or heavily studded silk, crepe or chiffon. These cropped and embellished blouses come with net fabric on its back making it more appealing for any occasion. Karishma Kapoor has donned this style many a time in various award ceremonies. You can take some tips from her as well.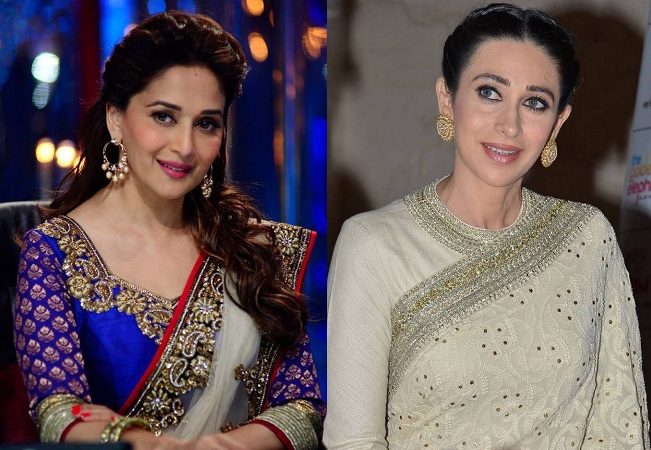 Corsets on the go
Corsets are always known as one of the most favorites among ladies right from the Victorian age. No wonder how seductive they look if you have a flawless figure to show off. An embellished corset with a simple lehenga or silk sari will bold out all your followers. The stylish tie up on your back will compliment the entire look. But never ever think of putting a studded corset with a heavily embellished corset. It will only confuse the people around you have no idea about which one to look at! Better not to try for the women with a small bust.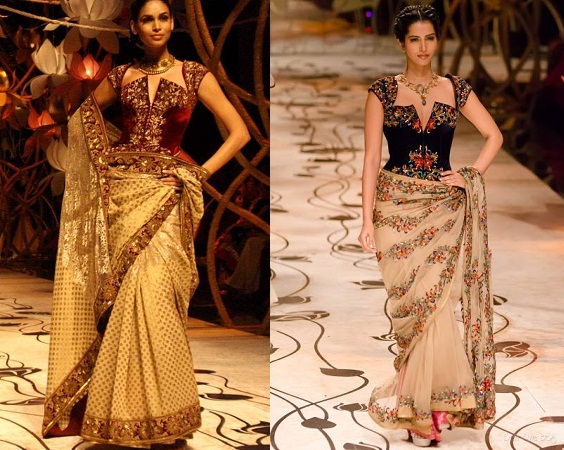 Cut Sleeves' Magic
Both the cut sleeves tops and blouses are creating new sensation in the market with their charm. Boat necks simply contribute to an attractive look if worn with cotton silks or chiffon saris. Brighter hues like orange, red, yellow, pink or only black will work better with same colored plain saris without much embroidery works.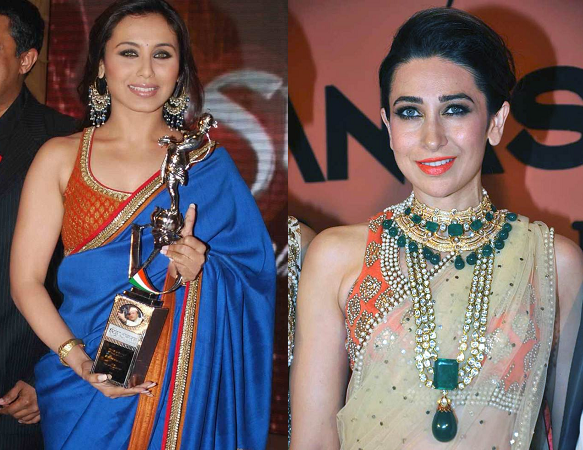 Fluorescent Magic
Celebrities like Kajal Agarwal, Anushka have often been splendid in the Bollywood movies donning this fluorescent magic with confidence and you can do the same. Cousin's wedding, sister's Mehendi ceremony, or a simple anniversary party, fluorescent blouses are always easy to match up with when you are in a hurry and have no time at hand to create some different statement. A chiffon sari with a high-collared fluorescent blouse can do all the needful for you. Just pick some earrings, bangles and a 'bindi' that can work for a signature look. Adding a thin waistband will bring out a fabulous combination of elegance and seductiveness. From heavy to small, this style is suitable for all bust sizes.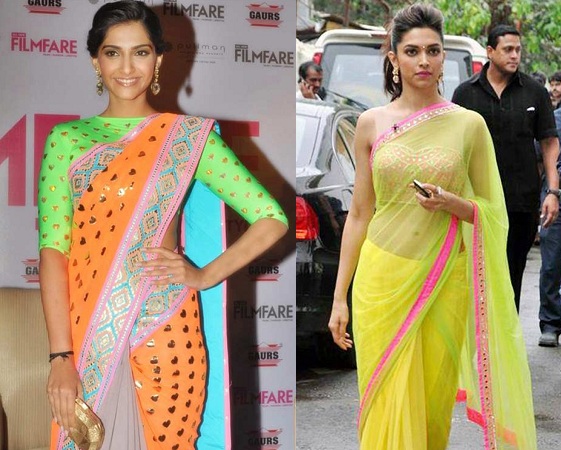 Floral Print in Pastel Shade
Again, the glam queen Deepika is on our list since we are talking about a classic style. Do you want to follow the same? Then floral-based pastel shades can do wonder with a round neckline and sleeves bordered with crochets. A sari with net fabric or silk will look awesome if donned with these pastel shaded blouses. Wear a nude look with large beaded earrings to accessorize your attire.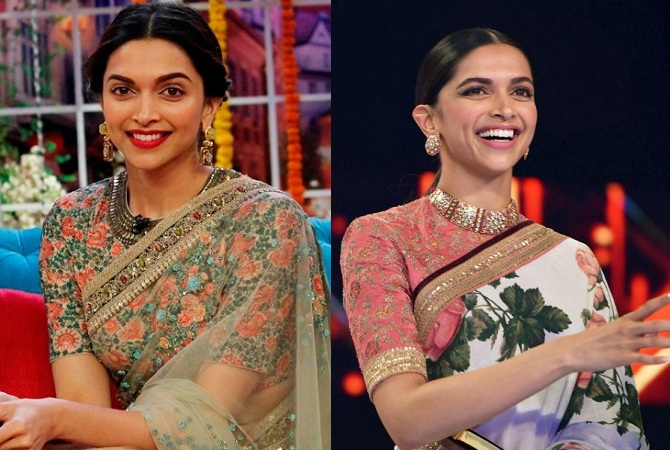 Do you have some more styles in mind that you want us to discuss? Then write to us today and we will be right back with your chosen picks.
Live fashion and be the Fashionista!